First things first, I am glad to present you my first article of 2020 ! I have spent the past year in academic exchange in Dublin, and I came back with a very nice project, first time in the history of Jamais Vulgaire : a three pieces bespoke suit. Another novelty, this article is the very first I write entirely in english, which is not my mother tongue, so do not hesitate to give us feedback on it on our social media, we'd love to hear from you about this initiative 🙂
Pour nos lecteurs francophones, vous trouverez la traduction de cet article en français ici.
Opinion on Joseph Martin : A hundred-years-old story of a familial know-how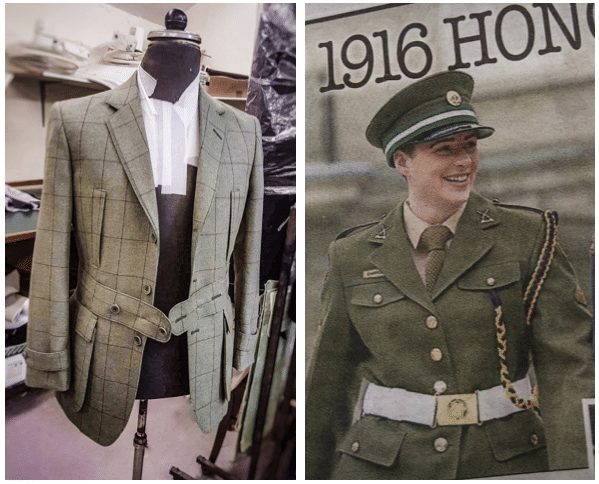 A few creations from the Martin family's workshop : On the left is a hunting Norfolk jacket made by Joseph's grandfather, the founder, at the end of the 19th century, after 1895. On the right is a uniform crafted by the workshop during the year 1916.
Bespoke suits. Who have never dreamt of reaching the summum of tailoring? For newcomers, we wrote a complete article explaining the differences between bespoke, made to measure and ready to wear here, in french. Small recap : size standards do not exist in bespoke garments, it is not an altered pattern made to your measures either. In bespoke, your body and your morphology are the only sources of reference the tailor will use to craft your suit, handmade in his own workshop.
Coming back to Joseph Martin : he is the heir of a family business created by his grandfather, whom bespoke workshop is running since 1895. They will celebrate nothing less than their 125th anniversary in January, . For more than a century the Martin family, tailors, cut and craft suits, overcoats and jackets in their family workshop located in Sligo county, in Ireland. So Joseph learnt with his father and grandfather side by side, but also in London on Savile Row. He explained me that back then, each small town had at least one tailor, and that this know-how dropped little by little with the disappearance of many tailor and the boom of industrialisation of ready to wear clothes. However, he also sees a turnover in his customers thanks to gentlemen in their thirties who blend in his loyal international and local customers. Joseph also hopes that this new interest of will sparks the passion of younger generations and make them carry on this traditional know-how.
When I discovered Joseph Martin through his website, something instantly caught my eye and convinced me getting in touch with Joseph : military tailoring. Indeed, Joseph Martin is one of the very few supplier of the irish government for officers and above in the Irish Navy and Airforce, which testify of the quality of craftmanship offered by Joseph. Few years ago, the irish government planned stocks of ready to wear uniforms, which of course depends on the branch, gender and rank of the soldier concerned. Unfortunately, ordering a bit more just in cas, an astronomic quantity of uniforms were put in warehouses. For obvious security reasons, these uniforms can't be resold into military surplus, and are systematically burnt down to avoid cases of identity usurpations on sensible sites. To stop this waste, the irish government realized that paradoxically, ordering bespoke garment for each officers was the most cheaper option, and that's how the Martin family ended up making the uniform of the irish armies.

Uniform fitting of a graded army soldier standing Joseph. We see construction stitching along with the collar canvas and lapels
The offer of Joseph Martin : Style & fabrics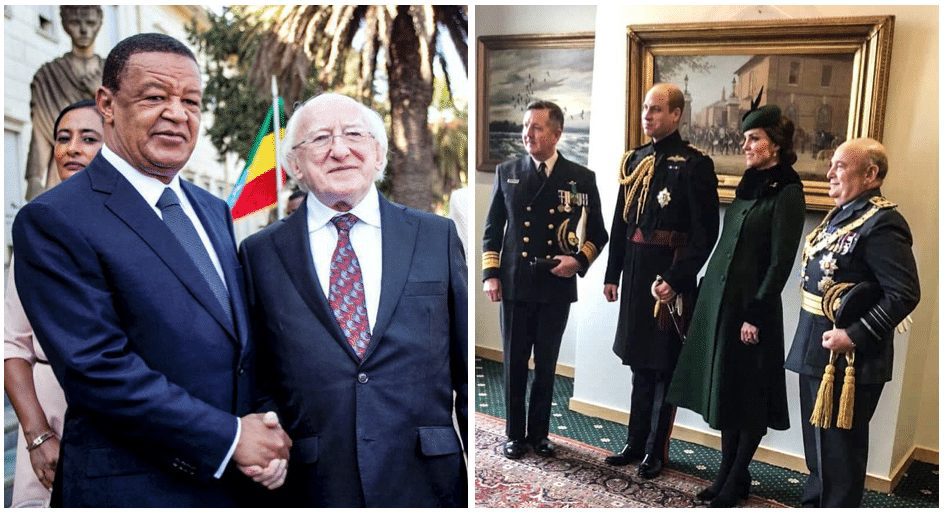 On the right, you certainly recognized Prince Harry and his wife Kate Middletown standing with high ranking officers whose uniforms were crafted by Joseph. The left picture features the President of Ethiopia Mulatu Teshome shaking hands with the recently reelected president of the Republic of Ireland, Michael D. Higgins wearing one of the four suits Joseph Martin made him.
Joseph is the pure product of a british and irish apprenticeship, and even if he can apply his skills to every demand, most of his creations perfectly reflects the classic style of the londonian suit of Savile Row : a fitted cut, comfortable but never scrimpy, the perfect amount of padding which offer a neat and clean shoulder, a cigarette adapted to the shoulder. The classic british elegance, also called the understatement. The elegance stricto senso, which leaves little room for excentricity. Stripes, herringbone or a delicate texture of a discreet blue or grey cloth, sometimes with sparks of green, orange or brown for these gentlemen farmer who wear tweed in the countryside. A very refined elegance, which rather put forward your courtesy and personnality, this is the concept of the understatement. For those who love classic british style in films, I encourage you to read our article written in french on Kingsman films (whose producers have collaborated with Huntsman, famous tailor located on Savile Row)
The range of proposed cloth is very wide, with all variety of wool, but also cashmere blend with wool, and some bunches specific to this region, i.e. irish linen, well known worldwidely, and, of course, tweed ! Tweed bunches proposed by Joseph come from Scotland and Donegal, an irish county where these particular tweed was created, with its random dashes of colors which make every garment unique. Concerning the offer of clothier, we find all the classics : Holland & Sherry, Harrisons, Huddersfield, Dormeuil (an originally franco-british supplier) and some surprises with Scabal and Dugdale Bros, this last making a very beautiful bunch of tweed which I can't remember the name.
The majority of Joseph customers comes for his suit, but it also happens to him to make coats and overcoats. For him, his most original project was an overcoat entirely made of vicuna, which the most expensive wool on earth due to its amazing isolating properties. For more usual garments, entry prices of Joseph are around 1500€ and 2000€ for a regular two pieces suit, the price is scaled on price per meter of the cloth and lining. Even if it is still of course a important investment for most of us, I must be honest : I doubt you can find bespoke suits elsewhere in this range of price, it is a very attractive price knowing the level of know-how and the quantity of time dedicated to its confection. With this budget in Paris, you will only access to made to measure, of quality for sure, but between bespoke and made to measure it is a whole world, where parisian bespoke tailoring goes straight forward over 3000€.
Even if Joseph's workshop is located in Sligo, he weekly moves to Dublin on wednesdays, and monthly to London, where he officiates in the house of Holland & Sherry on Savile Row. If you move regularly to London or Dublin, this is clearly a lead you should follow if you consider having a bespoke garment.
The (pre) test of Joseph Martin : The Bespoke experience
When you start a bespoke project, even more when you are used to ready to wear, the extent of possibilities is so vast that you can quickly loose yourself in. When in made to measure you cas choose the cloth, the buttons, having a single breasted or double breasted jacket, a notch or a peak lapel etc, bespoke tailoring offer much more than that : total freedom ! In terms of cut of course, but also on the shoulder, the waistband and each single finition of your suit, and that makes all the difference. In all this, Joseph is very commited to answer every proposition and his responses on the technical plan made him an efficient guide in addition to being a good tailor, which is essential for those who seek to dive in this world.
Bespoke is most and foremost take the time. Take the time of think with the tailor on the project, consider each finition and refiner the cut. It is a long process, because all is handmade by the tailor and his team, and you also contribute by your choices and your personal tastes. it is really important to understand this when you start to work on a garment, it is more about planning than buying. It is the complete opposite of ready to wear, when you don't have to care about these things because someone already chose for you, leaving this only wonder,  » do I should buy it, or not? » .
First, you have a chat with your tailor on your project, if you already have something in mind, what are the suggestions of your tailor on elements you maybe didn't notice ? Listening to the tailor is essential, because a priori, he made a lot more suits than you, so his advice are not neglictable. He is also there to guide you, because you and him have the same goal : making this suit perfect for you. In front of these infinity of different choices, some may loose their mind and choose to make a suit from from a very loud cloth, in color or in pattern. Even Gustave, our redactor in chief, commited the mistake of choosing a too bold striped cloth for his first suit, despite the tailor's advice, so it can happen to all of us !
As you can see on these pictures, the jacket is tried on canvas first, in order to identify the adjustments required before having the final cut. Usually in most cases, 3 to 4 fittings are necessary to achieve the final phase of craft. However, Joseph usually works with 1 or 2 fittings before finishing the suit, which shorten considerably the time required to make it. Personally, my trousers needed several adjustment because it was too large, as was the waistcoat, but the jacket, the most difficult piece to realize, fitted quite well at first. We just reviewed the sleeves length and shoulder width. Tailors will always prefer cut a little bigger before fittings, simply because it infinitely easier to take off cloth than add it. No worries if your suit is too big when first tried, it is a draft destined to be adjusted again and again until the cut is perfect.
Joseph Martin test : the three pieces suit, a classic of a gentleman's wardrobe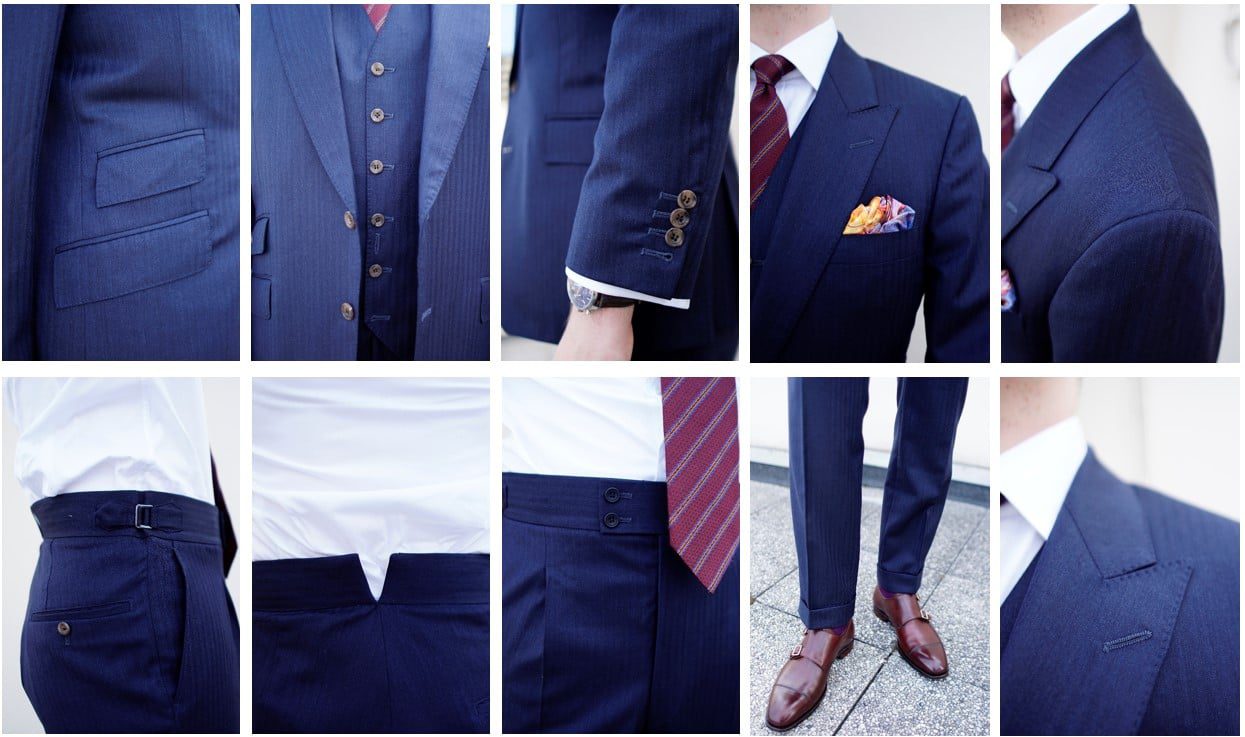 Super 110's wool from the Blason Drapers Cambridge VII bunch: A beautiful cloth featuring a subtle herringbone nuanced in shades of blue and grey. I wanted to have this suit made in blue, in a sleek cloth in order to maintain the formal status of the the three piece suit. However, i didn't want to have a strong pattern such as stripes or a Prince of Wales, because wearing a waistcoat make the pattern pop even more. I wanted something discreet you can only see from close, and I really like this herringbone pattern.
Three piece suit : with a single breasted jacket along with a single breasted waistcoat. We usually avoid to wear double breasted jacket with a waistcoat, because they tend to cannibalize each other. That said, I could have opted for a double breasted waistcoat to accentuate the formal aspect of the outfit a step further, I will consider it for a next article !
Trousers : With a true « english opening » behind, a nice 5cm turn , side straps as usual along with single pleats. With time, I appreciate wearing pleats on my formal trousers because it adds detail to the thigh, allows to rise up the waist a little bit while keeping the sitting position comfortable. There is also a very pragmatic reason : it is so much easier to store the trousers respecting the central pleat of the leg. Side straps are necessary here because wearing a belt with a three piece suit is a no go, always wear braces/suspenders
Jacket : We have a nice 10cm width on a peak lapels. Indeed on a double breasted or a three piece suit, peak lapels are more suited for the shape of these garments. It also features a milanese, and inclined flap pockets with a ticket pocket, a typical British finition. Here we have a formal garment, so the shoulder is a bit constructed, yet comfortable, and the cigarette is far more pronounced. Finally, the jacket features 2 buttons and a barchetta for pocket square, classic style. We chose light brown horn button, which is a a bit unusual for this type of suit. I also wanted a magnificent emerald green lining, reference to this emblematic color of Ireland.
Waistcoat : Single breasted with 6 buttons. My personal taste is to not use lining for the back of the waistcoat, as I am used to take off my jacket at the office to avoid wrinkles, revealing the back of my waistcoat. So I rather prefer have the back of my waistcoat made of the same cloth as the front, which Joseph agreed to. It features a back strap, and a detail I had the great pleasure to discover when I received the suit : a vertical buttonhole designed to received the chain of a pocket watch ! That is another thing I added on my wishlist
Style advice on how to wear the three piece suit like a true british gentleman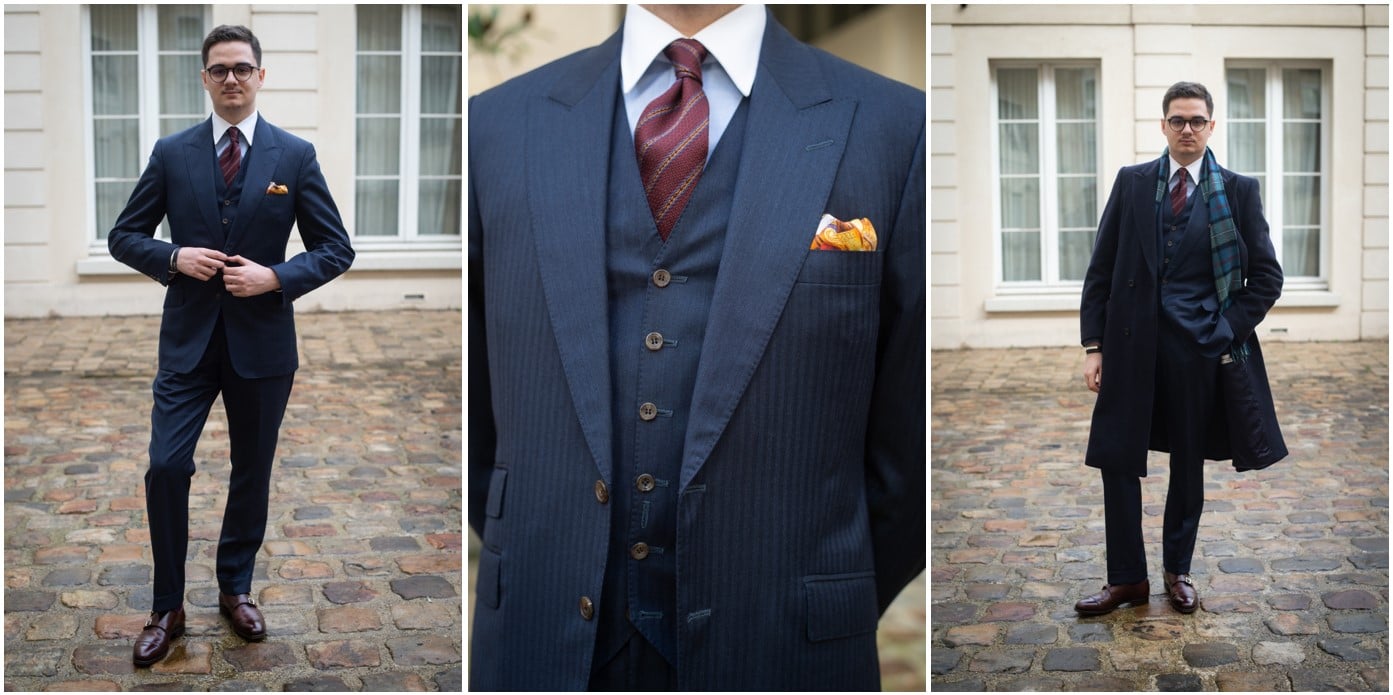 The good side of wearing a three piece suit is that you don't have to bother so much to choose your main garments, as the majority of the outfit is composed by the same cloth with the jacket and the waistcoat. That is the reason why it is primordial to choose the cloth carefully, because having a too strong pattern one such expanded surface is the best way to have a suit you will have difficulty to wear. Here, the herringbone is subtle yet offers beautiful nuances when you get close, revealed it blue and grey shades.
Once it's done, you just have to pick your shirt and your shoes, then accessorize ! I picked the burgundy tone to play with in my accessories in order to add warm tones to the omnipresent blue. So I'm wearing a vintage textured Zegna burgundy tie striped with gold and light blue. You can find these two last colors on my pocket square from Rampley & Co. Finally for my shoes, I opted for the Repton III from Crockett & Jones whose chestnut patina perfectly fitted to the exercise. You can learn more about them in the article I wrote here, in french.  Moreover, even if you can't see it, I am wearing a pair of braces which come maintain my trouser under my waistcoat, because we will never tell it enough times : do not wear a belt with a waistcoat in a formal outfit. The only exception when it comes to that combination is in the workwear style !
For more fun, I picked a contrast collar shirt, with white collar and wrists and the rest in light blue. The collar goes deep down, in perfect combination with the waistcoat.
Finally, on the picture on the right, you can see the full outfit I was wearing that day, with a wool/cashmere double breasted navy overcoat with peak lapel in a 4×2 form I found in a thrift shop, like the rest of my overcoats today. I was wearing a merino wool scarf, which lighten the rest of the outfit while keeping the tones of blue and green which forms a subtle camaïeu. The red windowpane on it comes support my tie and my shoes.
Conclusion on the first full bespoke suit experience of Jamais Vulgaire
To conclude, I want to tell you that I'm glad to finally share this article with you, almost one year after my first meeting with Joseph ! It was a very first time for me, but also for Jamais Vulgaire, to present you the quintessence of tailoring with this bespoke three pieces suit.
I deeply appreciated going the opposite way of our current way of consumption, taking the time to think and having a real collaboration with a tailor to design the suit. Even if I needed one more fitting and that I was naturally guided, I have the feeling that I barely scratched the surface concerning all the possibilities there are, and that make this experience again will perfect the final result !
Gladly, I am lucky to make a clear and neat 52 size, which doesn't require specific precautions when it comes to sizing. I can only recommend trying bespoke or at least made to measure suit depending on your needs and budget to have the result matches your expectations, which are finally not so high : having a quality product, for you only, which fits you perfectly.