🇫🇷 Francophone ? L'article en français est ici.
We're glad to offer you one whole new English review, and I am extremely proud to do it with an hidden jewel of the menswear sartorial offer: Yeossal.
If you're a sartorial addict on Instagram, it's very likely that you've seen at list once those famous swan neck collar, those Gurkha trousers or those shoes with very recognizable fiddleback bevelled waist.
We'll do in this article a quick recap of how Yeossal got there, and then a review of the iconic swallow neck collar polo.
I Yeossal: from a shoe store in 2016 to a whole menswear wardrobe
In 2020, Yeossal offer has become so wide that is easy to forget that the brand started in 2016 as a shoe store in Singapore, created by a few menswear aficionados.
Back then, the shoe brands curation was already spot on: Antonio Meccariello, TLB Mallorca or Corno Blu.
Distributing top range brand is always a good start when you want to start in the industry in order to be aware of what the market needs, and to build a decent customer database.
Once this is done, the next logical step is to build your own brand to deliver a more customized experience and to get better margins thanks to a direct to consumer system.
1 Y by Yeossal private label: the first step to a direct to consumer system
Obviously Yeossal goal was to end up offering a full menswear offer, but they needed first to make shoe: that's how Y by Yeossal private label was born.
What is quite surprising about this private label is the price point chosen: about 600 Singaporean dollars (a little less than 550 euros)
This is quite a difficult niche where you're in competition with the likes of Carmina, Alfred Sargent or Crockett&Jones.
With that kind of competitors, you have to offer:
– an extremely consistent quality because expectations are tough given the already existing value for price of other brands
– a new aesthetic: I'll let you be the judge, but it's quite a success in my opinon, especially with the first two rustic derbies and lazyman oxfords.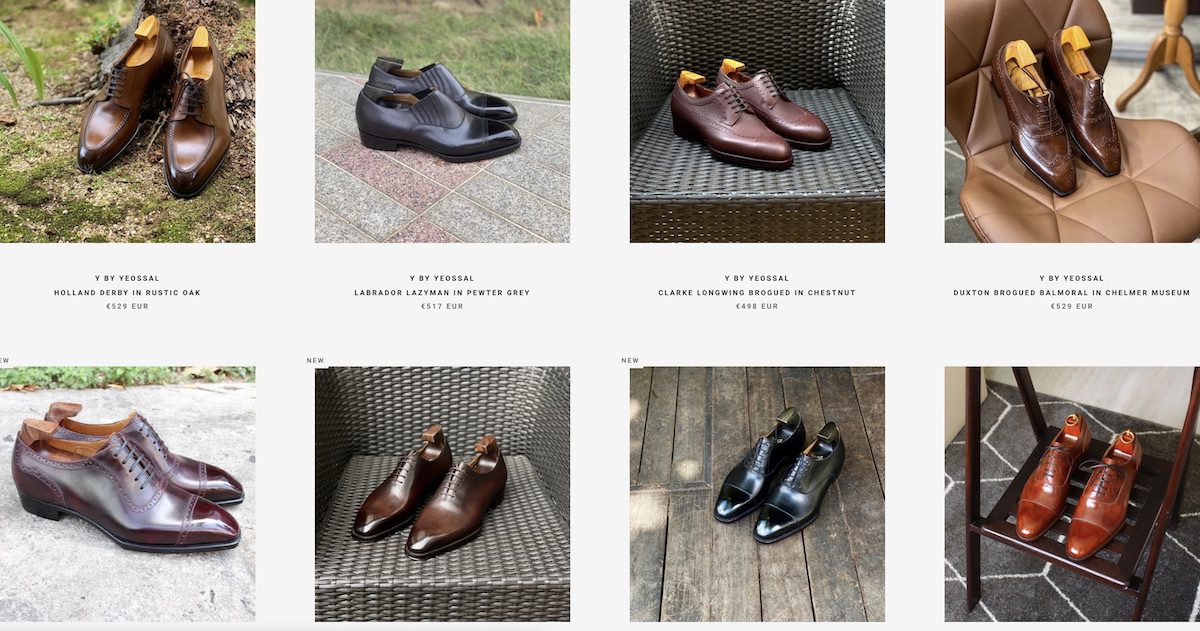 Even if we won't be reviewing this part of the offer for now, the quality seems to be spot on (and that's what you can check on the 83 pages Styleforum topic on the brand).
What truly stands out is the extremely sleek last, with a pronounced fiddleback waist and also the handwelted construction (a level above Goodyear) that is really rare at this price point.
Some Y by Yeossal shoes are even produced by Antonio Meccariello.
3 A RTW offer with timeless and iconic products
Besides the obvious value for price allowed by the direct to consumer system, Yeossal also stands out thanks to a visually appealing and unique aesthetic, that will however remain effortlessly timeless and classic.
Outerwear signature: Safari Urban Jacket and Jungle Jacket
Safari jacket are the outerwear signature of Yeossal: they come in a sartorial and elegant version with the urban safari jacket, also available in a wide lapel version.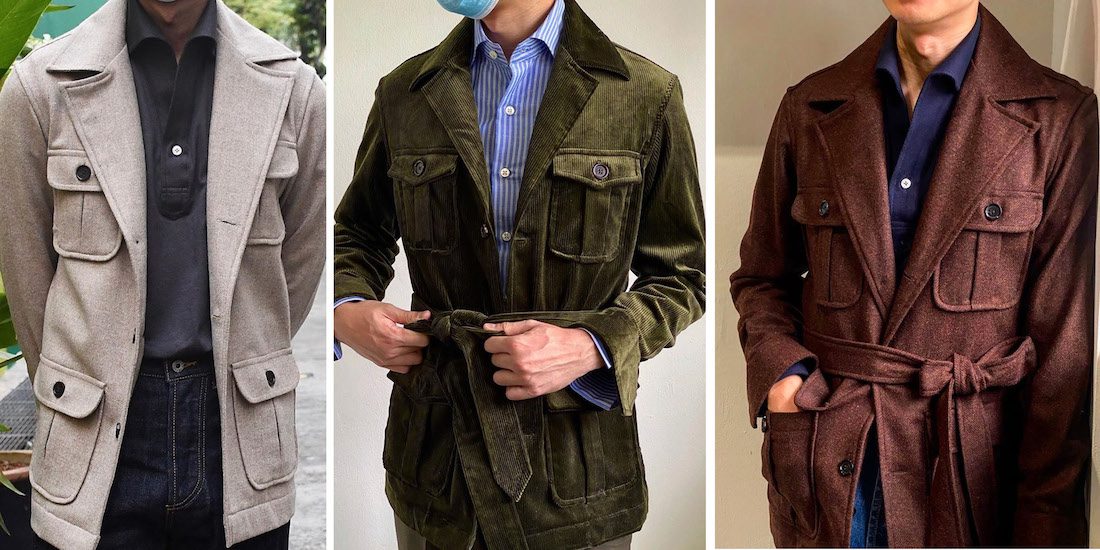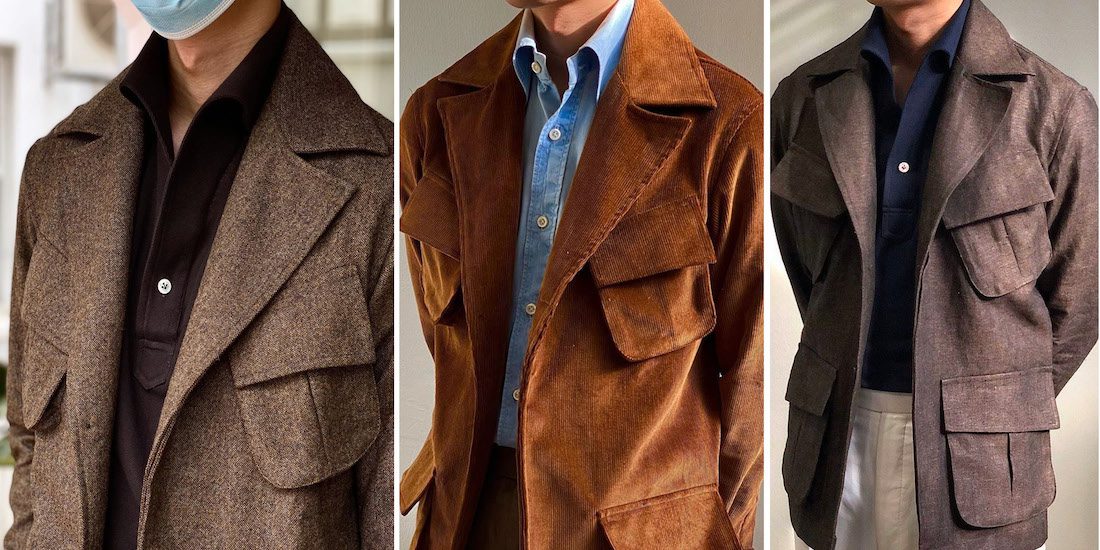 But you can also find the more utilitarian alternative: the Jungle Jacket, that I'll find exquisite especially thanks to it's patch pockets with inverted pleats.
Spoiler alert: even if those are designed to be more casual, I can totally see myself wearing a woolen version over a suit at the next Pitti Uomo.
But enough about it, we will anyway also write about it in a following piece.
The one piece collar polo shirt
It was hard to miss those one piece collar polo shirt and shirts on Instagram lately, with a gorgeous roll whether it's worn alone or under a jacket. I won't elaborate here because that's what we're going to review.
This collar can also be found on regular shirts as well (and I can't wait to try it).
The trousers
Starting obviously with simple cotton chinos, Yeossal quick widened it's offer with more sartorial choices, especially in terms of waistband type.
You can find almost any styles, from the sartorial utilitarian gurkha trousers to the more vintage Hollywood trousers, without forgetting obviously the casual and effortless drawstring trousers. Without forgetting obviously the classic tailored business trousers.
That many waistbands, paired with all the available fabrics, mean endless possibilities for the sartorialist aficionados.
If you want to have a good overall insight of what's possible, I warmly suggest you to have a look at the Instagram account of thezanification, who already reviewed many combinations.
You can see his own picture on the right of the two following montages: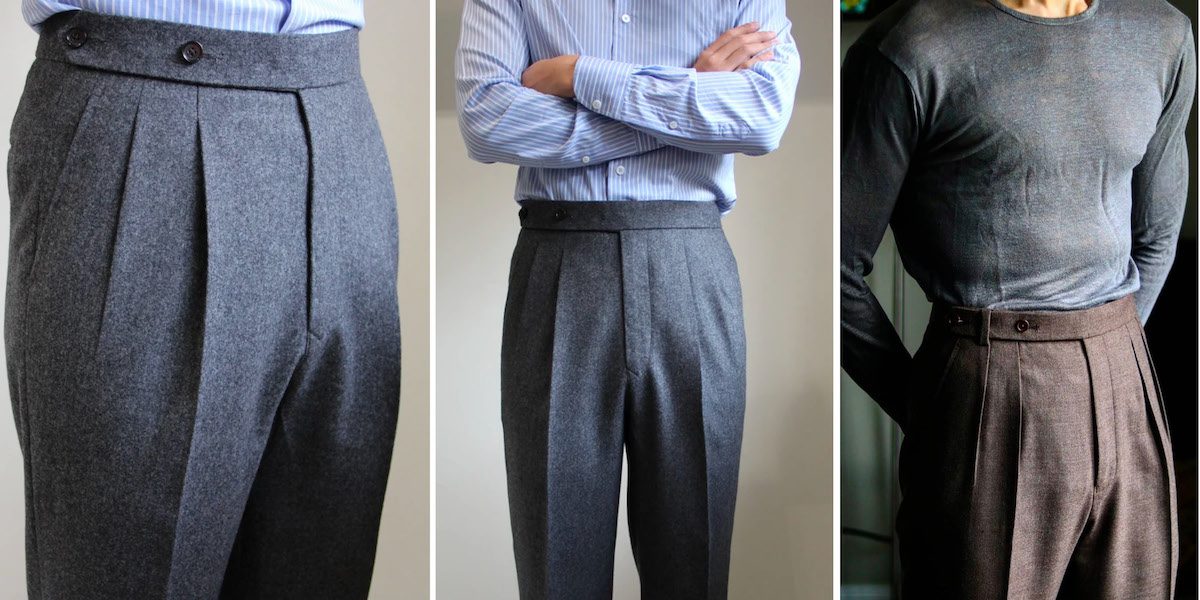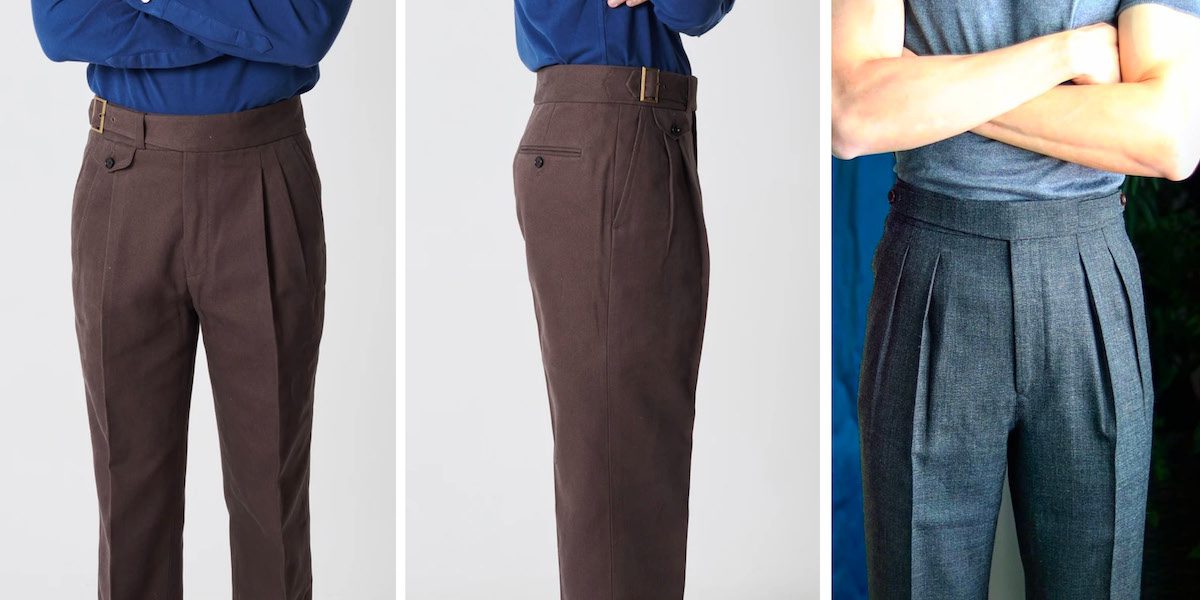 (by the way, Yeossal did some really great work in terms of influencers marketing, working only with relevant blogs and most passionate members of the Styleforum community like thezanification or Burzan)
Fabrics
It's not enough to offer that kind of extremely rare finishes, Yeossal is also very innovative with the fabrics. I had for instance a crush on selvedge oxford cottons from Okoyama, waved in vintage Japanese Looms and used for shirts. 

Those are thick yet soft fabrics, that will develop a beautiful patina over time.
I personally can't wait to try out this one on a one piece collar shirt: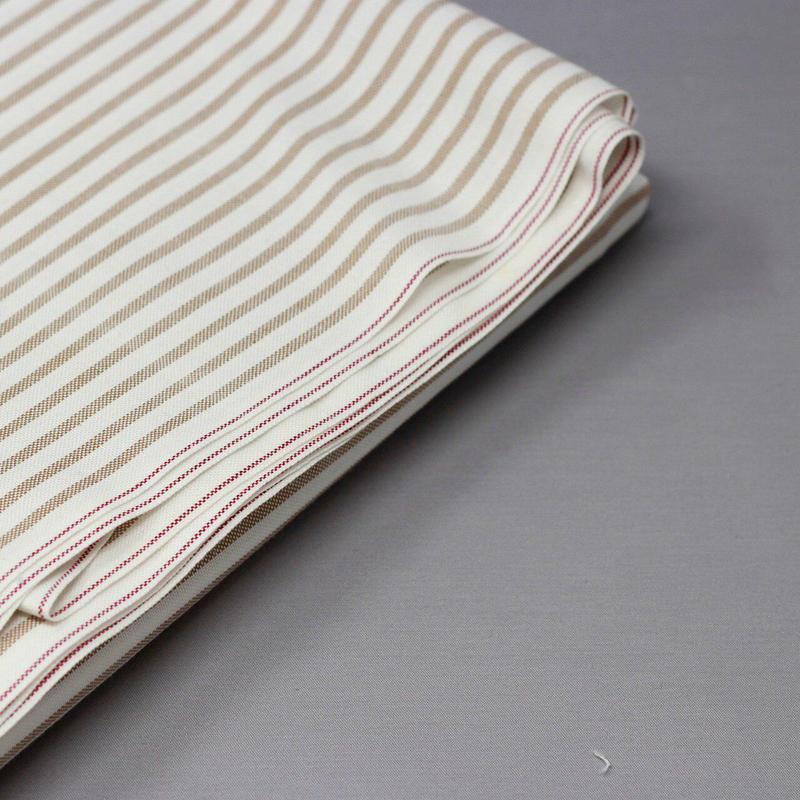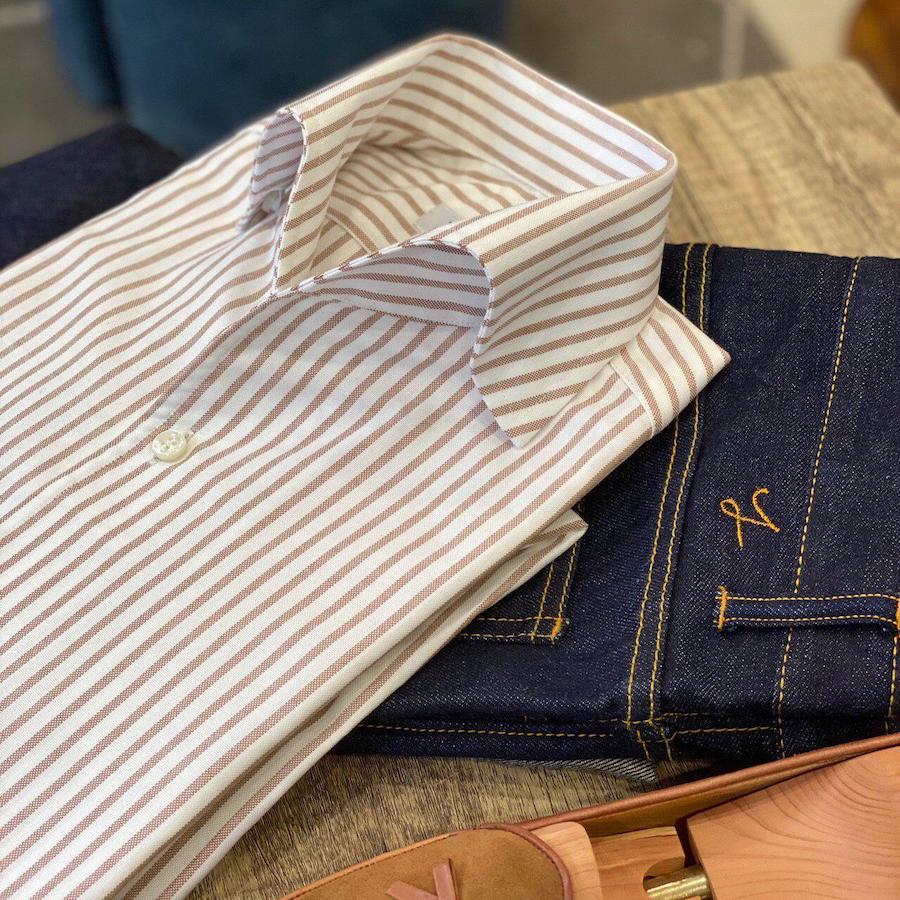 This dedication clearly shows when it comes to the denim offer with a quality japanese fabric from Kaihara Mills that you would typically expect from raw denim specialists. But even there Yeossal manages to keep it's identity and adds a subtle dash of sartorial elegance through the pocket shape and a higher waist.
II Our One piece collar polo shirt review
Why such a construction ?
Maybe you'd noticed it as well, but we've seen one piece collar polo shirts and shirts mostly since Spring, and not really in Fall or Winter.


The reason for that is quite simple: you can't put on many layer during summer.
You're wearing less clothes: so they each have a longer story to tell, whether it's through fabrics, texture, pattern, cut or finishes. That's how sartorial finishes like innovative dressed up trousers waistband were born (and that's why they were mostly worn in Italy in the beginning).
And that's why one piece collar were born, since the collar is the most noticeable part of a shirt.
One piece collar: origins and offers.
It's Gary Cooper that started wearing this kind of collar in the 40/50 's . It was then made by high-end Italian shirtmaker such as Marol (starting from 300 euros), G.Inglese, Berg&Berg and the former Lupo by Eidos 'Antonio Ciongoli (now discontinued).
You get the idea: it used to be difficult to get a decent one piece collar without breaking the bank.
Why is it so expensive ?
Since it's the same piece of cloth for the collar and the placket, it requires a lot more precision and minutiae from the cutter in order to get the right curvature. This kind of collar is more typical of bespoke and MTM, and you'll rarely see it on RTW or even MTO pieces. 

In order to stand properly, a one piece collar will always be either buttoned, or have hidden buttons behind the collar points.
Enters now Yeossal and it's original design of a one piece collar polo shirt. They didn't base their work on any existing design and it took for the brand's team two months and ten iterations to design the collar and making sure it gets this curve exactly right, with or without a jacket.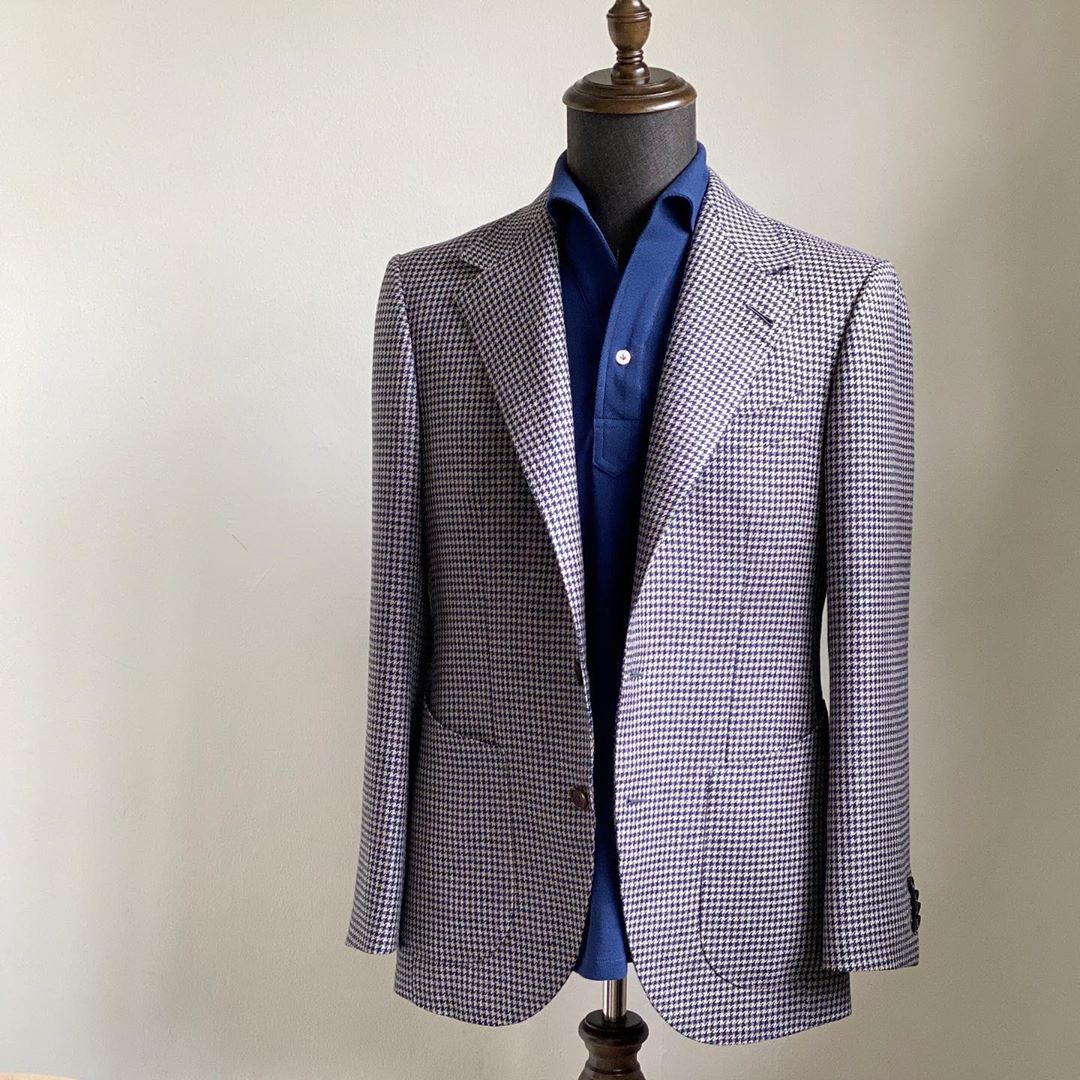 It's easily understandable given the numbers of parameters to take into account here: placket height, buttons position, collar angle and so on.
Construction
As the name suggest, those polo shirt collar are made from a single piece of cloth that starts from a placket on the front torso (this reinforcement allows the collar not to collapse).

A one piece collar is easily noticeable by its very distinctive collar roll, made possible by the absence of interlining.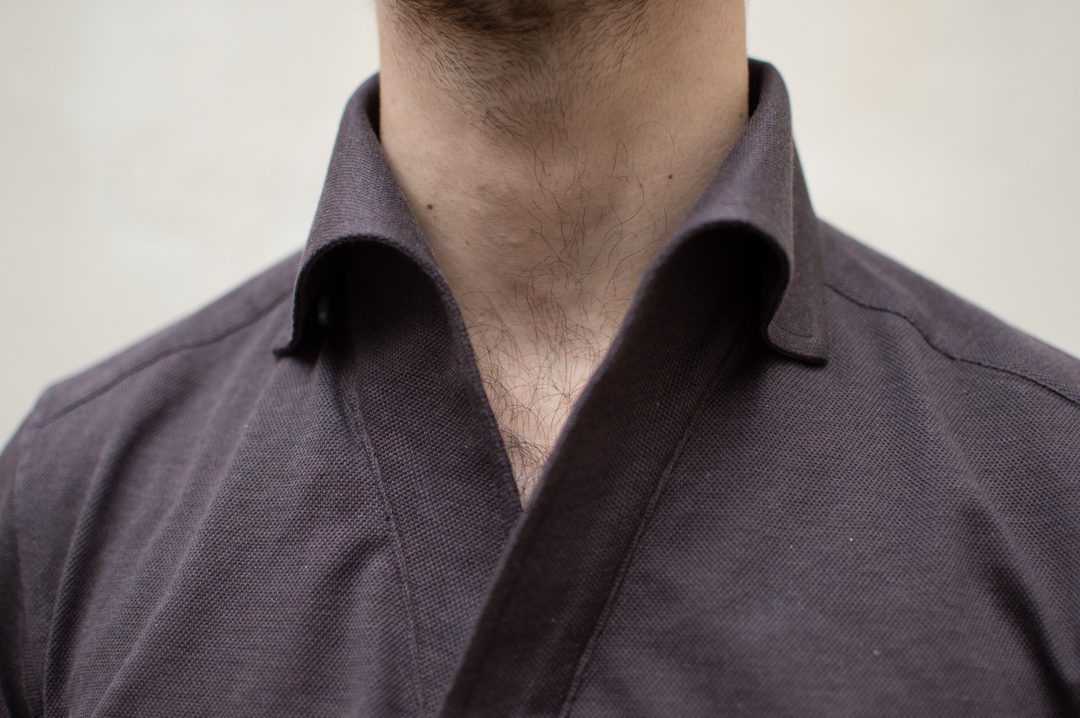 This placket is perfect when you have only a few buttons so it suits nicely that kind of long sleeves pop over polo shirt, without an all the way down front buttoning.
They're also incredibly versatile:
– they give a really dressed-up overall look to a polo shirt and make it possible to wear it as it is
– they are rigid enough and properly stands as well under a jacket, which is not really the case with conventional polo shirts.
It's a great alternative to a casual shirt worn under a blazer or sport jacket.
You can easily be fooled by the curve and think of an unstructured collar: in order to properly stand, the collar needs here fused to keep a minimum amount stiffness.
Fit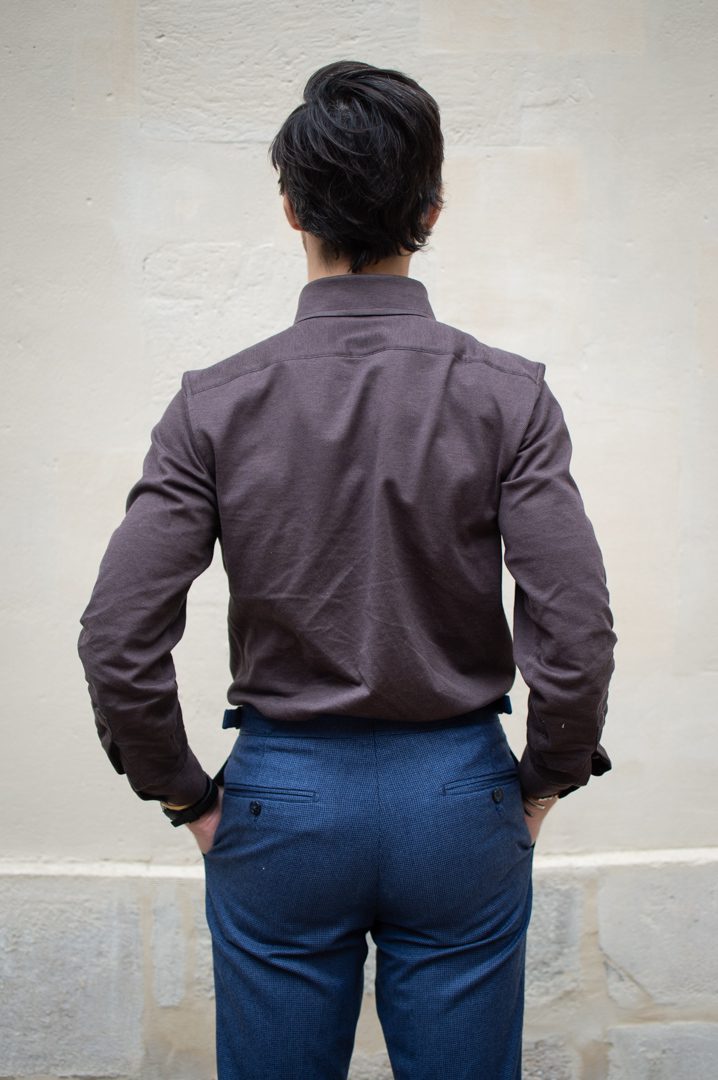 Fabric: pique Supima cotton by Canclini
I've chosen a pique brown fabric from the italian mill Canclini. It's a really surprising cotton pique fabric that will be easily wearable except in winter.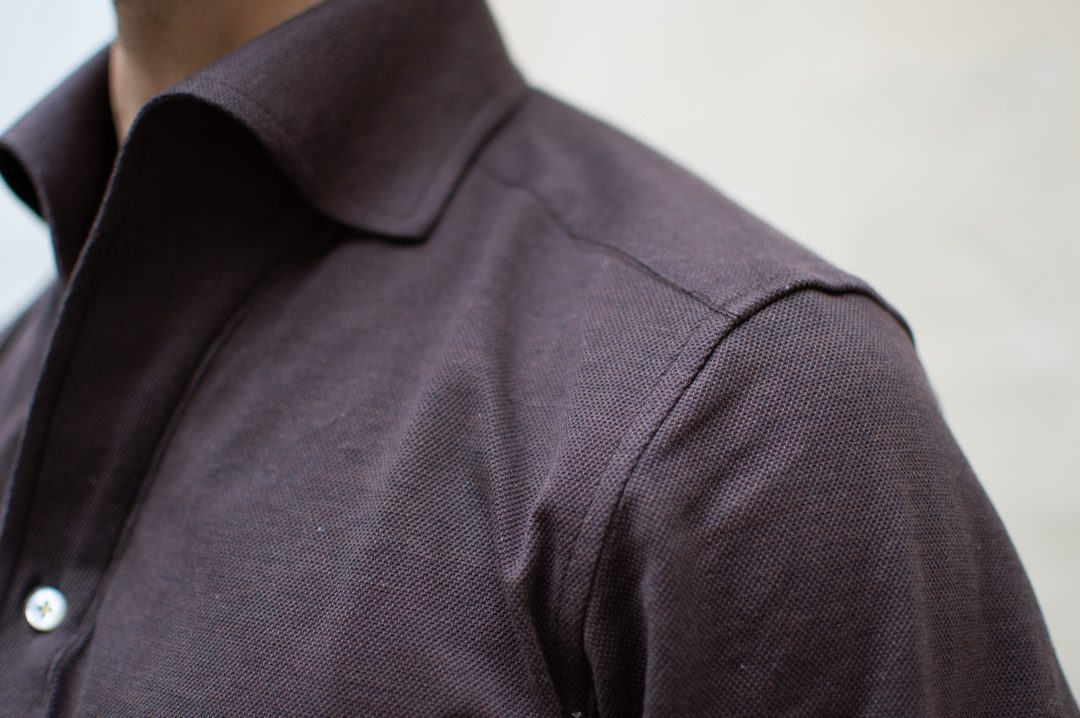 The touch leads to a surprising mix: it's both really soft, and dry at the same time. It makes it perfect for those tropical wet climate that is typical of Singapore weather. I've lived 2.5 years in Phnom Penh, Cambodia and I can't wait to go back there to try it.
Good news: it is also heavy enough to wear it during winter
And it will also brings some welcomed texture under a heavy knit or for instance an herringbone woolen Jungle Jacket.
Finishes: mother of pearls buttons with contrasting thread
Yeossal use 3mm thick mother of pearl buttons, with a zampa di gallina stitching. The brand also use a contrasting thread for this stitching that can be either red or yellow.  I thought this contrasting color would be a little daring but it mixes quite well amidst the white MOP button. With the MTO polo, you can also order a more subtle muted tone thread.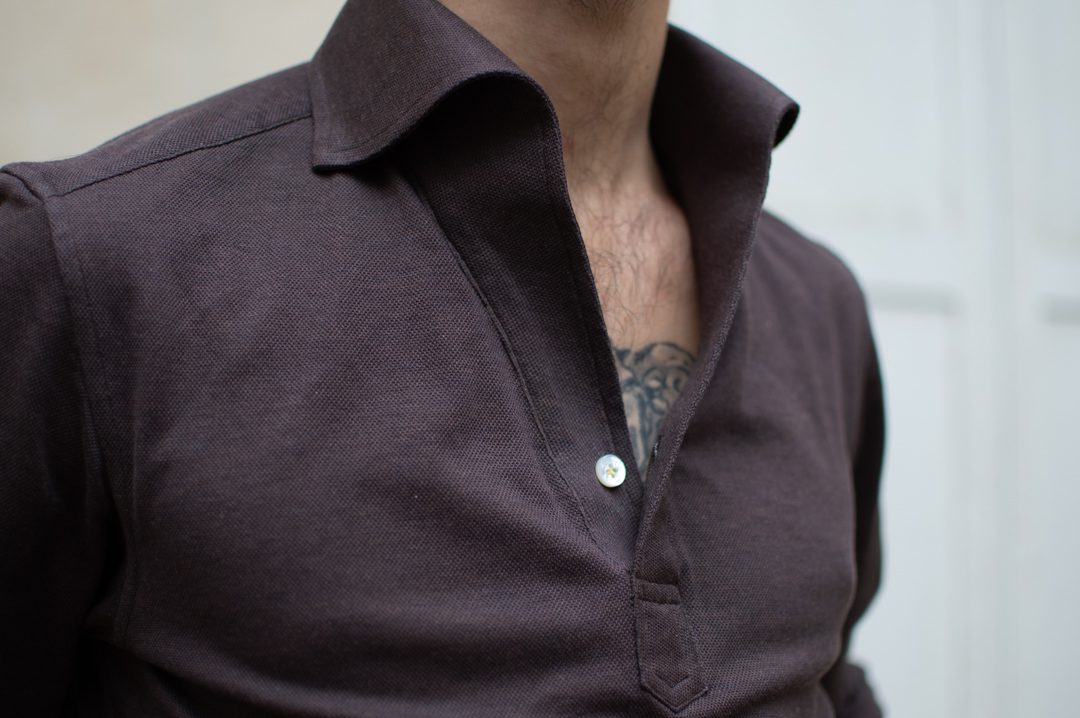 You'll also find buttons hidden behind the collar points, which greatly help the collar to have this nice roll.
III Style advices: how to wear a polo shirt during mid-season ?
Obviously, it's too late for an actual summer outfit..Yet, we'll keep the same spirit: a simple indoor outfit, without layering, but that will remains rich in details.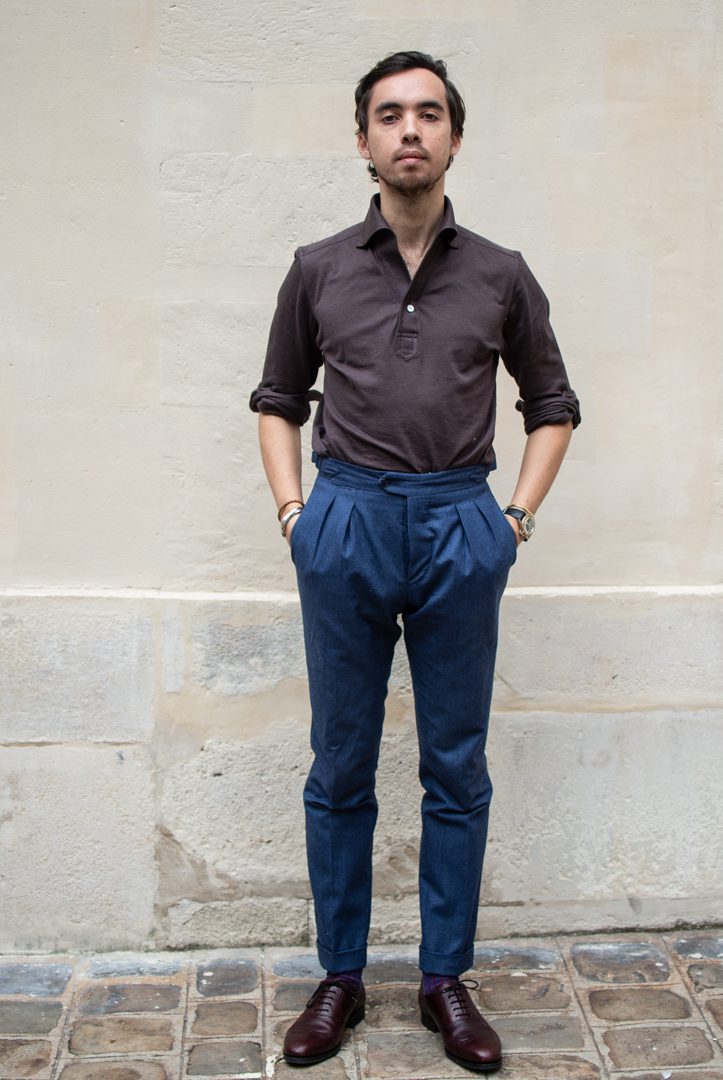 I've chosen for that a dressed up trousers made out of a light VBC houndstooth flannel: it's a double pleated trousers with no belt and simple side adjusters. It's not too basic but not too elaborated as well.
The colors are quite complementary and the flannel is light enough to be worn with that kind of polo shirt.
Obviously, picking an heavy winter tweed or flannel with a polo shirt would have been a terrible mistake. Do not ever do it.
And in the same way, do not wear this polo under a really heavy winter fabric.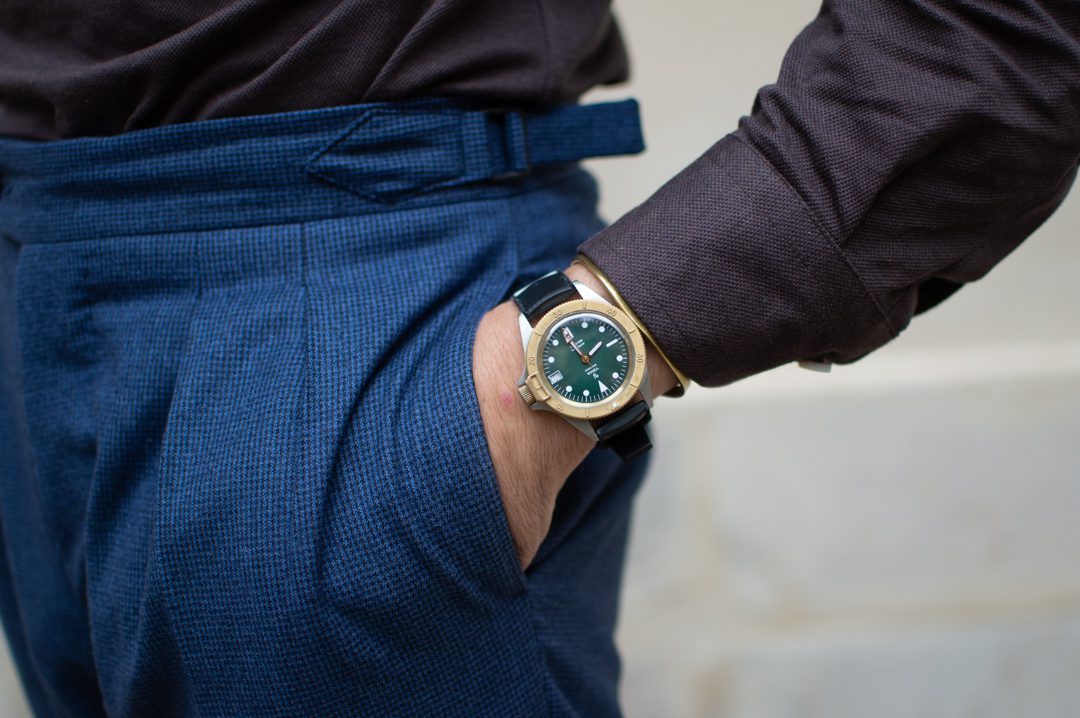 You can however wear it with a 4 season fabrics sport jacket or blazer. The best association is of course linen or the classic summer tweed made of wool/silk and linen.
Conclusion
I'm thinking that if you've read this far you got my point. For an excellent value for price, you get:
– really elaborated finishes that will truly stand out, while at the same time staying timeless: the one piece collar shirts and polo shirts, wide lapels urban safari jacket and gurkha trousers are great proofs of that.
– both premium and unexpected fabric: It was quite a pleasant surprise to get such a good cotton pique on the polo shirt. I haven't seen either the oxford selvedge fabric elsewhere.
– will all the flexibility allowed by the MTO offer
If you were into sartorial gems such as Luxire, you'll love Yeossal which in my opinion goes way further in terms of style and offer.
The polo premium collection shirt in swallow neck collar is available here at 124€