One of the main reasons why I talk about a brand or not ?
It has to bring something new to the market, be it through its product, its distribution methods or in some cases its identity.
If you have been reading the blog for a long time, you know that the French DNVB have an extremely varied and already very qualitative offer in terms of scarves, especially when we talk about silk scarves made in Lake Como.
So my expectations have evolved as well, and it's no longer enough to sell a beautiful silk scarf made around Lake Como at the right price for me to tell you about a brand. You really need a piece that stands out, and doesn't exist among the more common brands you already know.
Sometimes it's not obvious at first glance, and you have to dig around a bit to find what you want. And this is what happened to me when the brand Elizabetta contacted me.
I Elizabetta: history of a brand that focuses on the product
The brand was founded in 2004 by Elizabeth Perkins (hence the brand name Elizabetta, her Italian nickname), originally an interior designer, following a visit to Lake Como.
There she discovered the region's specialty: silk work and all the pieces that come with it, including silk scarves and ties. She also joined forces with a small Italian leather specialist to produce of women's handbags.
A small structure that focuses on the essentials
The Elizabetta brand is a family brand made up of three people: it is the founder who designs the brand's designs herself, which are exclusive to her. It is a very small structure, which produces in small quantities with low margins.
Just by the name, we can therefore see that the brand has remained very simple on its marketing and its brand universe: no exhuberant video or sales page.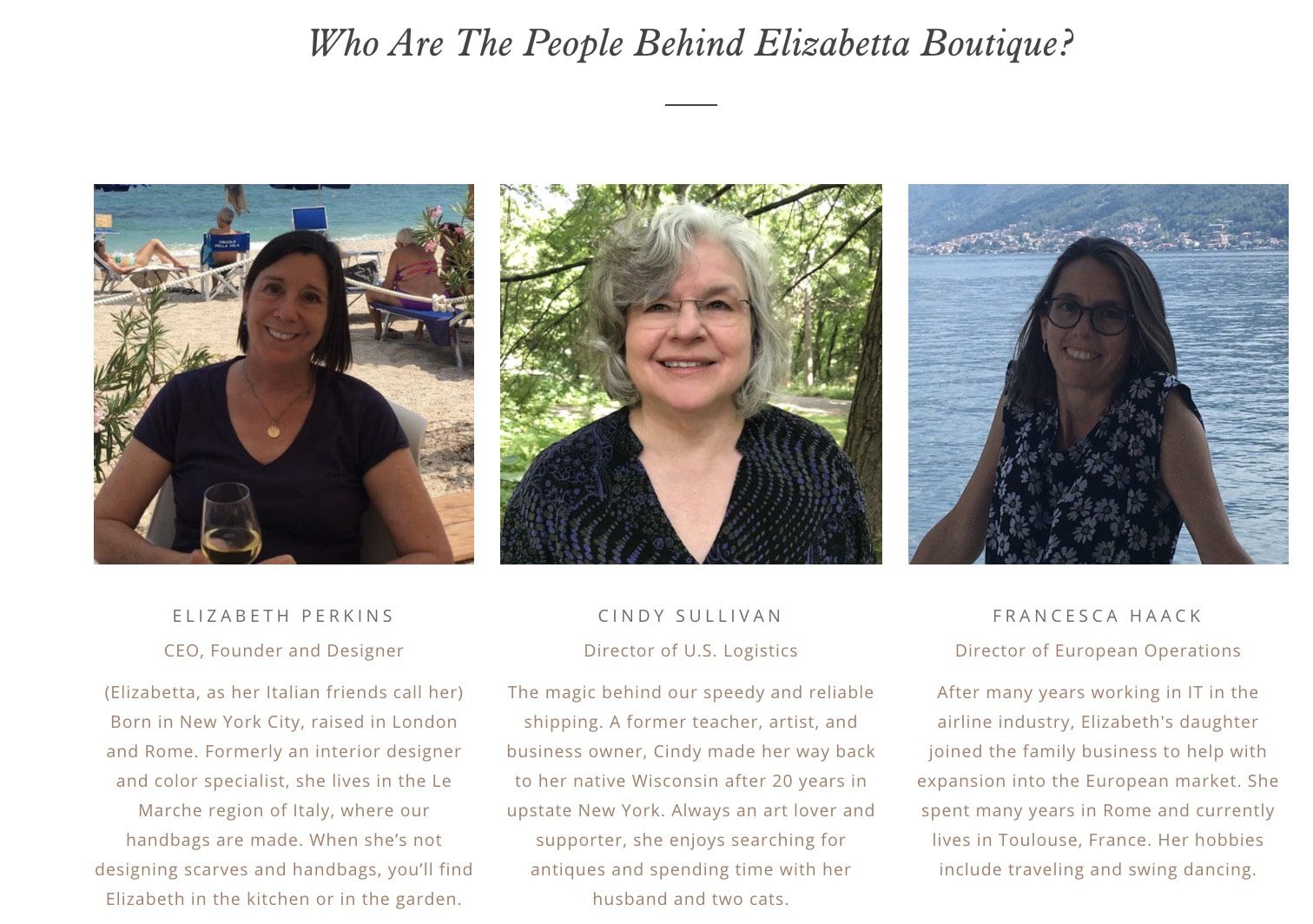 All the effort goes into exclusive designs and qualitative products, and sold at the right price: a nice starting point.
Well-made basics and a relevant communication start
The brand had remained quite discreet until now: it is just starting to communicate but does so selectively and relevantly.
The Garza Fina silk grenadine ties, highlighted by the influencer @dapperclassic (whose photos we often share with you on our Instagram account) are a good example.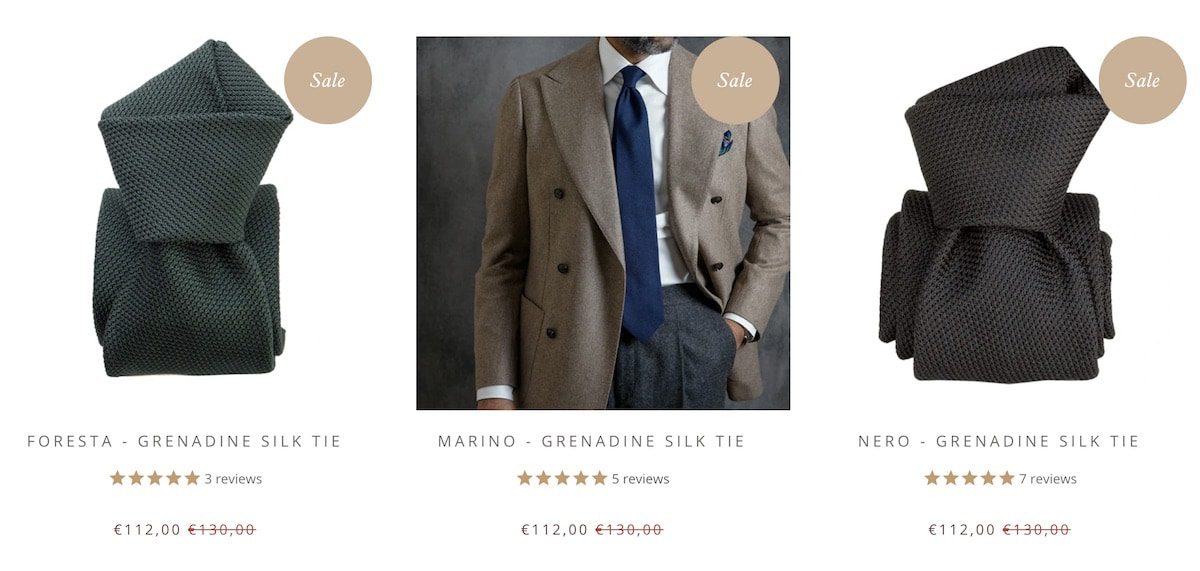 It's always great to see confidential brands partnering with emerging influencers passionate about sartorial like @dapperclassic. A relevant and well thought out communication work. 
Although high-quality, these ties are not the subject of this test. Here in a few lines their characteristics:
– hand cut
– wool lining
– striped silk tip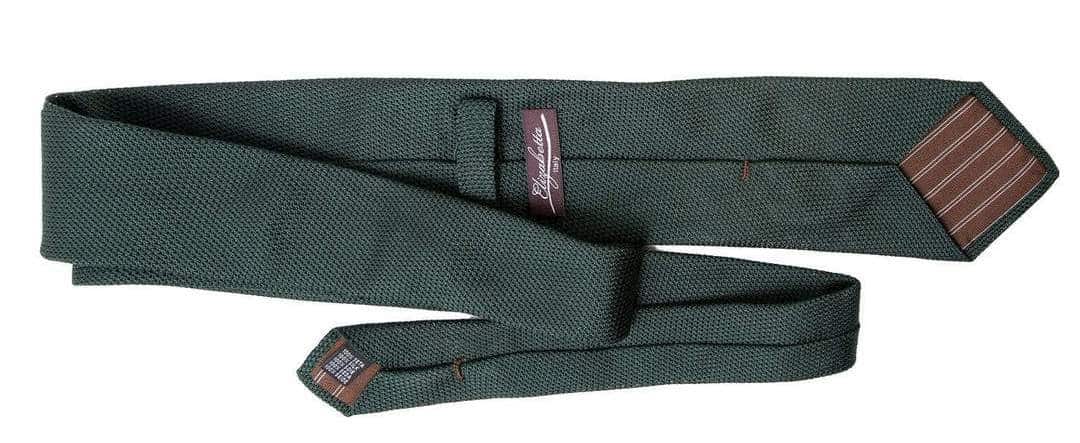 As a reminder, silk grenadine ties can only produced by two workshops on Lake Como, equipped with looms from the early 20th century. This is Garza Fina grenadine that I like for their beautiful width as well as for its patterned silk lining.
In short, if they are very nice silk grenadine ties, well executed and with a good quality/price ratio, it is not the kind of differentiating pieces I expect to talk about a brand.
In short, so far, a very commendable brand but not really differentiated from other DNVB that manufacture in Lake Como and are now legion on the French market.
What does Elizabetta bring to the French market?
It is about reversible scarves, with a silk side and a wool twill side: a product that does not exist in France and with very interesting for late winter and mid-season.
The 100% silk twill scarves can indeed be a little too precious because of their brightness, and not necessarily have a satisfactory fall: thanks to the wool twill side, and a specific treatment of the silk, Elizabetta solves these two problems.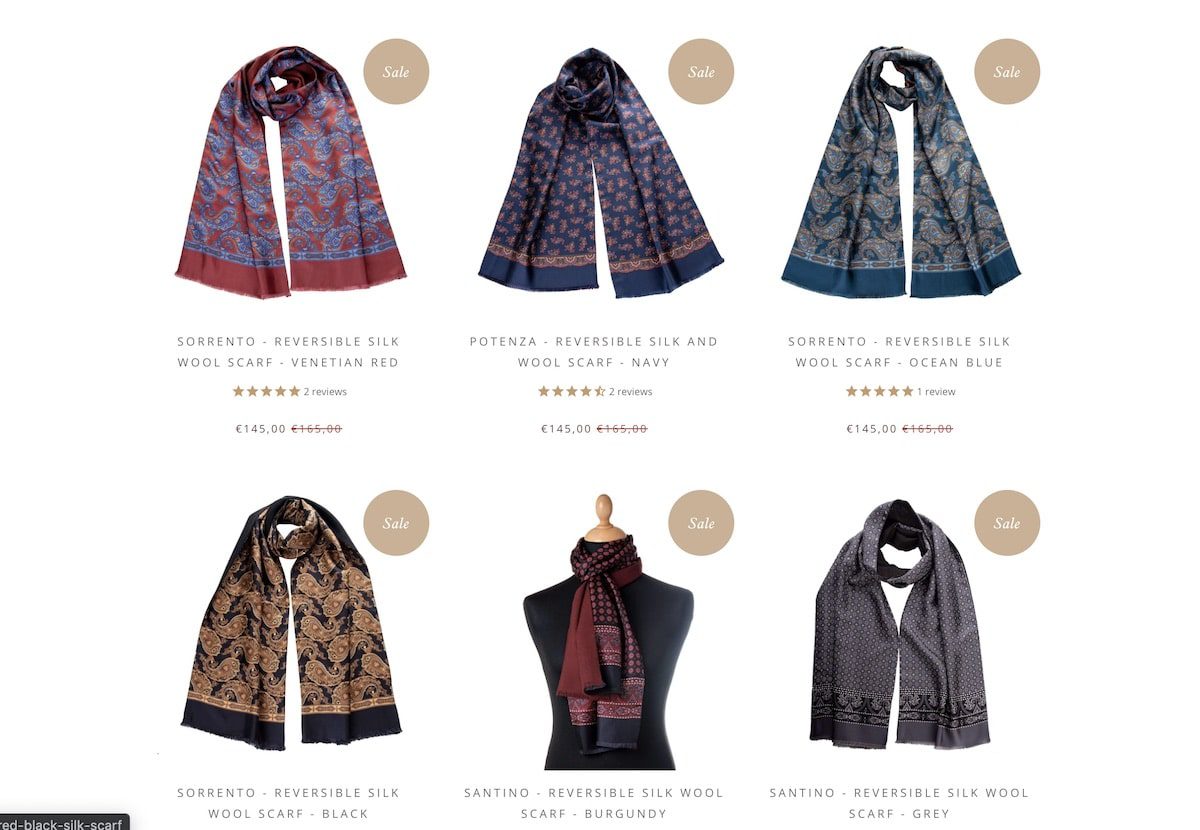 Thoughtful color/pattern combinations that bring a real novelty in terms of warmth and drape
On the other hand, on 100% wool scarves, it is much more difficult to find a piece with refined patterns, and that renders the colors with such intensity.
We have previously tested scarves made of a mixture of wool and silk. Elizabetta offers a reversible system that is also rather ingenious.
This is the subject of this test 🙂
II TEST OF REVERSIBLE SILK AND WOOL SCARVES
As you know, both silk and wool are thermoregulating materials: even if the wool side is heavier and allows the scarf to keep warmer, you can ultimately wear it even when it's warmer.
1 Silk side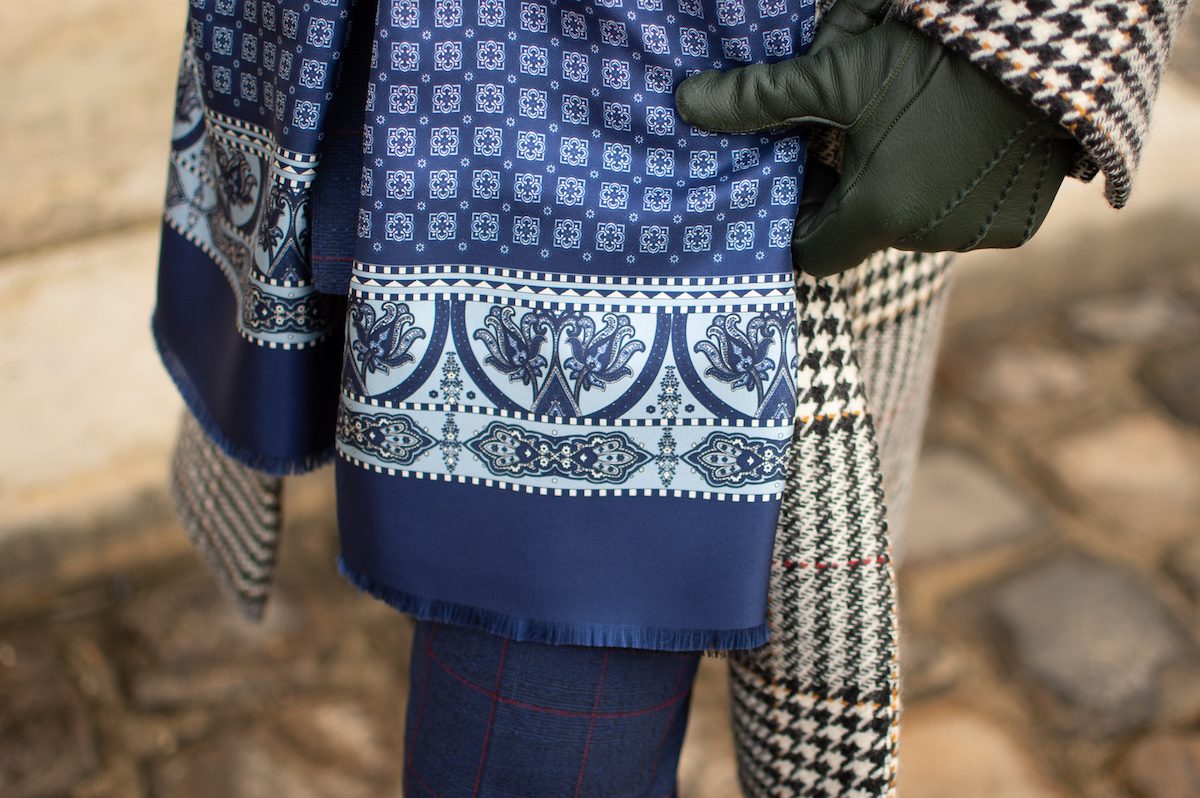 First good point for a men's scarf, we apply to the silk several washes, which gives it a matte appearance, softer and not shiny (the water from the wash is then filtered and reused for the following washes).
This allows to better highlight the pattern and to lessen the denaturing of the colors, and also to have an overall rendering that is less precious and therefore more masculine.
As with most printed silks, it is a silk twill with a fineness of 14 momme (to give you an idea, a good silk twill tie like those found at Gentlemenclover are 24 momme). We will come back on the patterns later.
2 Wool side
This is a worsted wool twill that is surprisingly light and mostly provides just the right amount of drape without thickening the overall scarf too much. Surprisingly, given its weight and thickness, it allows the scarf to be worn when it's quite cold (no less than 5 degrees nonetheless) and to be worn into the 20s thanks to the thermoregulatory nature of the silk and wool.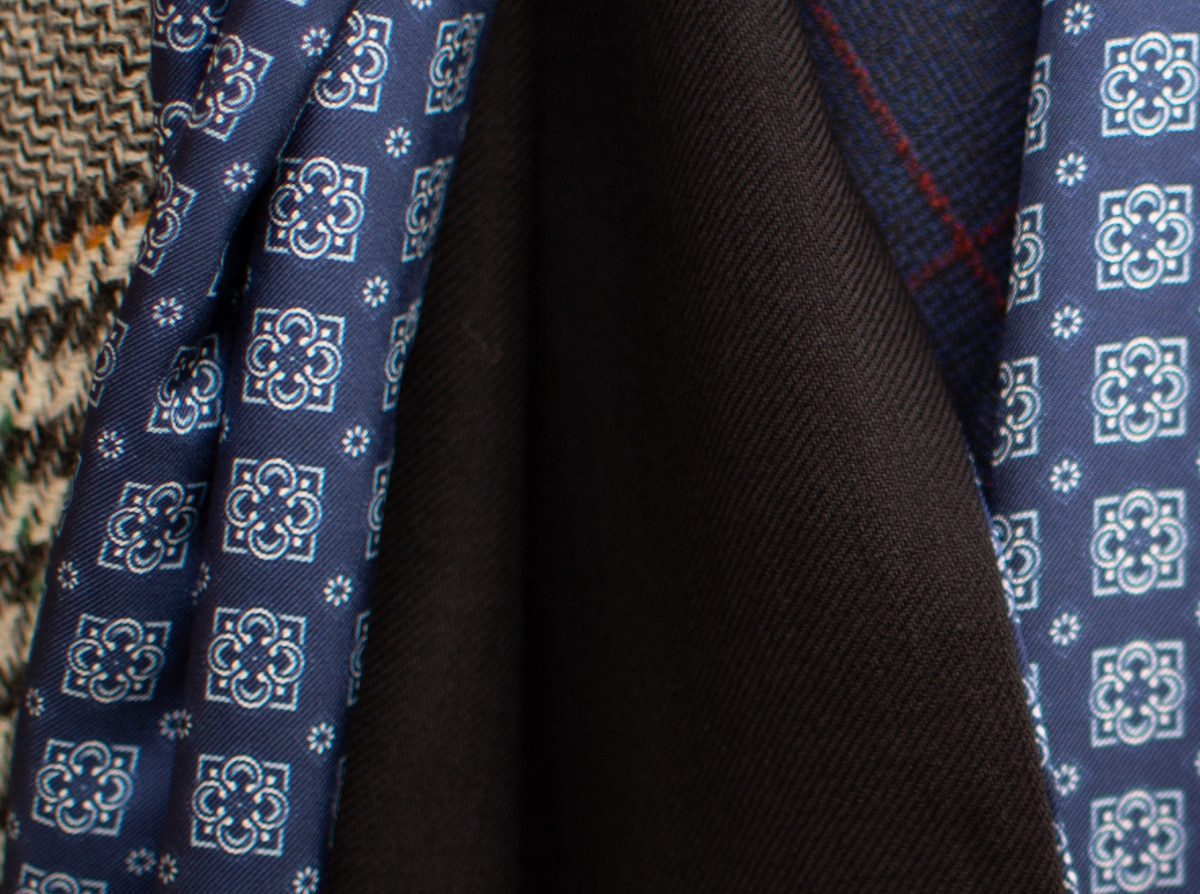 3 Dimensions
The idea was also to innovate on the dimensions of scarves on the classic market: the men's offer is more often limited to quite short lengths such as 160cm: this restricts quite a bit the possibilities in terms of knot styles, and it's not ideal to make nice knots.
This is a 180cm length, which allows a better drape and more elaborate knots. As for the width, it's 32cm, it's a little narrower than some scarves but it's still suitable for this kind of reversible model.
4 The making
This is not a scarf where both sides would be sewn together all over: that probably wouldn't be really manageable pattern-wise. It would also have required an iron-on which would have stiffened the piece.
The wool side and the silk side are actually sewn on the edges: I didn't realize this during the shoot so here are some simple phone photos to show you that.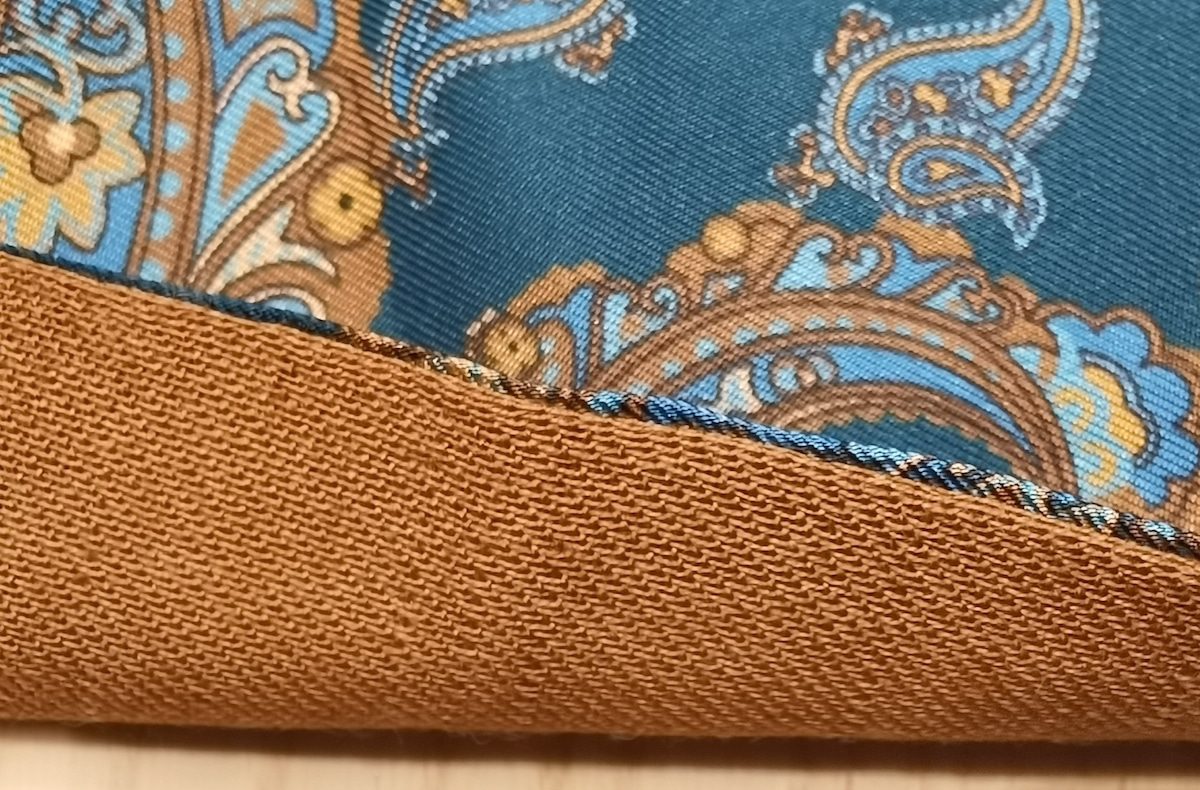 So we also have some air that can circulate between these two thermoregulating layers, which allows for better overall insulation.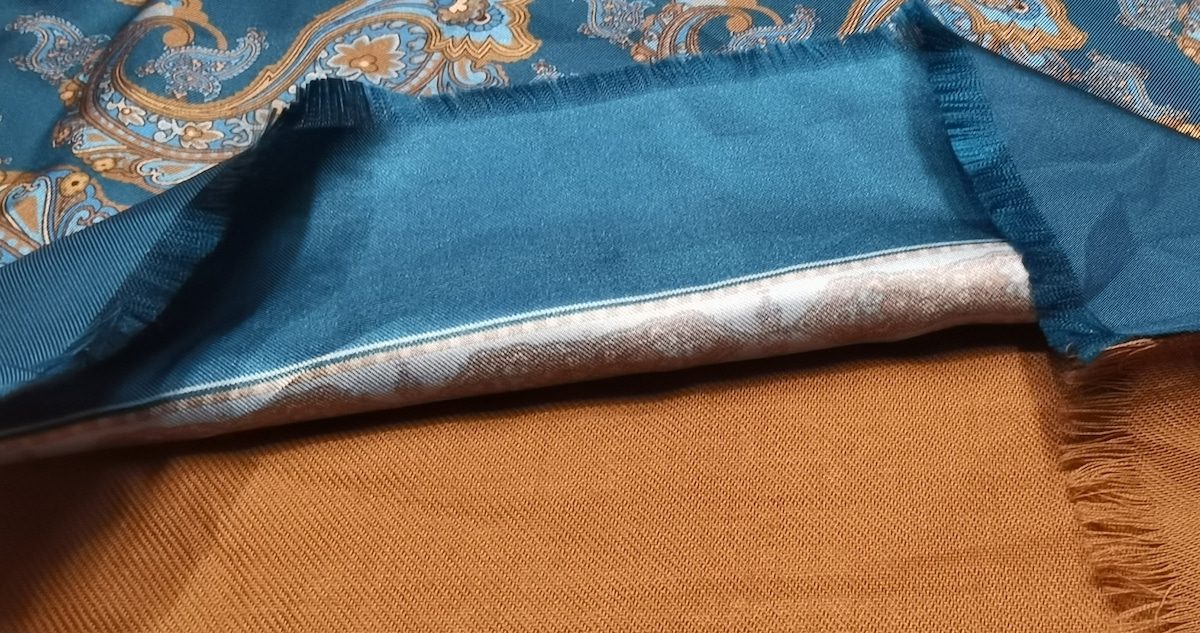 5 Patterns of the tested models
In addition to this reversible concept, it is obviously the patterns that seduced me on these scarves with the typical sprezzatura inspiration that I usually present to you: you can find both imposing Paisley patterns and micro patterns a little more discreet that contrast well.
The Paisley / Bronze pattern
This generous paisley pattern relies on a mix of colors between turquoise and bronze (It's not unlike a Madder tie from Gentlemenclover). The matching of this bronze and the wool twill is rather subtle and makes for an interesting callback.
The Medallion / Navy pattern
On the one hand a medallion pattern with a thoughtful floral border that adds contrast and variety in terms of patterns.
It is sometimes complicated to find a pattern that is a bit fancy (more than for example simple polka dots) that is not a giant pattern (like the previous Paisley) and that gives a faux-uni effect from afar (so that it remains easy to wear)
On the other side the navy blue wool twill side: this is a navy blue in the purest sense of the word, which actually looks a lot like black in the daylight.
This kind of ultra-deep navy blue is often used for tuxedos because it is much more like black than a classic black.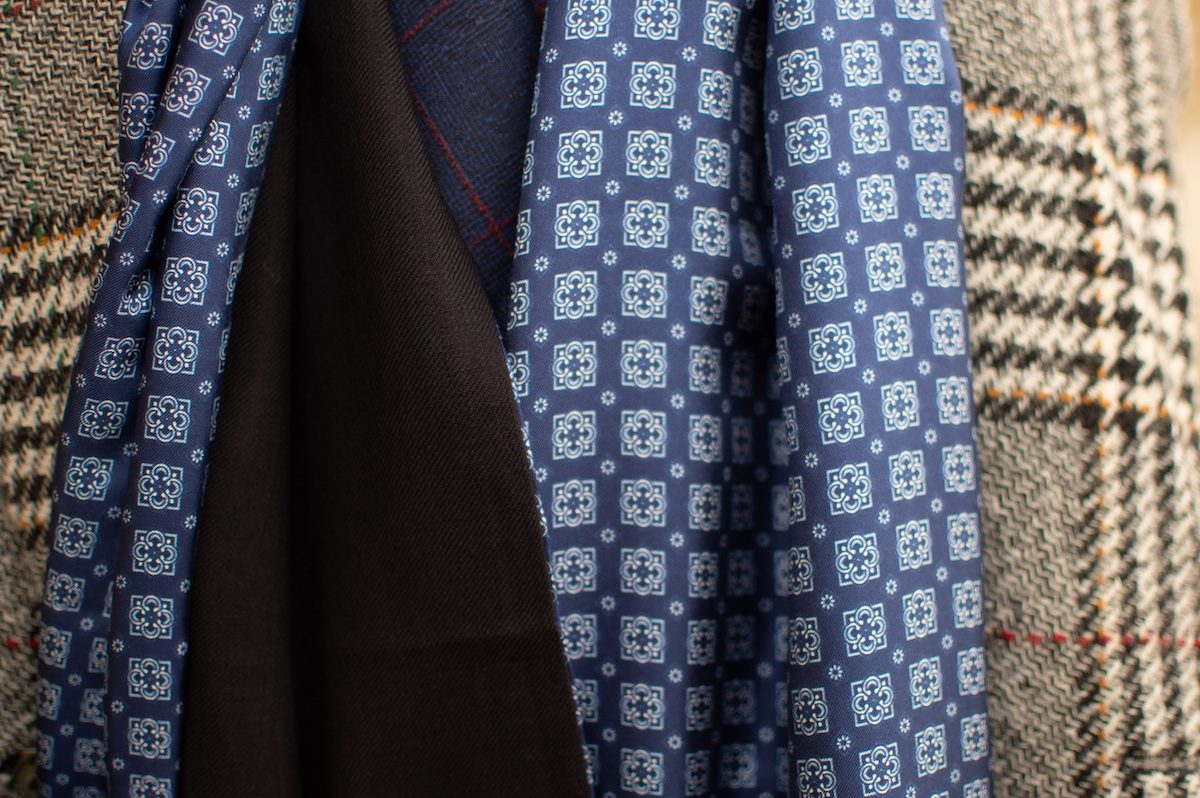 Obviously, these two patterns work with outfits with quite different registers: this is what we will see through our style tips.
III Style Tips
The Paisley scarf: the most sartorial and sprezzatura
This is the most assertive scarf in terms of patterns and colors: you can easily integrate it into an elaborated outfit as long as you take care to balance these two aspects.
So be careful not to wear it with other bright patterns or colors: in this outfit, you will find relatively neutral colors like forest green, navy blue and burgundy. Only the Clotilde Ranno suit pants in red and blue Prince of Wales stands out a bit.
On the other hand, we can play with the rest of the outfit on the construction, texture and materials.
The construction and finishes
We work on the construction here through:
– the Yeossal Jungle Jacket and its box pleat pockets
– the Paris Yorker turtleneck, which is well adapted to accommodate the scarf
– the double clamp on the Clotilde Ranno suit pants
– the balmoral construction and swan neck seam of the CNES richelieu (which make them versatile enough to work well with the outfit.
The textures and materials
With the silk and wool twill of the scarf, we're pretty free with the rest of the materials:
– the Jungle Jacket Yeossal brings a slightly more rustic side with its donegal, which helps offset the preciousness of the silk
– the Prince of Wales of the pants has a curly texture to add a little consistency to the bottom, so that it is not too smooth compared to the top
– finally, the burgundy patina of the CNES adds a nice dressy touch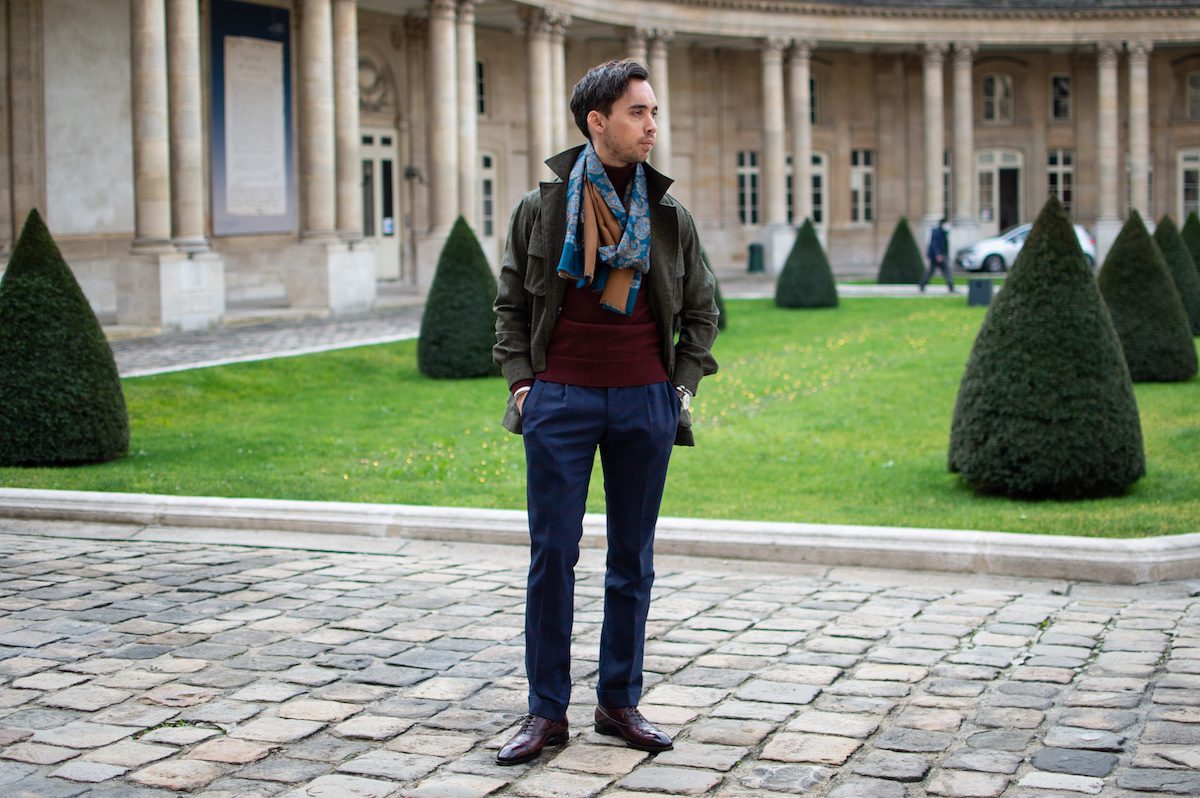 Here I am wearing the scarf with:
– a Paris Yorker turtleneck sweater
– the Jungle Jacket Yeossal
– Neapolitan suit pants by Clotilde Ranno
– richelieu sewn welt CNES
The medallion/twill scarf: the most formal, with a welcome twist
As I explained earlier: the medallion pattern is imposing enough to be a little elaborated (more than, for example, basic polka dots) but still having a rendering not so far from the faux plains).
Vary the patterns
So you can have fun with the patterns on the rest of the outfit, as long as the colors vary a little. That's what I did here with:
– the Prince of Wales pattern on the Maison Lener coat
– the floral pattern of the Gentlemanclover tie
– the Prince of Wales curly on the Clotilde Ranno suit
The important thing here is to have distinct colors, as well as patterns of distinct dimensions.
The outfit here is more formal, and plays on simple colors: white, gray, navy blue. The brighter blue of the scarf gives a good touch of brightness to the whole outfit while remaining in a formal register.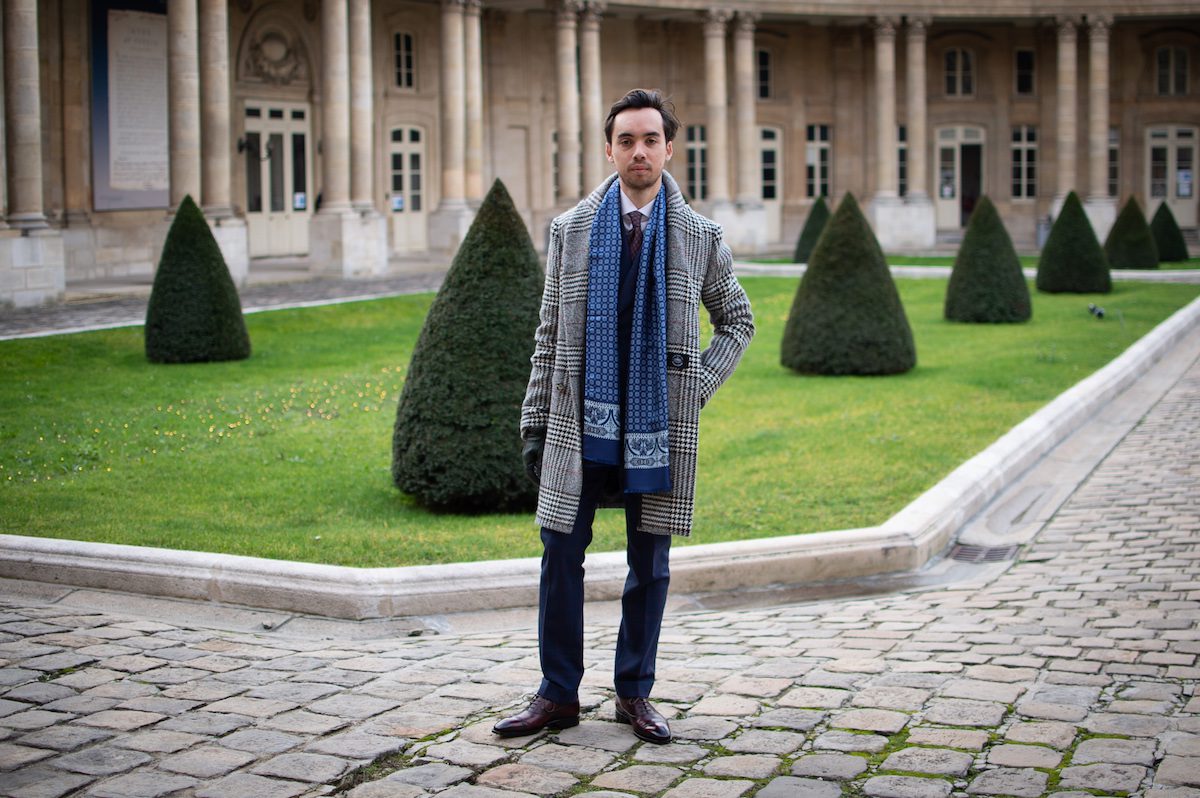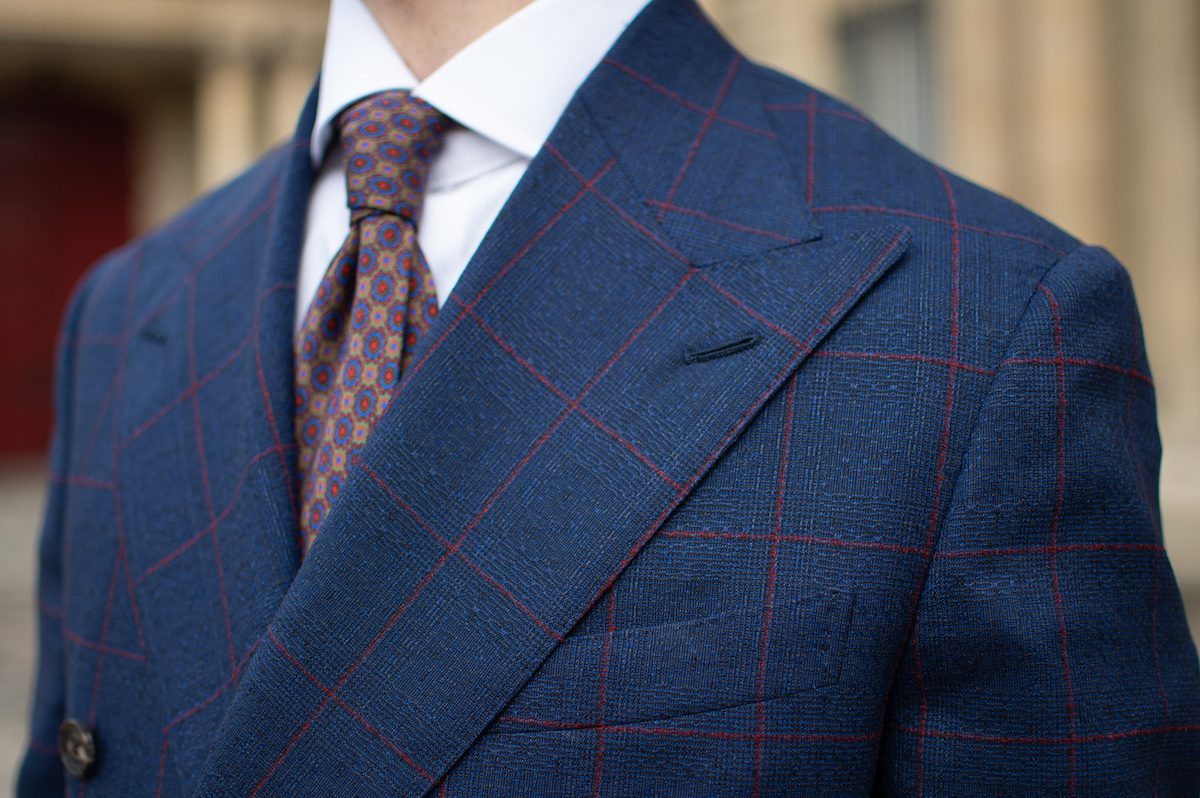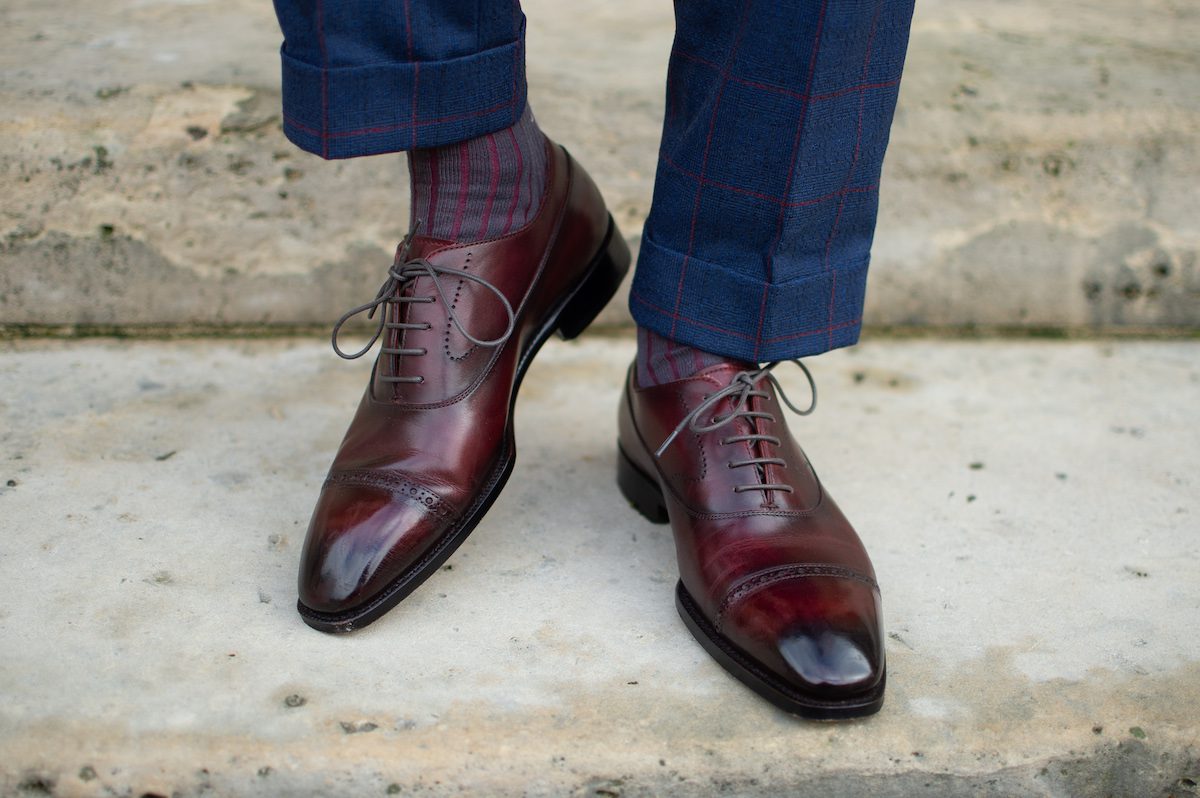 Here I am wearing the scarf with:
– a Maison Lener coat
– a Clotilde Ranno suit
– a Claude CCF shirt
– a Gentlemenclover tie
– the richelieu sewn welt CNES
Elizabetta scarves conclusion
These men reversible scarves are offered at 165€: a price a little higher than what you usually find at French DNVBs but which stands out for an original construction, which does not exist elsewhere. With also more generous dimensions than most of the commercial scarves (180cm vs 160cm).
This makes the piece:
– versatile: the combination of two relatively thin thermoregulating materials allows a scarf that can be worn from 5 to 20 degrees
– a better drape thanks to the weight of the wool twill
Last but not least: even though these are very sartorial patterns, which are starting to be familiar to us thanks to ties in particular, they are still completely unisex.