Better late than never
To be honest, Pitti Uomo never really was a priority: maybe I thought it was a tradeshow just for brands, buyers and Instagram influenceurs getting photographed in the venue without actually doing any business.
Long story short, it didn't seem easy at first so attractive for a serious website, with quality content.
I Pitti Uomo: when in Florence, do as Sartorialists do
You know how fashion is like: there is an informal dress code in every event.
The it-outfit here was obvious: turtle neck collar, silver blue raglan herringbone wool coat, and sometimes corduroy white pants with brown loafers, derbies or boots. I've seen maybe 30 people a day with that exact outfit.
I was also stunned by how many turtle neck collars I saw.
By taking some prospective, it would have been quite easy to see it coming: every trendy sartorial italian brands (Lardini, Tagliatore, Lubiam and so on) were featuring turtle necks on their Instagram feed. And if you arrive on day 2, you can always have a quick glance at the picture from day 1 to guess the trends.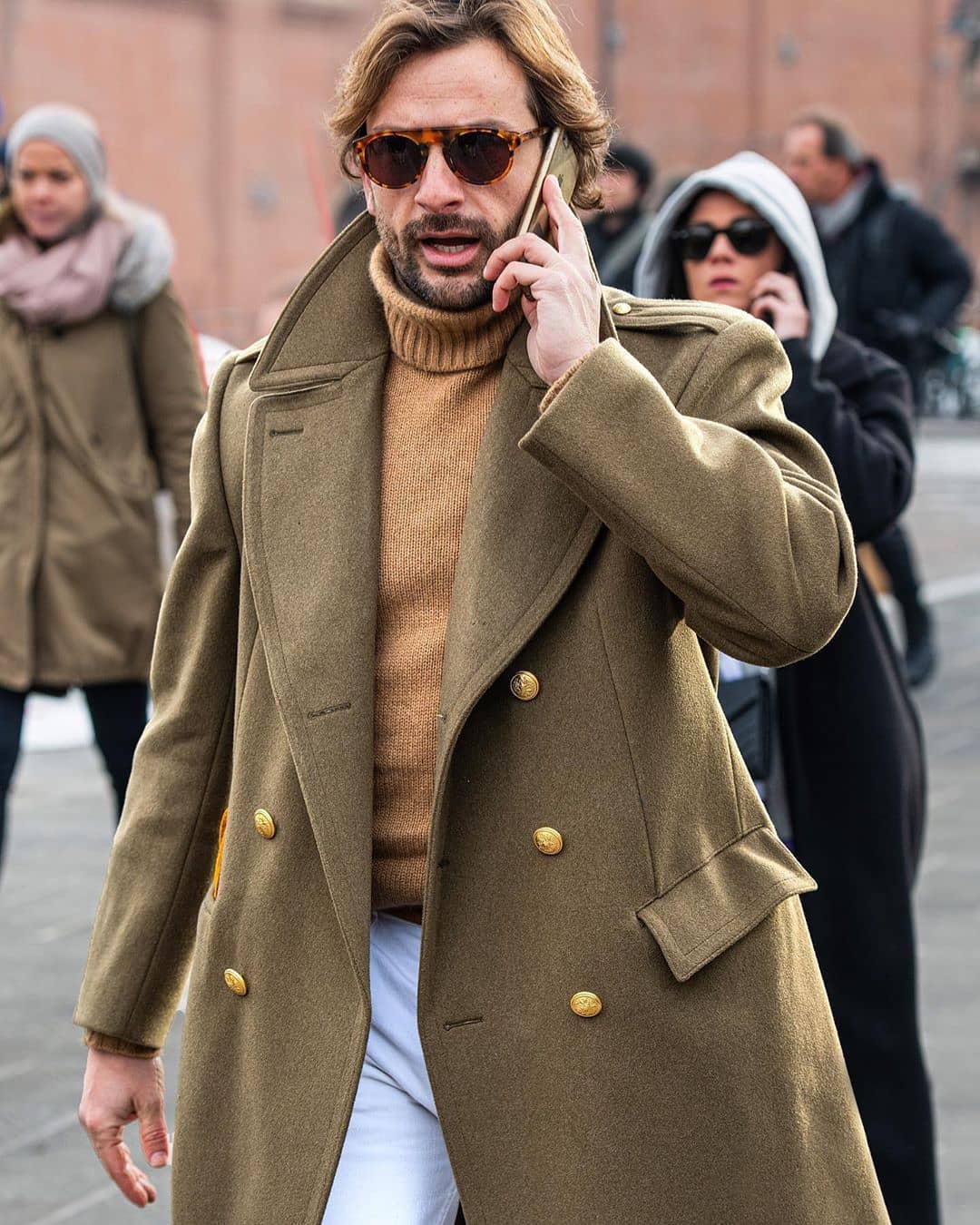 Italian influencer Danielo Carnevale, whose outfit
I obviously decided not to take into account any of this and arrived there with two suits.
Besides, what's the point in going to Pitti Uomo if you're going to be dressed as everyone else ?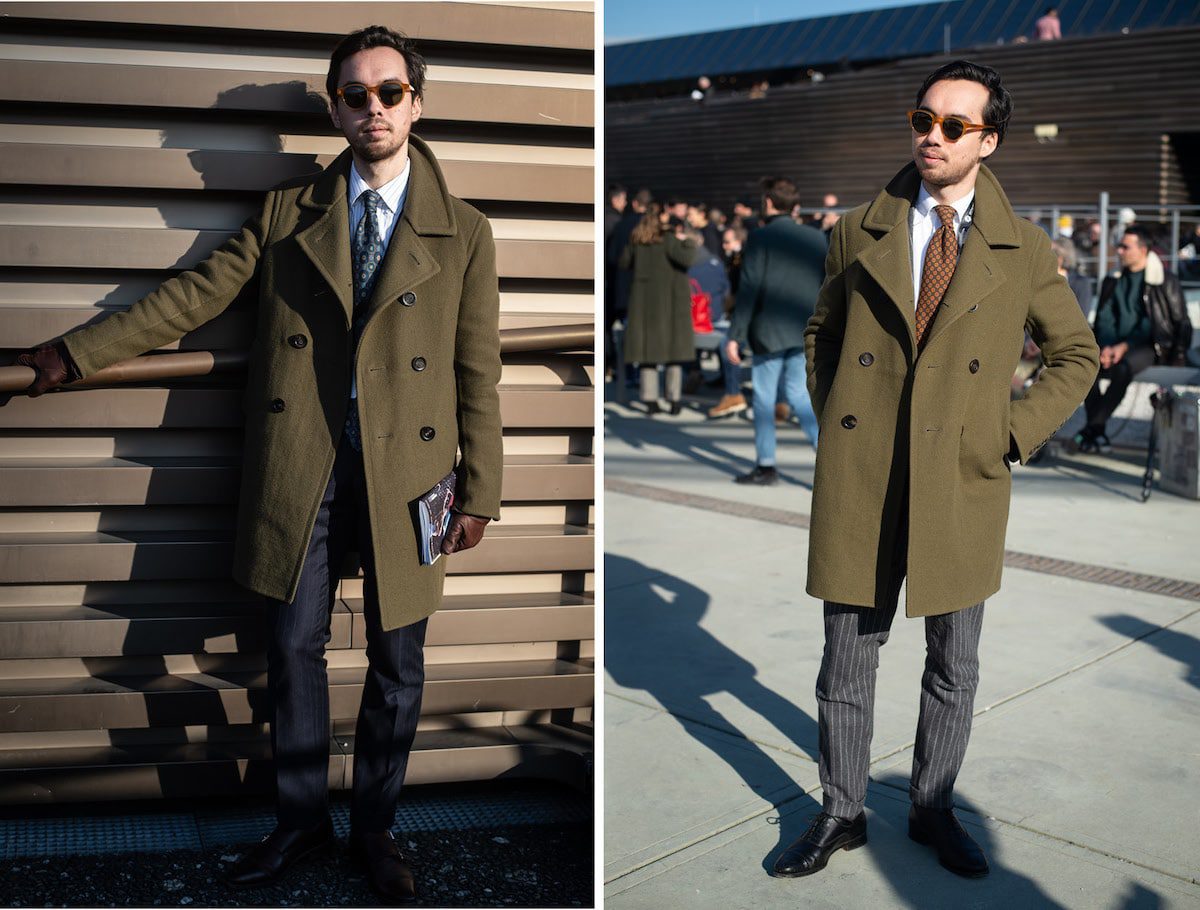 Coat over shoulders
Wearing the coat over shoulders initially looked a lot like a gimmick to me, but as our blogger friends from BonneGueule noticed, there are actual practical reasons behind this style (so that's not pure show-off)
First reason: it's strangely cold during morning and evenings (around 2/3 celcius degrees) comparing to the warm afternoons (14/15 degrees)
You'd be too hot if you wear all day long your coat, and it's a pain to keep it in your arms.
Second reason: it's a lot warmer indoor, especially during rush hours. It's a lot more practical to keep your coat over your shoulders in order to avoid catching a cold when you get out.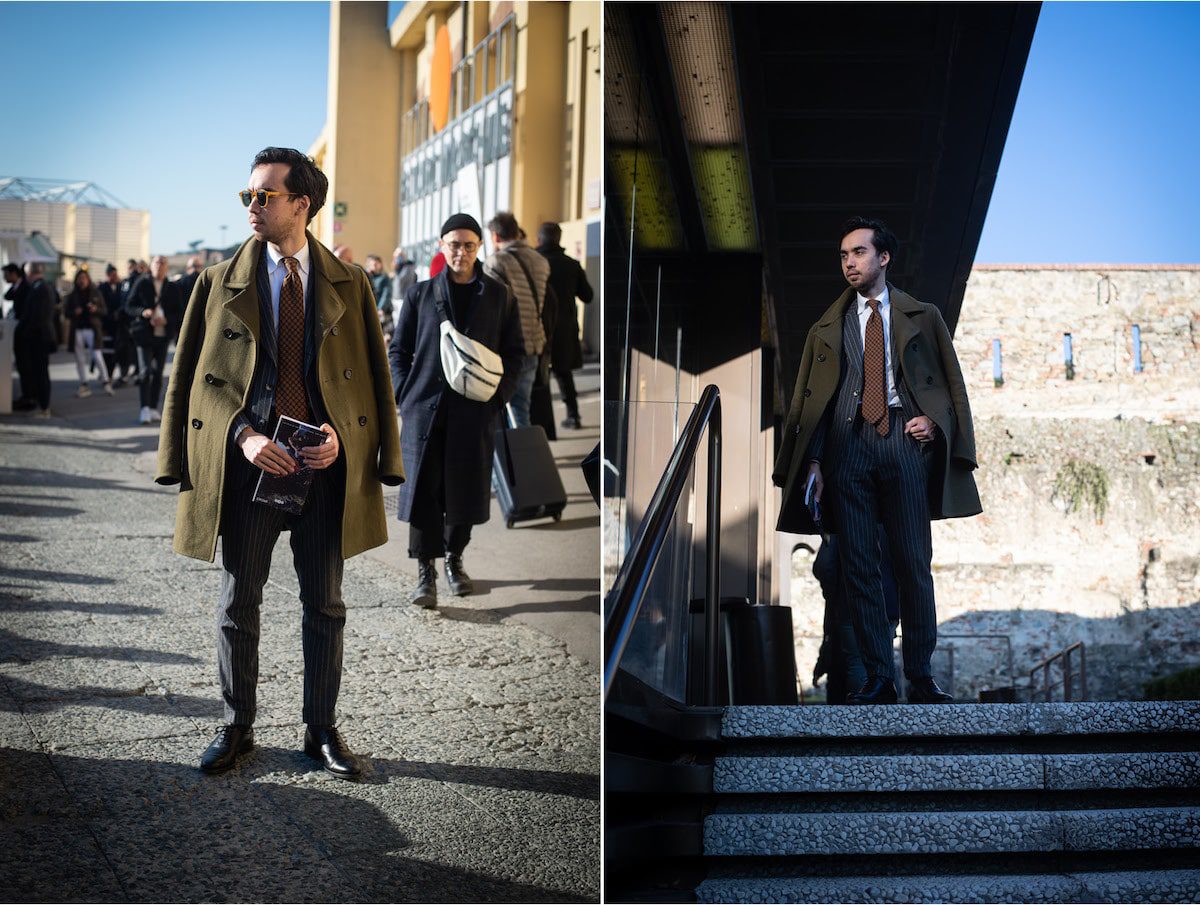 Leaflets and lookbooks
We wanted to meet as many brands as possible, and contact them later to figure out the details on how we could collaborate together: we gave away and got tons of business cards.
However, I'd suggest to avoid taking any lookbook (sometimes really big and heavy) that some brands can give you. In most cases, you can check them online anyway.
And it's obvious that at the end of the day you're not going to carry all over the tradeshow 30 different lookbooks in your arms.
Planning
I didn't realize how big the tradeshow was: with hundreds of brands inside many different huge buildings, not that close from each other.
Our priority was meeting international brands that we had under our scope and that could be the most interesting for your.
So almost an hundred.
So we unfortunately didn't really have time to discover new brands, that we never heard of.
That and also you don't really know how to start in such a big event.
II Our favorites brands from Pitti Uomo 97
Italian brands
I wanted to arrive absolutely ready so I got there with our photograph Lea Chamboncel: part of her family is from Italy so she is a native Italian speaker.
We were able to speak with many local brands, but, as a french media, have only mixed feelings about working with them for several reasons:
– they mostly have only a basic website, with no online store section
– they have a retail only business model (often without shops in France, or even available online in France)
– most of them have a messy offer: they have quite an expansive retail price while their past collections being sold at the same time extremely cheap prices on Yoox
With that kind of messy offers, complicated online buying and an impact not directly measurable by brands, it's for now not really worth our time writing elaborated 2000 pieces of content and organizing a shooting.
We however saw some really nice things in terms of outfits: even if there were tons of turtle neck on the stockman, the fabric contrast were really interesting in terms of texture and colors, and I was impressed by the extremely light structure of the jackets
De Petrillo is an exception in its distribution strategy among traditional tailoring brands: it has an actual online strategy and is for now sold at The Rake online store (they're currently working on their own online shop). We like the variety of their wardrobe and it's very likely we're going to talk about it again really soon.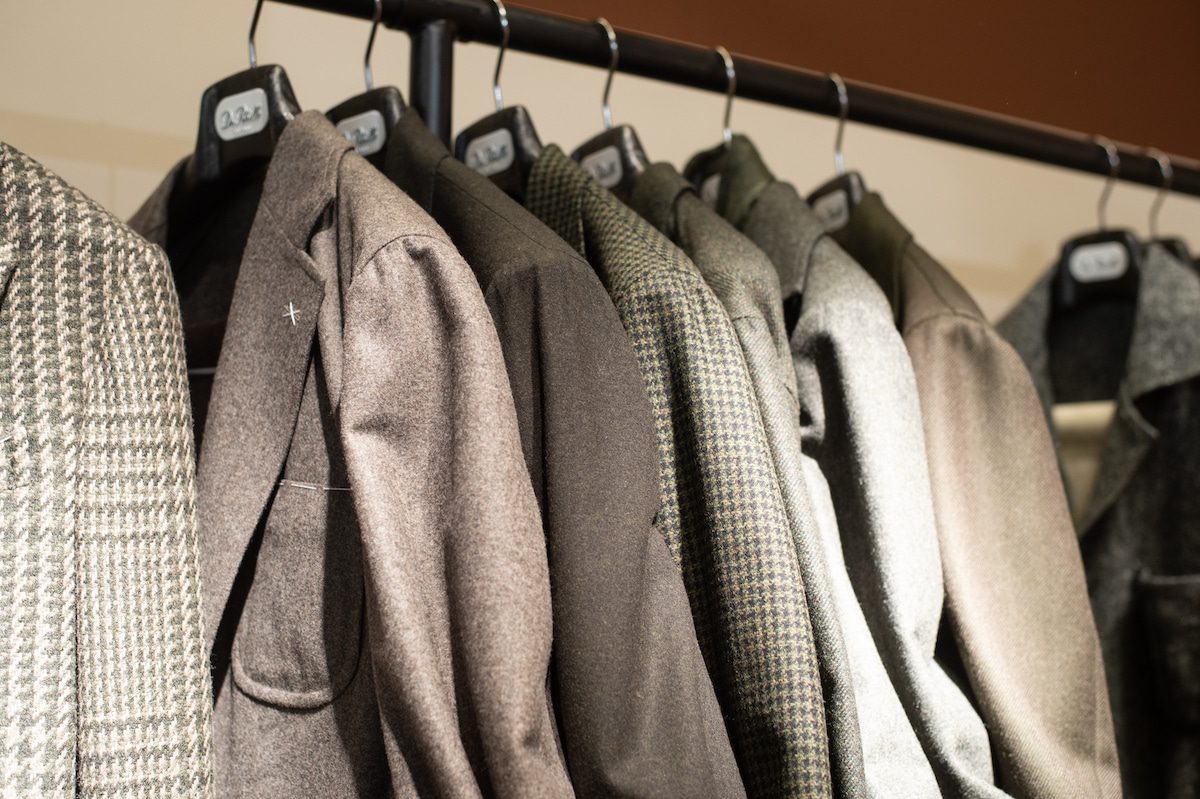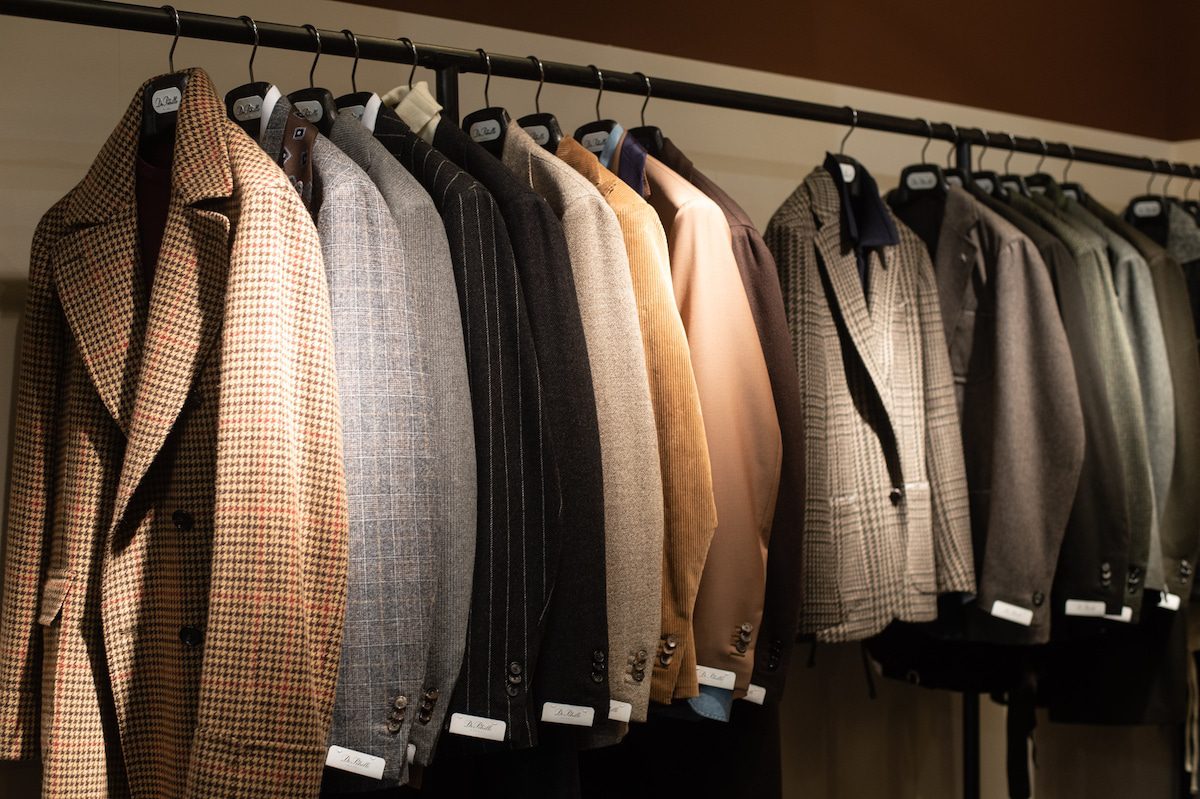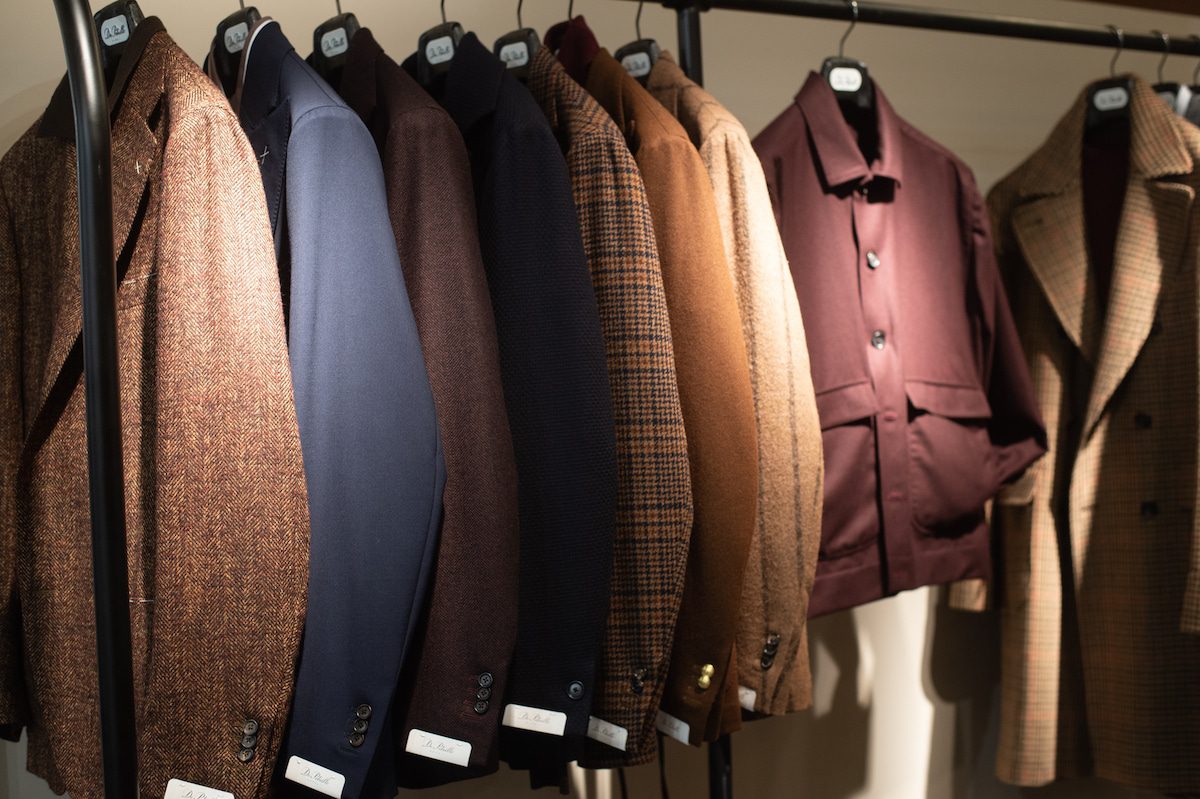 Another crush: the brand is well-known for its Valstarino jacket, produced in 1935 and inspired by A1 Flight Jackets. You can find this piece in an impressive array of fabrics and colors.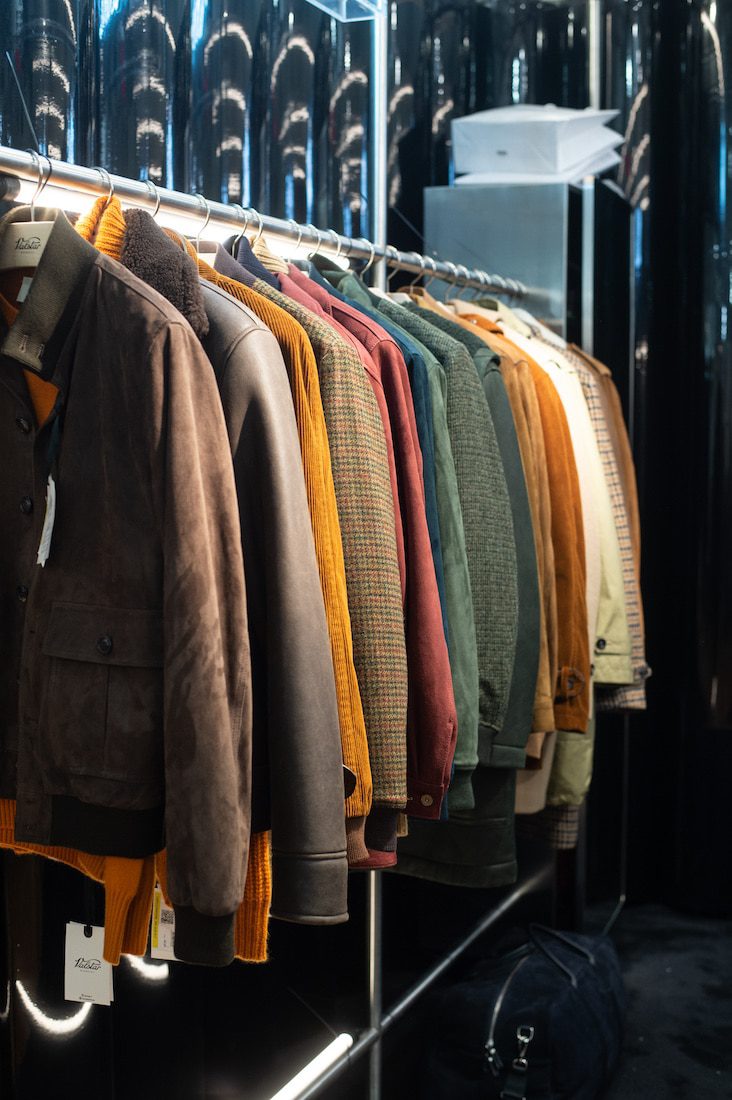 If you're into menswear, you most likely know Fabio Attanasio: one of the main italian influencers who created his eyewear brand: The Bespoke Dudes Eyewear.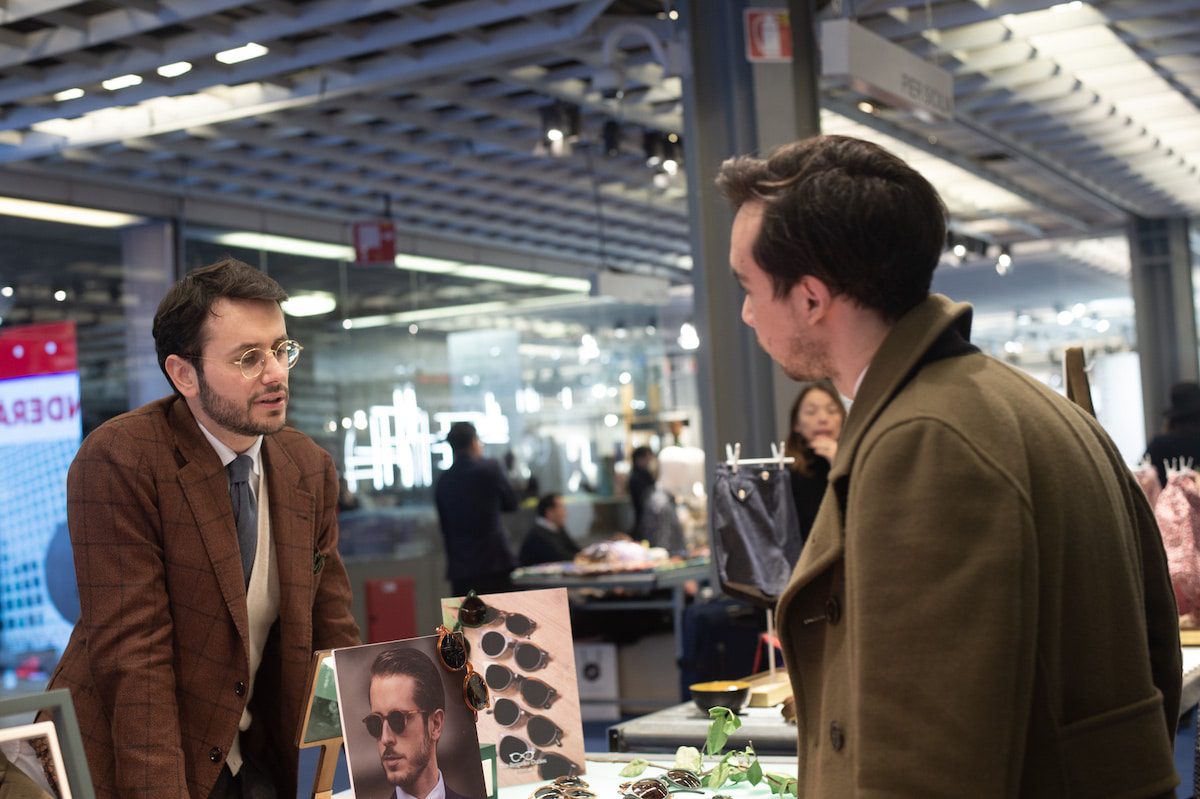 Bad luck, the only pair I could try didn't fit me at all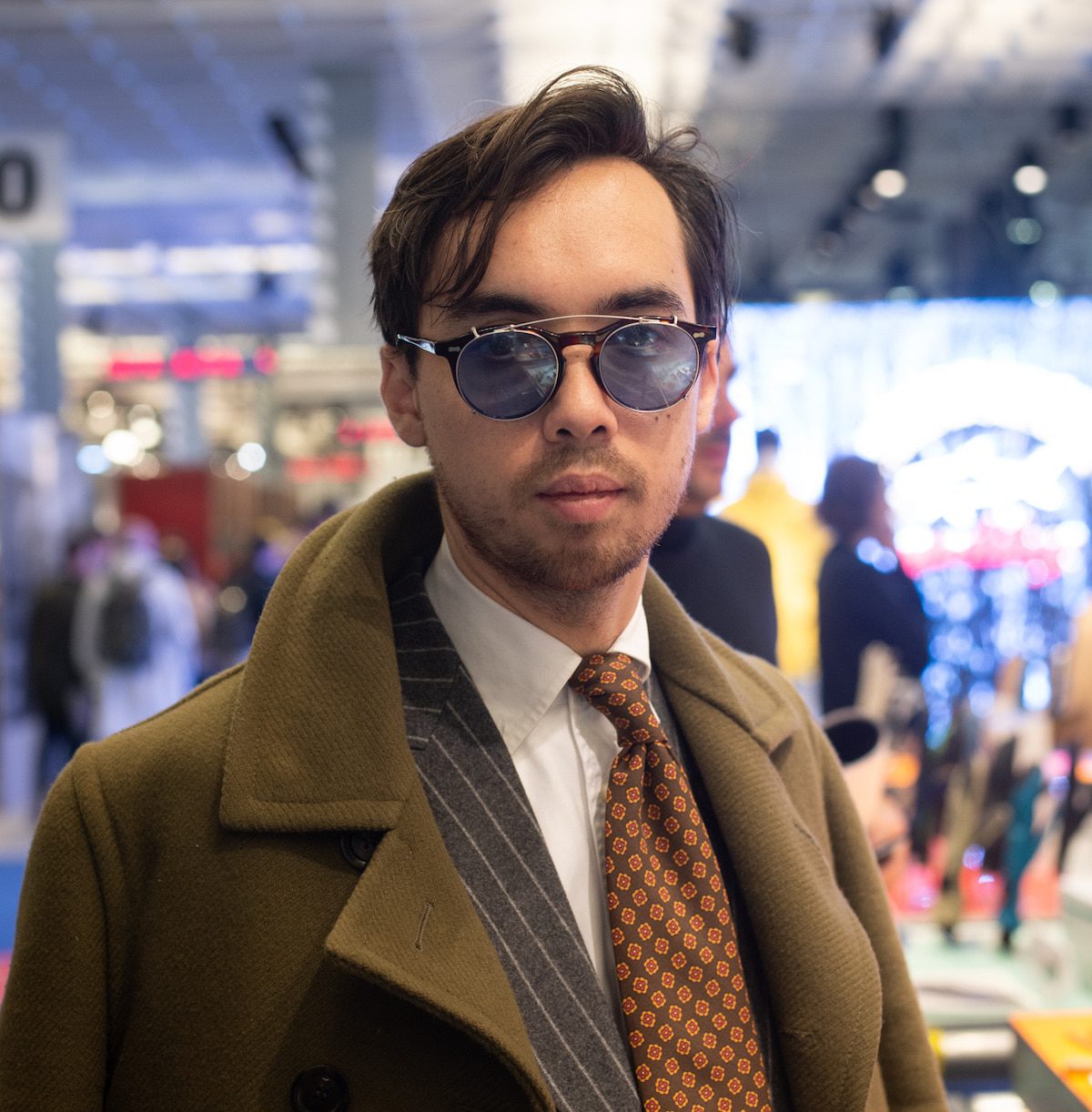 Beautiful design but really not fitting my face shape.
An heritage peacoat brand, not really easy to find in France. One of the rare Italian brands relying on an heritage workwear identity, supplying the navy with peacoats for decades.
It was at some point possible to find those peacoats around 200 euros, a great value for price.
They have their own factory, and they already worked with some french brands such as Cadot.

Capri
One of the first brand we saw: we liked it for its colors and its patterns. No retailer in France though.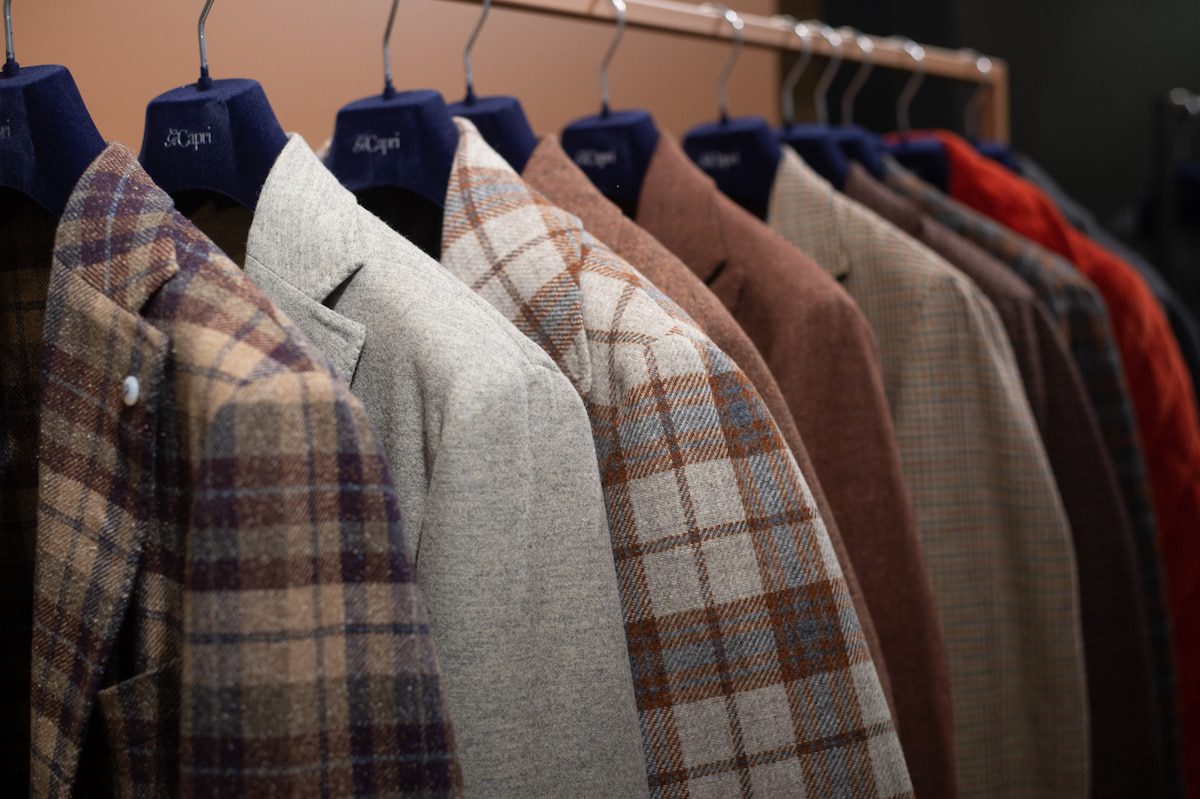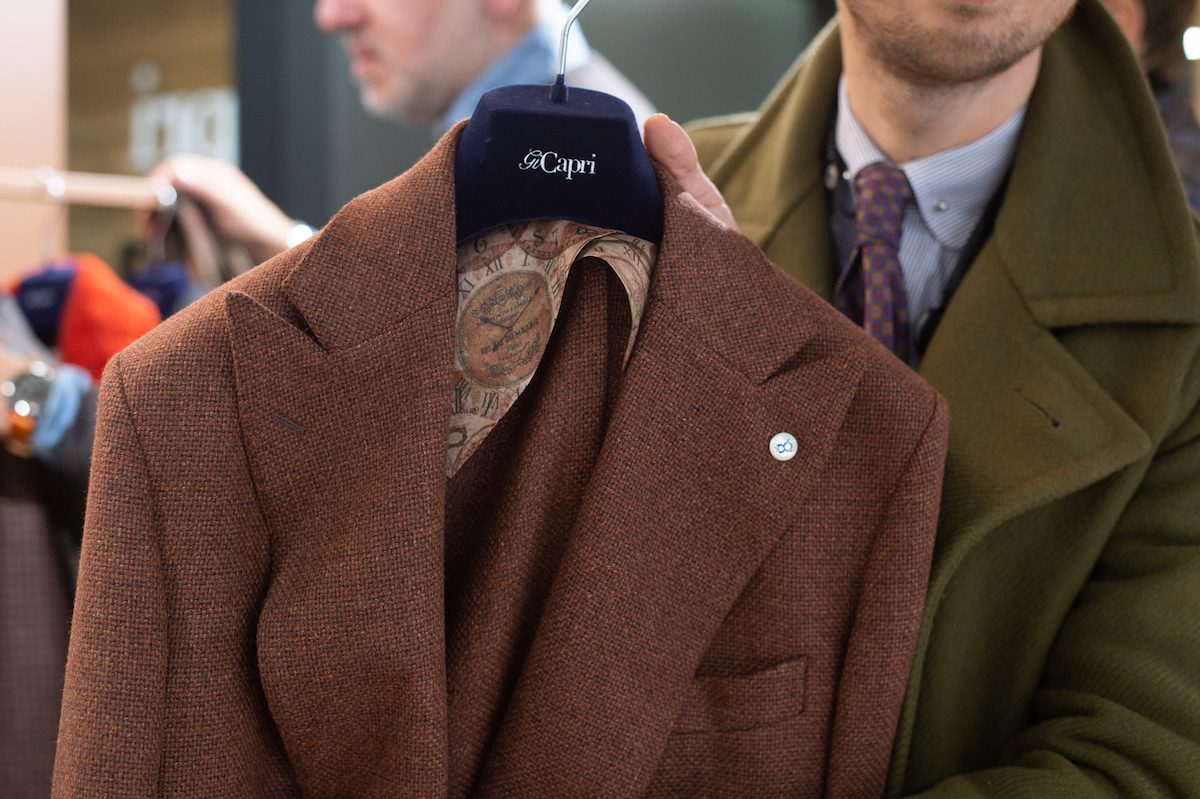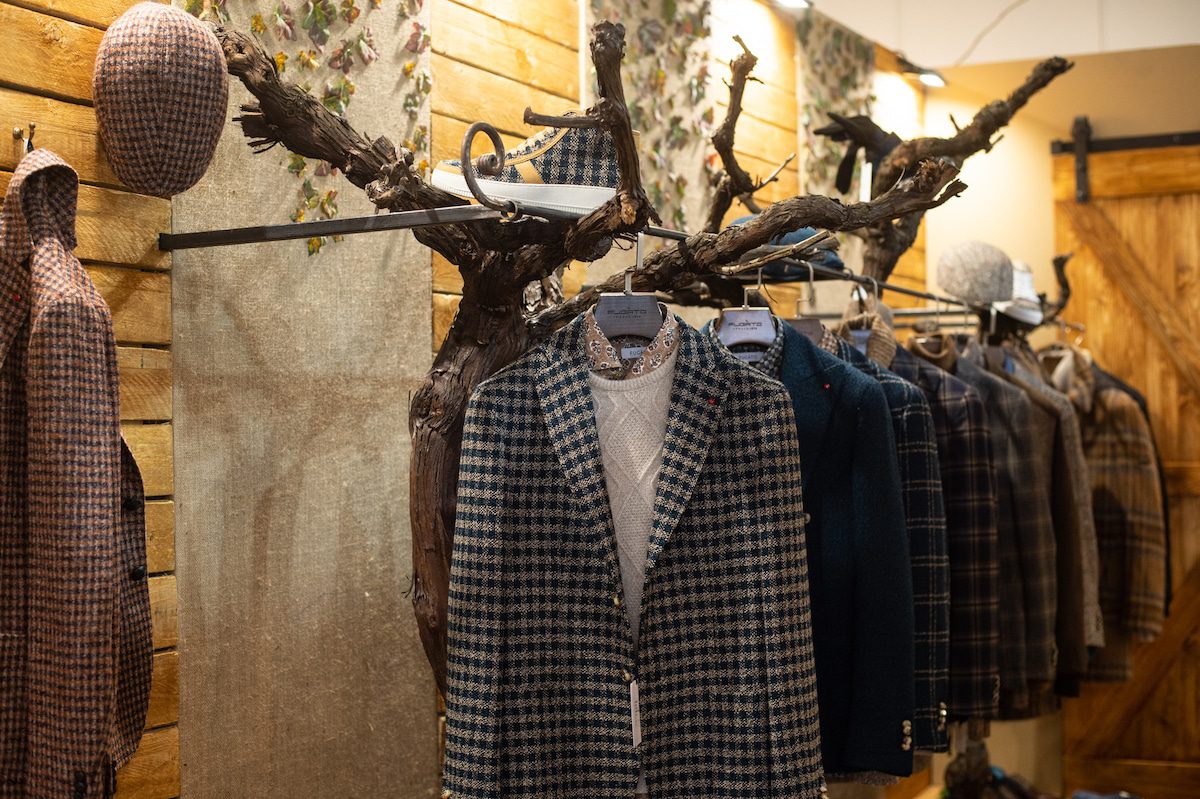 Same kind of brand: factory-owned and based in Parma, producing unstructured light jackets. I liked a lot the merchandising, the patterns and the lapels.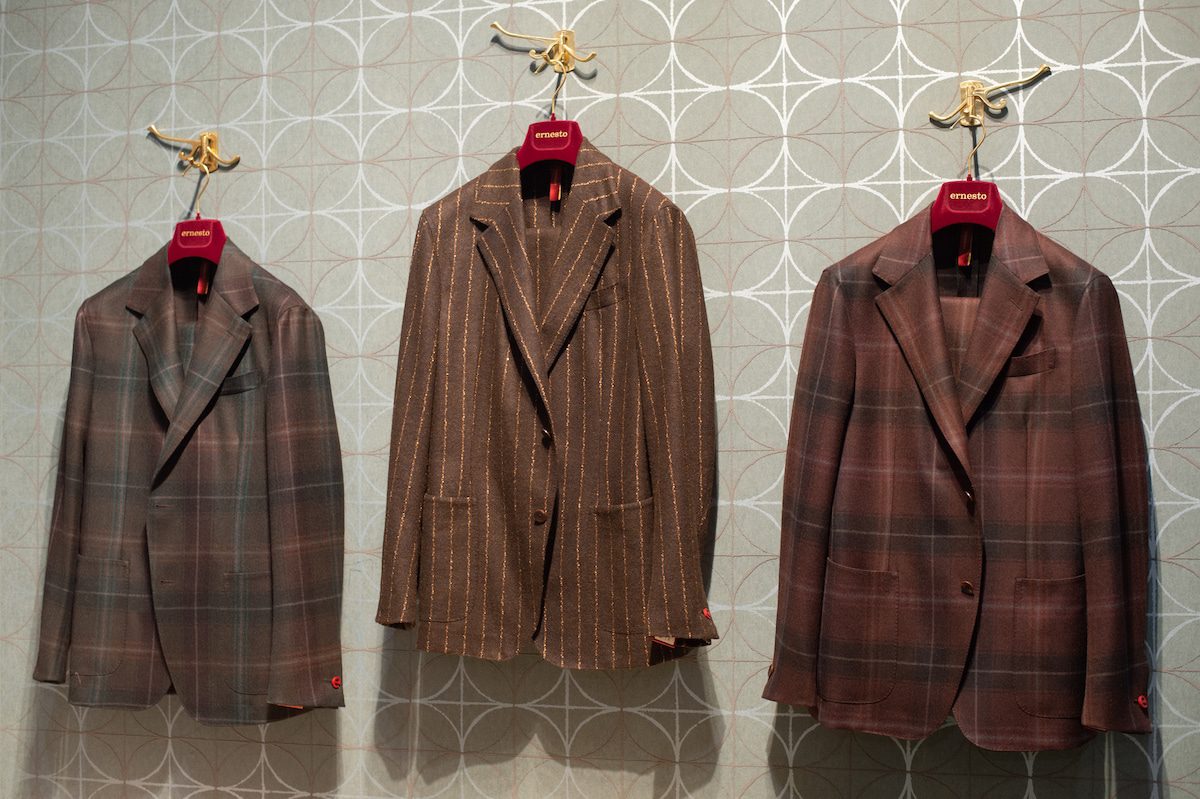 A genuine Instagram #menswear and #sartorial legend, working in France with Jean-Manuel Moreau (review coming soon).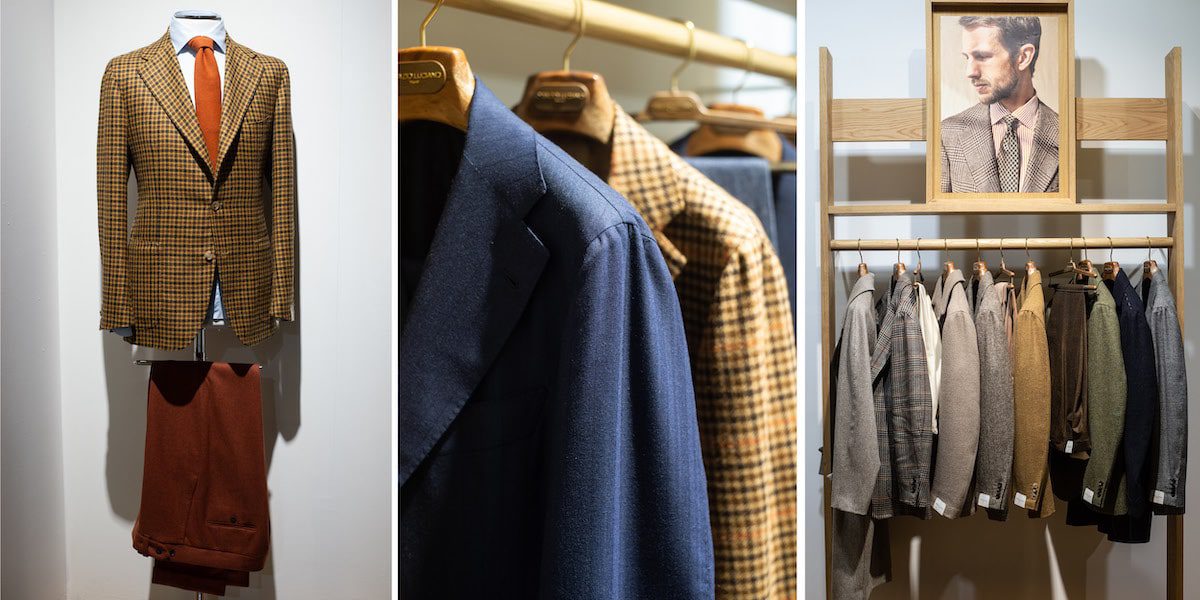 I heard about this brand a few years ago thanks to Dirnelli tumblr: like other italian brands, the constructions are elaborated. Outfits were beautiful.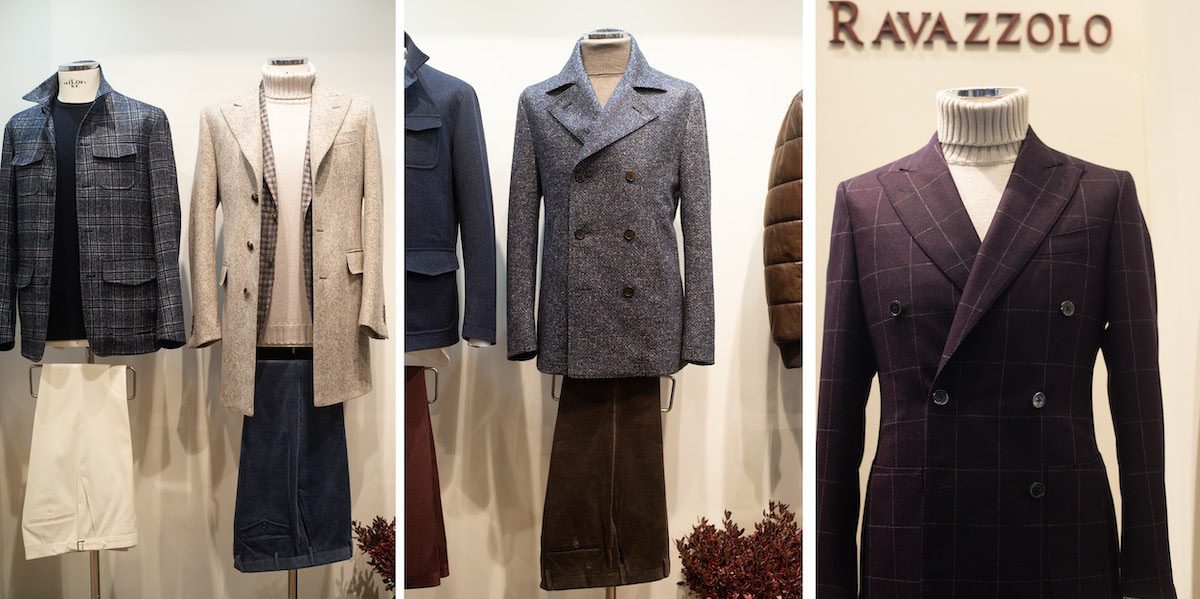 It used to be Royal Hem and it was possible to find many products at discounted prices on Yoox. It is now called Royal Row with a simple baseline: « Britalian Style » (it reminds us of another emerging menswear brand: the Angloitalian company)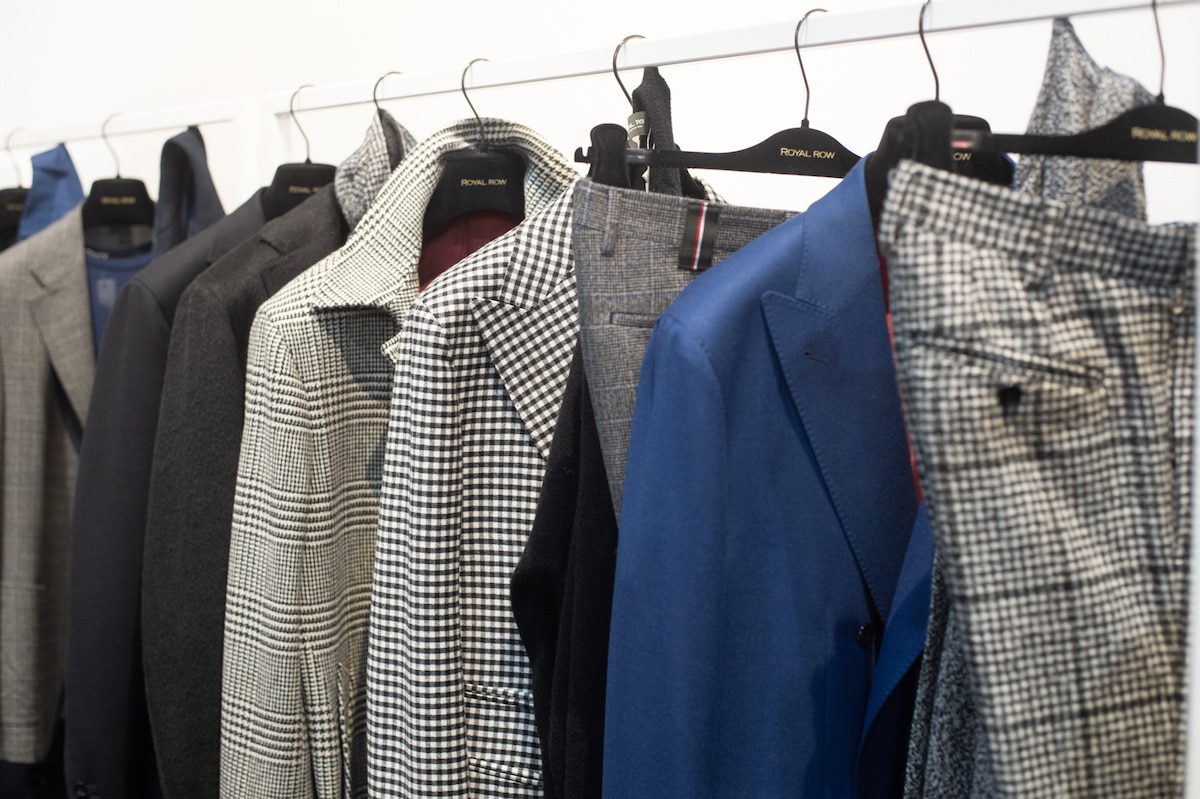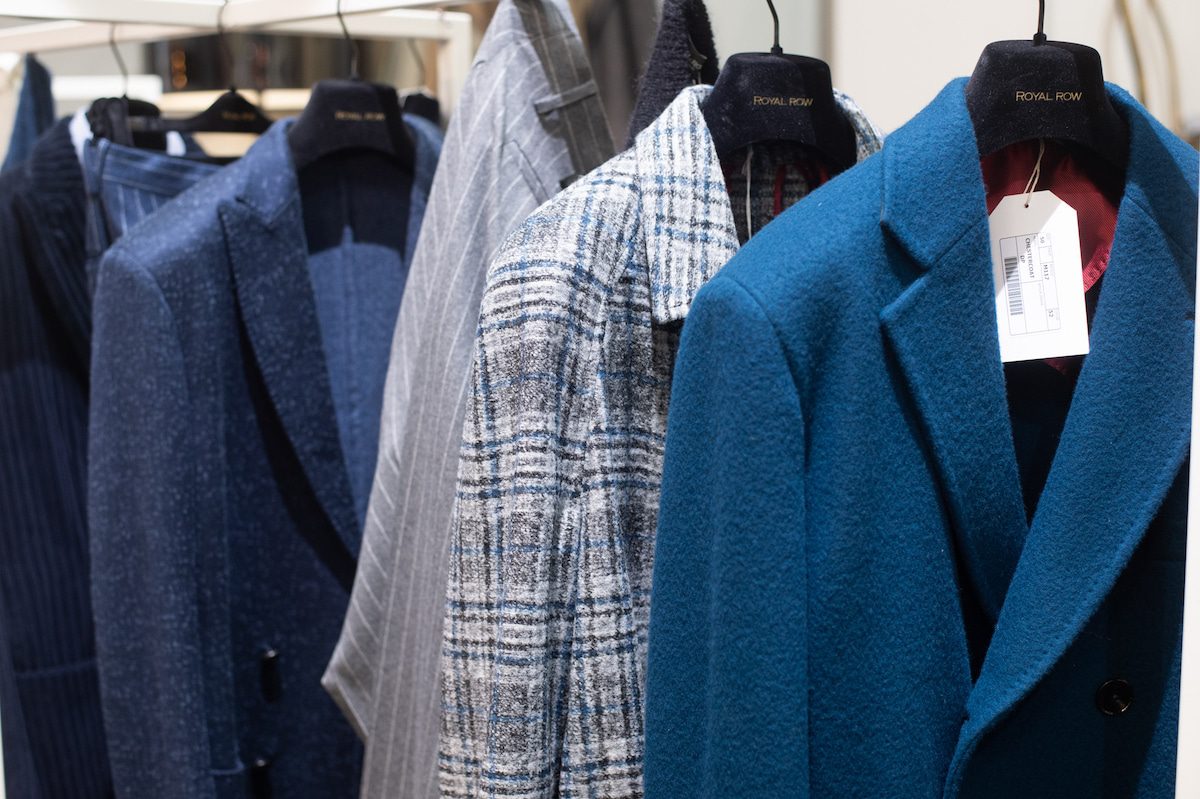 We like however the mix between italian light structures and thick british wools.
British brands
We were pleasantly surprised in this tradeshow to be able to meet so many british brands that we were following closely for quite a while.
One of our favorite brands: Walker Slater works on tweed with tons of creativity and offers an excellent value for price thanks to a vertically integrated structure.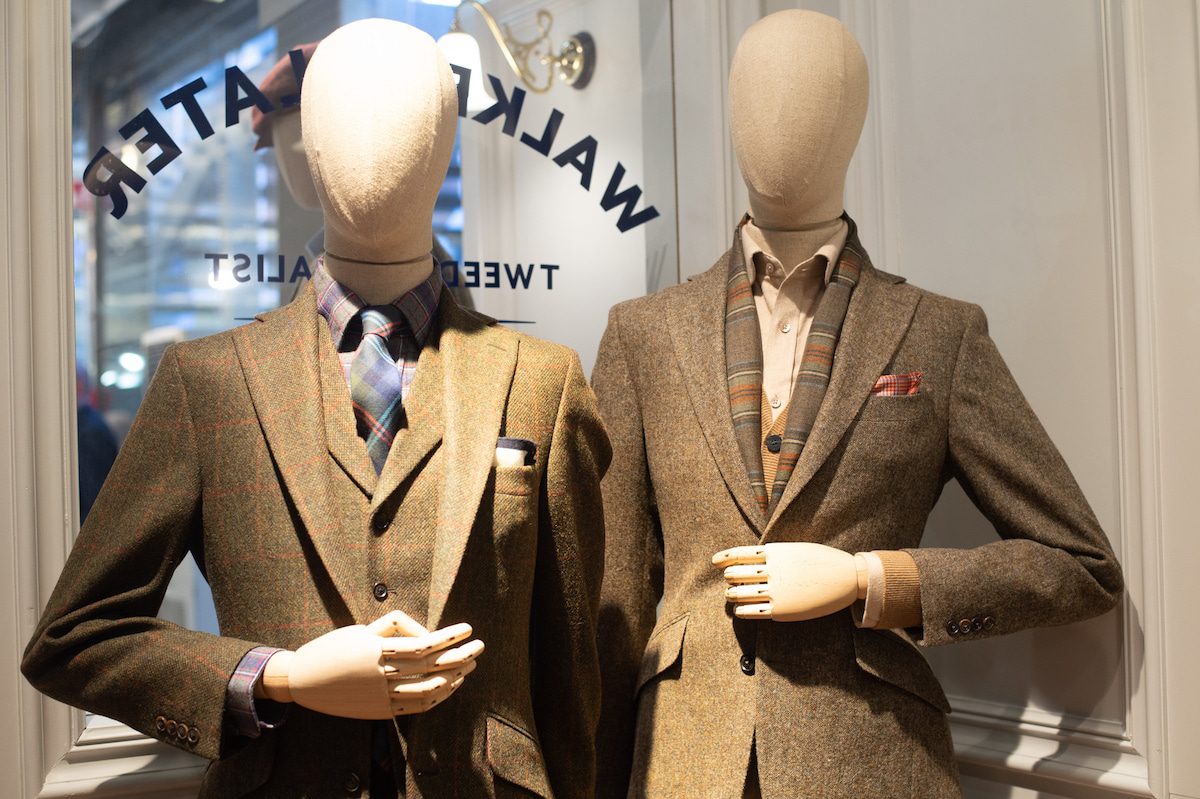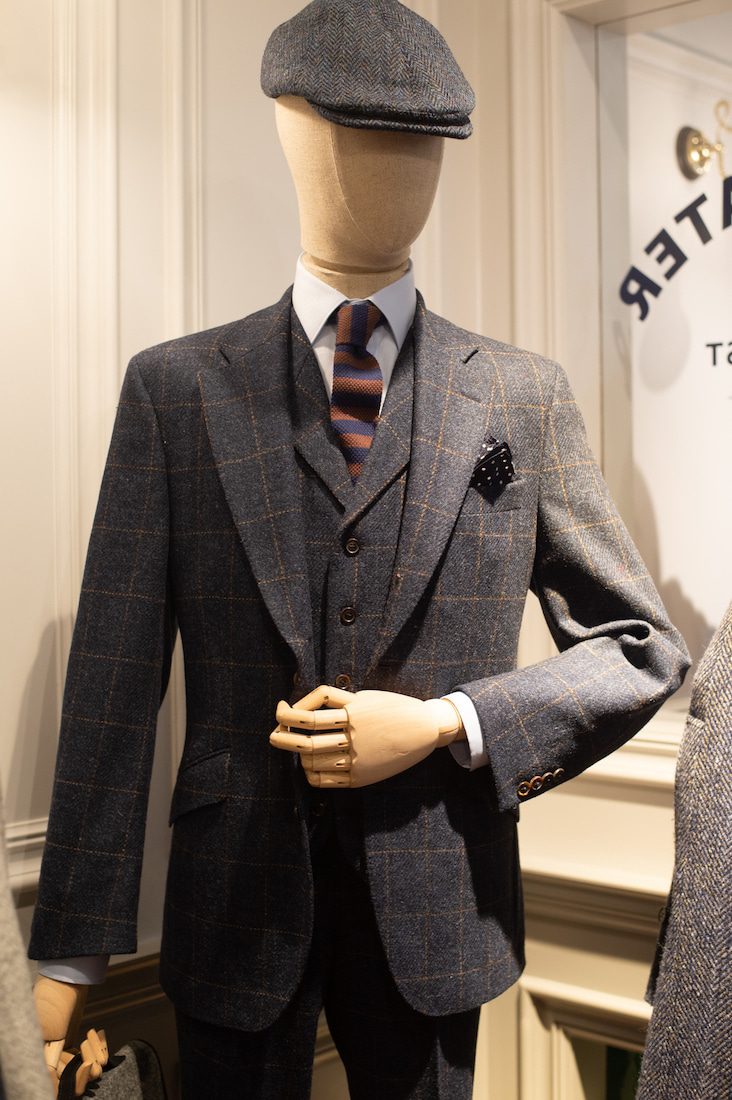 Tons of long-lastings products, with a nice cut, elaborated tweeds and great value for price. We should be able to write a full article about this brand really soon.
Our second british favorite pick: I've been following their Instagram account for quite some time. It's for me the best british outerwear Instagram account (which is not that surprising when you take a look at their products).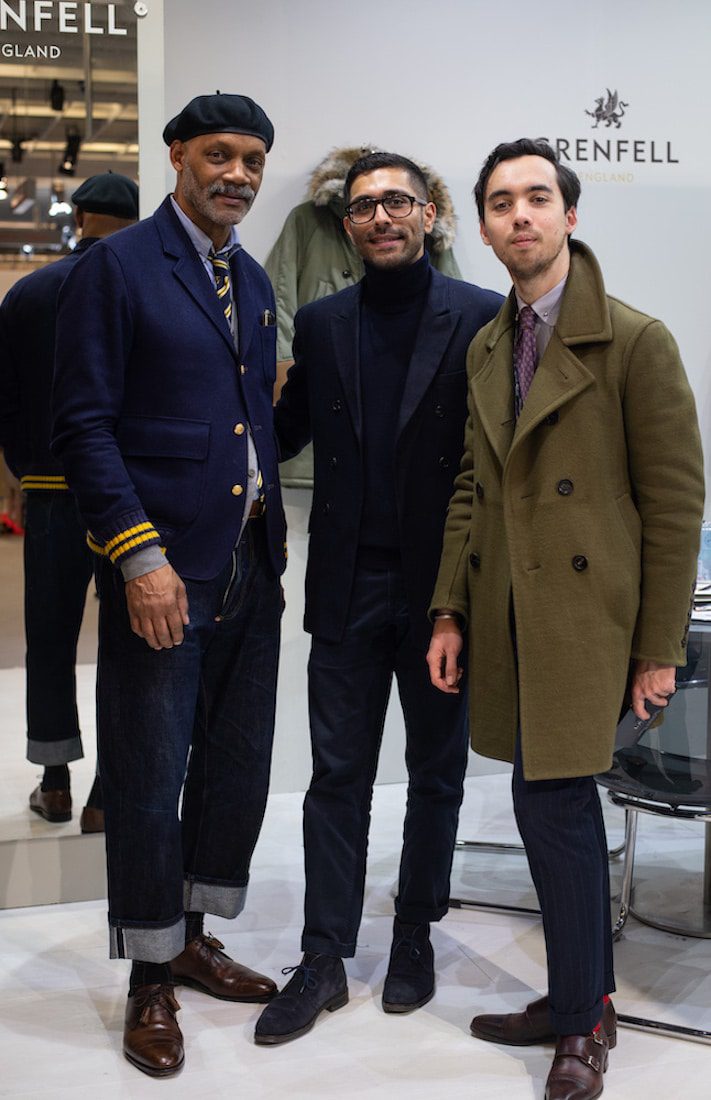 Another brand that we were following and we liked for its great value for price and its character (I had a crush on the Twin Track that you can see on the left).
It is also one of the few factory-owned brand that managed to create such a strong brand identity.

A brand we have been following since 2013 and that always surprised us for its affordable prices, given the british production and the quality of the fabrics.

I hope we'll write a full article very soon !
Talking about factory-owned brands, we went to have a look at our friends Johnston of Elgin's tasteful stand (especially this beautiful mix of beige and grey).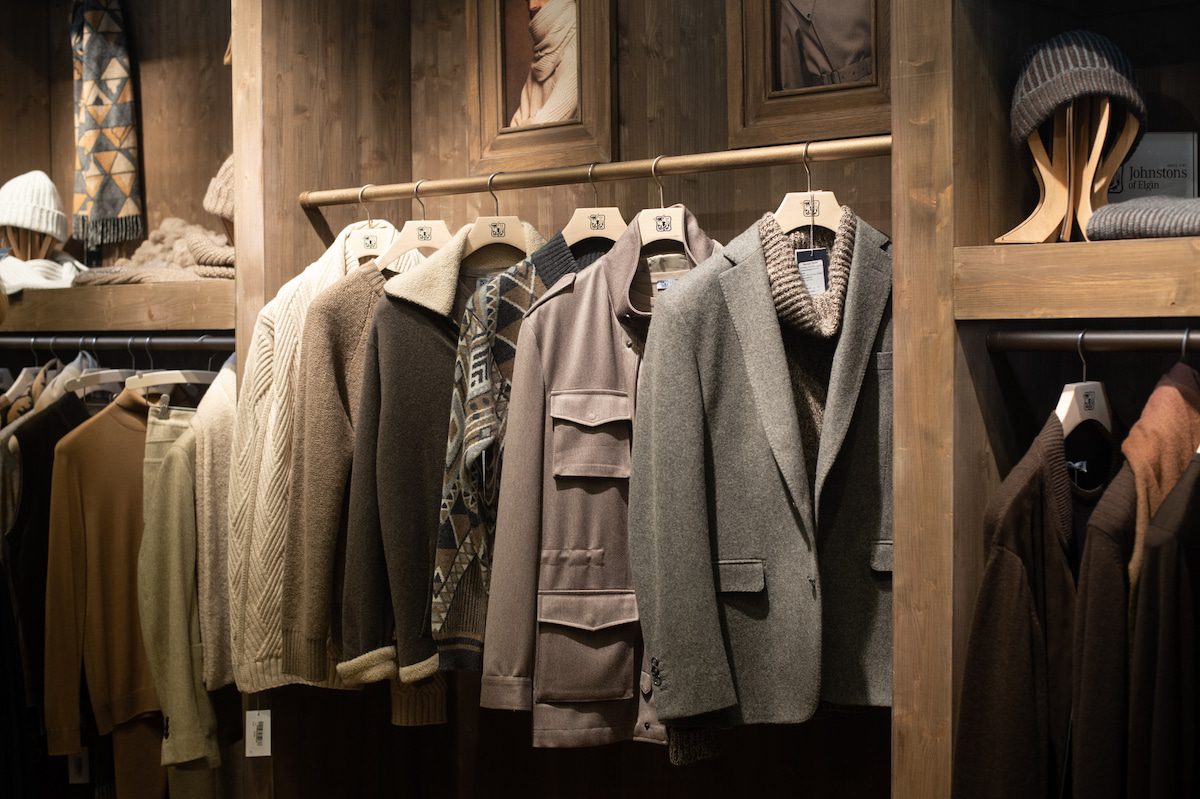 Another outerwear british brand, specialized in waterproof and insulating tweed. They were originally designed for hunting but can also be worn in a classic Gentleman Farmer outfit.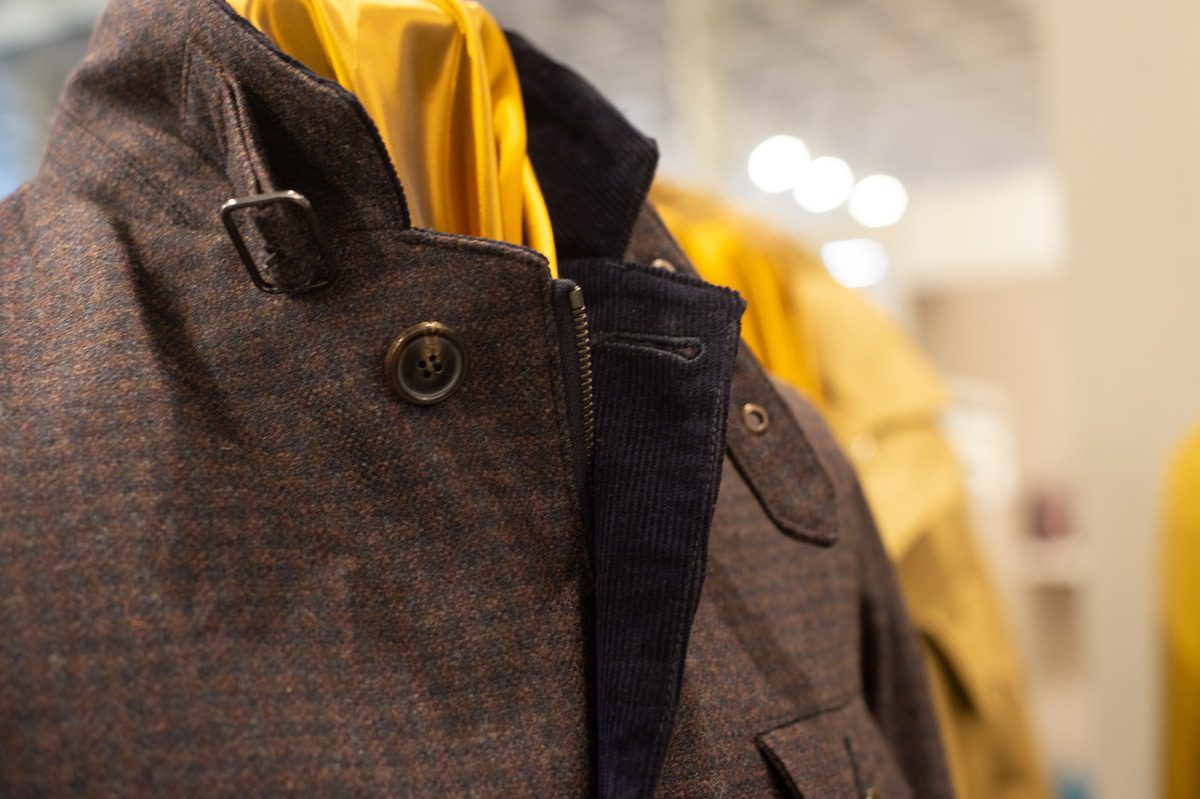 We didn't have the chance to review Northampton bootmakers in the 300£-500£ price range. With an outstanding reputation when it comes to value for price, there is a lot to say about this brand owned by former Church's partners.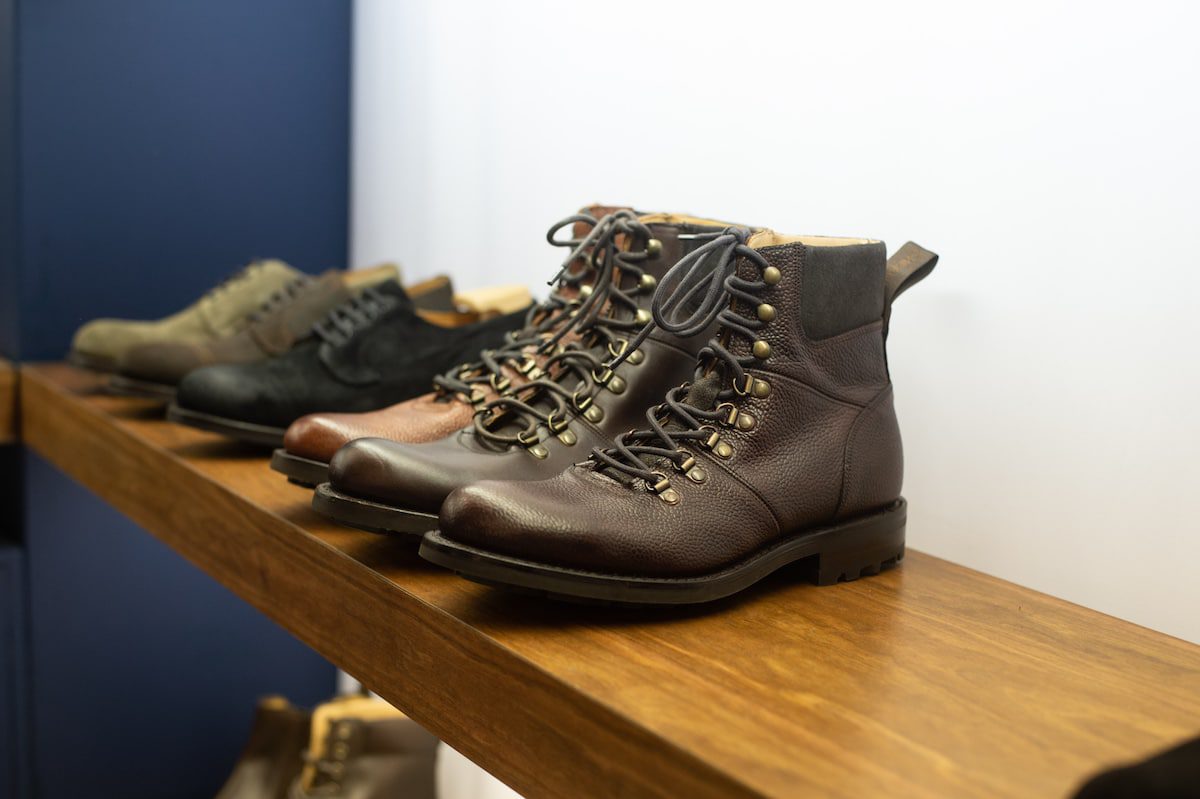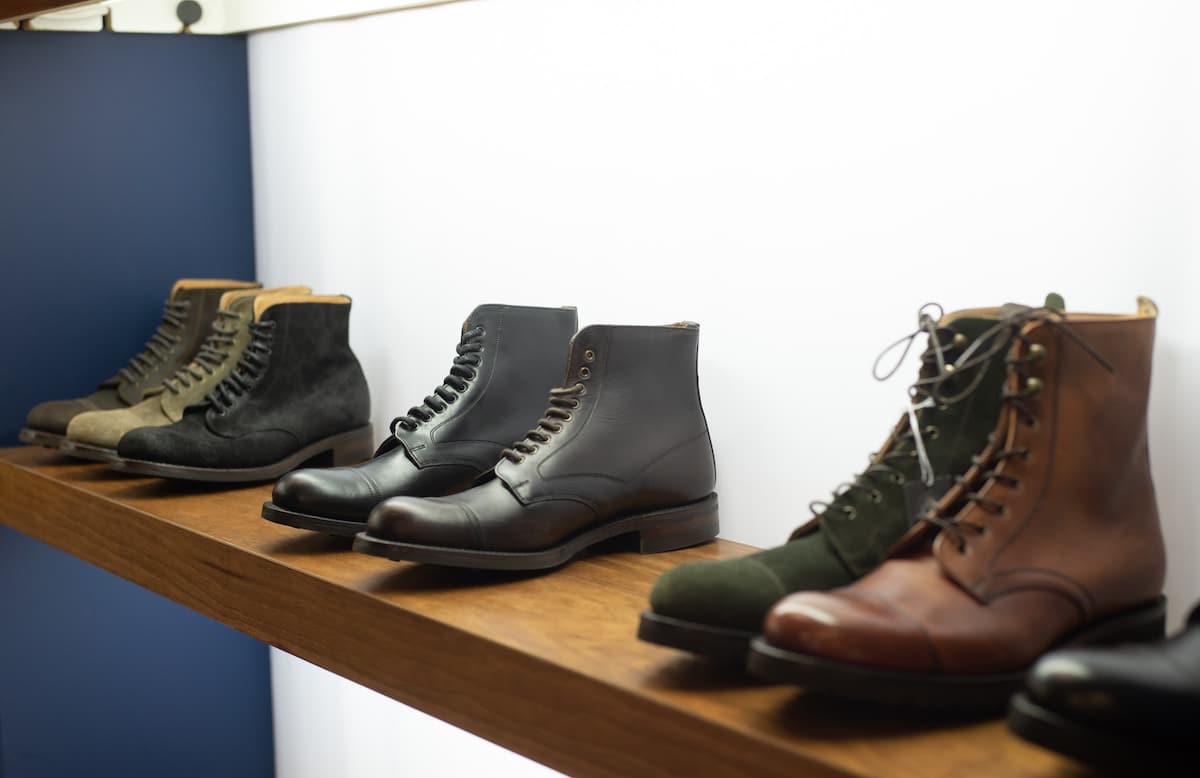 As the other Northampton bootmakers, Sander's is factory owned: I knew the brand through the Buck Shoes it used to produce for other brands.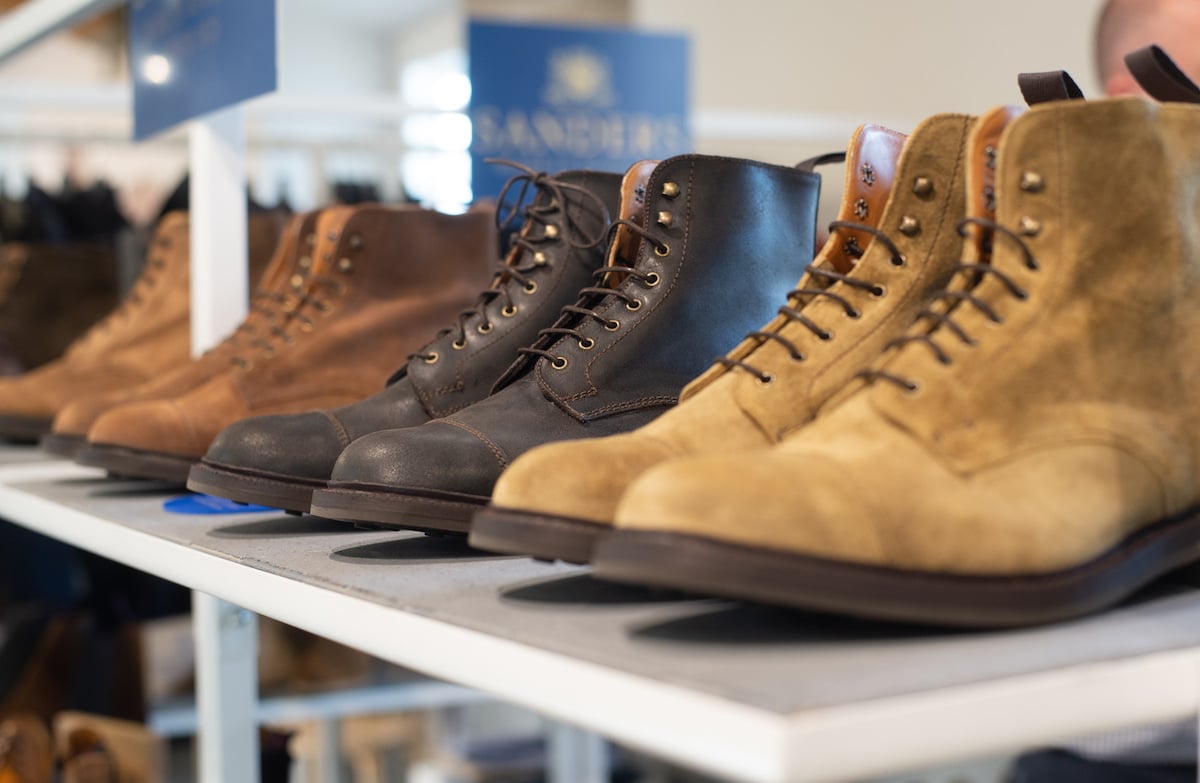 Among Northampton bootmakers, Loake is one of the most affordable brands: it offers a great value for price at the 200£-300£ price range , especially for the classical grained leather brogues.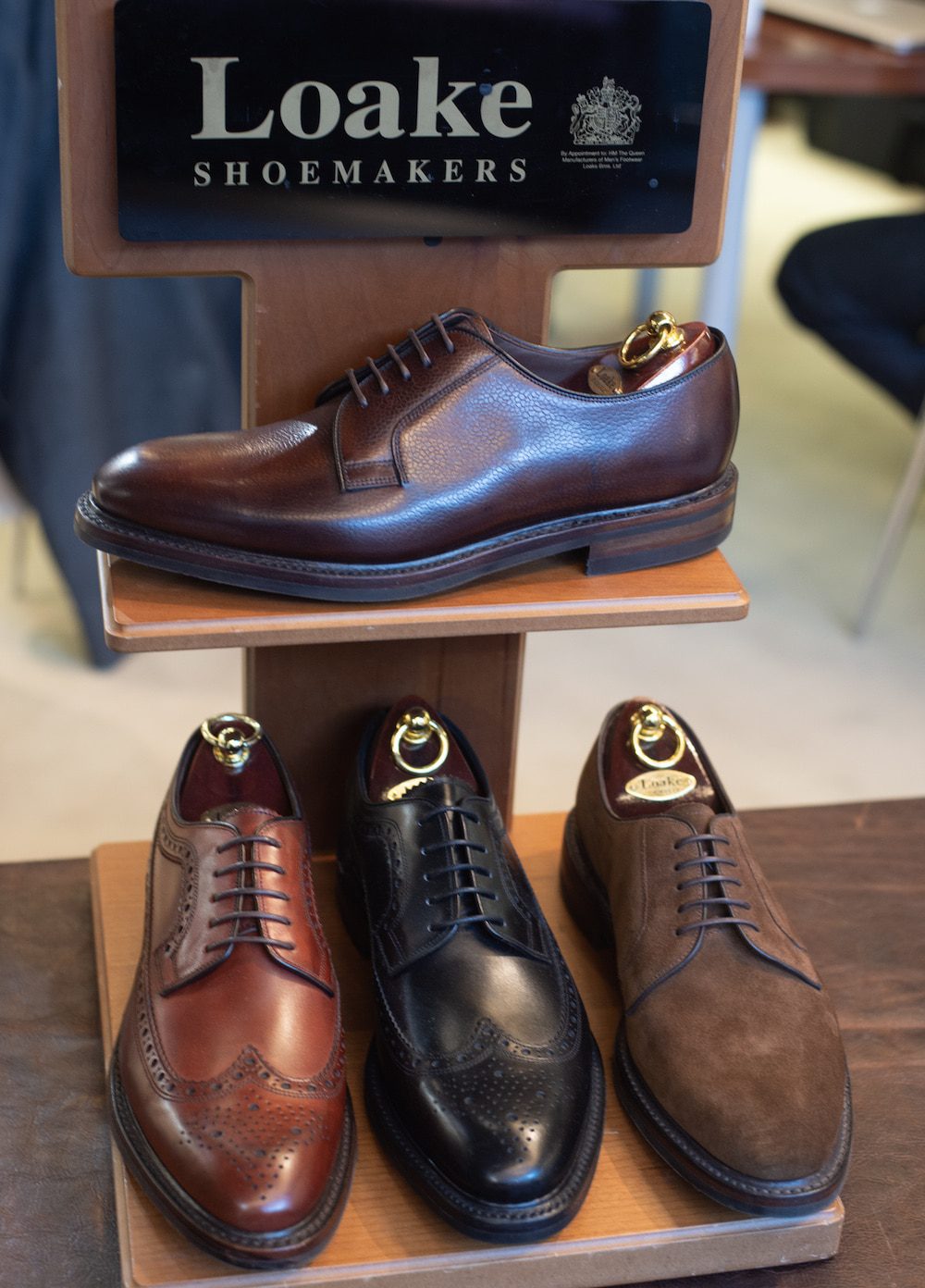 French brands
Going to Pitti is normally about to meet new brands, that we cannot easily meet in Paris. Here is however some French corners where we stopped
We review Gingko hunting boots for our Arctic journey. Heschung released a special Arctic edition of the Buis model with a beautiful white contrast.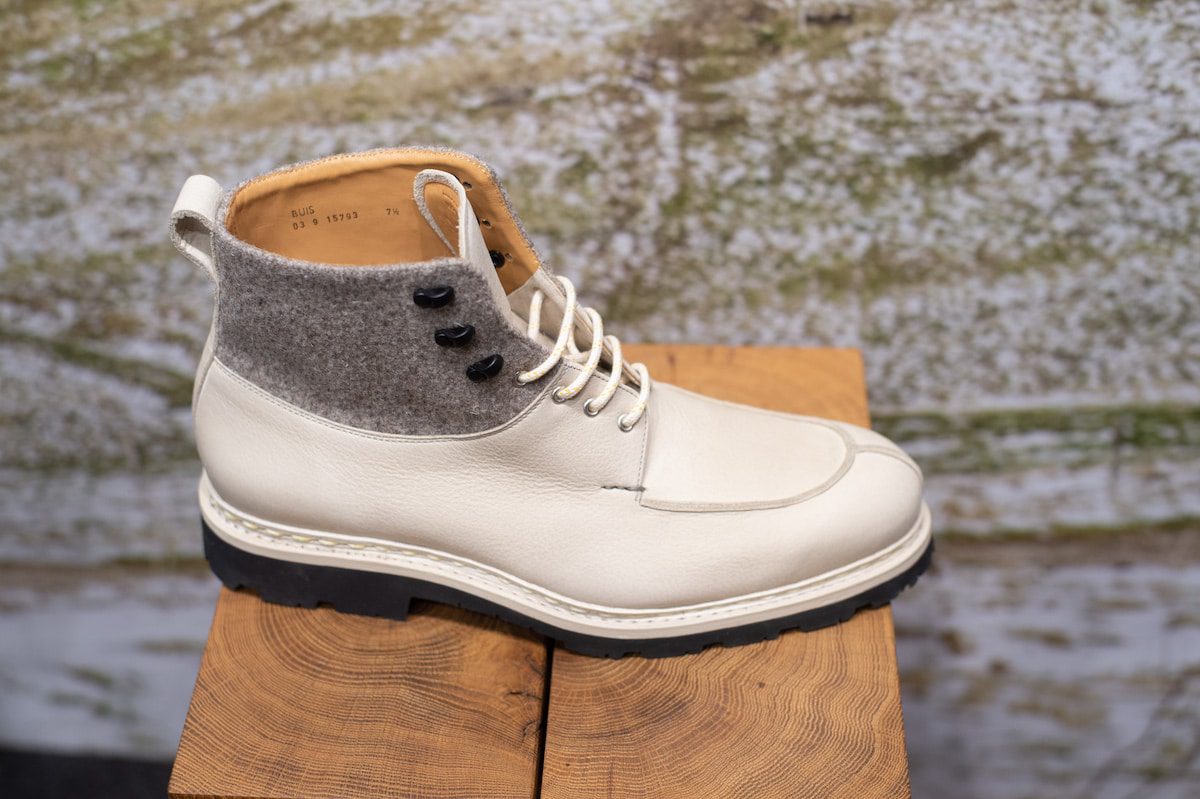 Chevignon is offering good value leather jackets: the brands just got new owners and is working hard on a new brand identity and offer.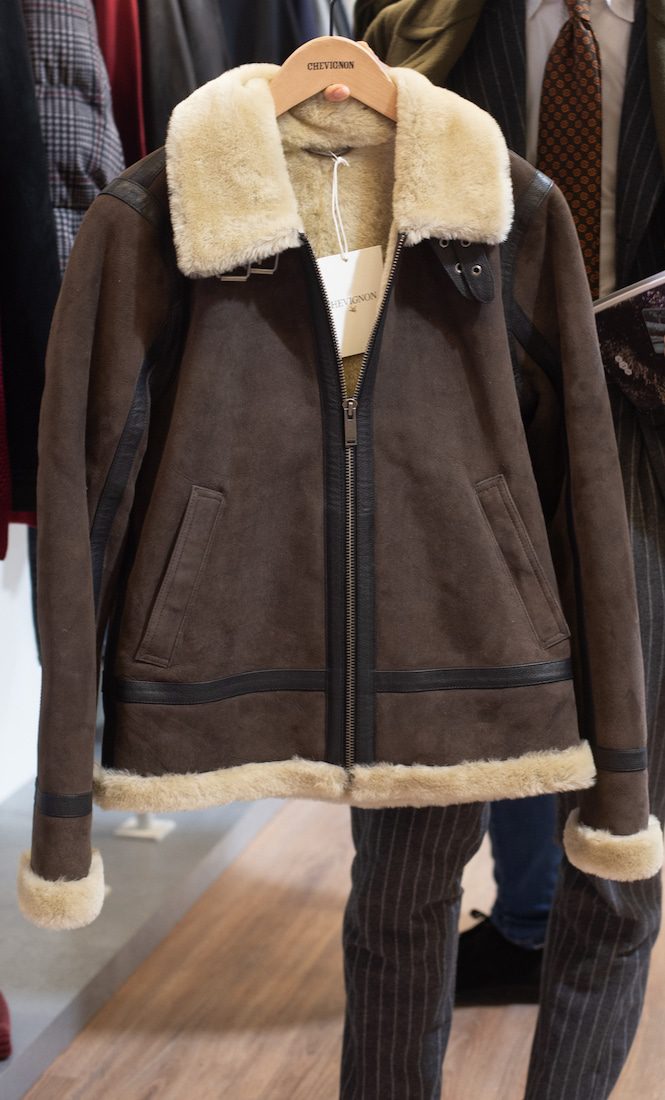 All the PR effort used to be focused on the Tog's padded jacket, not really my favorite kind of cloth.
I already knew this brand by name but wasn't too fond of the streetwear style of the online store and Instagram feed.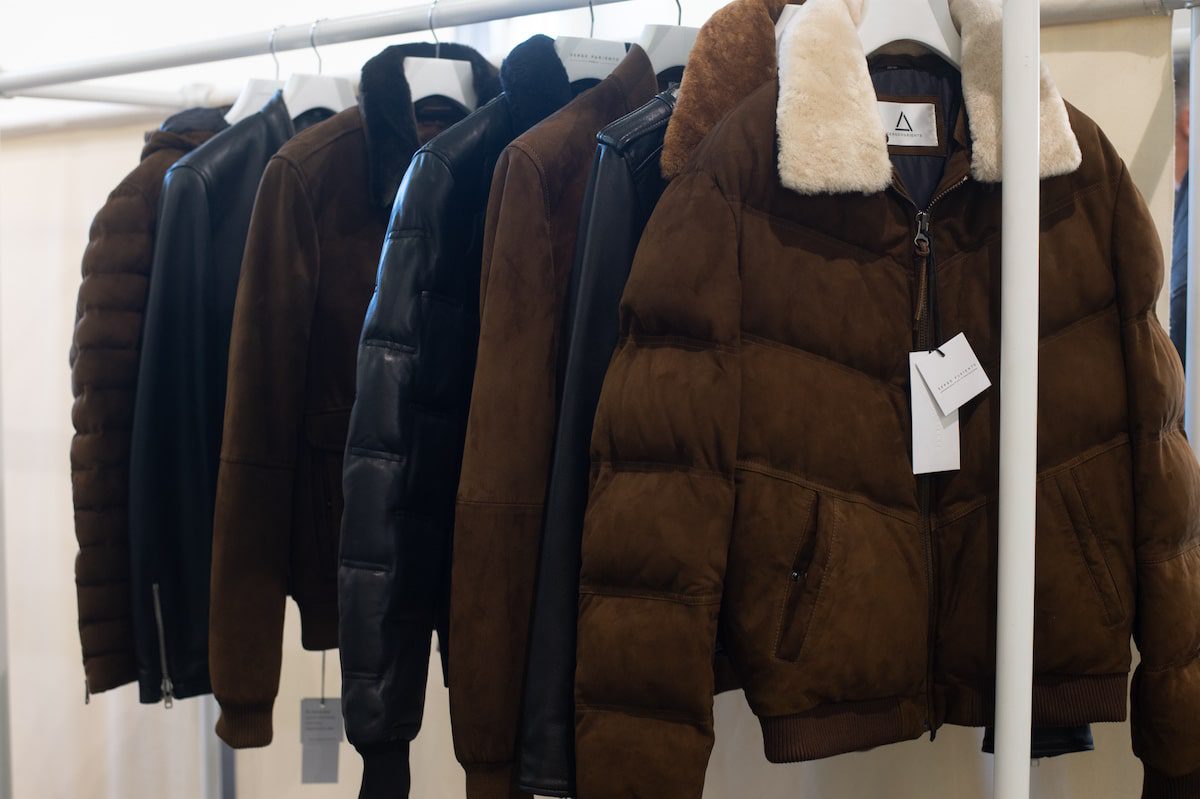 It turns out that the leather jacket themselves are a great value for price and have a versatile and easy to wear design.
Bourrienne is a french heritage inspired shirt with unique details typical of what we could see among dandies in the beginning of the nineteenth century.
The shirt front is extremely detailed and entirely handmade in France: impressive craftmanship on which we'll elaborate more later 🙂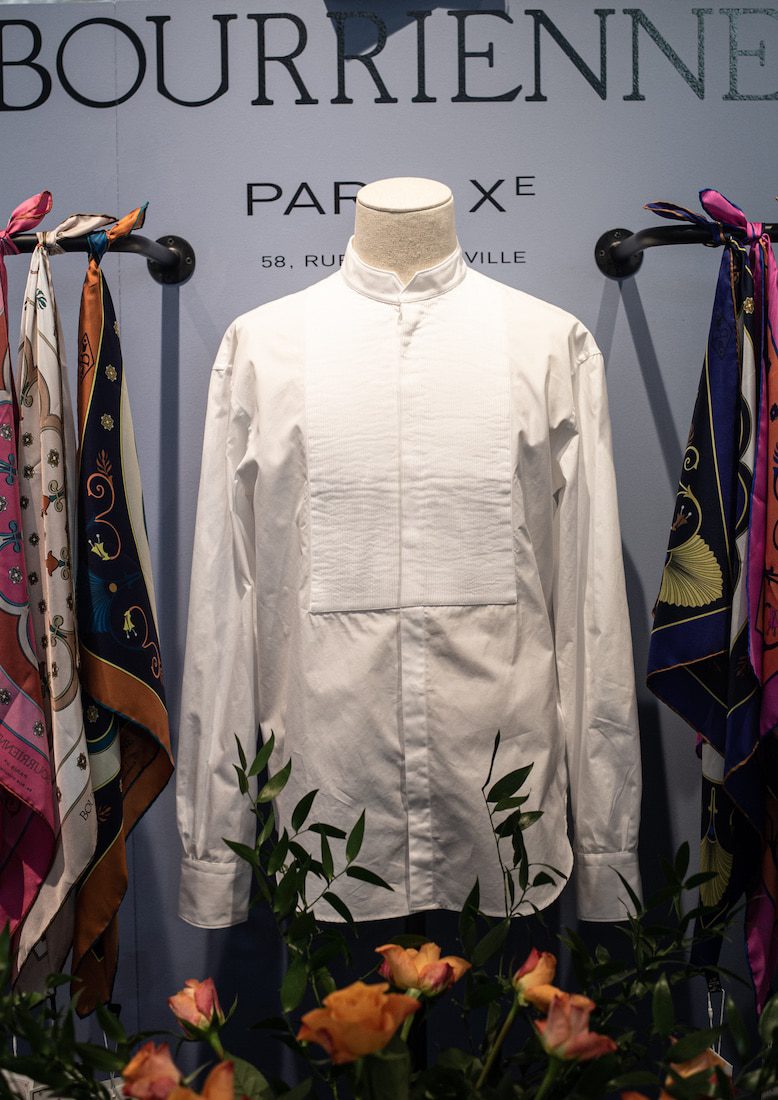 It used to offer sizes from 39, which wasn't that convenient for a review. Since 2018, the offer widened a lot in terms of sizes and products.
Rest of the world
R.M Williams is one of the unique brand offering Chelsea cut from a single piece of leather, stiched together on the back, at the heel.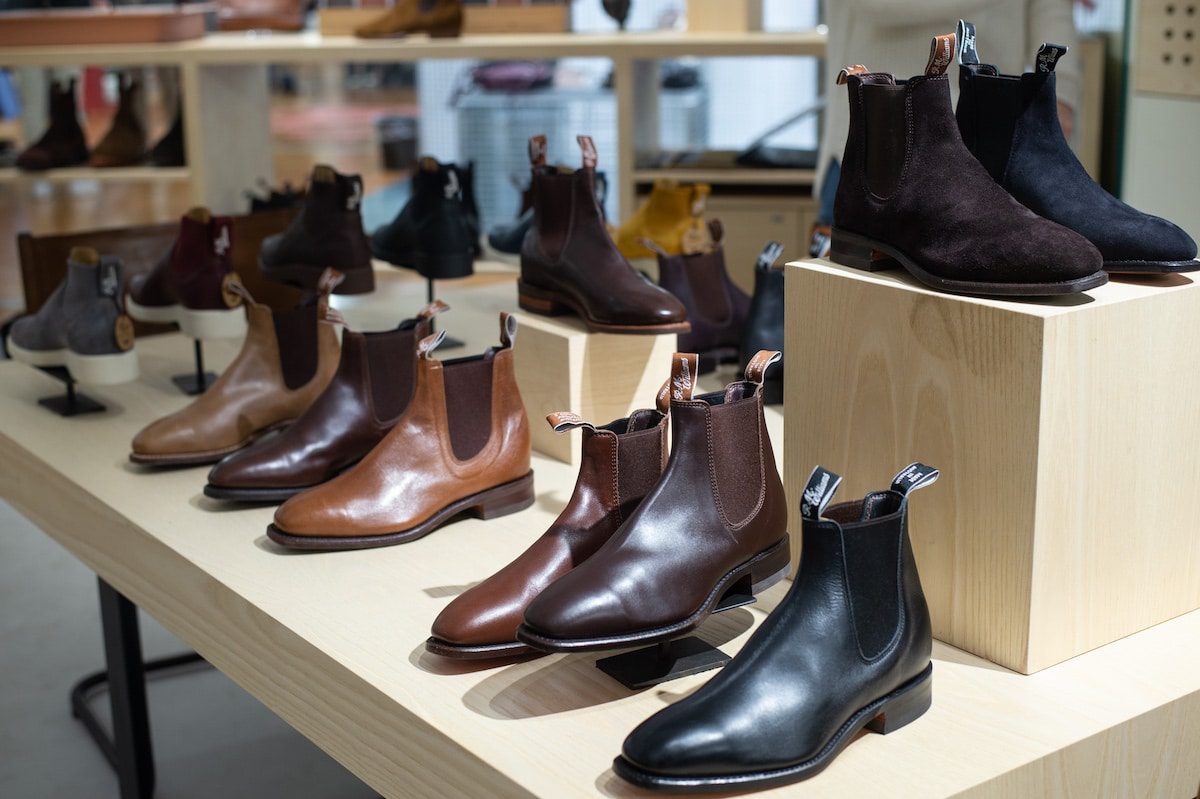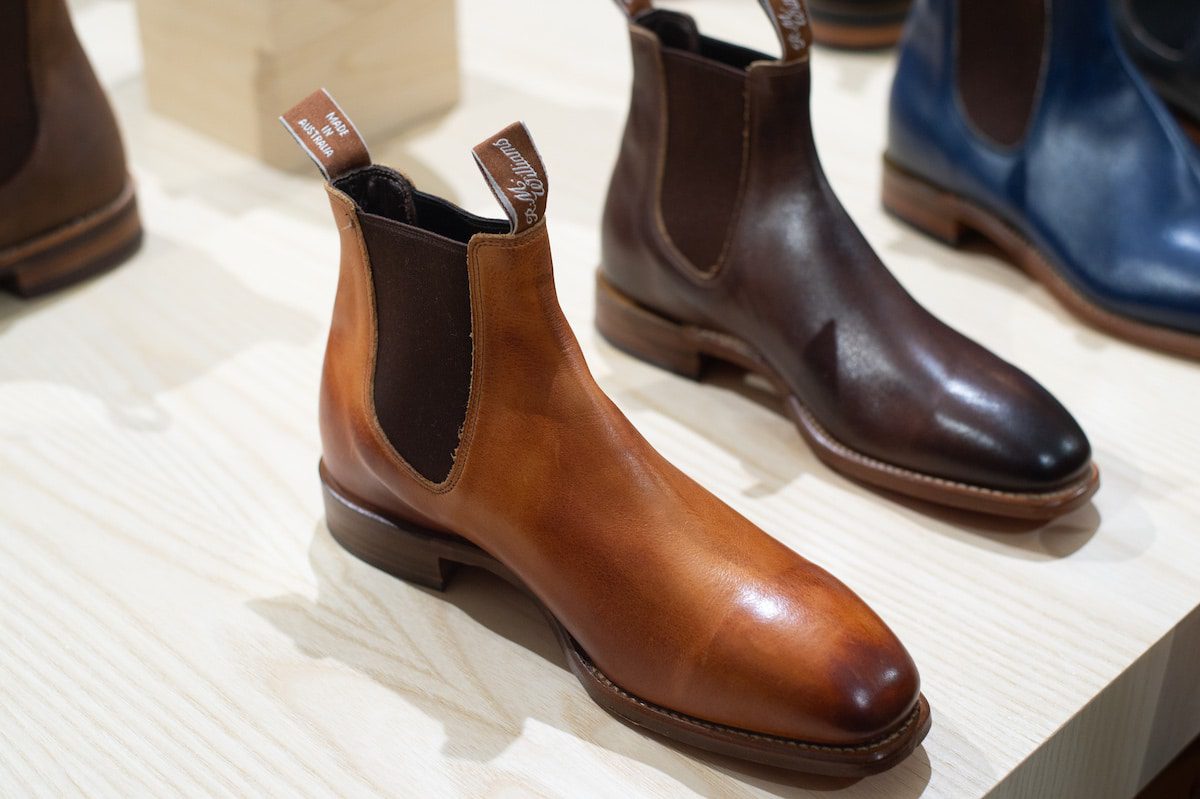 This brand is like a religion in Australia: R.M Williams is worn by absolutely everyone, whether you are a CEO or a farmer. It's like an adulthood ritual to get your first pair at 18 years old.
It's to me the best value for price in terms of casual Chelsea boots, we'll talk about it again really soon.
Originally a flannel supplier, the brand offers its own shirt with tons of different patterns, a a nice and thick fabric.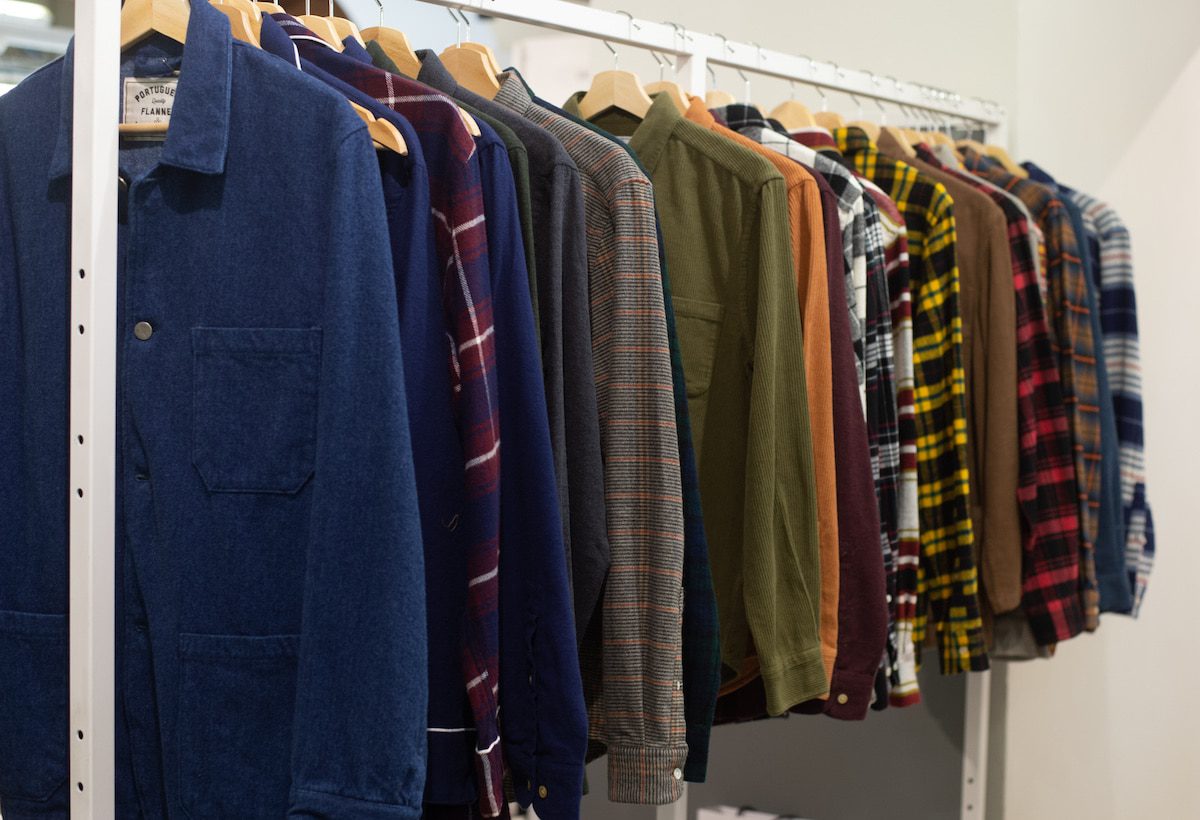 A japanese brand, made locally, with tons of handmade details: a must-see at this tradeshow.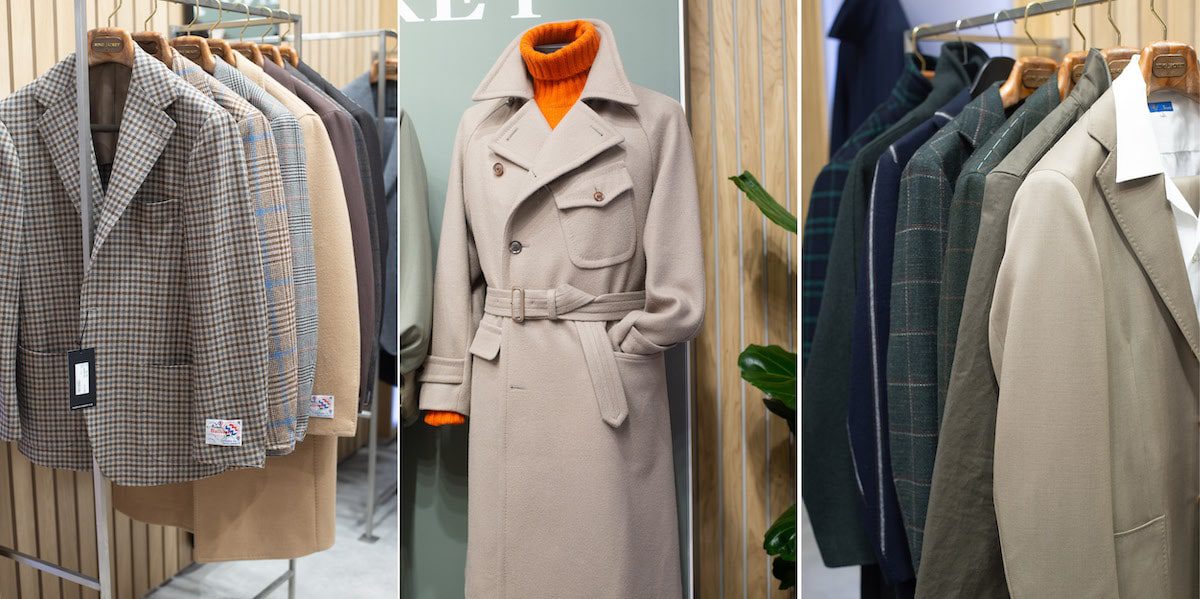 Beautiful construction, meticulous finishes: the brand managed for instance to bring its own identity to the turtle-neck+coat combination that we've seen on other stands.
Did you know that the penny loafer came from Norway ? Me neither. It turns out they were invented in 1926 in Aurland by a young bootmaker who learned the craft in Boston, Niels G.Tveranger, who was inspired by Iroquois mocassins.
Aurland wants to offer this original penny loafer.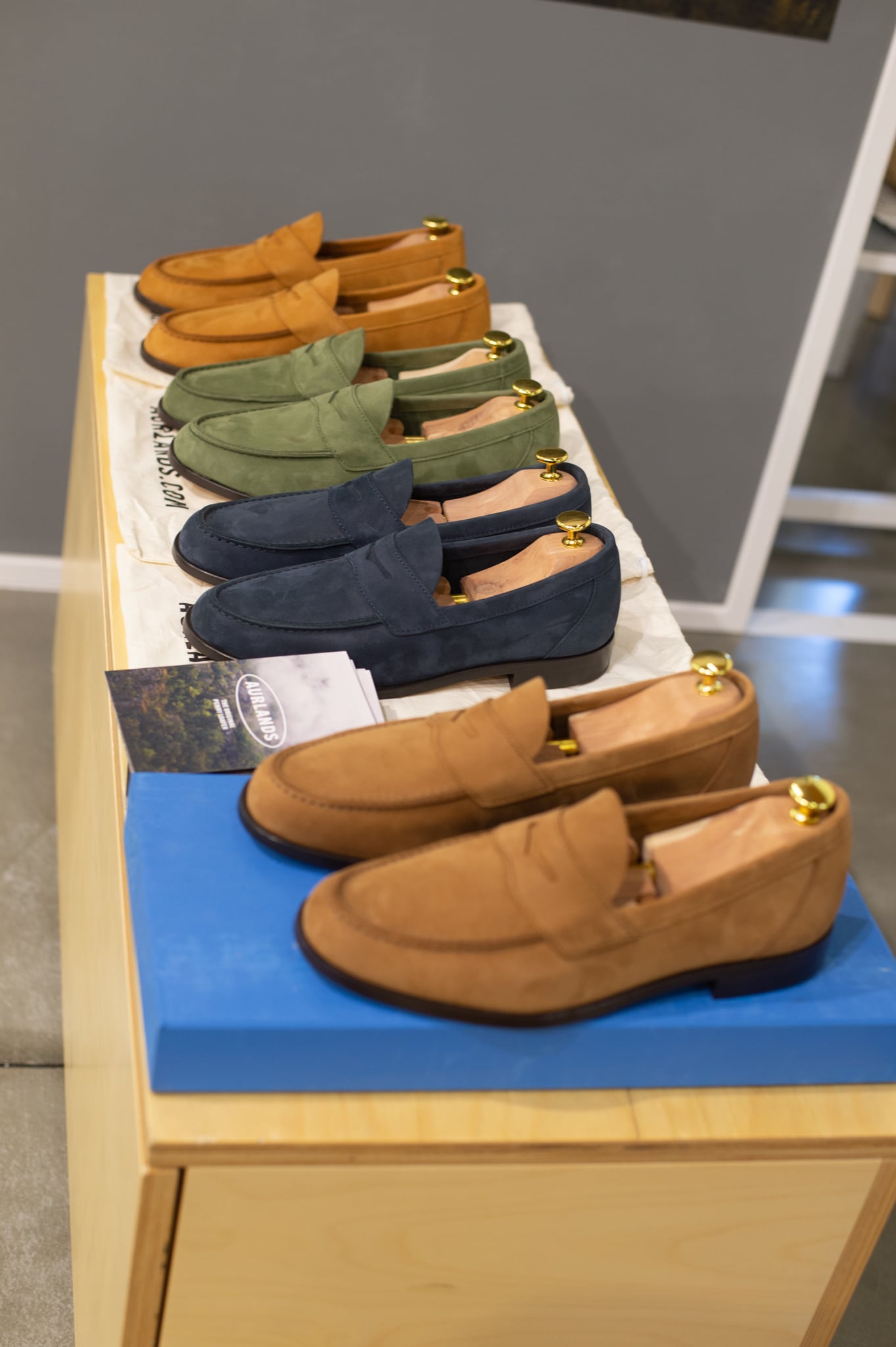 Located in Victoria (Canada), the factory was created in 1931 and counts nowadays among the best bootmakers in the world.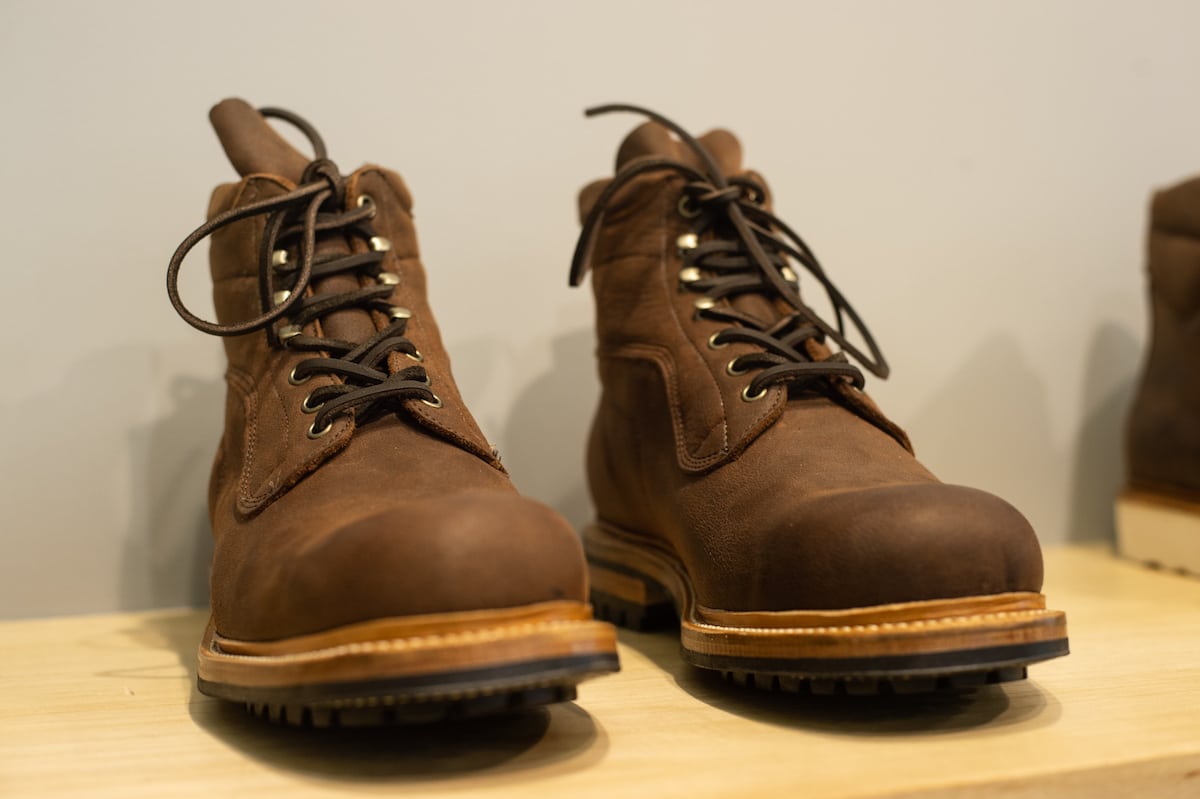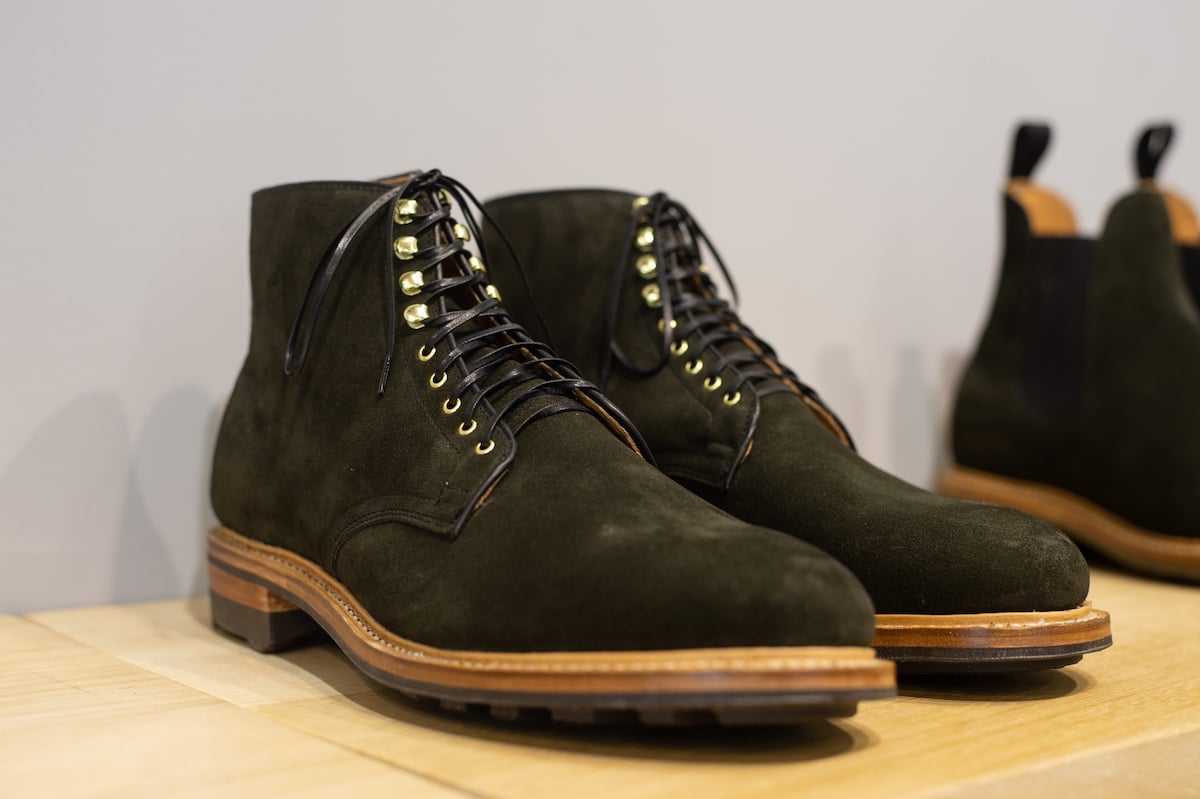 Like many workwear brands, it offers also more fashion-oriented boots, to be worn in a city outfit but with still the same level of quality in terms of fabrics and craftmanship.
We already reviewed Norwegian Rain during our Arctic journey: the brand now offers new colors such as this camo pattern.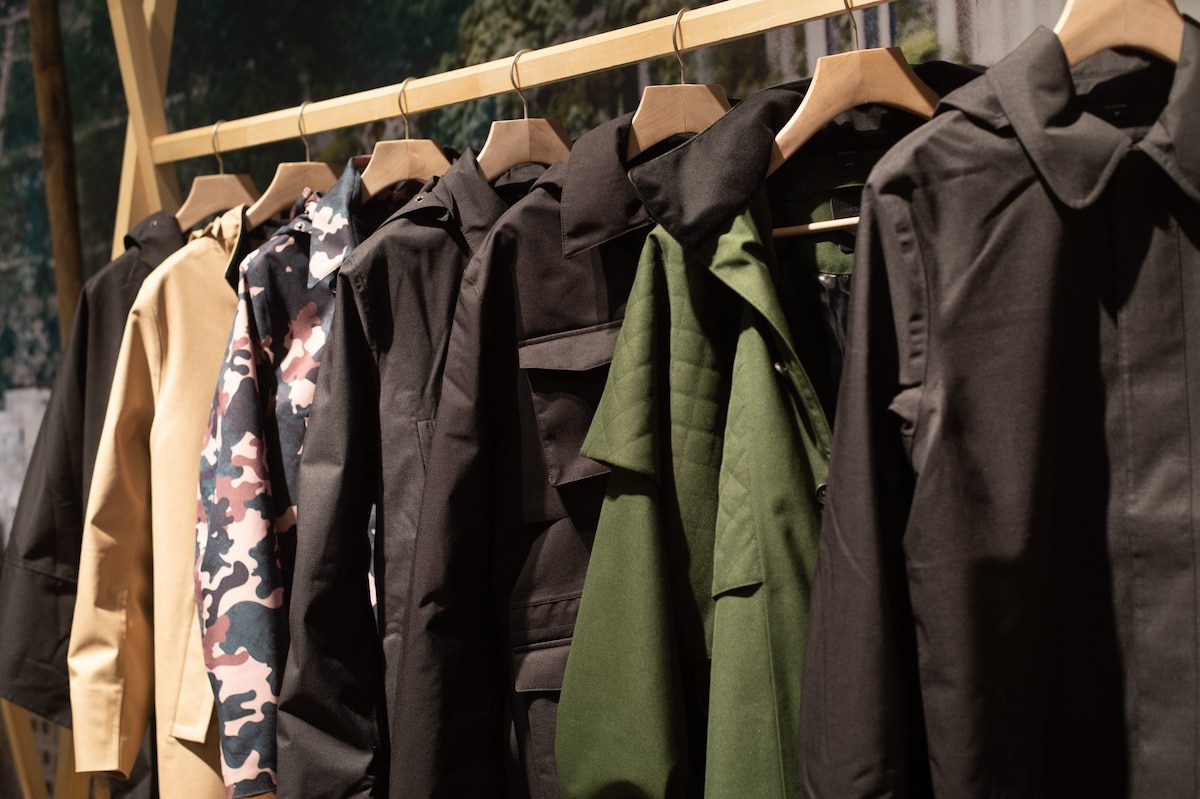 Our conclusion on Pitti Uomo 97
It was both very inspiring (but also quite draining): we were glad to meet in person iconic international brands that we had been following for quite some time.
We are so motivated to review them through the most comprehensive articles you can find, not only in french but also in english for the most iconic brands.
Our ambition for 2020: be a reference website not only in France but worldwide.
Many thanks to Léa Chamboncel for all the pictures of this article