I'm glad to write our second english review. You'll soon notice it: our favorite kinds of brands are factory-owned, and vertically integrated. For us, that's the best guarantee of an excellent value for price.
And it's a rare catch when they have a nice story.
Johnstons of Elgin was the perfect match: the oldest and biggest vertically integrated Scottish Cashmere producer.
We wanted to go to the bottom of things with this brand so they invited us over three days in Scotland for a mill tour: we're proud to say that cashmere doesn't hold any secret for us -and for you – anymore 🙂
Johnstons of Elgin: a Scottish industry major actor
In terms of exported scottish goods, you'll find mostly whisky, cashmere (and the famous shortbreads); Johnstons of Elgin has then a major impact on the country economy.
It is the last remaining vertical mill in the United Kingdom (and the last one in Scotland), from fibre to finished goods, without any outsourcing or relocations.
This is by far the kind of brand we prefer; combining a rich history, a rare craftmanship and an excellent value for price.
The factories are also of course producing for most of the well-known luxury brands -unfortunately, we're not allowed to mention them in details- but now want to highlight the mill-owned brand; Johnstons of Elgin.

Our feedback on factories and working conditions
Johnstons of Elgin never resorted to any relocations, and I think that's why you can still get that kind of quality.
You already knew this but mill jobs are not easy and requires tons of skills and constant attention.
You can't keep a decent craftmanship, a careful process and love for the product without good working conditions.
In Elgin and Hawick, Johnstons of Elgin factories are not only workplaces but also places of social gathering, where workers are an actual community.
When you crunch the numbers, workers are a big part of both towns and entire families are working there: so major part of the towns social life is happening in the mill.
Johnstons of Elgin provides high salaries and easy access to healthcare: an occupational health doctor is available at any time in both factories.
The result is simple:Johnstons of Elgin employees are extremely proud of each garment they produce.
It's not that simple to keep that feeling intact over the years, even when it comes to luxury products: imagine seeing all day hundreds of cashmere knits and scarves for months. You have to really love your job and the mill to keep the same level of cautiousness after a certain time.
Preserving heritage and craftmanship
What gives Johnstons of Elgin products their unique touch is this ability to mix both centuries-old craftmanship (like teasels to get the famous ripple finish on the cashmere ) with cutting-edge tools, used only when it's necessary (like 100K worth machines able to knit 8 pieces of garments at the same time).
Here is a few minutes introduction video we recorded:

If you want to know more about the whole process of making cashmere, we tried to sum it up to you in the shortest way possible so you'll get a good overview, without trying to be like a Wikipedia article.
The origin story
Elgin mill is where the weaving of clothes and woven accessories takes place: the mill was opened in 1797 by the 25-years-old Alexander Johnston.
Before the tour, I always wondered why Scotland, and specifically Elgin, became this major region of wool.
First of all because it was a major economic crossroad where lots of boats would trade tobacco, linen and oatmeal.
Second reason: the river Lossie, which could supply in energy the mill: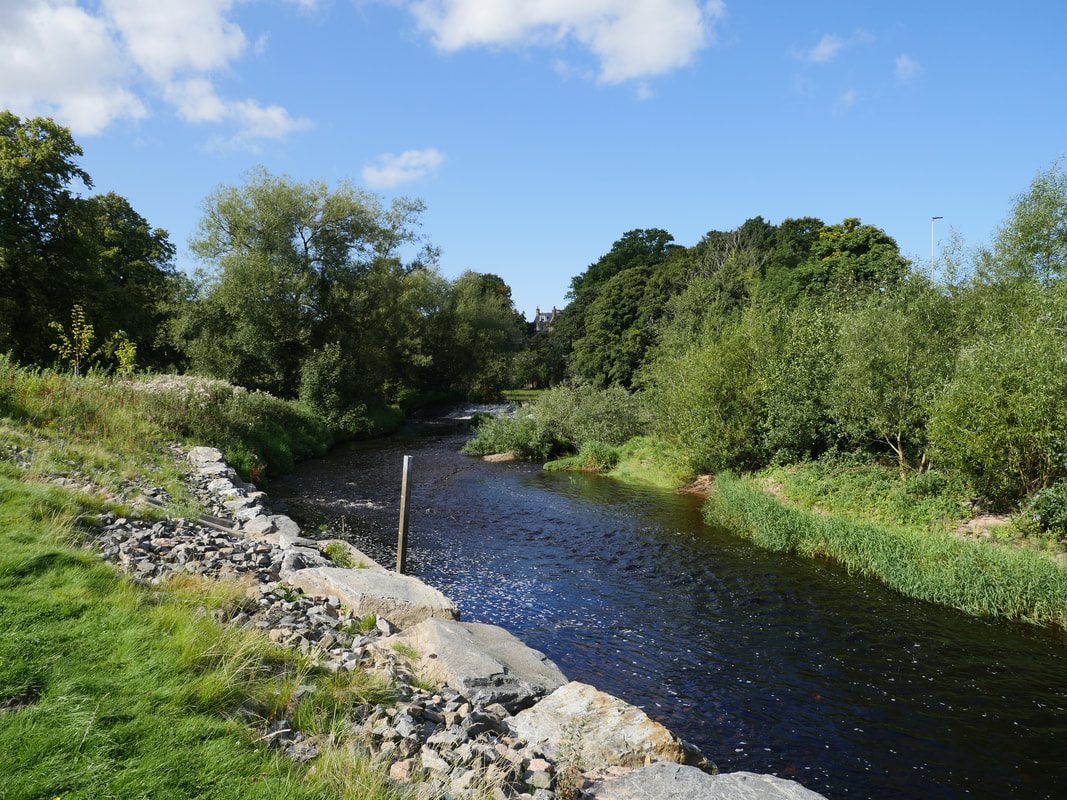 If a natural strong current and a clean water are major benefits for a wool and cashmere manufacturing mill, they can also cause major damages: the Elgin mills faced two floodings in 1915 and 1997. The latest one cost 20 million pounds.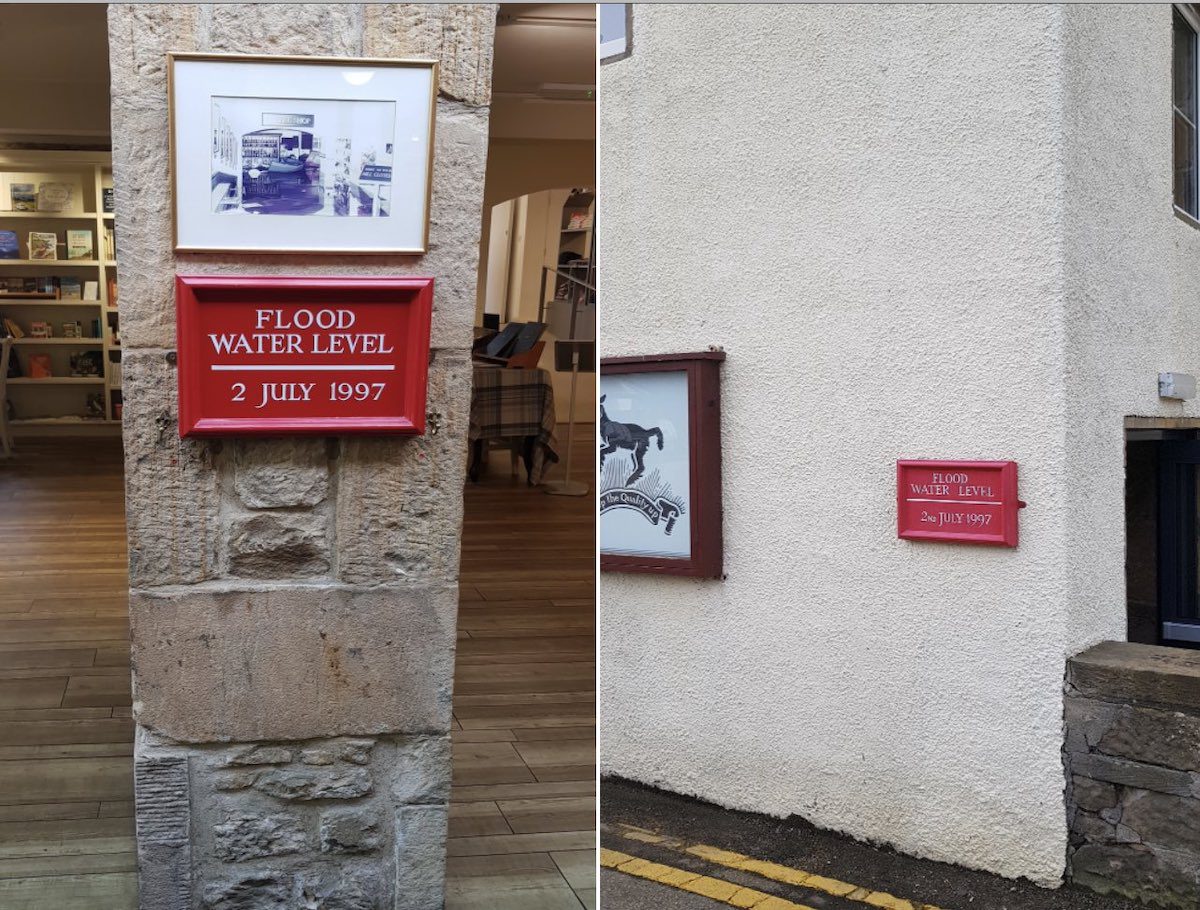 The mill started producing products using wool in 1840 and bought its first bale of cashmere in 1851.
Here is the origin of fabrics used by Johnstons of Elgin:
– cashmere: Mongolia, China and Afghanistan
– merinos wool: Australia and New Zealand. A lot softer than lambswool
Check the fabric softness by looking at the microns (1/1000000 of a meter): an hair is 70 microns, a lambswool thread 20 and cashmere 15.
Johnstons of Elgin and tweed
Tweed plays a major part in Scottish culture and history: it was even at the very beginning an outfit for workers.
Each land and area has its own tweed: colors and patterns were not designed randomly. It was all about matching environment natural colours as closely as possible: a tweed pattern would be green and blue if there were lots of forests and water, while a land with wheat fields will have more yellow.
Tweed clothing originally belonged to countrywear: you weren't supposed to wear them in the city. It's only after Queen Victoria's purchase of Balmoral real estate that tweed started to be worn by high society.
The famous Balmoral tweed
The first tweed ever designed and produced by Johnstons of Elgin was for Gordon Castle in 1809. The whole story is told in a Johnstons of Elgin edited book: Scottish Estate Tweeds.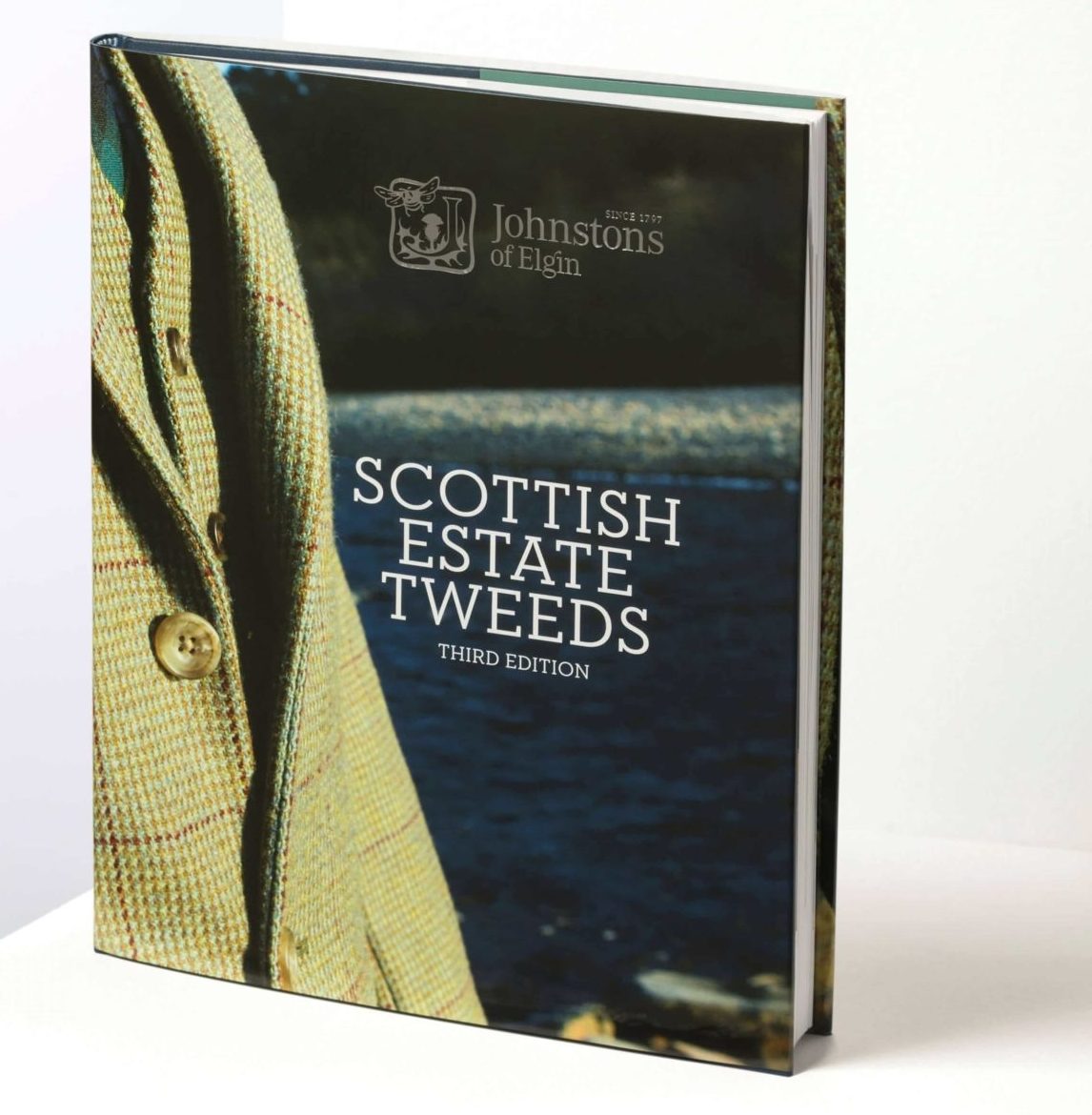 You can buy it here, and I strongly advise you to have a look if you want to understand more about the different tweed style you can see.
Long story short: it's extremely impressive to see how a single company was able to influence that much a whole country culture through tweed.

Brand archives: centuries old fabrics that could still be worn today.
Craftmanship: tour of Elgin and Hawick factories
You got the point: it's not about writing the new Wikipedia article about manufacturing cashmere, rather give you a global overview of the whole process, from the raw fibre to the finished garment.
Elgin mill tour
Raw fibre storage
Cashmere fibre are stored in hessian bales, and merinos wool in nylon. Only what's necessary for seasonal production (about 1/4 of all fibre) are stored in Elgin, in case of further floodings.
Dyeing
Loose stock fibre are dyed in large vats:

Small amounts of already spunned yarns are dyed on cones or hanks (mostly for individual customer orders). There is also piece dying on a fully woven fabric.
Up until the 20th century, only natural dyeing ingredients were used: berries, plants, lichen or insects. They were later replaced by eco-friendly man-made dyeings: more accurate and long lasting.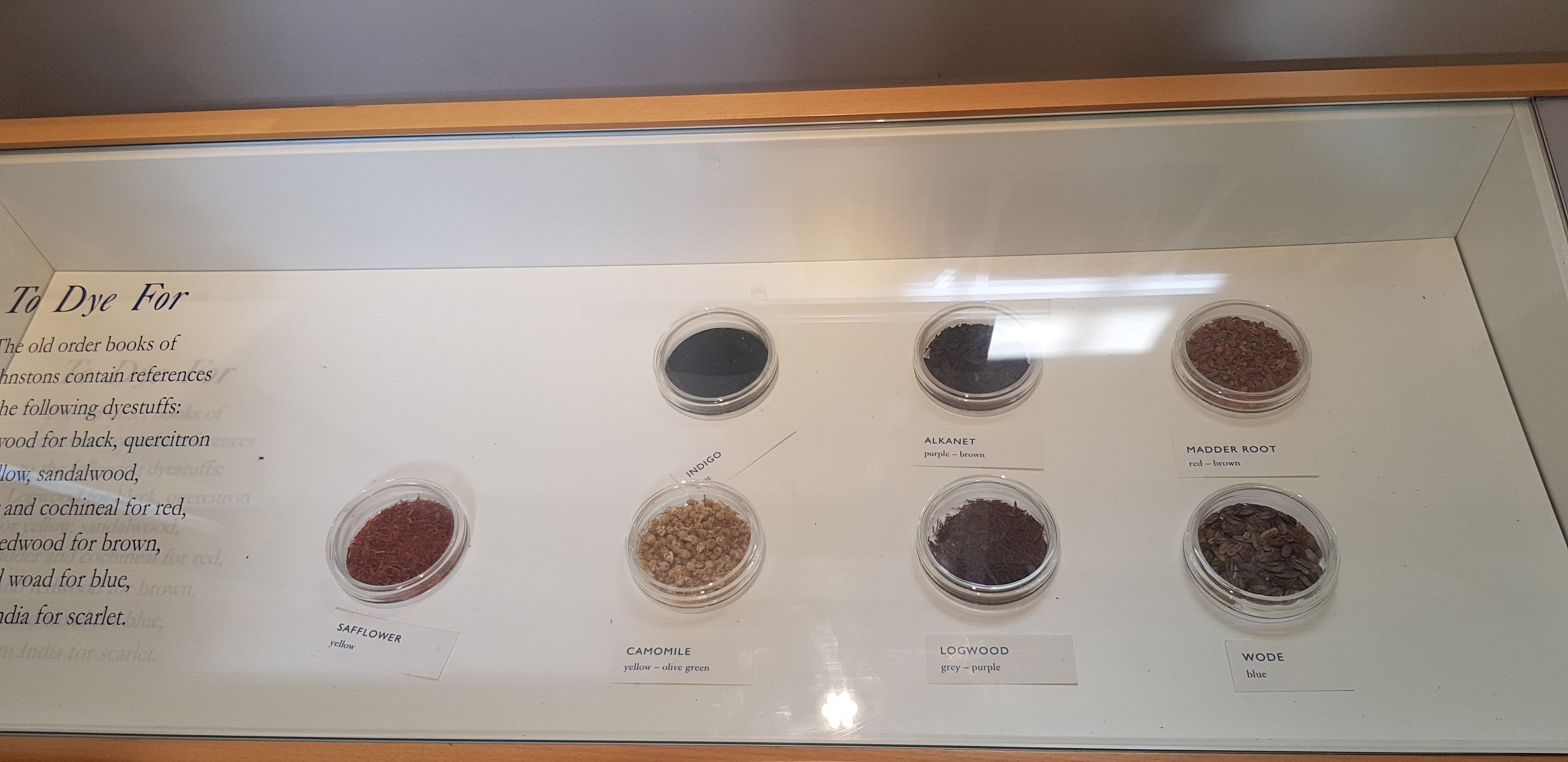 Johnstons of Elgin colors archive is nothing short of impressive: more than 7500 colors are available, with a whole Research and Development department. Dyeing takes between 3 and six hours: the darker the color is, the longer it is.
Before carding
Fibre are aerated in blending bins not to become matted. This process is useful to mix different type and colors of fibres.
They're teased to open up the fibres: a special oil is then added to protect the fibres and improve the handle.
Carding
This is one of the most important process, the fibres are fed over rollers with wire teeth (those used to be thistles): they are used to separate, straighten and align the fibre.
Fibres undergo twice this process thanks to a 90 degrees rotation: this second treatment is unique to Johnstons of Elgin and guarantees the softest and finest yarns.
At the end, you'll get rovings: they are weak and need to be spun to get a strong enough yarn.
Spinning
Rovings are twisted together to get a strong and elastic yarn: the more rovings are twisted together (their number is an indicator of thickness known as the ply), the stronger is the yarn.
After the spinning, the yarn is wound onto a cone for storage: a cone contains about 1kg of yarn.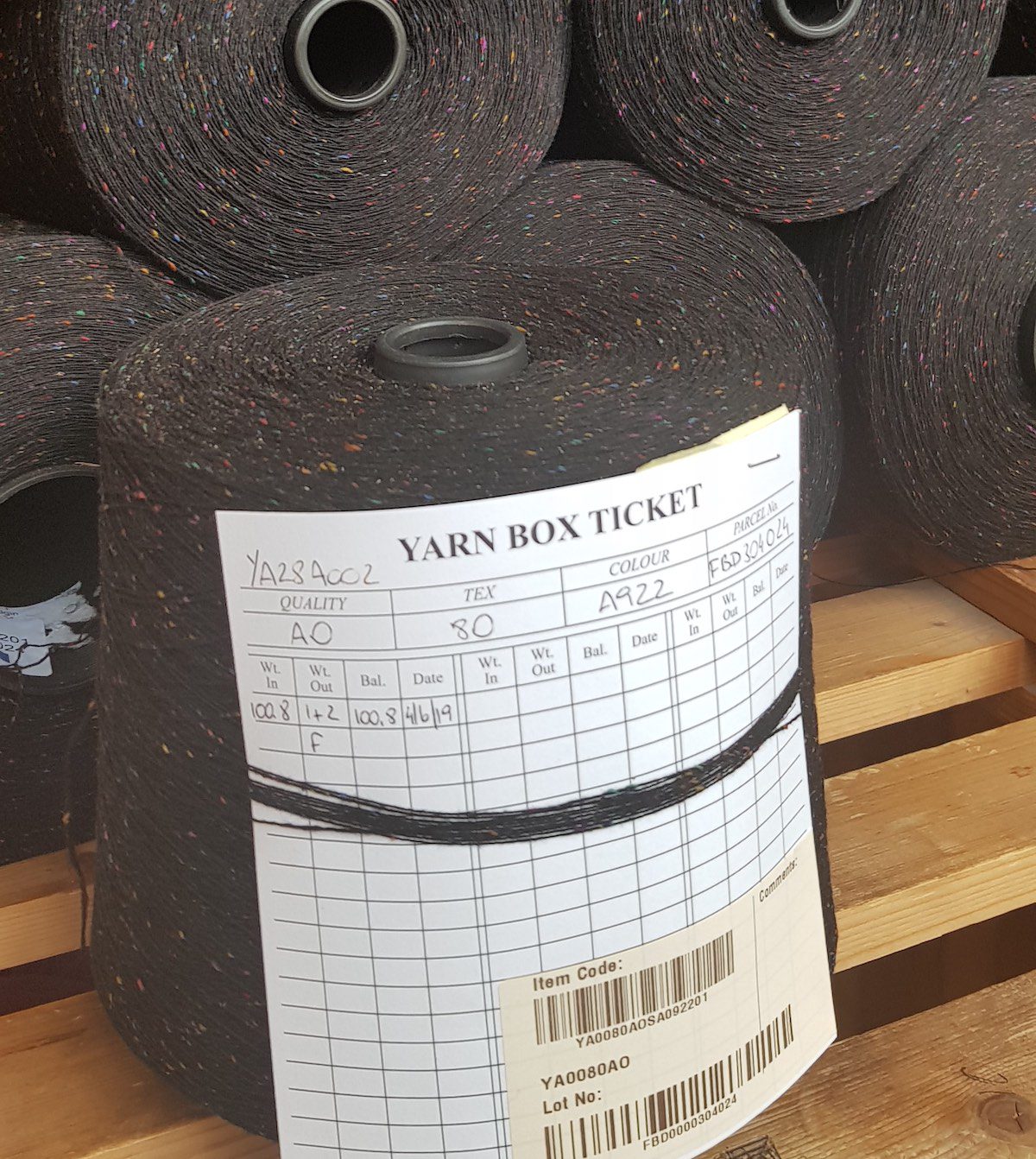 A fabric cone
The yarn store has at all time available 150 tons of yarns.
Warping and weaving
This is the process to work the yarn into a fabric: it is first handled by the design team, creating a specific pattern depending on the kind of fabric. It also takes into account the fineness of the yarn and the thickness of the final cloth.
Once it's done: the warp vertical thread is first laid out. Then the weft horizontal thread is introduced.
Many kinds of weave exists: the plain weave is the simplest. The weft is passed over the top of a warp thread and then underneath the next one.
There are 2 different ways to weave: dobby weaving allows simpler designs such as plain, checked or tartans however any intricate designs would be woven on the Jacquard looms: these would include fine detailed paisleys and double face cloths.
Purling
Once the cloth woven, some warp threads remain unwoven: they are used to make the fringes. Fringes can be plain or purled. A thread is inserted along the middle to ensure the fringes don't unravel during the finishing process.
Darning is then done in order to spot small errors and repair them by hand:

Finishing
The result is a rough-looking and greasy cloth:finishing the cloth returns the fibre to its natural soft and fine nature, and the famous in-house signature ripple effect.
This is the part where a clean and pure water is useful: Scottish water is used in the scouring and milling process in order to remove the oil and grease.
Finally, the teasling uses the teasel plant to raise the fibres of the cloth and gives the famous Johnstons of Elgin rippled finish. A century-old method that did not find any better modern replacement yet.
Hawick tour: the garment factory
The Hawick factory is used for knitting: it was opened in 1980 and also has since 2012 its own shop. It was awarded by the famous Royal Warrant, making it one of the official supplier of the Royal family.
Knitting
Hawick uses power knitting machines for ribs and collar.
Shima machines (made in Japan) are fully controlled by computer: they can knit up to 12 colours and tons of patterns (Fair Isles, cables and so on). A full garment can be knit in 40 minutes
Plain frames machines are only producing plain fabrics: they can knit up to 8 panels at the same time if they're the same shape and size.
Panels linking
They're linked together by hand: this is one of the most technical position at the factory. Especially when you work on thick fabrics.
Back and front are first joined, then the sleeves are fitted. Finally the sides are seamed up from the underarm to the cuff.
At this point the garments are examined in case there are defects.
Collars and closures are then handcut by a worker in a very accurate, with very few marks. It's quite impressive to see.
Washing
I didn't know this, but washing is close to a science. Duration, temperature: you have to get everything just right while taking into account the softness you want to give to the fabric, and its tone.
And it's exactly the same for drying.
Stitching
Once the fabric gets its definitive size and elasticity, they receive ribs, strapping, zips and all other needed finishes.
Everything is entirely handmade at this step. Luxury brands produced at the Johnston factory also have their own team for this part of the process, especially for the logo stitching.
The socks machine
It might seem funny, but it's not that simple to knit a sock. Johnston bought brand new 40k£ made in Italy machines just for this task: a sock is knitted in under 4 minutes.
Out of those factories are produced each week 2500 garments, 3000 pairs of socks and 3000 gloves.
Review of the double faced wool coat
We didn't review a jumper but rather a tailor coat, quite impressive with a nice length and beautiful proportions.
Here, the heavy wool fabric is woven by Johnstons of Elgin and the knitting by one of the brand partner factories, located in Italy.
Cut and structure
The fabric is heavy enough to give a beautiful drape and give structure to the overall garment, while shoulders are light and natural enough to make it quite easy to put on.
It's a great compromise that wouldn't have been easy to find with a fabric other than this double faced wool, which gives quite a dressed-up allure to the overall outfit.
Other good point: the collar is stiff enough to stand still.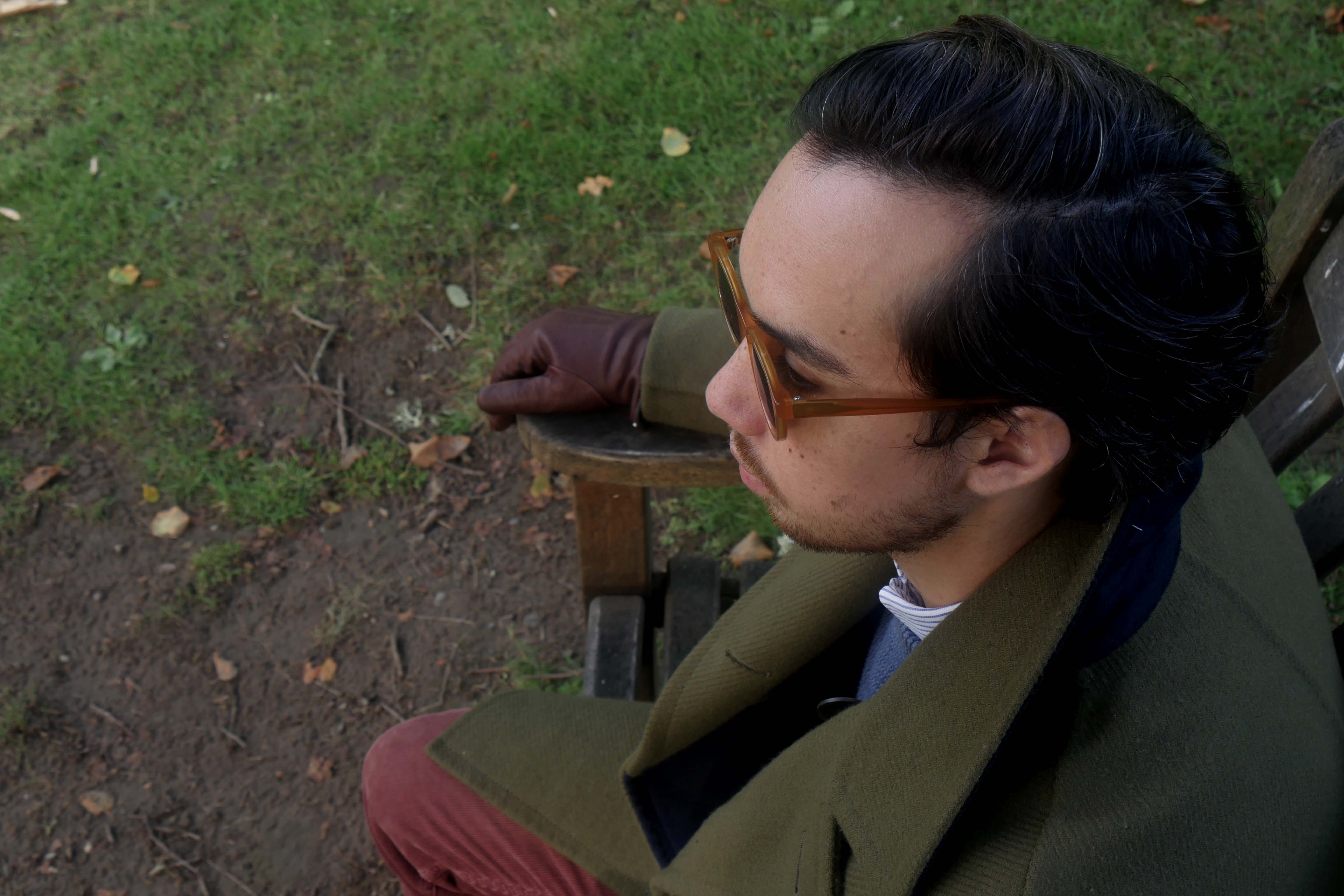 With a closure this high, this coat is a great shield that won't let the cold slip through.
Dimensions
The coat seems longer than usual but is actually just knee length so as to flatter the figure and the lapels are wide enough to give a dressy style to the piece.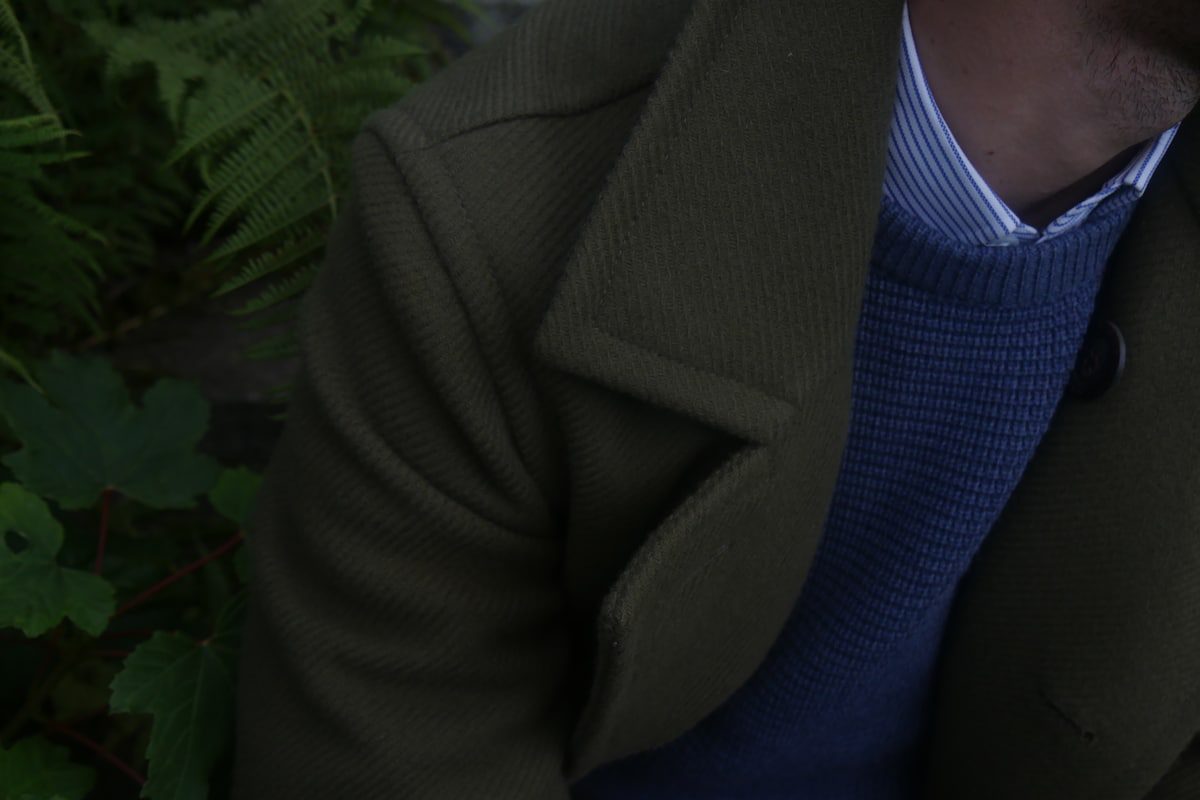 Finishes
This is the only drawback of this coat: a lack of pockets. There are only two side pockets, not that deep. I guess it was hard to add more pocket on an unlined and unstructured coat without altering the drape.
The rest is typical of a very high-end piece: handmade working cuffs buttonhole, handmade lapel buttonhole.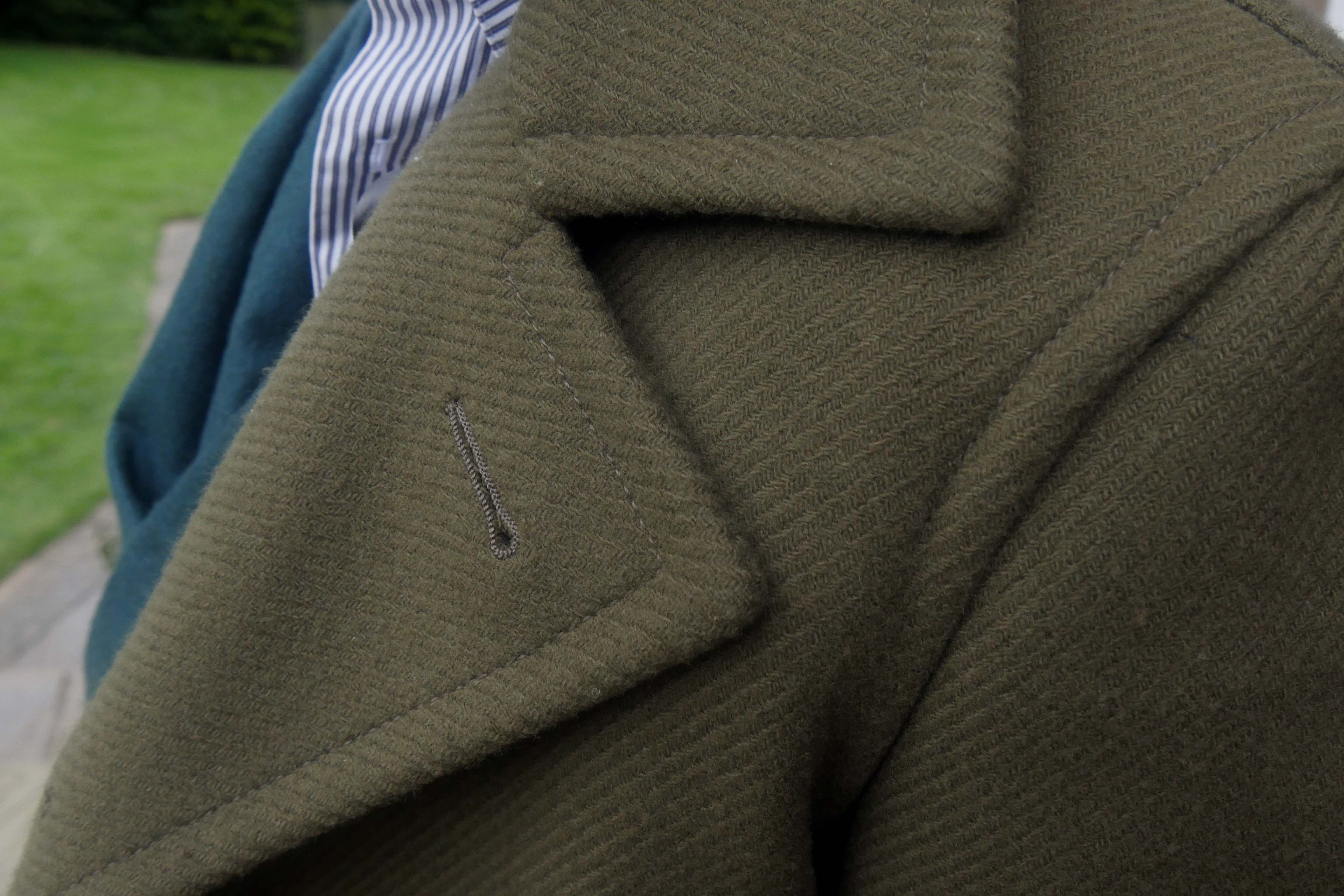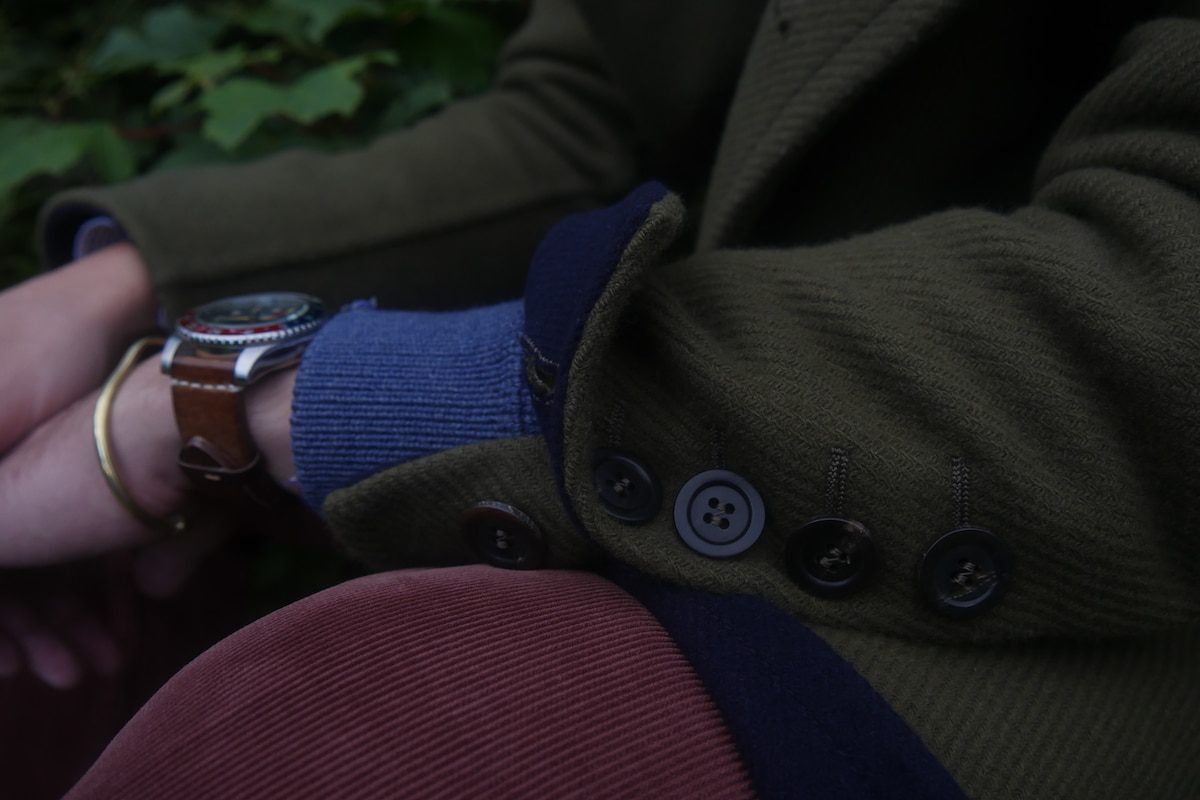 Style advice
Gentleman Farmer
When in Scotland, do as Scots do: so I took with me my corduroy trousers and my brogues. I'm wearing it with a more classical top: a textured round neck jumper and a striped oxford shirt.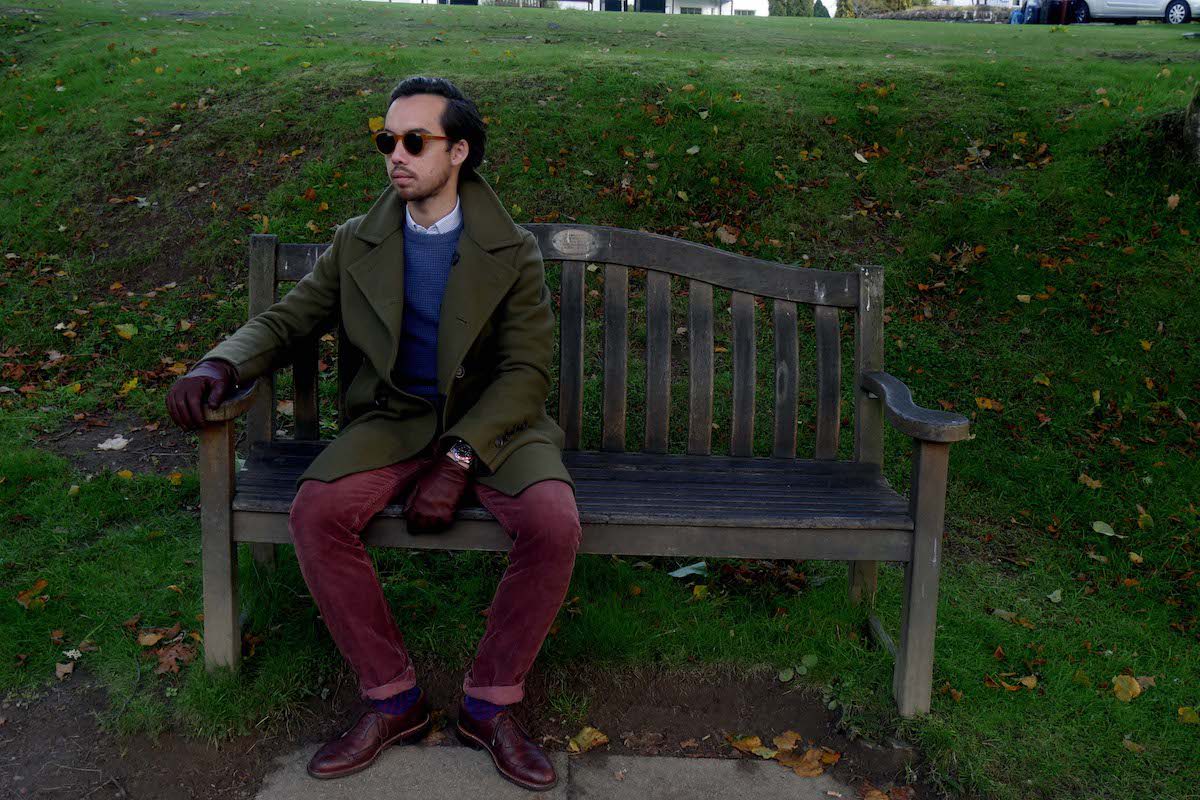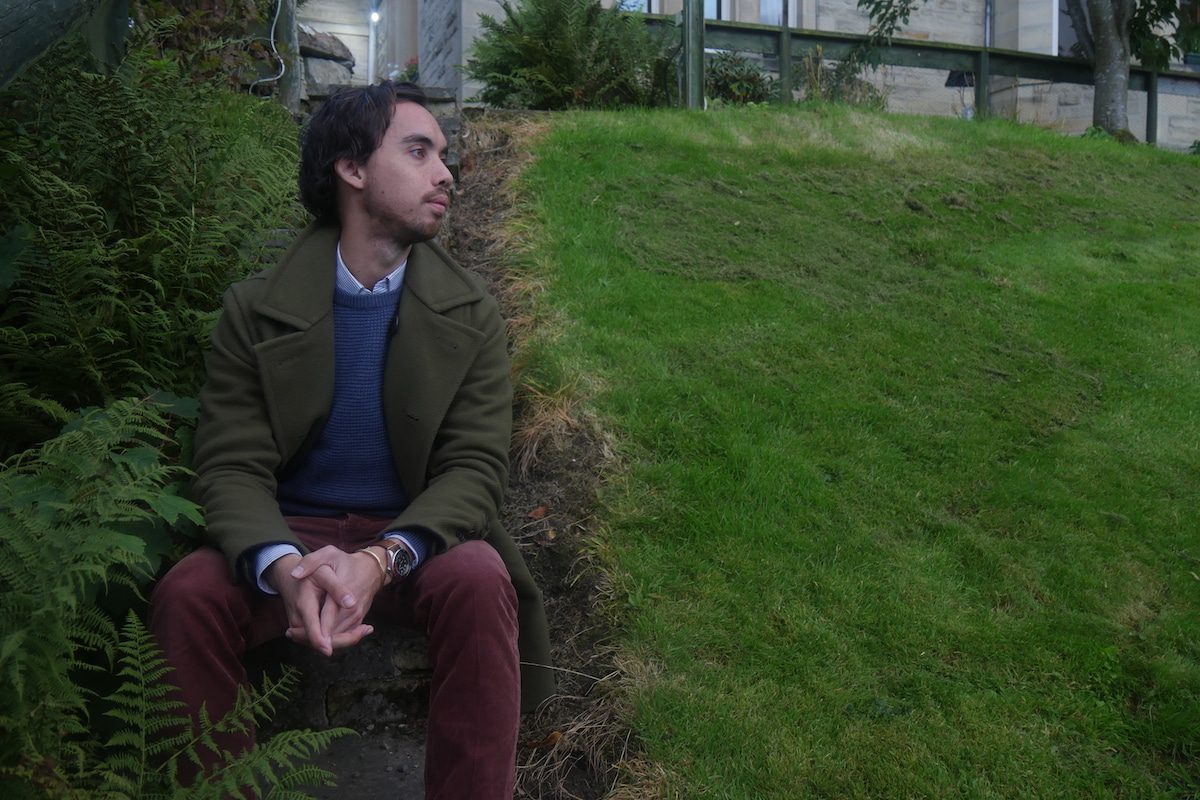 Outdoor
This is a more practical outfit, made to face colder situations, but that can easily be worn in the city thanks to noble fabrics. I'm wearing here a high collar jumper, cargo trousers and country leather hunting boots.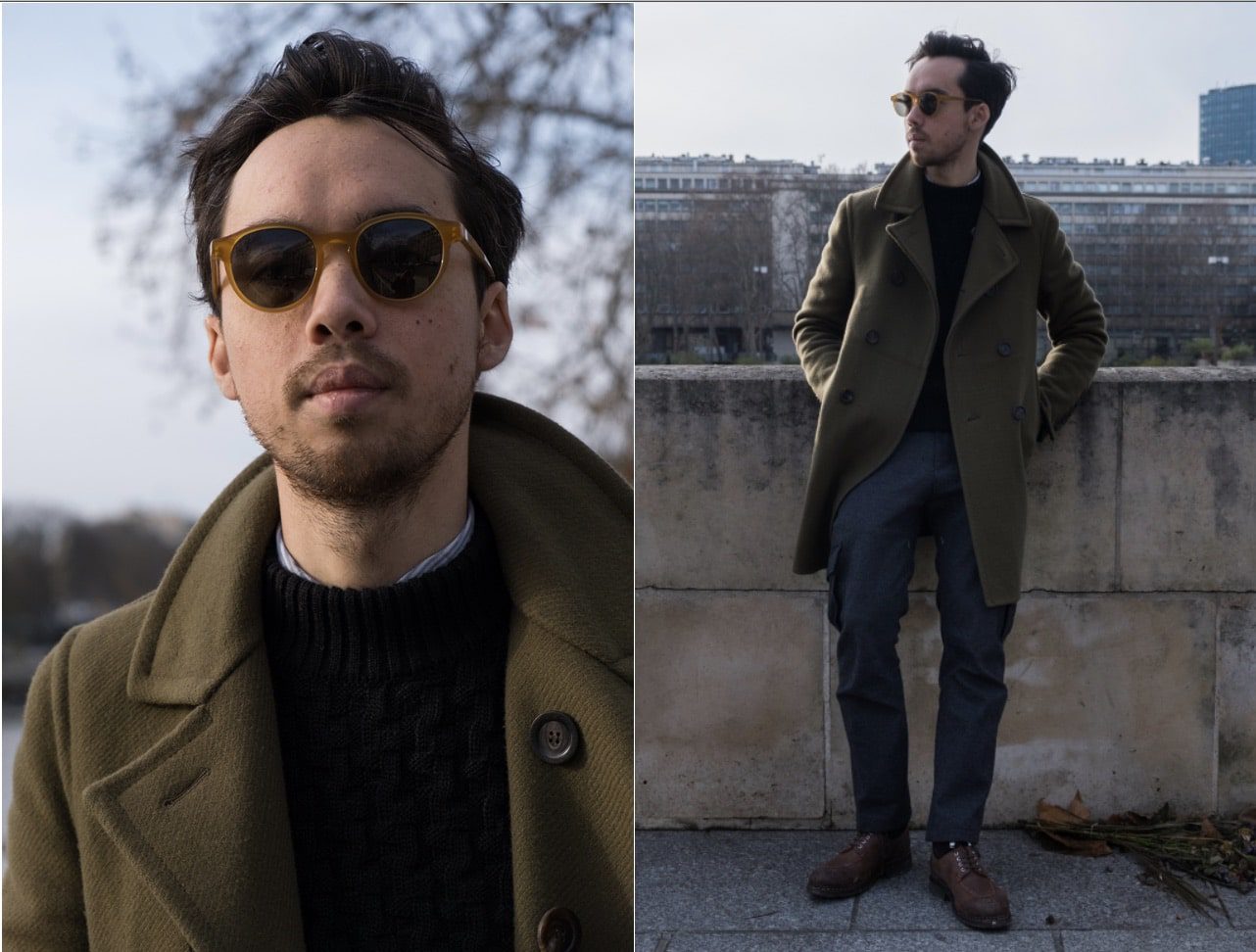 Thanks to its khaki tone, with an almost military style and its textured fabric, the coat fits well in that kind of outdoor outfit. It even gives it a dressier look.
Sartorial
It is the most obvious style for that kind of coat: the color and textures are perfect to make any outfit original. It remains dressed-up enough to be worn with any kind of suits, without resulting in too much of an excentric outfit.
So it was a perfect choice for Pitti Uomo, that always encourages out of the ordinary outfits.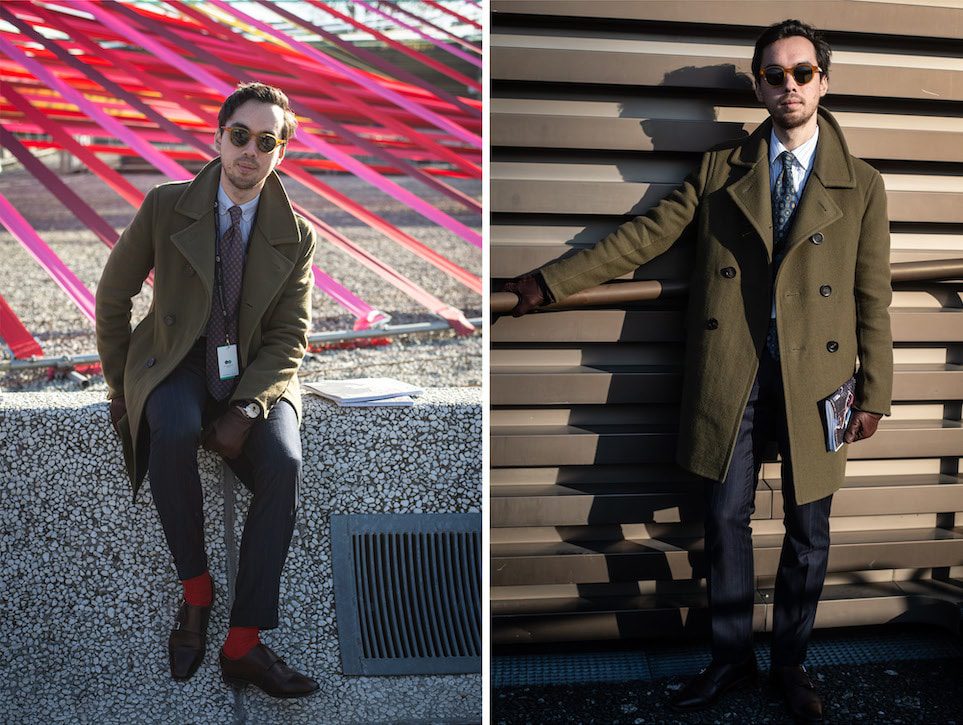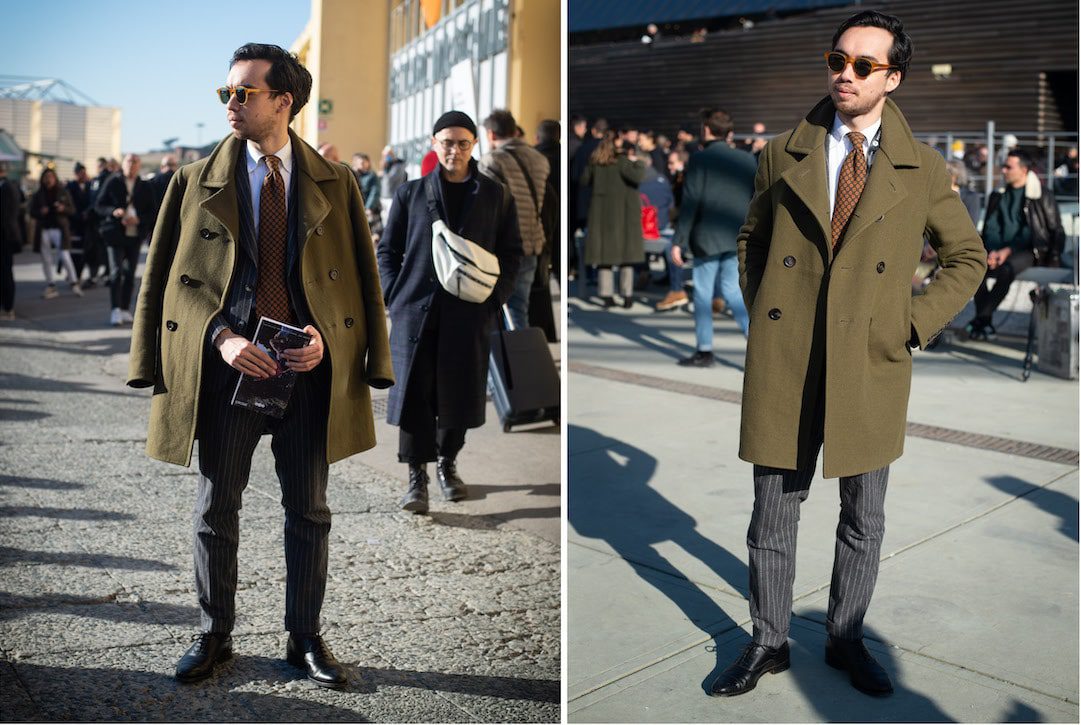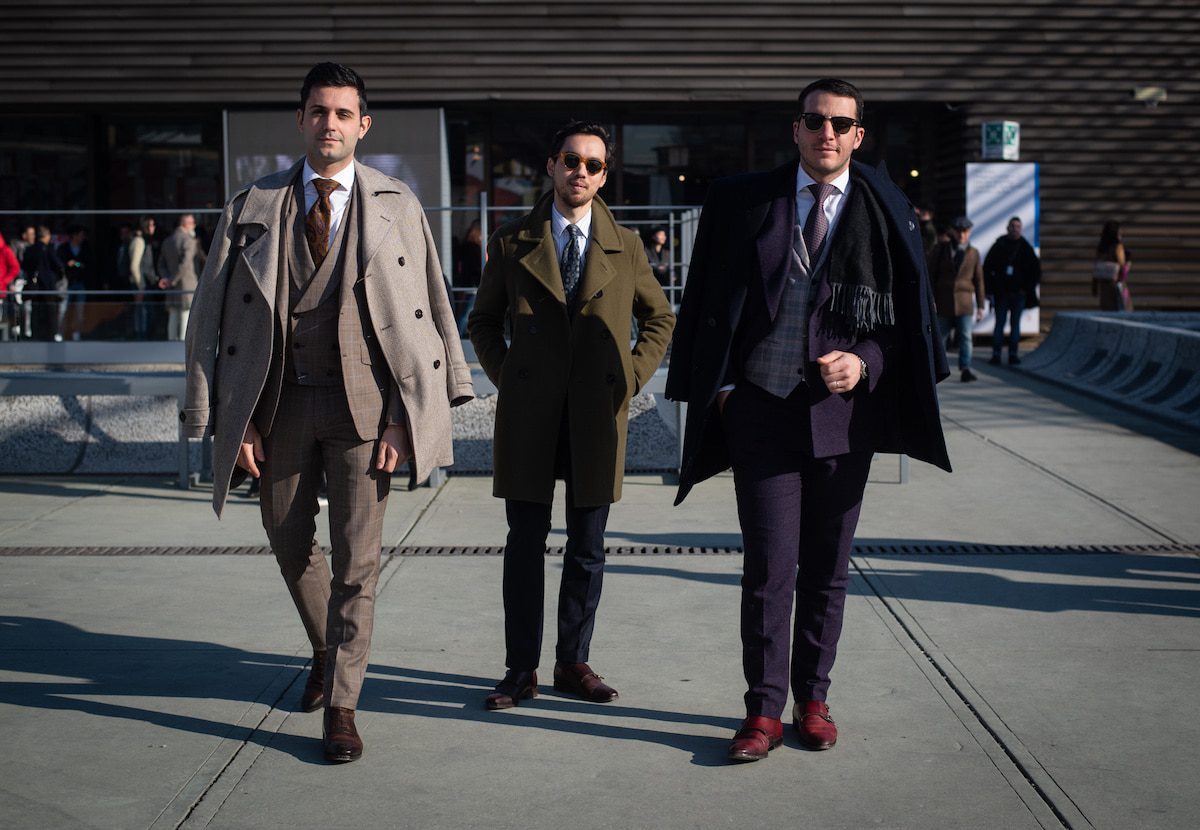 Review of the lofty baird tartan scarf with hand tied fringes
At the first sight, it looks like an ordinary yet fine take of the classical blackwatch scarf by Johnstons of Elgin.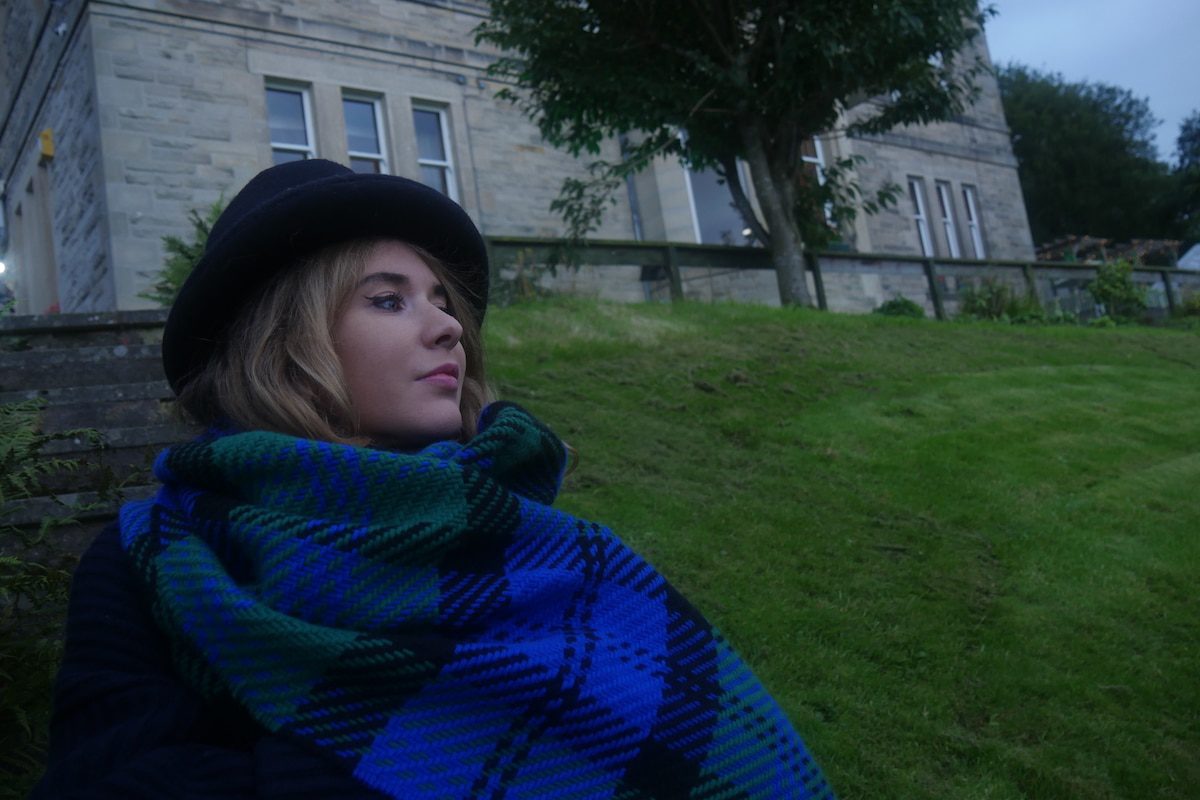 Colors
It was obvious that this kind of pattern could hardly be found elsewhere: this is a Baird tartan updated version, with more vivid colors, but with a great contrast.
This is actually not just a tartan, but a subtle mix between tartan and madras check.
Those electric colors are really subtle, and I didn't find them among other brands. This is not a coincidence, knowing now that Johnstons of Elgin owns more than 7500 different colors.
Texture
The weaving is hard to describe because there are both an horizontal and a diagonal thread. This diagonal thread is contrasting and adds nuance in the color balance.
It is actually quite a loosened twill, allowing for the scarf to remain quite light and breathable (even though there is a ton of fabric).
Finishes
Each fringe is hand tied according to the macramé weaving technique.
Style advice
With that kind of sizes, it is as you might have guessed a more feminin piece, perfect to play with figure and proportions.
That's what did our video maker Christelle: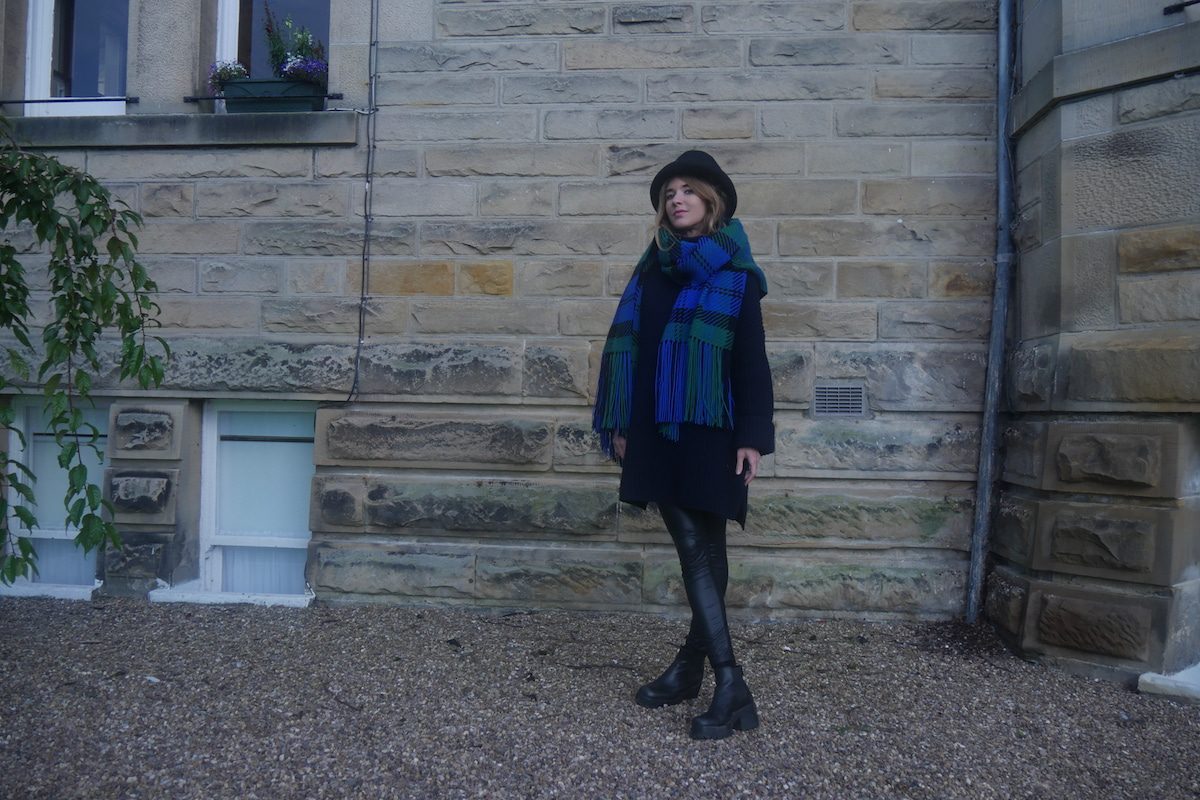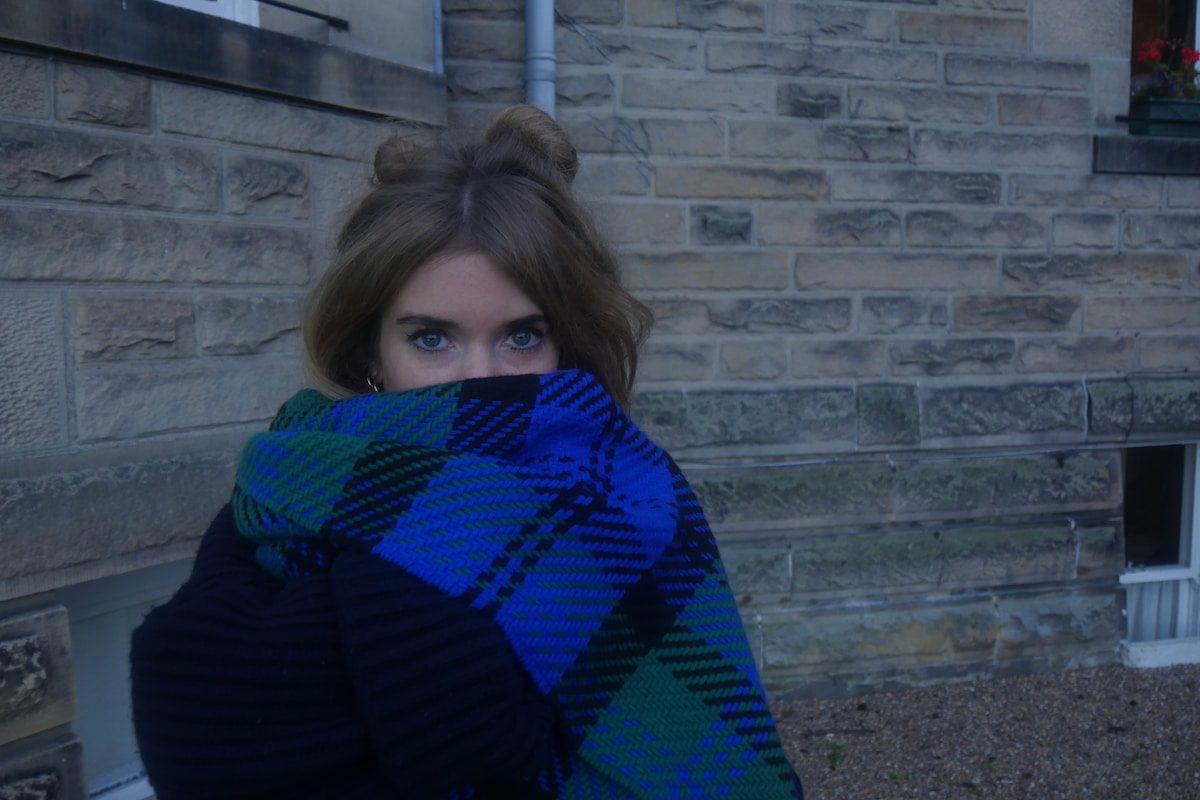 The scarf is available here at 219 euros.
Conclusion
Honestly, having a tour in the oldest and biggest scottish cashmere producer factories (one of the main country industry) was quite an experience and it was very important to me to share it in details. I hope I haven't been too technical though.
You got it, Johnstons of Elgin had tons of assets as a 200 hundreds years old first to market, with a vertical integration;
– a great value for price: everything is made by Johnston, from fibre to finished garment (except for some outerwear garments such as the coat)
– impressive archives: in terms of colors and patterns as well, with 222 years of experience
– a mix of traditional know-how and cutting-edge machines: a good compromise to get handmade quality (like the famous Johnstons of Elgin unique cashmere ripple effect), while staying affordable thanks to economies of scale.
We strongly suggest you go on the website: many affordable products start at 99 euros during sales (here is for instance a small sample of lambswool jumpers).