Disclaimer: Warning: This article contains some hints about the evolution of the series that may spoil you. However, I did my best not to mention any specific scene. At Jamais Vulgaire, we love Peaky Blinders.
After Mad Men or Suits it was difficult to find a series where such as style. Thomas aka Tommy Shelby (played by Cillian Murphy) is the leader of the Peaky Blinders . He takes us on a brutal and elegant immersion into the daily life of these Birmingham gangsters of the 20s involved in various more or less legal trades, especially horse betting.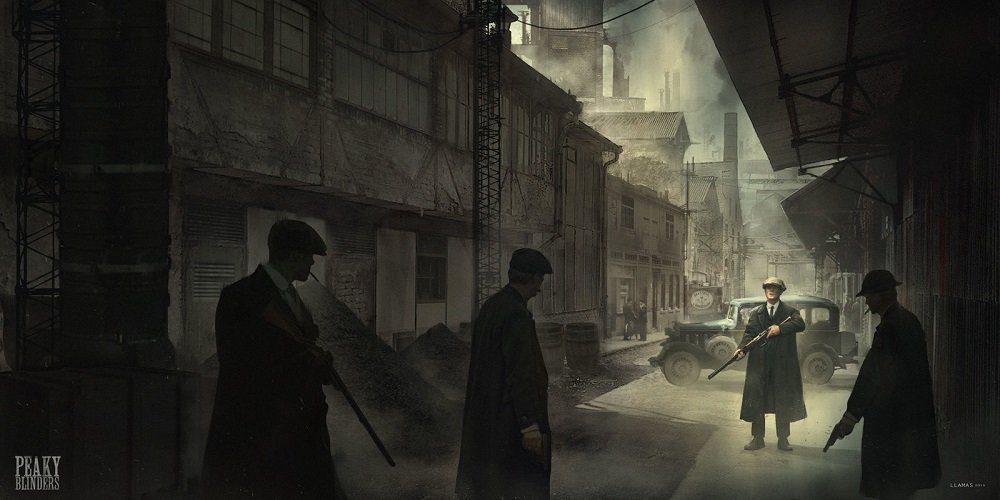 In this article we will dissect two things: on the one hand the different inspirations from which the Peaky Blinders' style is inspired, and on the other hand we will analyze the iconic pieces of their outfits. Little bonus: we will also tell you what is still quite easy-to-wear nowadays and in which context.
The Peaky Blinder style: an amazing mix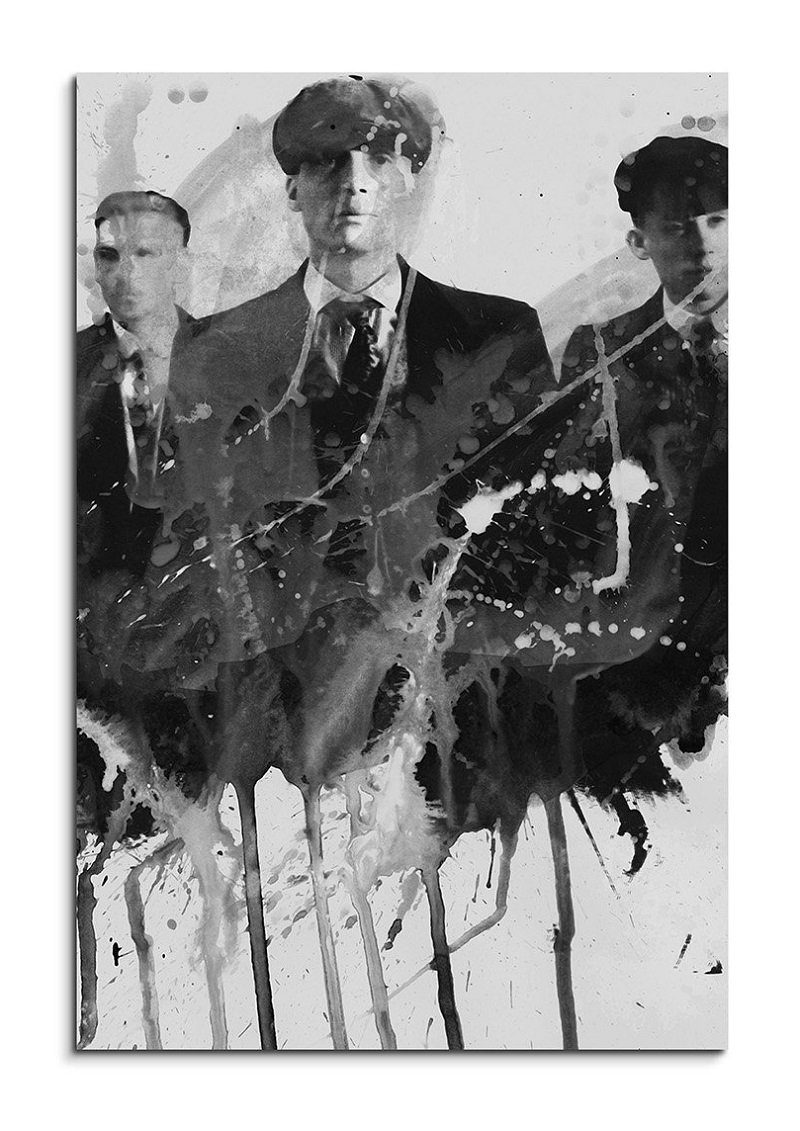 You can easily get lost when looking at the first glance at the characters outfit. Indeed, I realized that the Peaky Blinders' style could not be clearly defined as an English iconic style, but rather has many inspirations, drawing from several registers.
When you think about it, it's not surprising. The Peaky Blinders have an extraordinary background and life, they evolve through different social ranks and must therefore adapt to their different environements while remaining gangsters, ready to fight at any time.
The different style inspirations of the Peaky Blinders
Gentleman farmer
Thick three-piece tweed suits, balmoral boots … This typical gentleman farmer style suggests that these gentlemen are rich landowners from the English hinterland, except that they are not!
No because firstly, they are gypsies (nomads rather than sedentary) and secondly because they spend most of their time in the city and not in the country.
That said, it should be remembered that in 1920, the roads were not yet all paved and that in England the weather isn't kind
It is therefore not reasonable to dress lightly, you need very thick materials to face the cold and also good, sturdy boots to wade in the streets.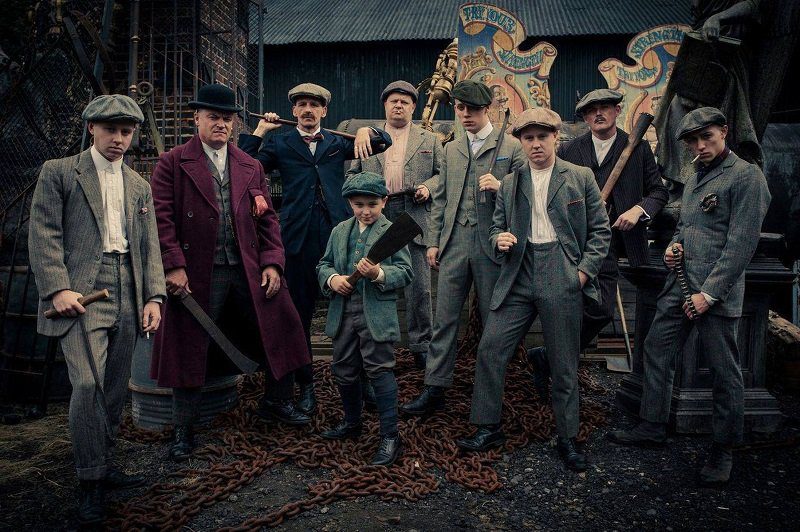 Gangster
Peaky Blinders are money making thugs, so they are very concerned about making a statement of their success by dressing up in elegant and expensive outfits.
They are therefore always « dressed-up to the nines » and love to wear suits with tailor's patterns (stripes, Prince of Wales, houndstooth…) and in unusual shades of grey or blue that make them stand out from other more modest city dwellers, who often have to make do with patched pieces.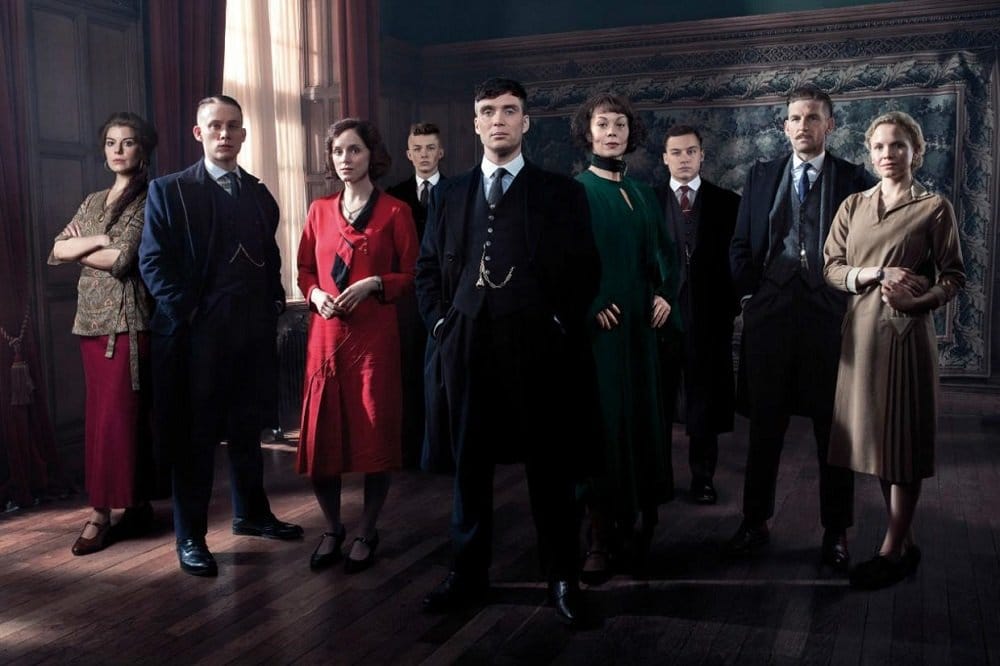 Yes, at the time, there wasn't a lot of ready-to-wear in the men's wardrobe!
The richest went to the tailor to make clothes from new fabrics while the most modest had to sew second-hand fabrics or to recover pieces in poor condition: in both cases it is not a question of pieces bought ready-made in a size from a defined pattern.
The English aristocracy
The more money the Peaky earn, the more they frequent high society. They are therefore forced to exchange their gangster manners and looks for understated (and therefore less flamboyant) and formal outfit (especially for Tommy and Michael, for whom the evolution is obvious). All this in order to look like respectable notables by pretending to take their appearance. Tommy's greatest wish is to be respected as an honest man, an annuitant, a business man. He doesn't want to be seen as a gangster or an upstart who lives in a society that is not his own.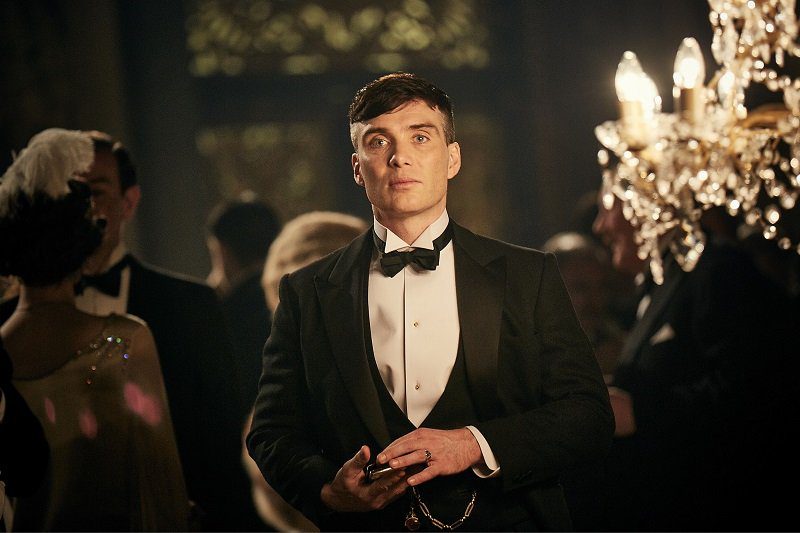 It must be said that at the time the series is being held, we are witnessing the emergence of a whole generation of bourgeois who made their fortune in industry a few decades ago.
A new social class that the aristocracy of the English lords despised and considered unworthy to live among the British circles of influence.
They see them as the « new rich » who have no moral value other than greed. In reality, they were losing influence at that time and felt really threatened by this new social class that did not exist a century ago. In fact, there are many other political conflicts of the time that disrupt the fabric of Tommy's destiny.
On the one hand the communist revolutionaries who exhort the workers in the factories by calling them to strike, and on the other hand the English politicians and the bourgeoisie who are scared to death that this will happen!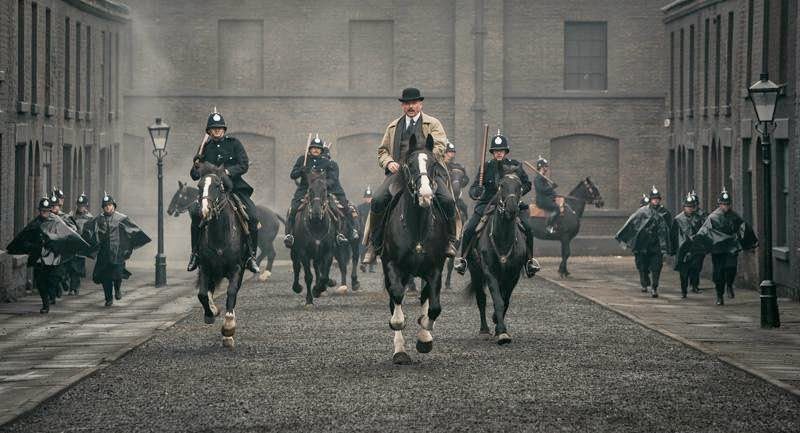 So we find canes and glasses for Tommy (an accessory reserved for an elite at that time) and thinner shoes for certain occasions as well as tuxedos for social events (the famous black tie).
How to dress like a Peaky Blinders
Now we move on to the undermining part! Just like the Kingsman article, we've chosen several iconic pieces from the series to take you through them and then tell you if it's possible to wear it on the street, for real. We also noticed one important thing (and we really liked it), it's that the Peaky Blinder always comes out in costume.
Whatever the occasion, it is never caught short and does not know the meaning of the word « casual », it is always at the highest level of its elegance. It's not easy to select pieces because the choice is vast but you have to choose the most iconic ones. Here is our selection, hoping you will like it!
The flat cap
Originally from the 14th century, this accessory adorns the heads of workers in the Irish and British countryside. It is traditionally made of wool or tweed. Very quickly, it comes out of the countryside and settles a little everywhere in England. It had several technical advantages: it protected the eyes from the sun and preserved the skull from the cold.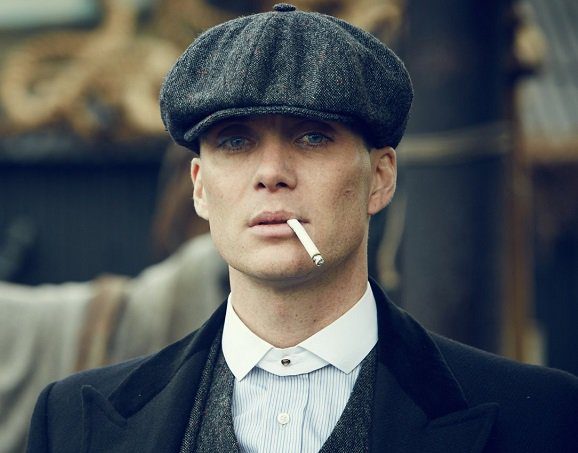 It became compulsory from 1571, in fact every man or child over 6 years old must wear one (made in England) on Sundays and during the vacations! A law which can seem curious, but it is necessary to know that at this time England goes through a difficult period for the trade of its wool and it is thus that it could get out of it. A law which will be repealed about twenty years later.
From then on, this hat will not cease to increase its popularity, especially outside the United Kingdom thanks to the various waves of exodus. It also crosses all social backgrounds (in the 20th century aristocrats wore it when they practiced sporting activities).
The Peaky Blinders are well customized with razor blades (hence the name of the series). Useful if ever a match gets tough and you need to neutralize your opponent who usually doesn't expect a cap hit to blind or even kill him. Personally I find that today this cap has lost a lot of its charm, especially because of fashion designers who have taken back the accessory to their sauce (I let you imagine the disaster), thus exhausting the popular craze for this beautiful headgear.
Risk taking: 6/10 Difficult today to wear this in the city, that said for a weekend in the country, worn consistently in a gentleman farmer style it is a very attractive idea.
Example: it's quite difficult to find really good flat cap, with a nice fabric. The french brand Maison Baylé has a great range of woolen herringbone flat caps with beautiful patterns. They're expensive but they'r handcrafted in Italy and designed to last a lifetime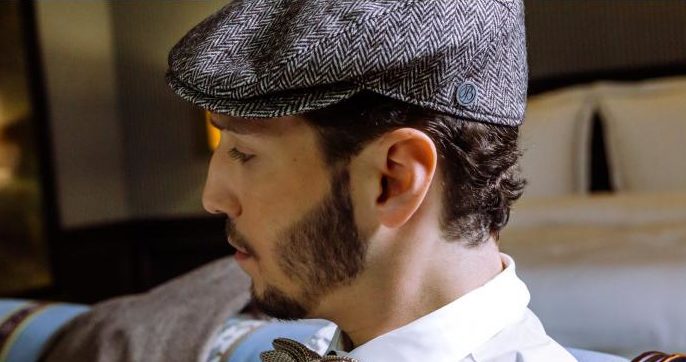 The three piece suit
An iconic suit of the traditional male wardrobe, it was worn (in its current form) as early as the 18th century. The three-piece suit has known difficult times. It must be said that it was originally designed to keep warm.
As you know, the United Kingdom is not known for its mild and sunny weather, so it was necessary to dress warmly. That's why our neighbors across the Channel adopted the two-piece vest underneath the two-piece suit, usually in a thick material.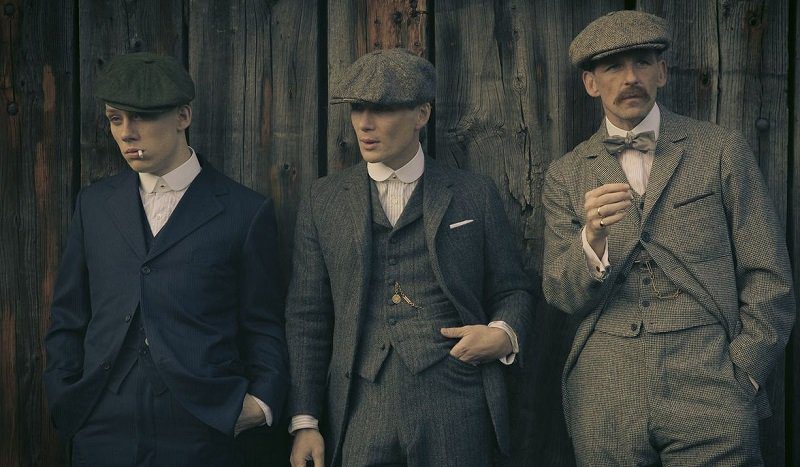 Besides adding a layer, the vest also performs well in terms of appearance: it provides a smooth transition between pants and jacket, allowing you to focus your gaze on the tie rather than the waist.
Risk-taking 4/10: It has been making a strong comeback in recent years, even in the ready-to-wear stores! At Jamais Vulgaire, we love the vest, whether it is worn in winter or in mid-season. It contributes a lot to the elegance of an outfit.
Example: the best value for price for three pieces shirts are without a doubt at SuitSupply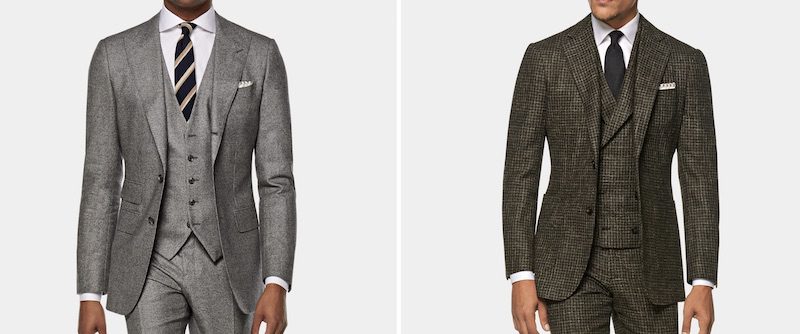 The club collar shirt
Tommy Shelby very often wears a club collar on his shirts. A collar that fits his emaciated face, however, when he ties his tie it gets less elegant, and because the tie never reaches the neckline which is too high and and the collar is too small to accommodate the knot.
Quite an unfortunate detail in my opinion.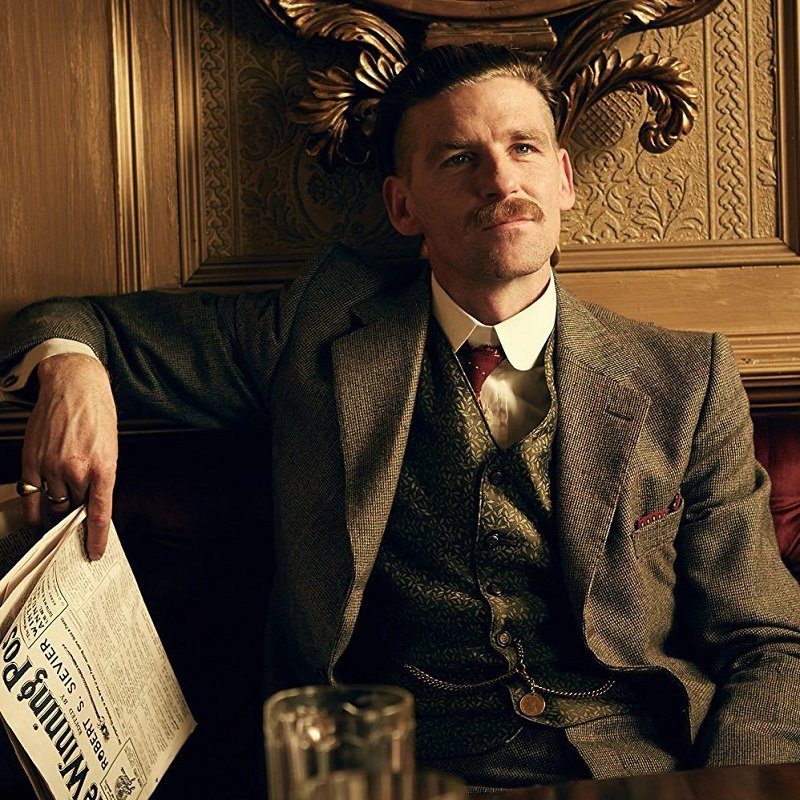 Attention, I want to make it clear that this is only my personal opinion on the subject , it has nothing empirical, it is simply my feelings.
Moreover, this is how the tie was worn in the 20s, so I salute the research work of the producers of the series. My advice to combine the two? Assume the bias to the end and prefer a pin-collar that will support the knot of your tie which then stands naturally at the top of the neckline.
Risk-taking 7/10: Not easy to wear in a formal outfit and even less so in a casual one, it gives an eccentric side to the wearer. On the other hand for a wedding it is a relevant choice!
Example: the french brand The Nines is offering really nice club collar shirt with even pin and tab collar at a great value for price: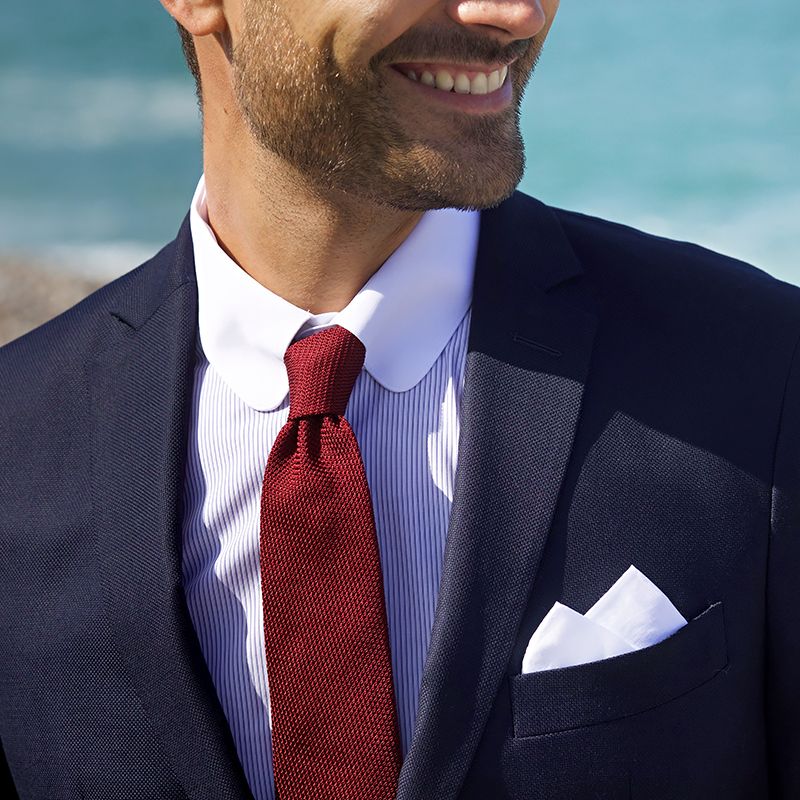 This tab collar shirt is for instance available at 79€ (made in Europe from great italian fabrics)
Brogues boots
Another very popular piece in Great Britain, especially among gentlemen farmers: the brogues boots. A piece that has its historical origins and its utilitarian side for the same reasons mentioned above: to fight the cold and the rain, all with style.
The word « brogue » comes from the Irish word « brog » which means work shoe: brogue was indeed used by workers and farmers to work outdoors in difficult conditions, especially mud.
The brogueing are not only of purely aesthetic interest: at the time, they were used primarily to evacuate the water remaining on the leather more quickly. Brogues boots had no tongues at the base and a much higher lacing to protect themselves as much as possible from mud and dust.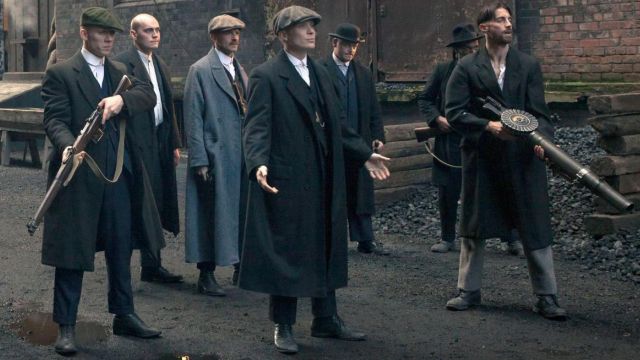 The Peaky Blinders evolved in the 20's, we are still very far from the concrete roads so we still have to be able to walk in the mud and that even in the city where the paving of the streets is uneven depending on the neighborhood. As they often move on foot (at least at the beginning of the series) they ensure the blow by carrying very solid brogues boots. In addition, if ever a mess occurs, you have to be able to run fast and on any terrain, and I can tell you one thing: the oxfords are far from ideal for that.
Risk taking: 3/10 Today it is a model that can be worn as well in workwear as in casual wear, no problem, it is very easy to wear in town as in the country. Some bootmakers even offer exceptional models in bespoke to wear under a suit. As much as it's unthinkable in a formal setting, it's just as daring to wear them with a suit in the street for fun! In short, it's a piece of character rather easy to wear so if you like it do not hesitate!
Example: Without the brogueing, you can get those beautiful cap toe balmoral boots from Malfroid at 345€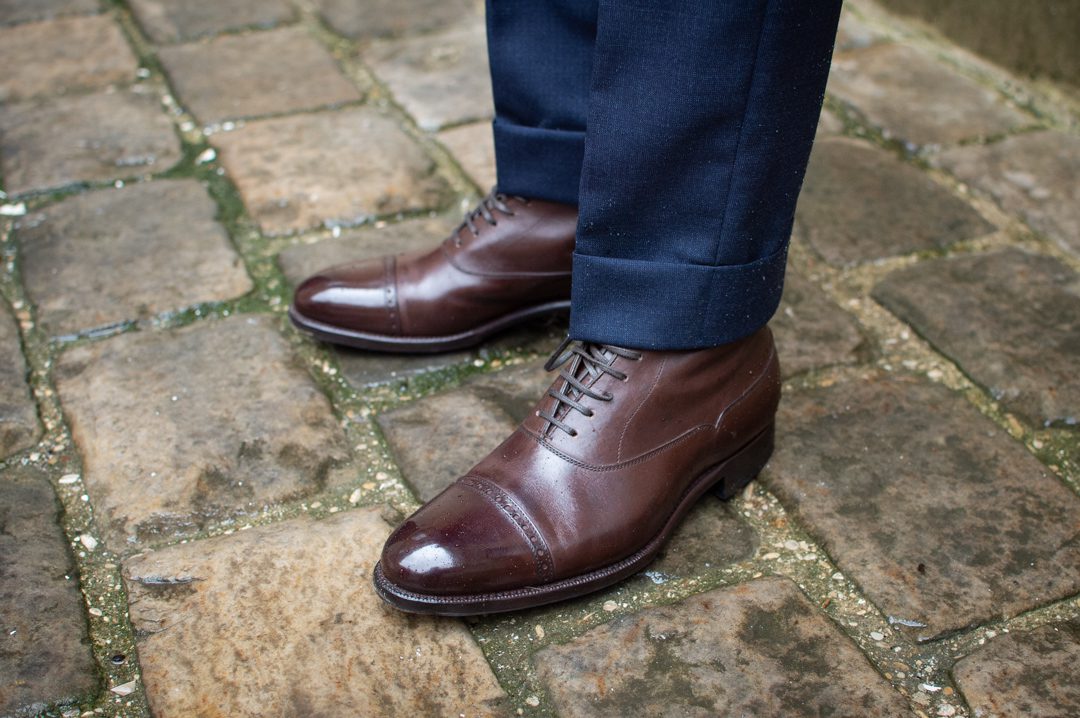 The sharp-snap overcoat
Worn by aristocrats at the beginning of the 19th century, it is one of the oldest coats in existence. More related to the formal register than casual, the overcoat is the best friend of the suit for an elaborate but not too busy work outfit : the lines are much simpler and purer than a trench coat or a caban. It has the same finishes as a suit jacket: piped flap pockets, barchetta pocket, it is also canvas (when it is of quality).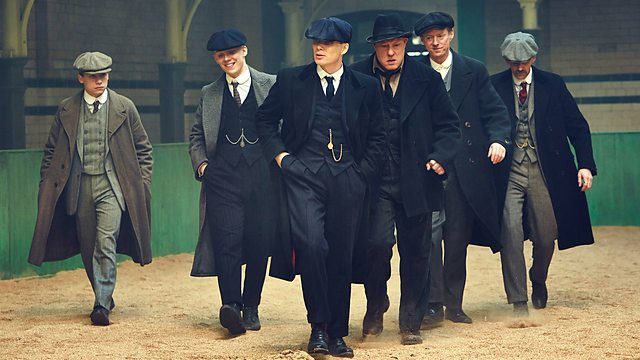 It is thus without surprise that Peaky Blinders are wearing it! Shaped by a tailor out of a beautiful fabric, it stands as an important social marker that proves to anyone who crosses them that they earn money and are bourgeois.
They wear it in its most businesslike version: double-breasted on wide sharp lapels. It is my favorite coat for several reasons
First of all because it's really warm (it's a very thick woollen sheet with a high weight) contrary to 3/4 of the overcoats on the market. Then because it offers a unique look, it is a coat that imposes by its lapels and the imposing texture of the wool & cashmere mix! Risk-taking: 3/10 An easy to approach piece on a plain fabric. It will keep you warm in all circumstances while giving a sophisticated business look. On a personal note, I think it's a must-have piece that deserves a real investment because you will be able to keep it for the rest of your life.
CONCLUSION ON THE STYLE OF THE PEAKY BLINDERS
Overall the producers have respected the dress code of these gentlemen dressing in the 1920s. However, the history of the Peaky Blinders is so atypical that their outfits cannot reflect a specific style, but rather a successful mix of genres. Because yes, they are stylish these bookmakers, and they are determined to shake up the established codes and gain respect among the powerful in the UK.