This article has been maturing for a little while, and for good reason Kingsman is a quality saga, both cinematically and stylistically. To be honest, few films really manage to transcribe an authentic style, really taking into account the habits and customs of a particular genre .
No need to lie to each other, we've all thought about it or fantasized about it! I'm talking about donning one of a Kingsman's particularly stylish outfits .  These elite agents working for an independent intelligence agency, under the guise of a tailoring house whose film is directed by Matthew Vaughn: the director of Kick Ass (we find the same way of filming the fights, which is a delight), which by the way comes from the English aristocracy (so he masters his subject rather well).
Although for some it seems too daring to try, their outfits are nevertheless easy to approach and above all, they are particularly sophisticated for those who are more interested in them! Explanations.
English style
To understand the codes that govern the dress and manners of a Kingsman, you have to go back to the fundamentals: what makes an authentic gentleman . A hackneyed word, too often used to define anything and everything (just like the word dandy). We are therefore going to take a little detour on the manners approached in the film, which seemingly have a real link with the style and allure that a person exudes .
It must be said that it is not necessarily wrong to go back on it. For example, I no longer count the number of times I have heard that a gentleman is gallant, which is not true. To tell the truth, gallantry is an opportunistic behavior intended to seduce, example: you voluntarily open the door to a lady in the hope that she will thank you in order to initiate a conversation. The gentleman prefers courtesy: an attitude that is characterized by a refined politeness, mixed with elegance and generosity.. So he doesn't just open the door to women he finds attractive, but to everyone. He also doesn't pale at the thought of helping when the opportunity arises, all without ever expecting anything in return. With the misunderstanding cleared, I now focus on Kingsman's definition of a gentleman .
(source: kingsmanners.tumblr.com)
Be a Kingsman Gentleman
" Manners make the man " are the words Galahad utters before turning a pub upside down by demolishing the half dozen hooligans who have just insulted him with gigolo. Words that translate into French as "it is by his ways that we judge a man". In other words, according to Galahad, what really matters in a man is not his costume but his behavior towards others.
(source: http://kristihoi.com/kingsman-the-secret-service/)
He also evokes several times the notion of serving others, without expecting the slightest return. Attitudes which participate in the intellectual and moral construction of a gentleman. In short? It is not enough or even useless to be elegant and to sport a bespoke suit , if you are not first of all noble in spirit (according to the criteria it sets out). Basically he cannot envisage one without the other, it is an inseparable duality! Personally,  I completely agree with him that nobility of mind actively participates in the look and style that we present.
Birth of contemporary costume
A little historical reminder: you should know that the art of tailoring was born in England. Moreover, all the major current tailoring houses, whether French (Cifonelli, Camps de Luca, Smalto, etc.) or Italian (Dalcuore, Caraceni, Rubinacci, etc.) have gone to England for training. It was only by returning home that they then matured their own style schools. And for good reason, it was in London that the costume as we know it today was born !
It is George Brummel (also called Beau Brummel) one of the proteges of the Prince of Wales and considered as the father of dandyism who, from the beginning of the 19th century, outmoded the wearing of the crop and the multiple jewels worn by men. Instead he opts for a jacket and pants, a shirt and a tie! It is the beginning of a stylistic hegemony which will last a century and a half.
In short, we swap all these very bling pageantry and jewelry for something much more refined. The idea is to achieve a much more sober outfit, in dark tones. Thus, we now refuse to display our wealth in the eyes of others. The outfit must be sober but refined in its finishes (thanks in particular to the sophisticated tie knots). It was therefore  Brummel who institutionalized the wearing of the costume, as we still know it today . A particular way of dressing, which will shine throughout the world and give birth to the school of contemporary classic English style .
The understatement
A word that cannot be translated into French but which could be understood as follows: dress soberly to highlight the personality of its author, rather than his wealth or his titles . Here again we draw the parallel between elegance and manners which form a symbiosis characterizing the English gentleman as a whole.
The English style is therefore very refined, without frills. Ostentation is avoided at all costs, to such an extent, moreover, that in the past, among English aristocrats, it was in very bad taste to wear new clothes or shoes . It looked bad, nouveau riche (to oppose the ostentation of the industrial bourgeoisie of the 19th century) and so when we had just bought a piece of clothing, we lent it to the servants to wear and use it. so that it ages a little before using it yourself!
To be honest, today the English style is struggling to renew itself. It is considered too staid, too conservative and has difficulty passing on to new generations. In contrast to the French style and the Italian style which recognize a real renewed interest among their respective youths, but that is another subject.
Dress like a Kingsman
Now we move on to the style part! In this second part of the article I'm going to dissect some of the different outfits the Kingsmen wear on their journeys. Of course we will start with the costume! But, there are also two or three other very interesting pieces that deserve our attention. The idea is to target the essentials that characterize each outfit and describe what it brings in terms of style .
KINGSMAN FORMAL OUTFIT
We start with what makes our core business at Jamais Vulgaire: Formal attire . In the purest tradition of the English style, it is composed of the following pieces: tie, shirt, suit, brogue and pocket square! In this section we will stick to the iconic pieces of the British wardrobe, namely the Oxfords, the double-breasted suit and the club tie.
"OXFORD NOT BROGUES"
A phrase that we hear in the first part of the franchise. It's a secret code that Egsy uses to escape justice at the very start of the film! It is an adage which means the following thing (in French): We only wear Oxfords (oxfords without perforations) not "brogues" (oxfords with perforations) which are considered casual. Well it's a bit old-fashioned but that's the charm of the thing and it's to tell you how conservative the English style is . An adage of the same title as "No brown in town" which means that only black shoes are allowed in the city, brown being exclusively reserved for the countryside. Codes that make more or less sense today, with which we have taken some liberties. (I invite you to deepen to consultour infographic on formal shoes )
An important style element because it is the most formal pair of shoes possible. In addition, it is a very wise piece that allows other strong pieces to be able to express themselves ! Because a striped crossover costume (a piece that has a very strong character) with patinated shoes would be considered too ostentatious.
Risk taking: 0/10 An essential basic of the formal wardrobe, but also the essential piece when you go to an interview (except certain professional circles).
DOUBLE-BREASTED STRIPED SUIT
THE iconic piece of the kingsman .  A strong piece that seems really difficult to wear outside of Matthew Vaughn's film. We are talking about a double-breasted suit with a character motif (but yet classic in the Anglo-Saxon formal): the chalk stripe (so well melted).
Usually worn on a flannel (to further reduce the contrast induced by the stripes) this suit with wide lapels seems impossible for many people to wear. Yet the tour de force achieved in Kingsman is that it is worn with very refined and sober pieces that calm the rendering of the outfit: the black Oxfords and the plain white shirt are used for this. In addition, worn with a club tie, it allows to offer a small set of stripes well controlled because of different dimensions.
My advice for successfully wearing this piece? Start by wearing a plain double-breasted suit. Easier to approach, it will give you confidence to then be able to wear the patterned twill with confidence. Because if you are not sure of yourself, the effect will not be there. I repeat this very often because there is a real difference between someone confident and comfortable in their costume and someone who feels like a clown out of place. (we tell you more in our costume guide )
Risk-taking: 8/10 A delicate piece to present but which can lead you to the top of sartorial elegance.
We had the chance to test a double-breasted suit at Maison Pen , completely in this style.
THE CLUB TIE
A motif originally from the ties of British regiments in the colonies, which displayed the colors of their garrison: once back in England, the soldiers proudly wore their ties as a sign of belonging. (we explain more in our guide on ties and their patterns )
Now very common in American and English business circles (where we wear few plain ties) they are however much less common in France. This is very damaging because it is an elegant pattern, easy to wear and which can play subtly with the stripes of your shirts (provided they are not of the same size).
In the case of our elite agents, nothing is more normal than to wear such a piece for a British! In addition, it matches really well with the pinstripe suit . Apart from that, it is a tie that can easily be worn in any formal outfit and even in a casual outfit dressed up with a sport jacket.
Risk taking: 2/10 For those who want it, go for it!
CASUAL KINGSMAN OUTFIT
THE WAXED JACKET
At first glance, I thought it was a Barbour jacket , the very symbol of the gentleman farmer , always elegant even when he has to brave the elements outside the city. However, it is in particular the collar, here in lambskin instead of velvet, which gives us a decisive clue as to the origin of the jacket, namely Mackintosh, an equally distinguished English house.
Waxed cotton is also very different from the classic plain olive that we find on this kind of regular jacket. This is a famous Scottish tartan, the Blackwatch. A tartan is a fabric that represents the colors of the famous Scottish clans, who used it to differentiate themselves from one another. The best known being the Burberry tartan (very light), while the Blackwatch tartan is much darker.
Another proof of the importance of etiquette in English sartorial traditions. If this pattern has its place on a waxed jacket worn in a more casual outfit, it has no place in a business context. It is worn by Merlin with an impressive presence!
Risk taking: 6/10 A character motif that is not easy to wear but which brings a real virile and sophisticated touch to whoever takes it.
EVENING OUTFIT
Since the director doesn't like to do things by halves, he went to the end of the style by dazzling us one last time with a tuxedo (or tuxedo  or even dinner jacket depending on whether you are English or American). Honestly this is probably my favorite part of the article because no member of the Jamais Vulgaire team would dare to wear such a perfection, so much so much so much confidence and elegance it demands. It is the piece that few gentlemen in the world can ever hope to wear brilliantly.
THE ORANGE TUXEDO JACKET
Once again we are not at the end of our surprises. In the second opus, Egsy spares us an orange velvet dinner jacket ! A pure madness that demolishes any idea of ​​conservatism and etiquette (we recognize the rebellious paw of Matthew Vaughn). Besides, it is a play that will only suit such an impetuous young man. Indeed, I doubt that Colin Firth (aka Galahad) can wear it with as much ease as him.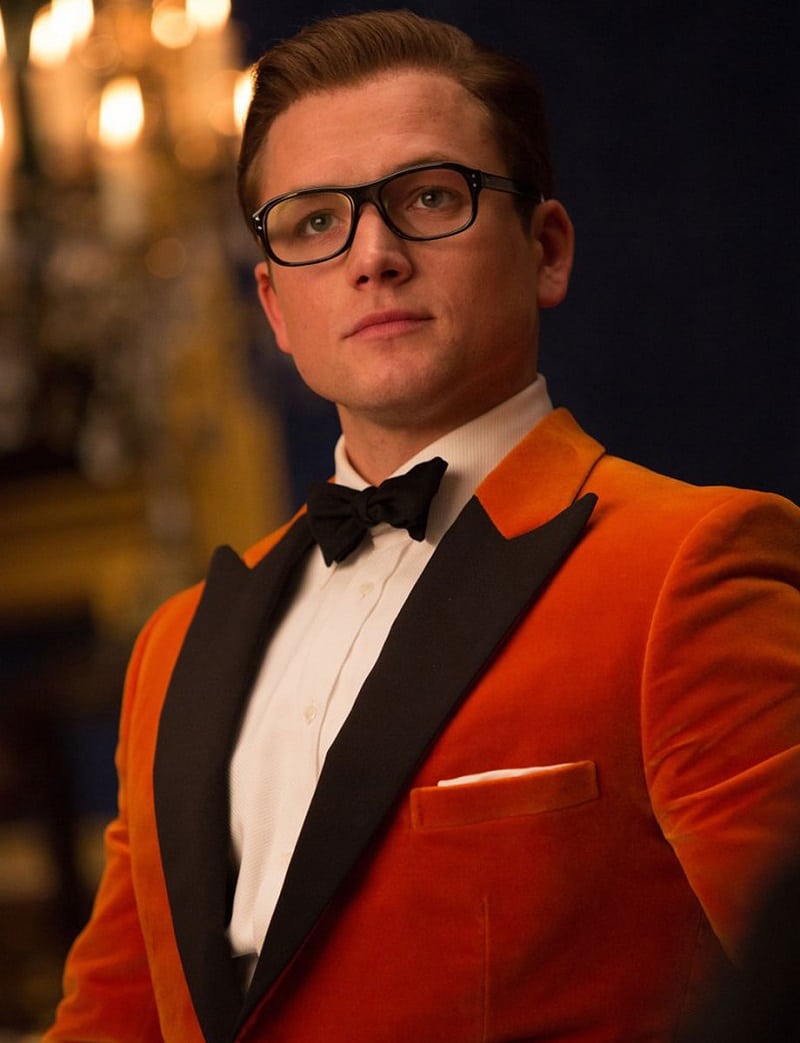 Here, we understand that when you perfectly master your codes (in particular the codes of formal wear ), you can easily handle them at your convenience . Be careful though, I often hear people say "yes, but I don't care what codes I do, I do as I please" this kind of line you forget because it's rarely a good idea when you don't know your subject. We have already seen tuxedo jackets made from the same material but in different tones such as burgundy, purple or even green… In short, much darker tones and which, however, are already very daring colors for this type of register very codified. Let's say that if we took a fabric lighter than orange we would go from the status of a flamboyant dandy to that of a furious sunday.
Risk taking: 10/10 Even we in the editorial staff do not dare. Honestly we think this piece belongs to Egsy and no one else. That's all the charm of Kingsman and the English style , you can't wear everything!