Disclaimer: this is not a product review as such, but rather an immersion report in a rather exceptional French workshop with an impressive number of skills held by about twenty craftsmen.
I invite you to both read the article and watch our ten-minute video on the subject.

As you know, on JamaisVulgaire I like to talk about factory and workshop brands, which produce their own products .
Not only because it is necessarily the guarantee of a better quality/price ratio because you cut out the middleman, but also because these brands are much more intimate to the product, and have a much richer knowledge of the know-how .

When I work with these brands, I generally suggest that I come and visit their workshops, so that I can be more precise in my articles, and why not make a video (this is what we did with Johnston of Elgins for example).

Generally speaking, the prospect both excites and frightens me, especially when I have to go to factories with hundreds of employees, where each one has a very precise technical task on a machine with a complicated name .
I have to be extremely concentrated to remember the precise and concrete function of each person in the making of a product.

You know what? It didn't happen to me with Chapal.
But I was sure it wouldn't. I'll explain why, before giving you a brief account of the 190-year history of this company.
I Chapal: know-how on a human scale
It was at the summer 2021 edition of Pitti Uomo that I met Jean-François Bardinon, Chapal's current managing director, and one of the descendants of the founder Marien Cougny.
We had a long discussion about the importance of brands know-how, and the need to build the most vertical offer possible, with a mastery of the whole value chain.

On this precise point, I am convinced in one sentence to work with Chapal: EVERYTHING is made in-house, by a team of 24 craftsmen, who know how to make both:
– leather jackets
– bags
– helmets
– gloves
– sweaters
– sneakers
– boots

More than 237 different products, that most brands would have outsourced to at least 5 different factories, are made from A to Z by the same team of 24 people from Chapal's workshop, in Crocq, in the Creuse region of France (with of course standards of excellence for each type of product).

I try to avoid being overly enthusiastic in my articles, but this is a configuration that is quite simply unique in the world (feel free to point out equivalent examples in the comments), and which therefore also deserved a video report.
1 A SUMMARY OF A 190-year history
Chapal was initially known for rabbit fur: its founders, Marien Cougny, had previously worked in the silk industry in Lyon and returned to his native Creuse with the idea of applying silk processing methods to rabbit furs to soften them.
With his cousin Leonard Chapal, they began to do this from the family mill, the Bonnette mill in Crocq (which has not changed much in 190 years):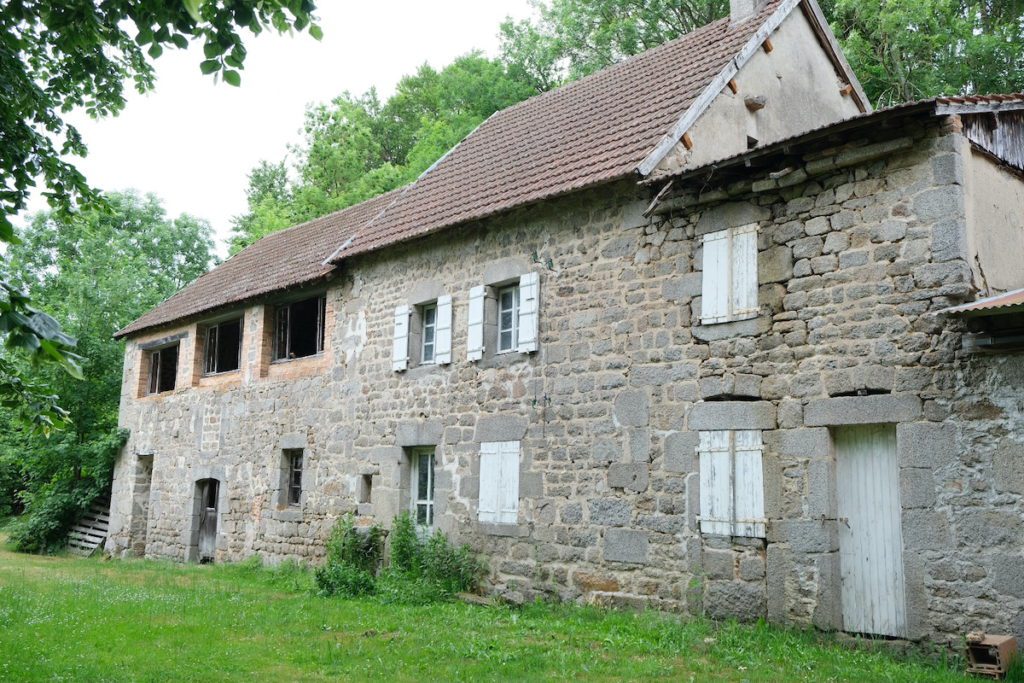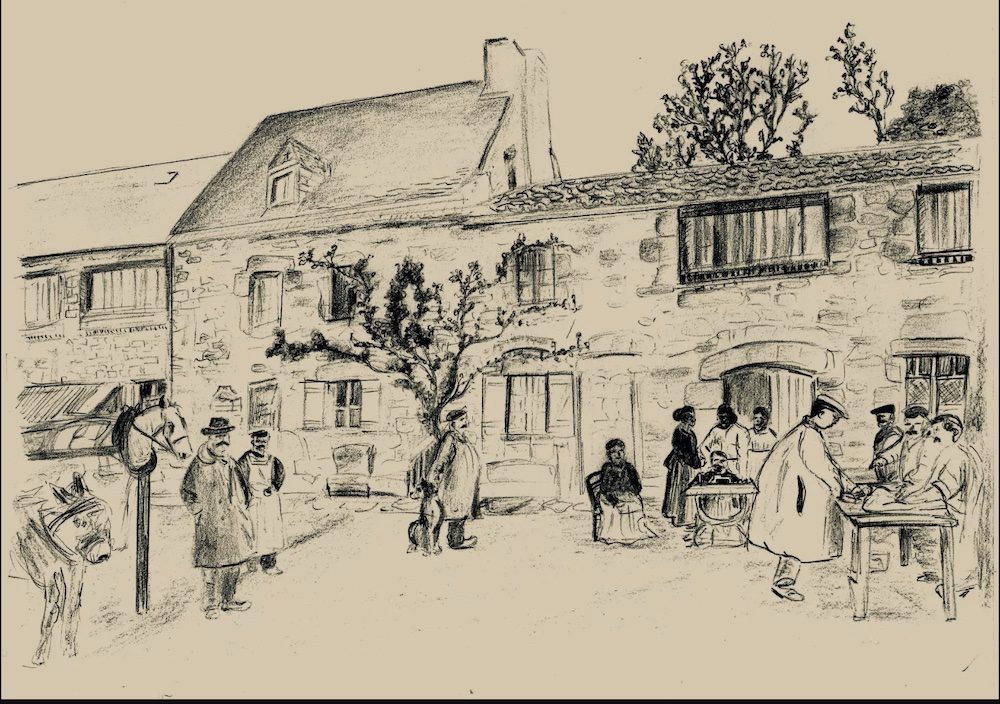 The selling of the skins is done in Paris at 33 avenue de la Roquette: Chapal will thus be established in Paris from 1857 when a tanning and skin treatment factory opens in Montreuil
Emile Chapal then went to the United States to open a new factory and diversify by applying the know-how he had acquired over the past 50 years on rabbit skins to the furs of North American animals, such as silver fox and sable. He also took advantage of his expertise in rabbit skins by building the biggest factory in the United States rabbit fur industry.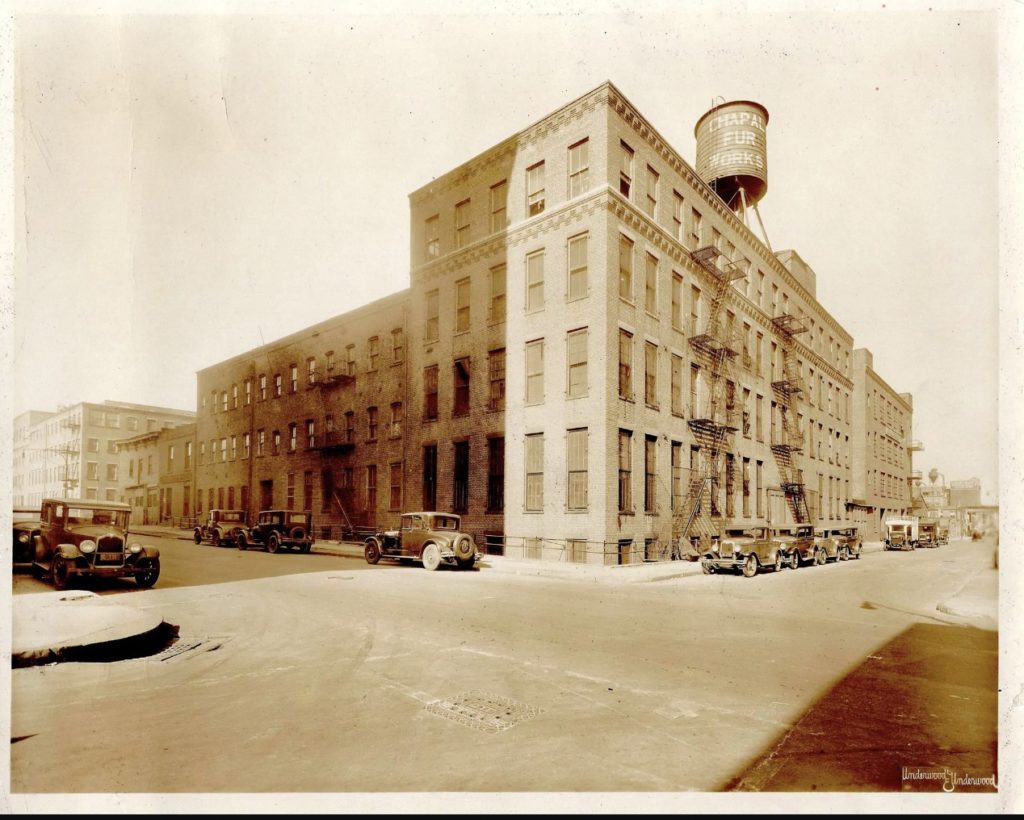 In 1932, when Emile Chapal died, the company employed nearly 3,000 workers and had a turnover of 260 million francs. Today, this would amount for nearly 183 million euros (taking into account inflation).
Jean Bardinon, Emile Chapal's successor, applies the diversification strategy of his predecessor with the work of fine furs, sheepskins and leathers.
A patent for plastic coating furs was developed in the American factory, and here are some vintage models that Jean-François showed me during the visit: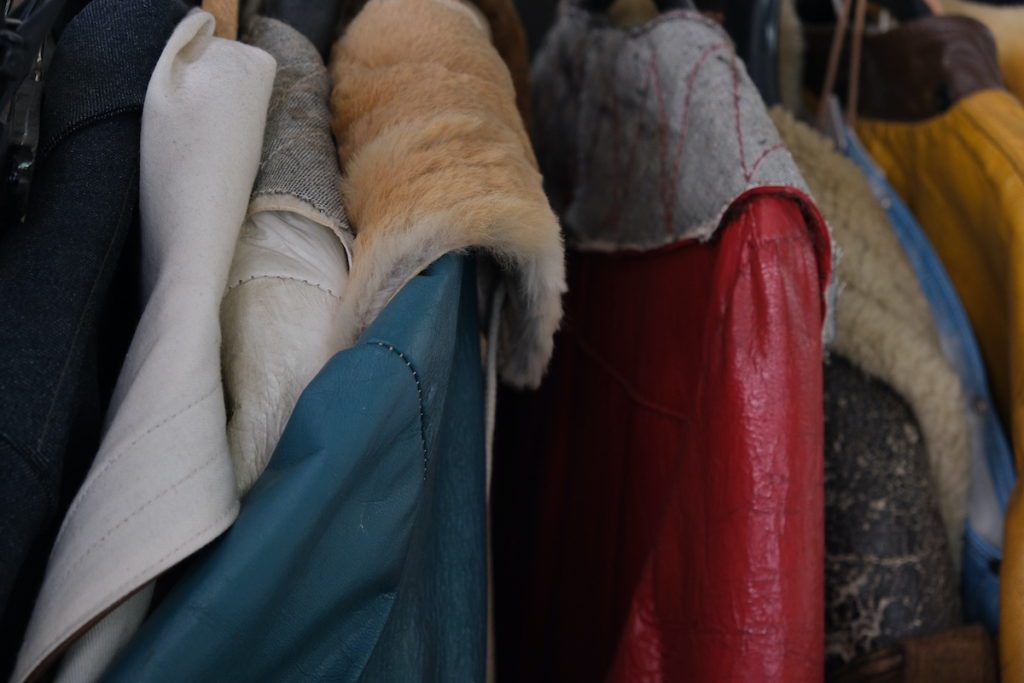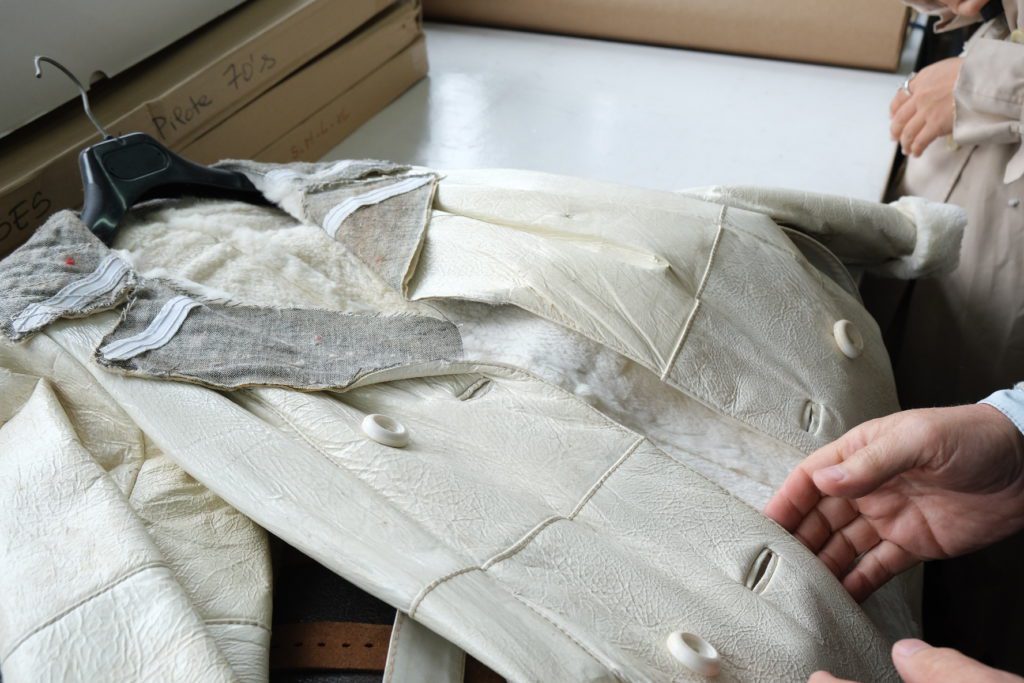 In 1968, Pierre Bardinon, Jean's successor, began a relocation of the brand by building a production site in Crocq, a 2 minutes away from the mill where it all began. In addition to tanning and dyeing, the clothes production is taking on an increasingly important role in the business.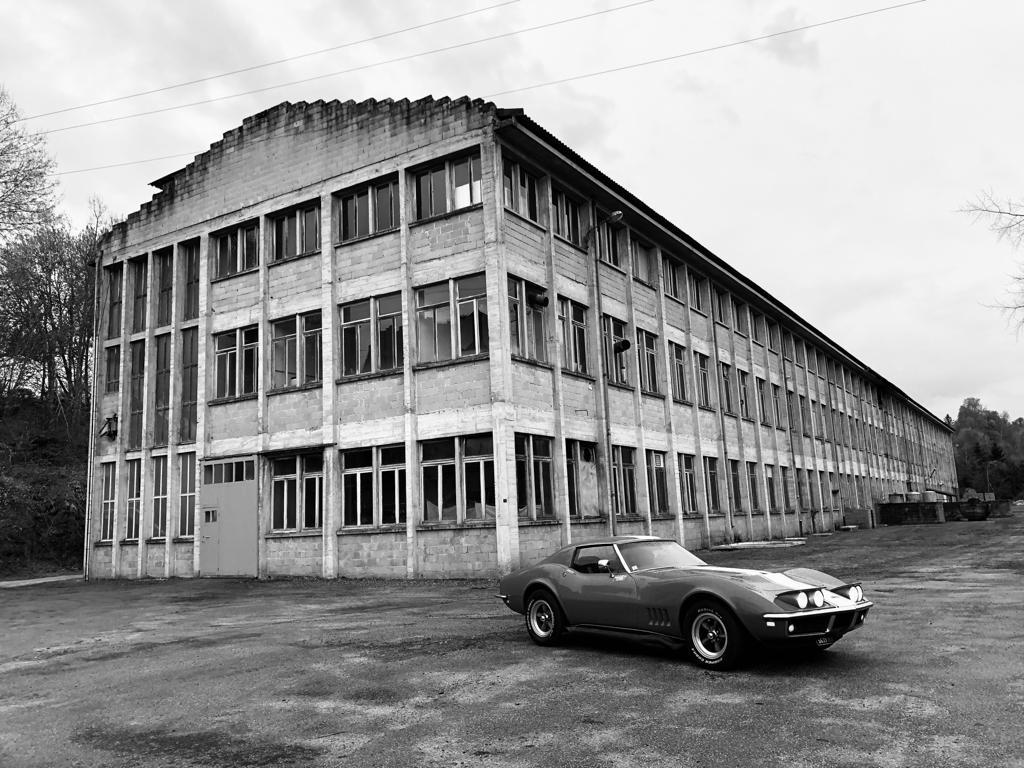 An iconic item, the Chapalac, was created and differentiated by the application of the plastic coating process on the rabbit skin: this range was quickly adopted by French celebrities such as Johnny Halliday and Sylvie Vartan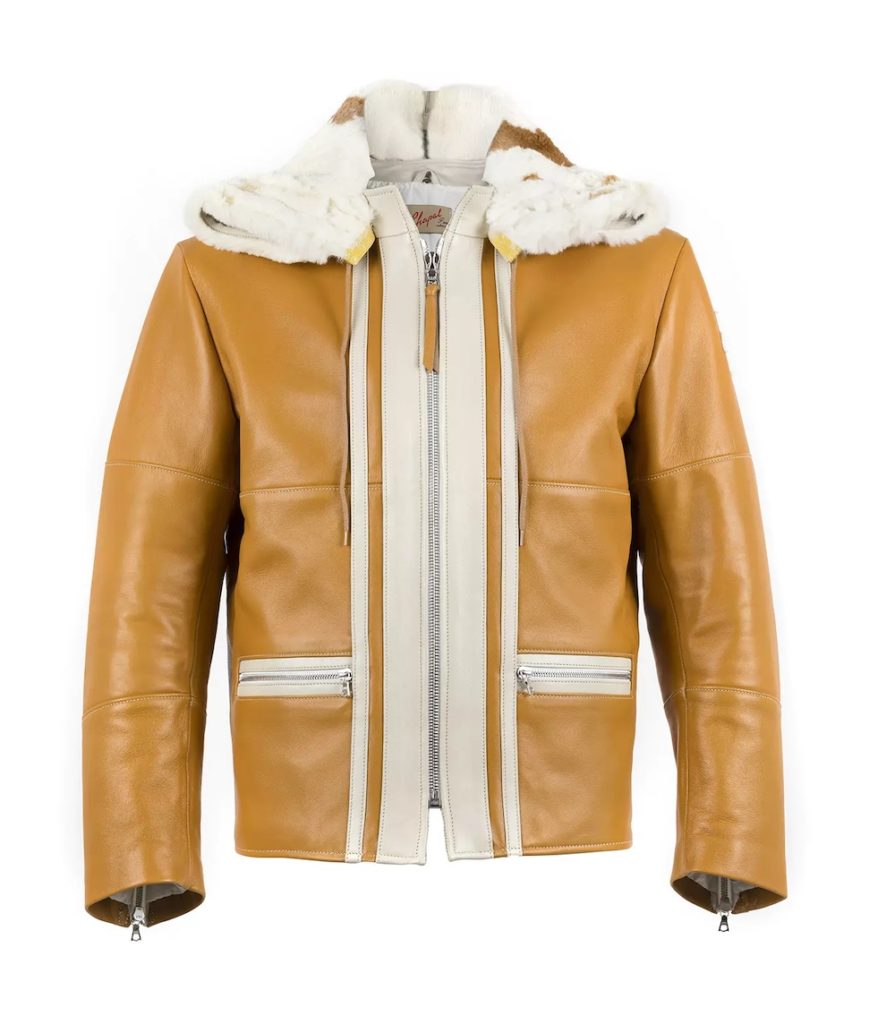 Clothing became even more important in 1972, when Chapal was entrusted with the manufacture of Christian Dior's ready-to-wear clothing.
At the same time, Chapal took an increasingly important place in the world of motor racing through numerous partnerships with exceptional drivers in the 1960s: it was from this time onwards that Chapal also produced accessories and suits for rallyes.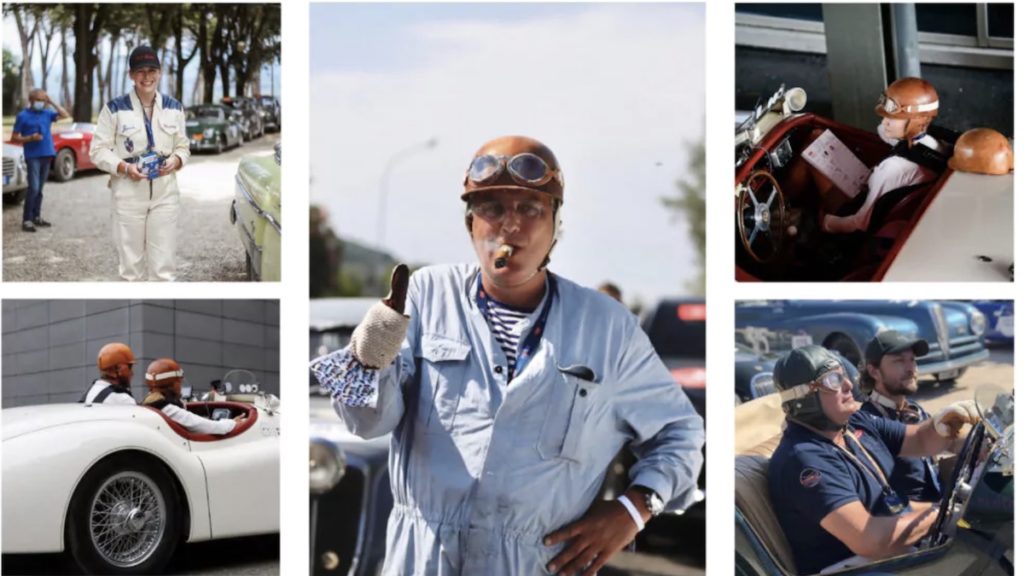 The arrival of Jean-François Bardinon in 1982 marked the launch of two strategies:
– the move upmarket in clothing and the end of fur production to compensate for the French tanning industry slowdown
– producing only for the Chapal brand: a rather daring choice for the time, a good twenty years before most other factories and workshops began to take the step
It is these last strategies that have made Chapal the company we know today for two specialities: leather jackets and car accessories.
Leather jackets: the heritage piece of Chapal
The war pilot jackets are largely part of the heritage of Chapal which has the particularity to have participated in two war efforts:
-in France during the First World War with aviator jackets, but in very small series (at the time, pilots were few). Those were mainly A1 and A2 models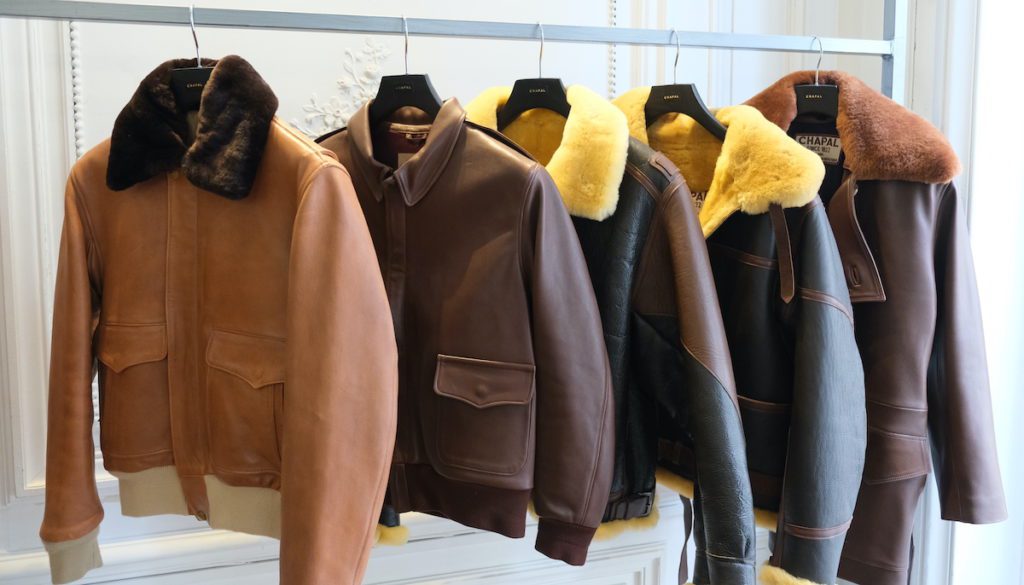 – in the United States during the Second World War: in particular with the famous B3 bomber model, which benefited from the Chapal plastic coating process discovered a few years earlier.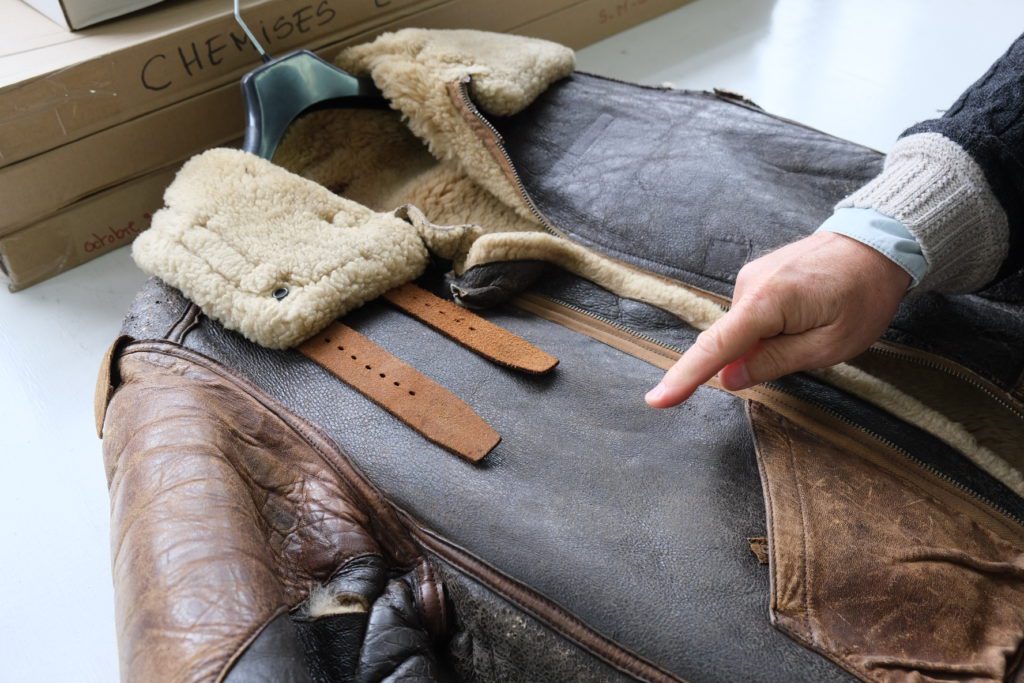 This plastic coatic of the leather gave it waterproof properties, which were very useful for American pilots at the time
Nowadays, the collection of leather jackets goes beyond the world of aviation, in particular thanks to the brand's connections with the automotive world.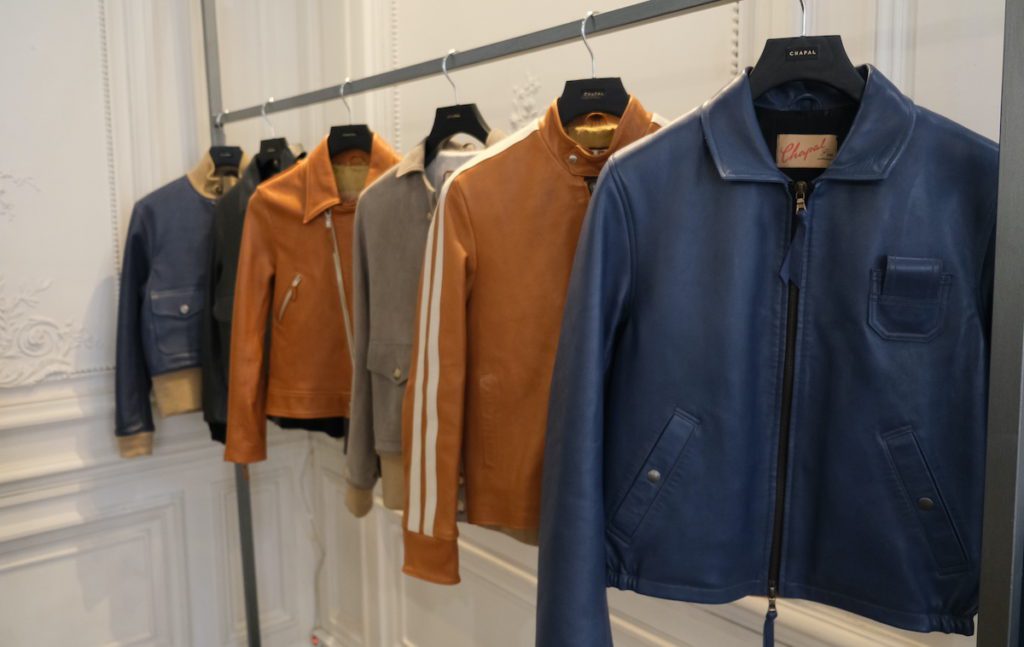 Our visit to Chapal
We spent about 36 hours in the Creuse region of France, most of which was spent in the Chapal workshop in Crocq. It's a rather disorientating place because you may feel at first that you're quite quickly going through the workstations of the 25 employees. However, given the diversity of the products, they never do the same thing. We could have stayed a whole week to see the extent of the company's know-how.
The tannery
It's quite exceptional to see this activity taking place just a few meters away from the manufacturing process: the skins are mostly French, from the Causses, or from Colorado for the B3 bomber jackets. These skins come from cattle farms and are by-products of the food

It is a real strength to have one's own tannery, especially in the current context of rising raw material prices: it guarantees a quality of leather that is normally exclusive of the biggest luxury houses, which have a priority access over the supply of prestigious French tanneries (that they sometimes at least partially own).
Chapal does not skimp on the quality of the tanning either, and offers work of a higher quality than a classic tannery, since it does not seek to be profitable when selling the skins, but rather finished products (and also incidentally, since tanning was its primary activity for almost a century)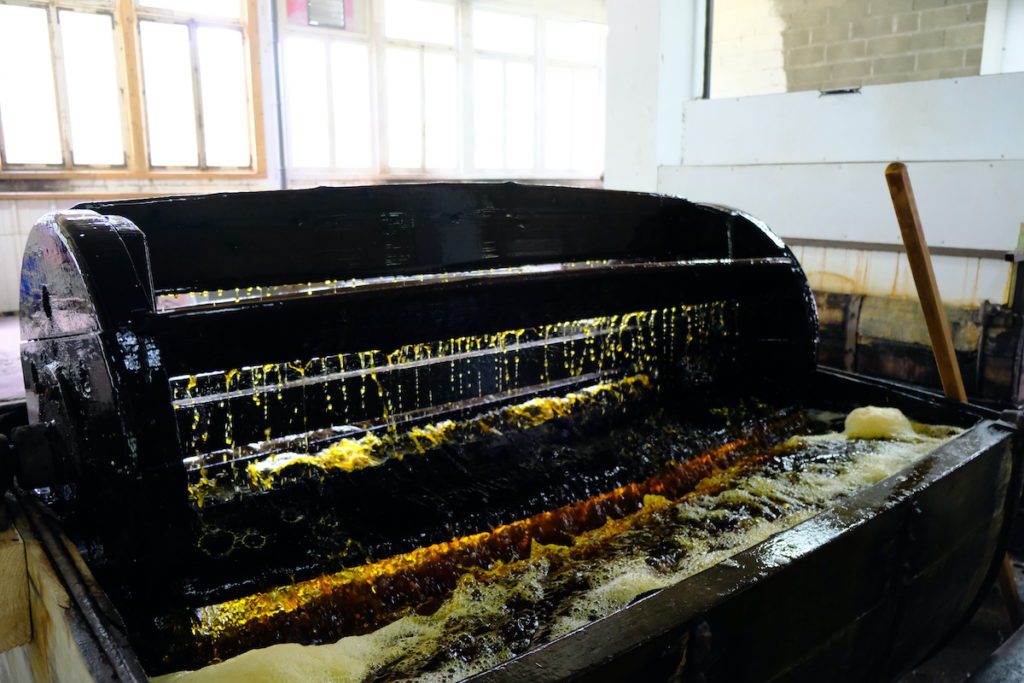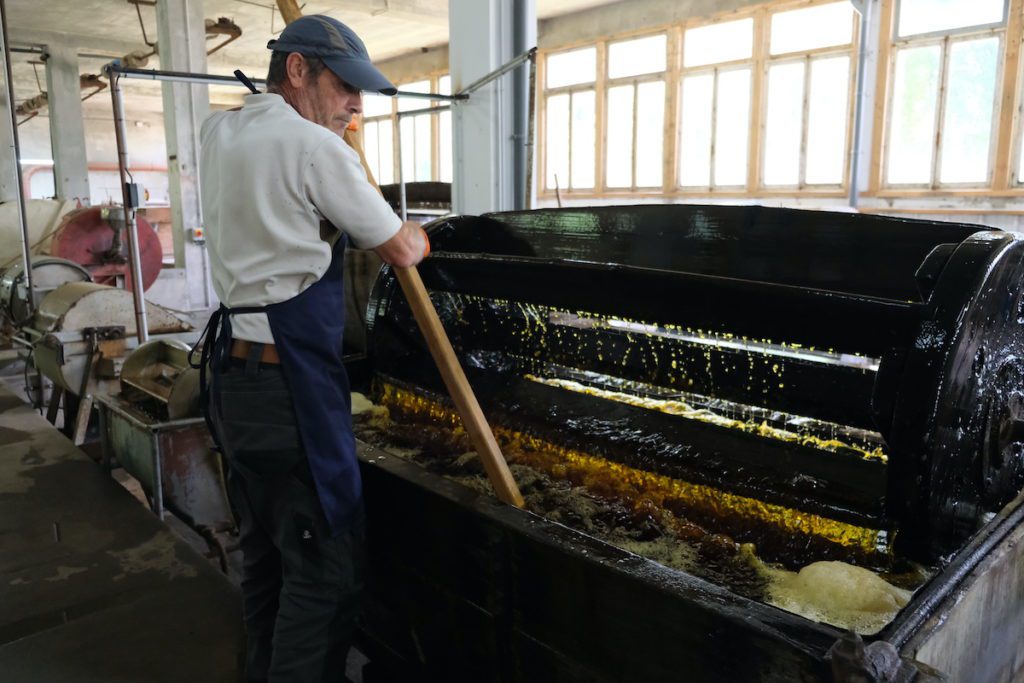 Thus, the hides will remain out of the baths and improve for weeks, whereas a traditional tannery will seek to sell them more quickly.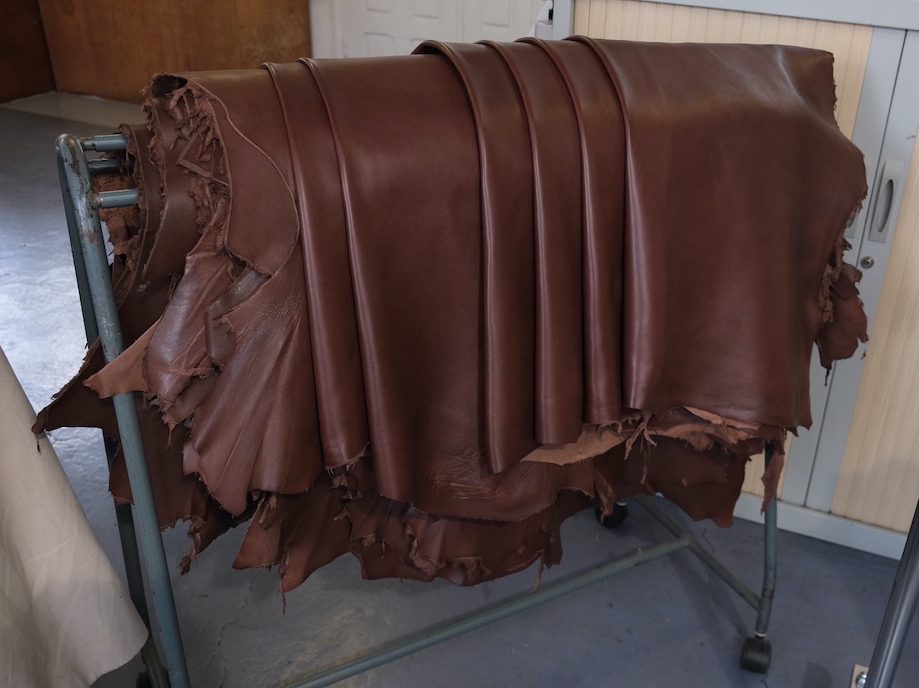 Woolen hides
Chapal's expertise is also visible in the wool skins, and in particular the refining of the wool which is impressive (you can see the process on video).
We start with this quality: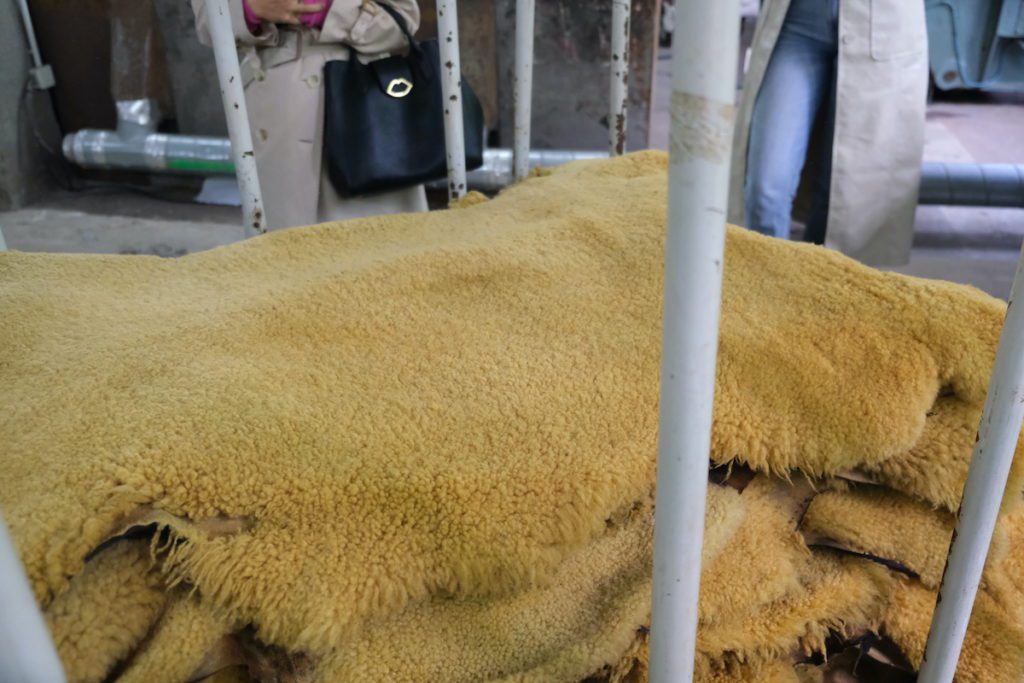 To this one, much softer, finer and more luxurious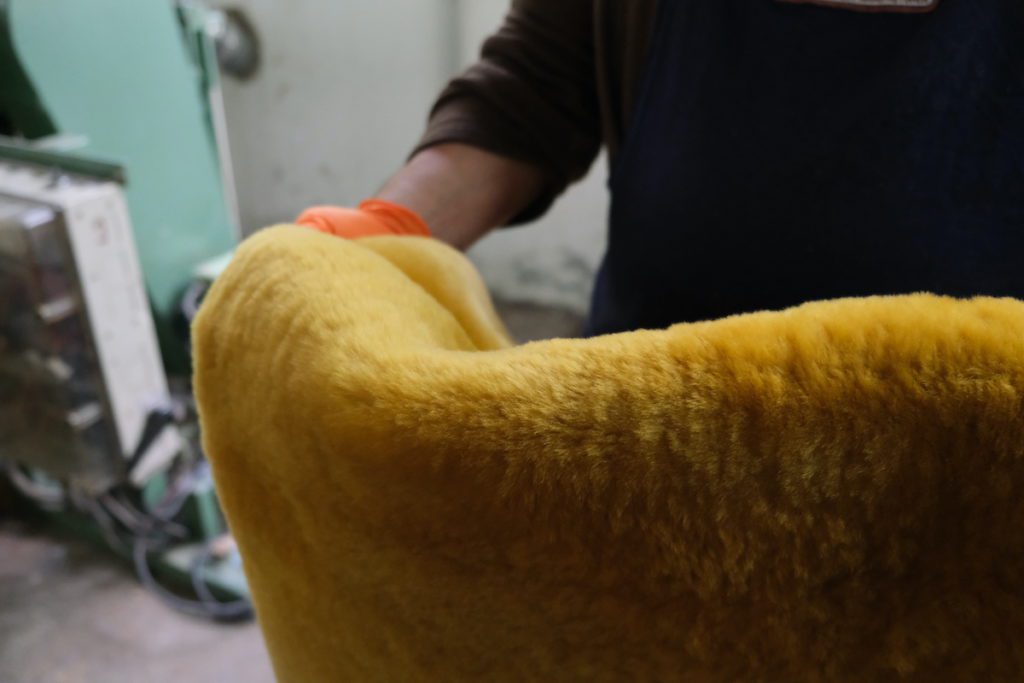 Chapal is one of the rare houses to master this process so well
The making (here of a leather jacket)
We were able to see a leather jacket being made from the skins before our eyes, from start to finish, by about 4 people and in a radius of less than 20 square meters.
A pattern maker will first draw the different parts of the jacket, according to the ready-to-wear templates or the measurements of the custom-made customers.
Here are the measurement tables used: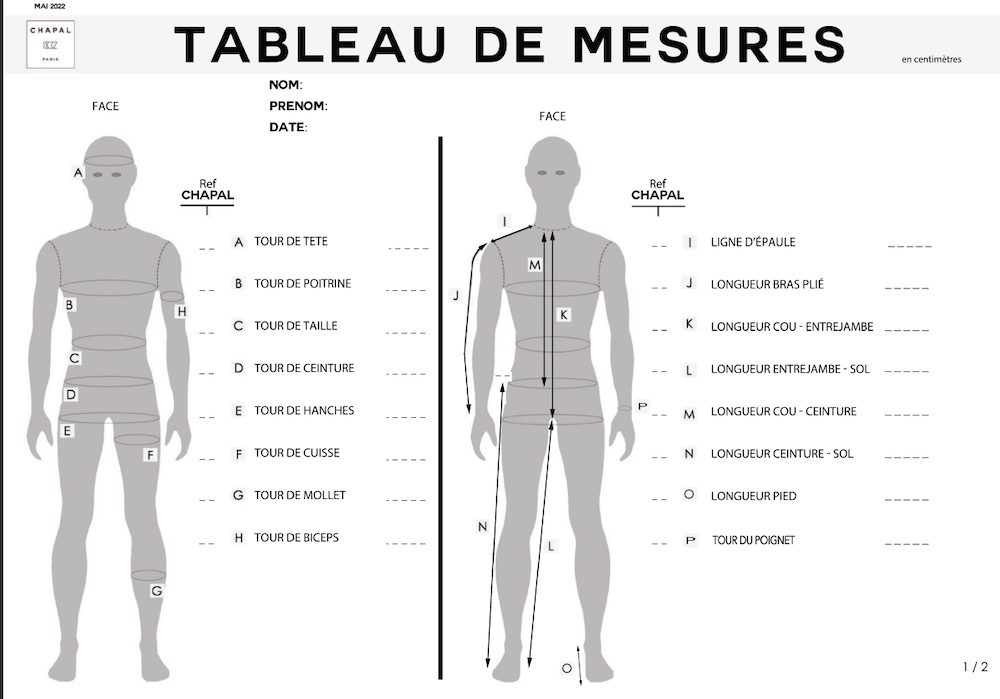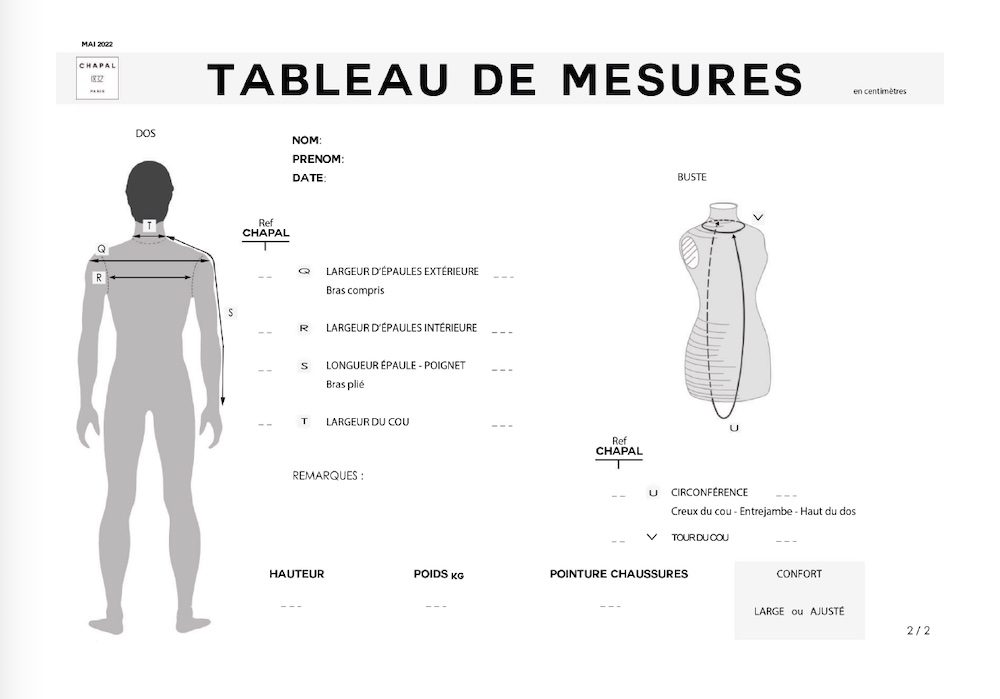 And the template parts drawn accordingly by the workshop's pattern maker, Eléana: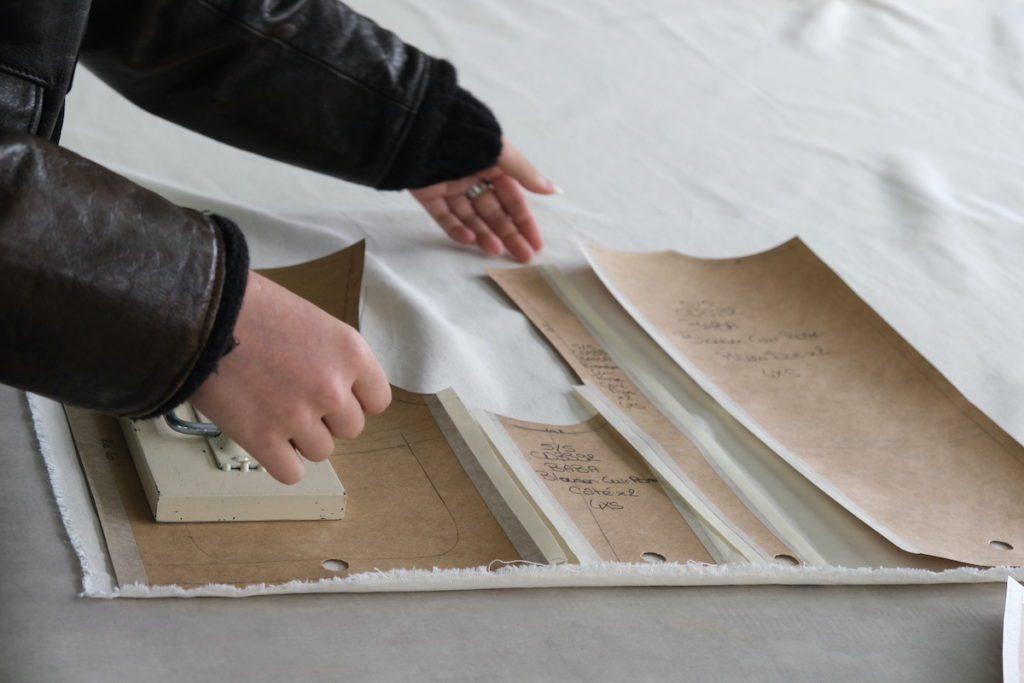 These paper templates are also available on a more rigid support to allow cutting.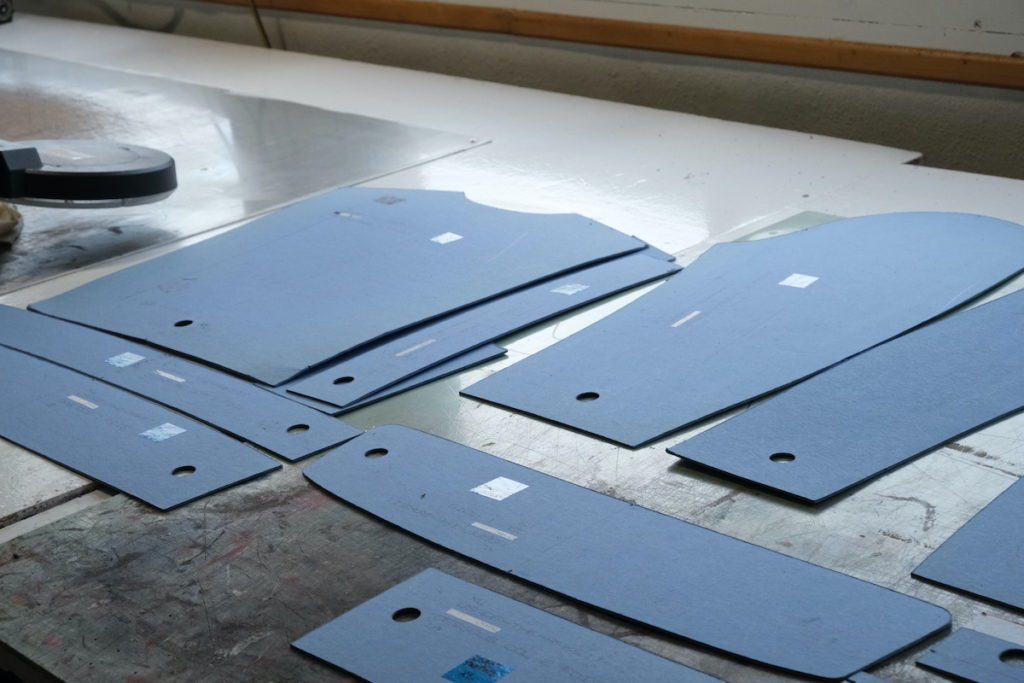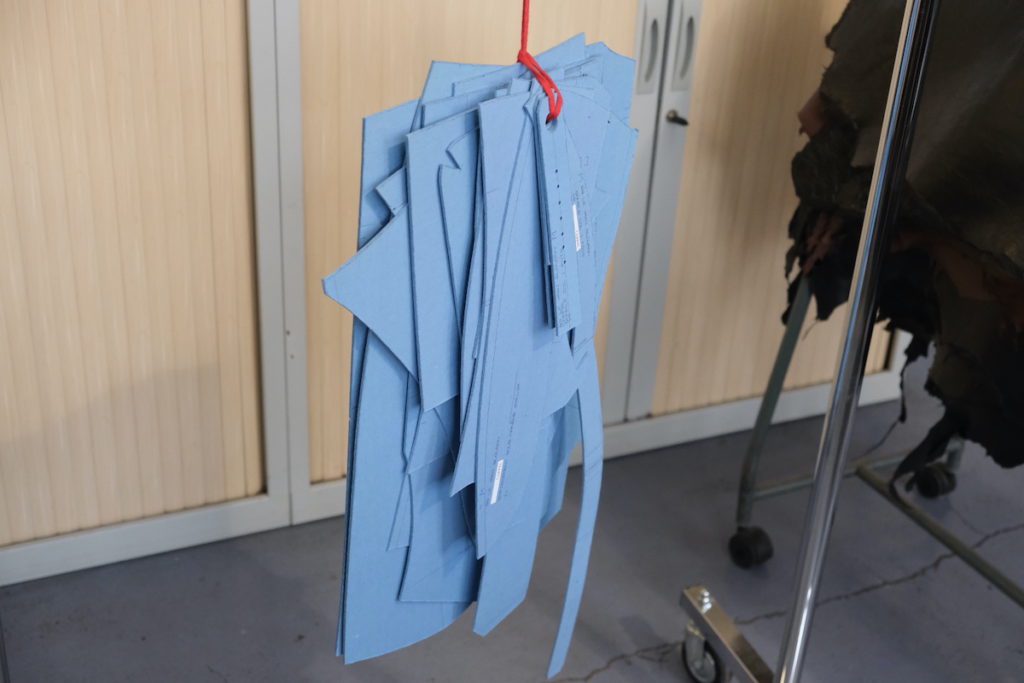 Then José, the workshop manager, will cut out the different sections from the skins, making a preliminary selection in search of defects.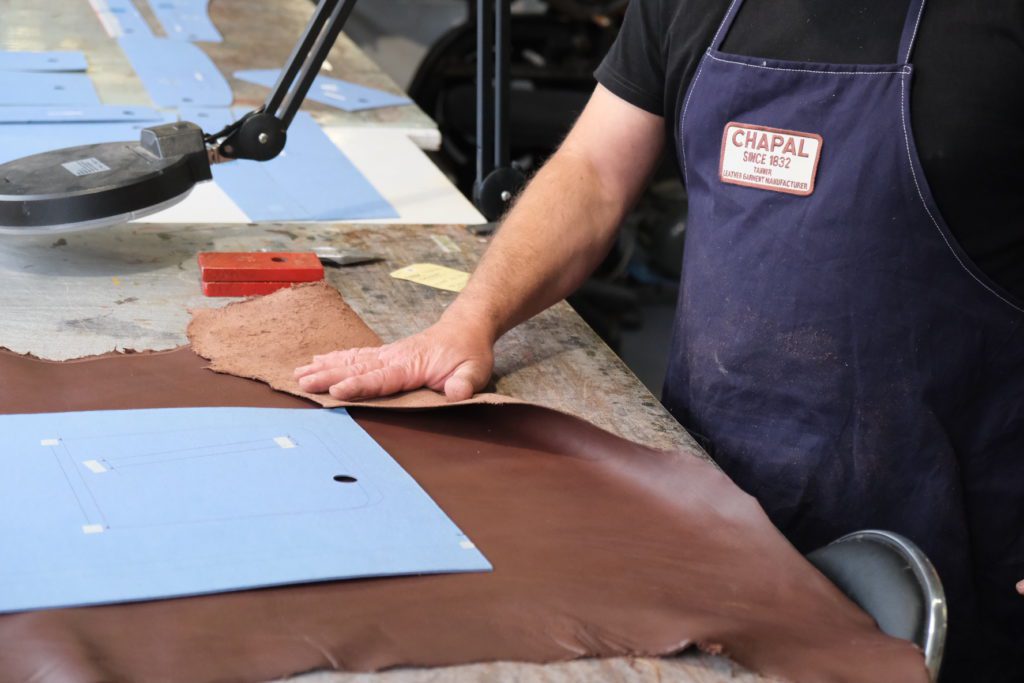 At this stage, it is important to cut only the back (the densest part of the leather), reserving the softer parts for the other accessories.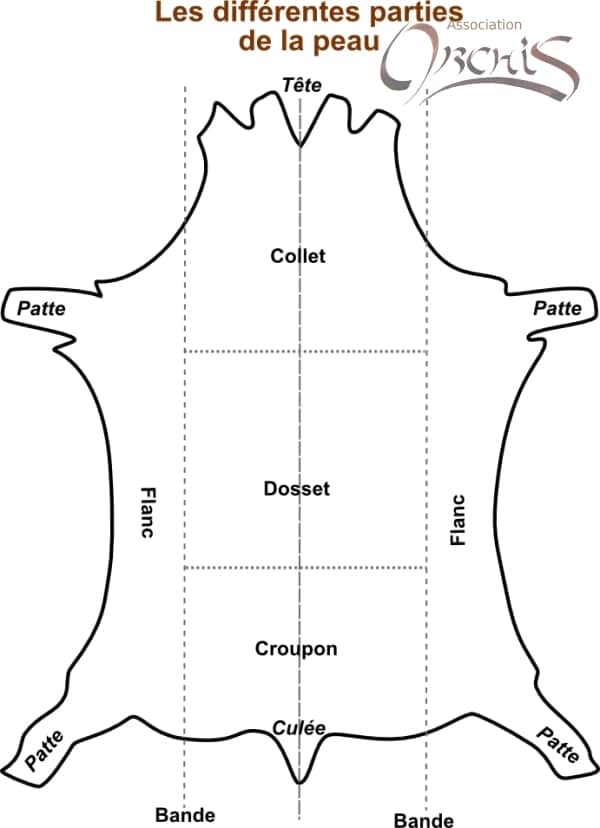 Then, all these different parts of the jacket will be sewn together and assembled by Noëlla, the team's seamstress.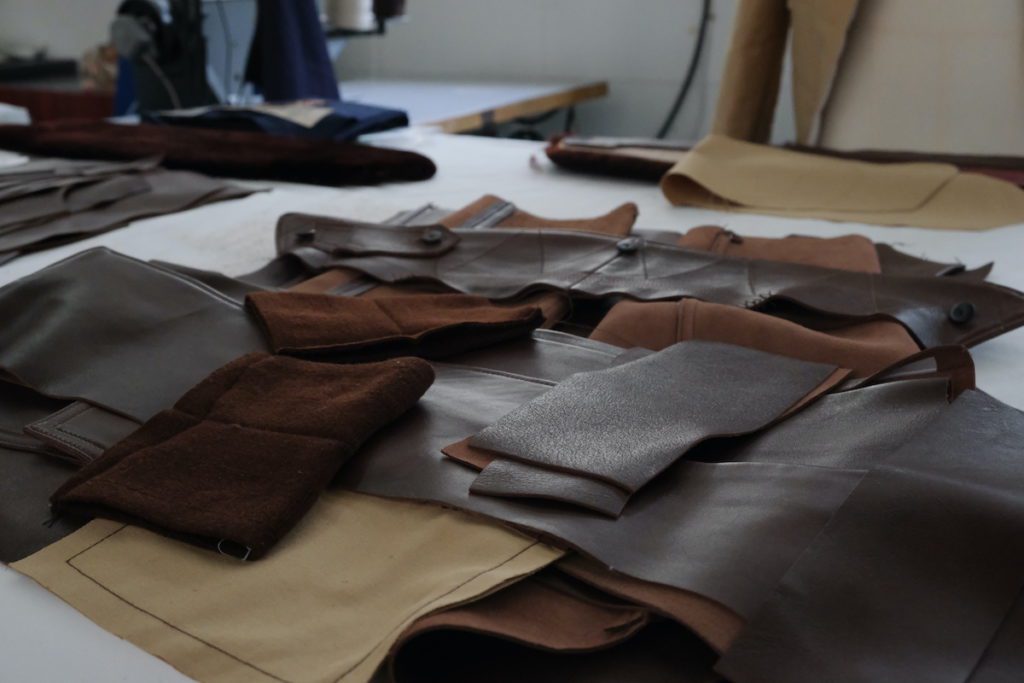 I must say that this is the part that impressed me the most during the visit because it is quite surprising to see right in front of your eyes a jacket taking shape from simple pieces of leather, and especially to see that it is made by one and the same person, Noëlla.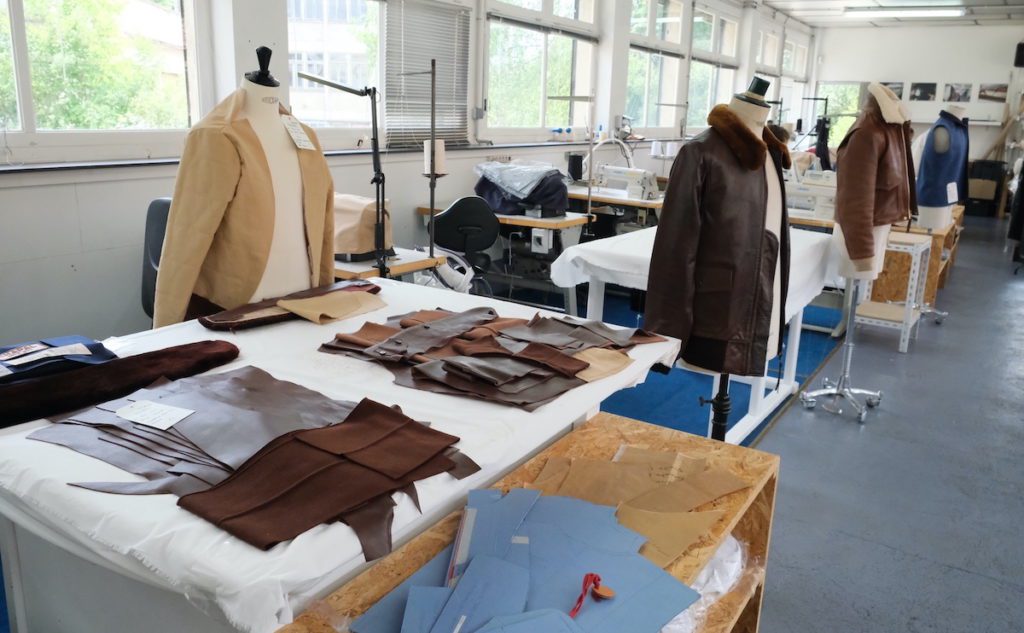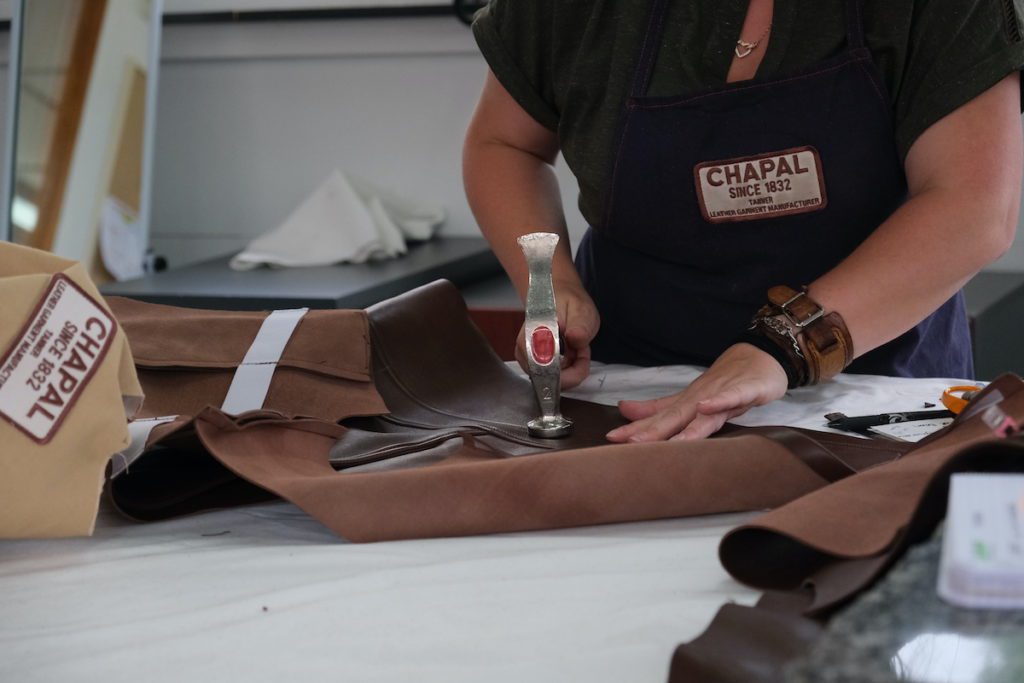 A quality control is carried out once the assembly of the parts is completed: only then the details are added (the Riri zips for example). A final quality control is carried out just before shipping
In any case, I invite you to watch the video to see some of the stages in the manufacture of the jacket
chapal and the vintage racing industry
I am a bit more profane on this subject but Chapal is basically able to offer:
– helmets and driving goggles
– driving shoes and boots
– ready-to-wear and made-to-measure vintage full outfits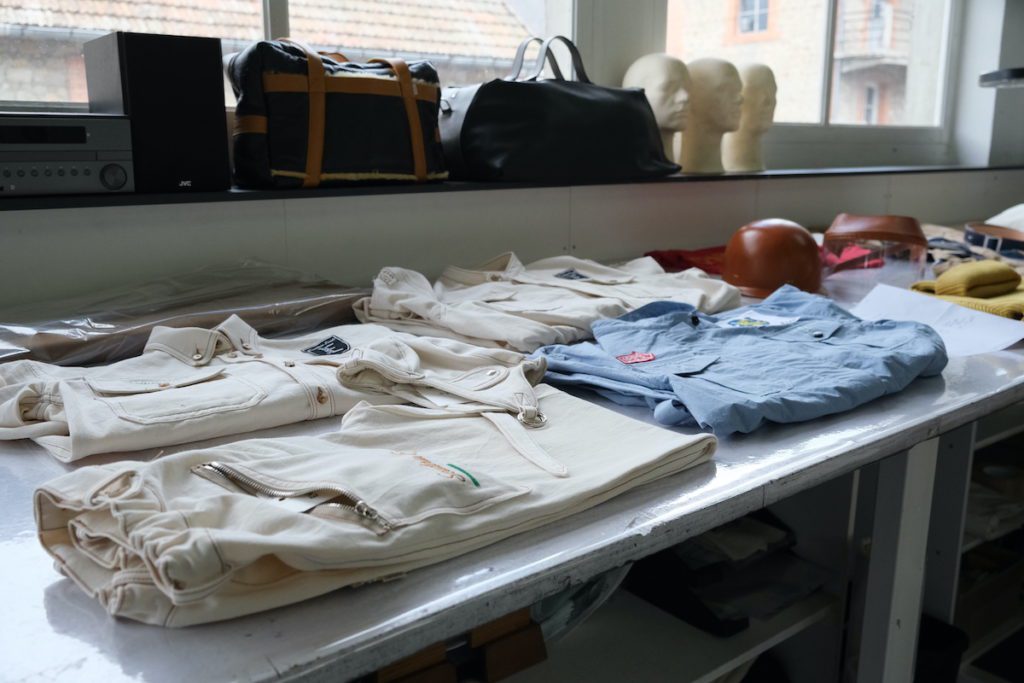 Despite my lack of knowledge of this mechanical universe, it is still possible to appreciate these products for their obvious aesthetic interest. Chapal is one of the few companies to offer an extremely faithful and tasteful vintage driving line (thanks to mastered details and beautiful colours), which does not give the impression of attending a carnival when one sees them worn at rallies
It also has real know-how in the moulding of helmets: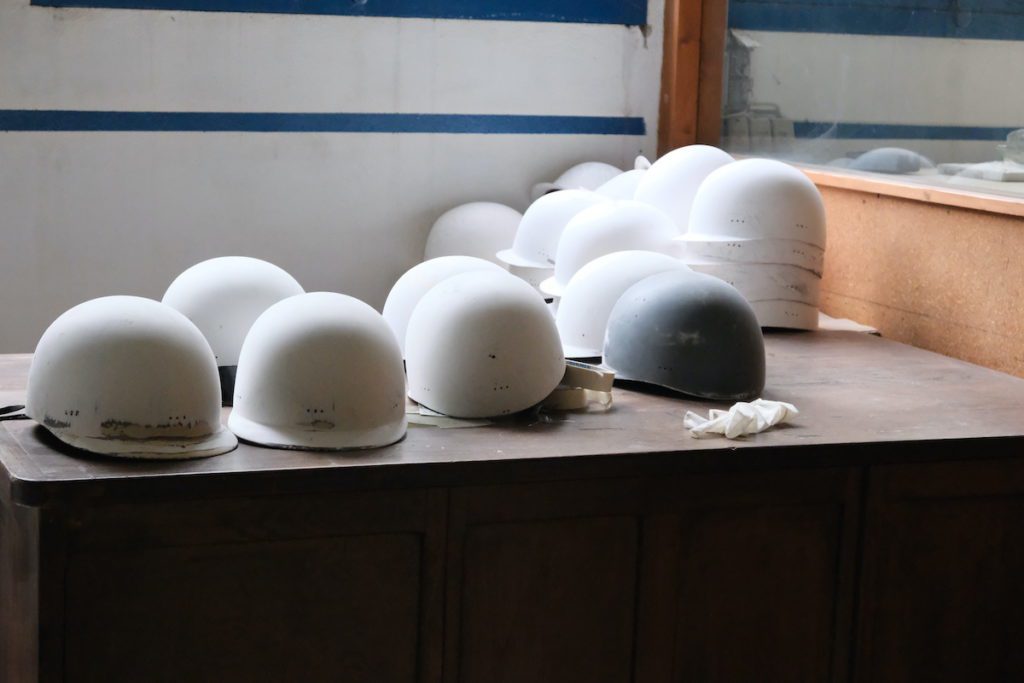 And the range of goggles and masks is quite wide: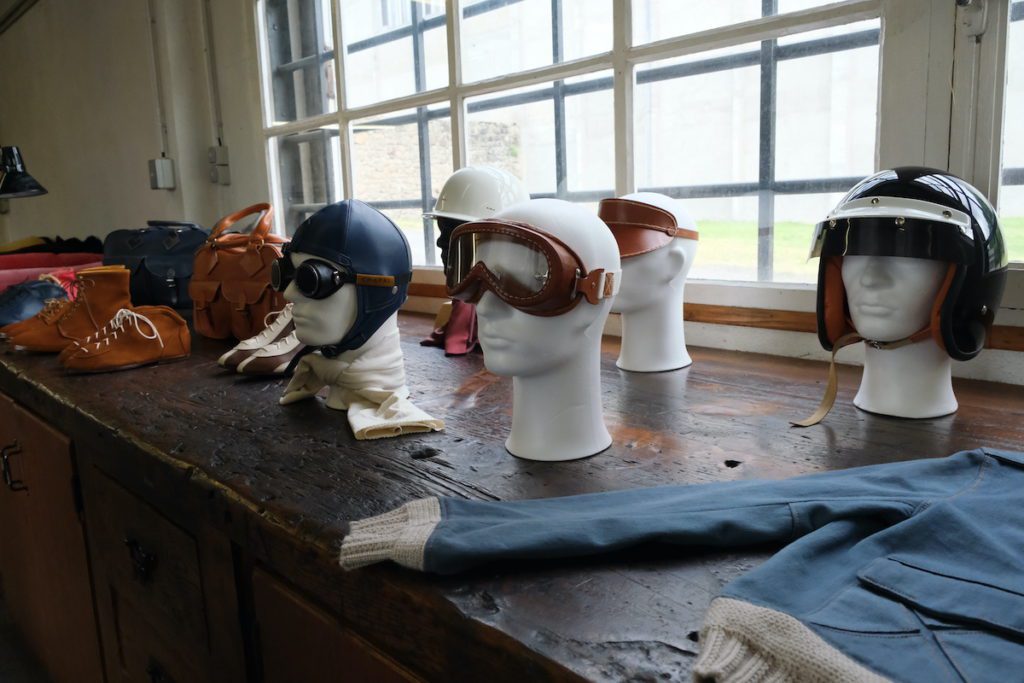 This range of accessories and footwear involves tons of different know-hows: a large part of their manufacture is carried out by Wassim, a Syrian political refugee who very quickly became familiar with Chapal's manufacturing methods.
At one point, he would work on goggles: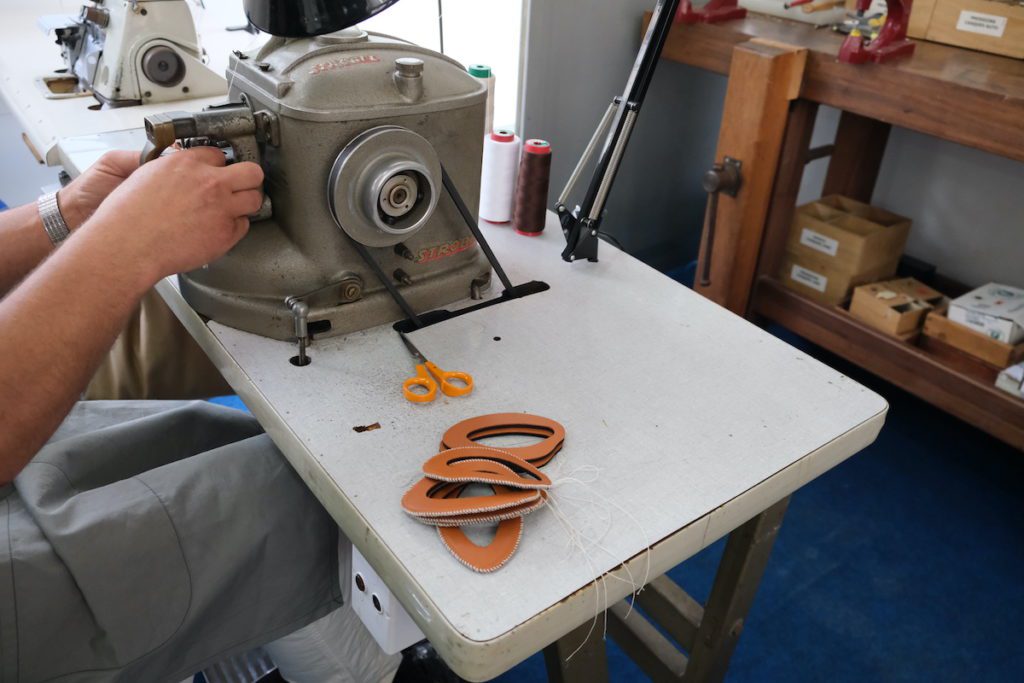 Then a few hours later he'd move on to a pair of boots: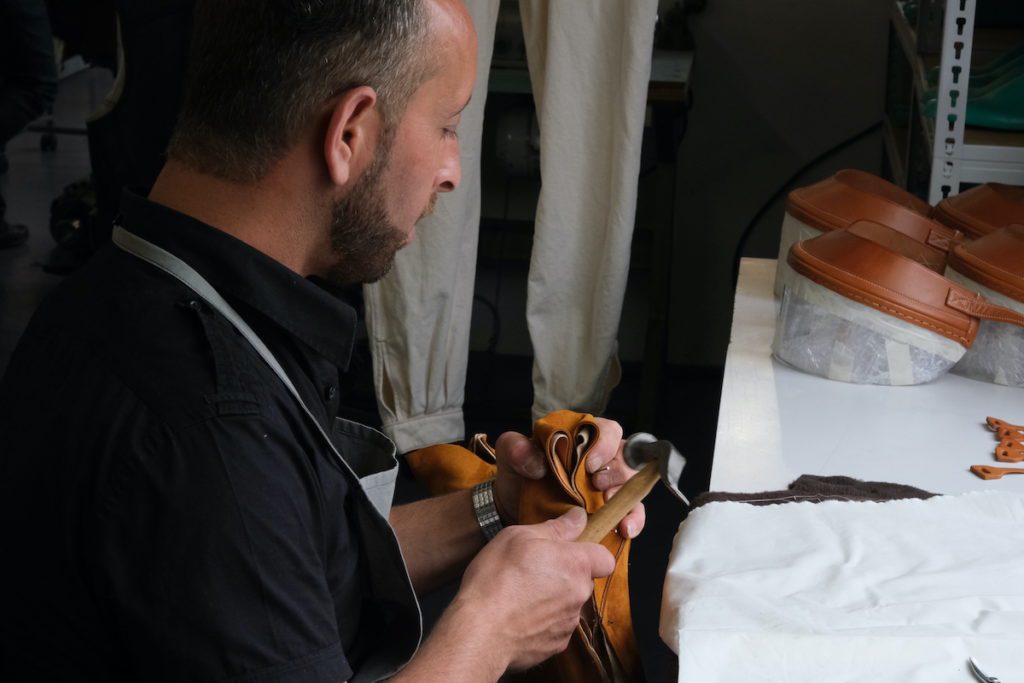 In addition to mastering a variety of skills, he is also constantly thinking about how to improve each step of the manufacturing process (which is clearly not an approach that would be found in a factory with classic assembly line work where the workers have no perspective on the overall production process and therefore cannot engage in this kind of thinking).
In addition to the boots, Chapal also offers a whole line of shoes and in particular sneakers, entirely handmade from suede leather, glazed leather, lined in cotton poplin and mounted on a leather sole with Vibram rubber.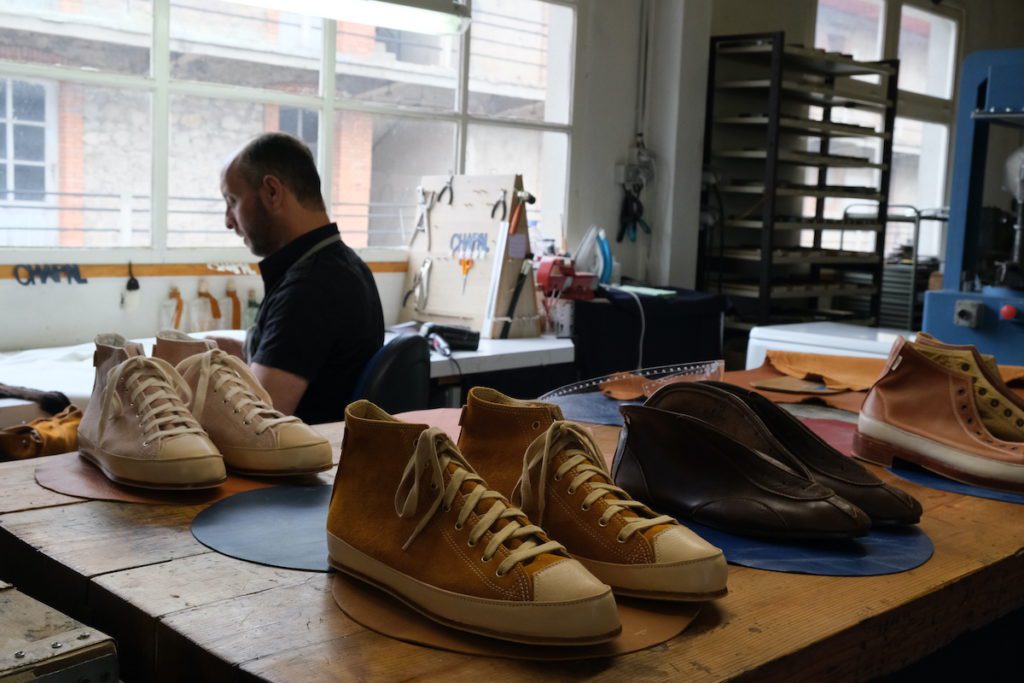 Other pieces: shirts, jeans etc
Finally, Chapal also offers shirts, t-shirts, trousers and jeans which were not being made at the time of our visit (that's what I told you that one week would probably not be enough to see all of the know-how).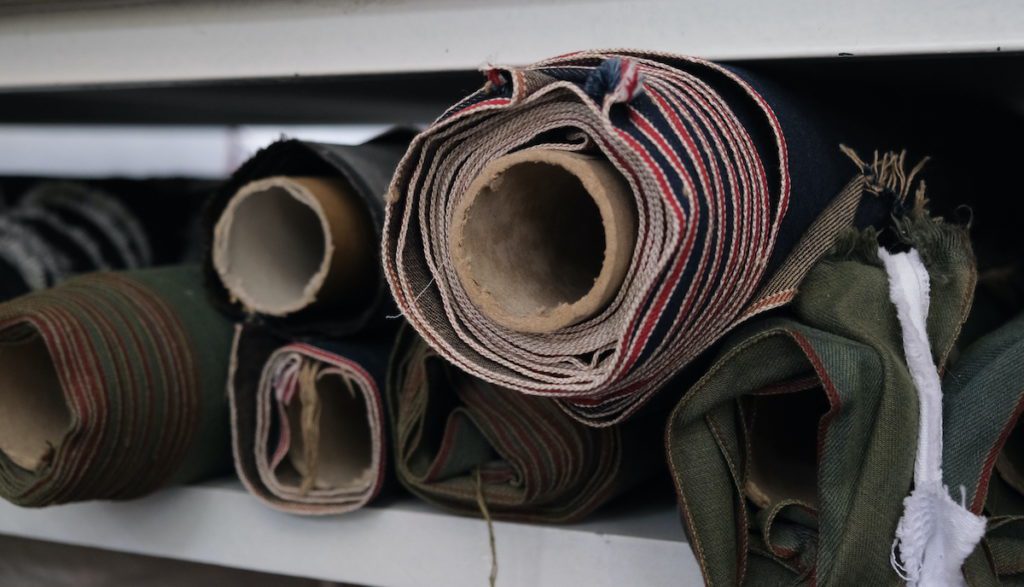 Everything denim is made from beautiful selvedge denim.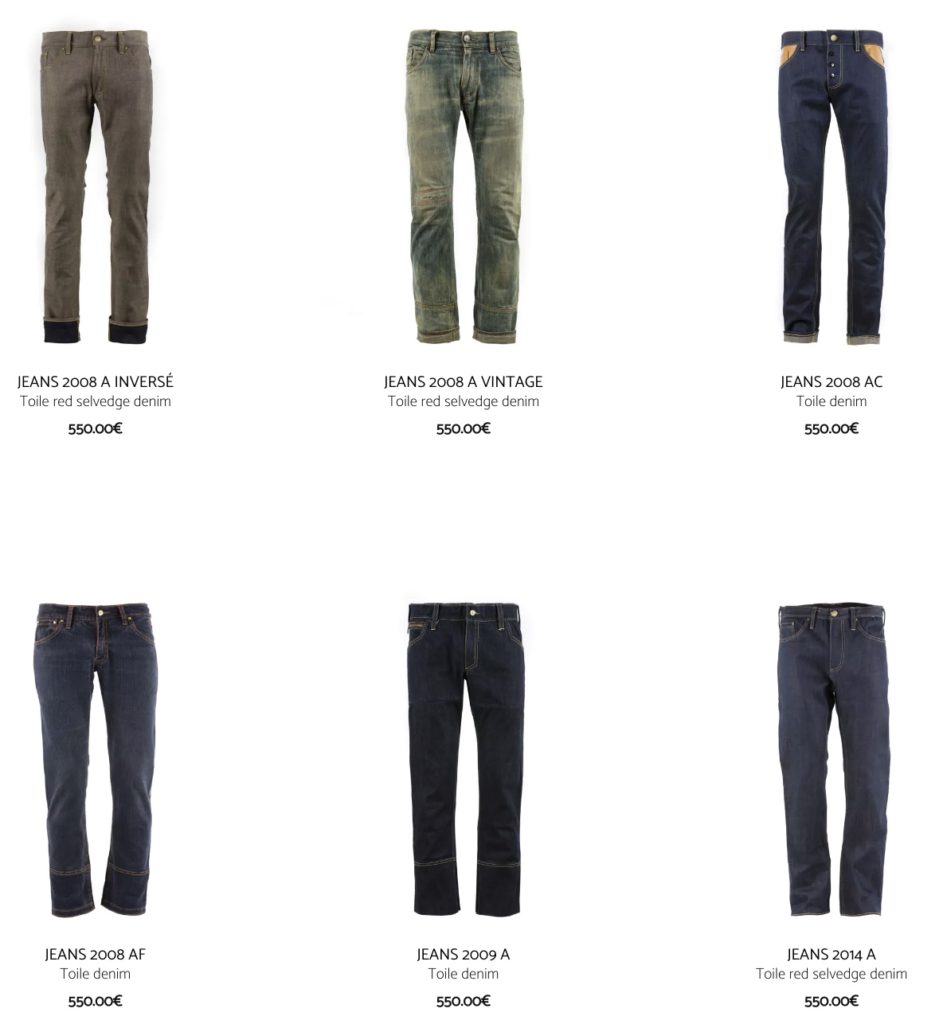 Style tips: two Chapal outfits
In this article, which is more of a report, we have not done any technical review of the products. However, we took advantage of our visit to the workshop to shoot two outfits to show you how to integrate these strong pieces into a traditional urban wardrobe.

Through these outfits, you will also see some of the workshop's most emblematic places.
Please note that my jacket size is not available at the workshop, so I wear models that are one or two sizes too big. You will see that the fit is still very good.
Outfit 1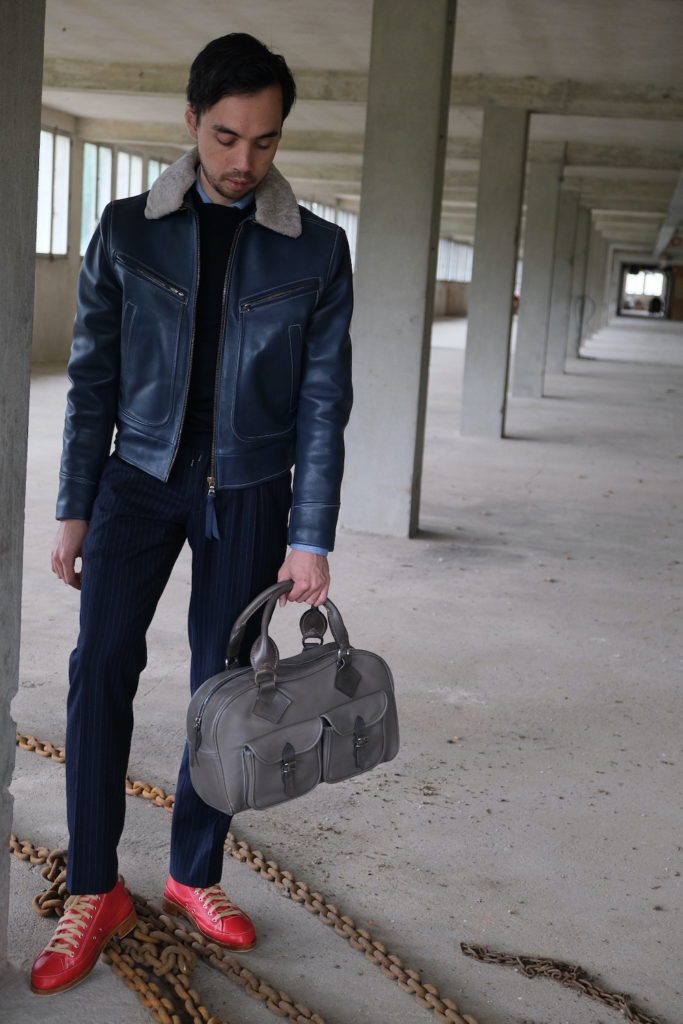 I'm wearing here:
– a Chapal Roadster leather jacket in glazed leather
– red glazed leather welt sneakers
– the Chapal glazed leather XS travel bag
– an Eterna jersey shirt
– a Paname Collection funnel neck jumper
– d'Avenza striped joggers

The photos here are taken on the top floor of the main factory building in Crocq. This building housed over 400 employees and specialised in the processing of rabbit skin, an activity that required bulky machines and a lot of manpower.

This building is now home to the tanning and hide processing activity, carried out with more modern machines that require less space and manpower
I like this collar for it's perfect fit when popped, particularly because of the herringbone seams which provide excellent support without stiffening it.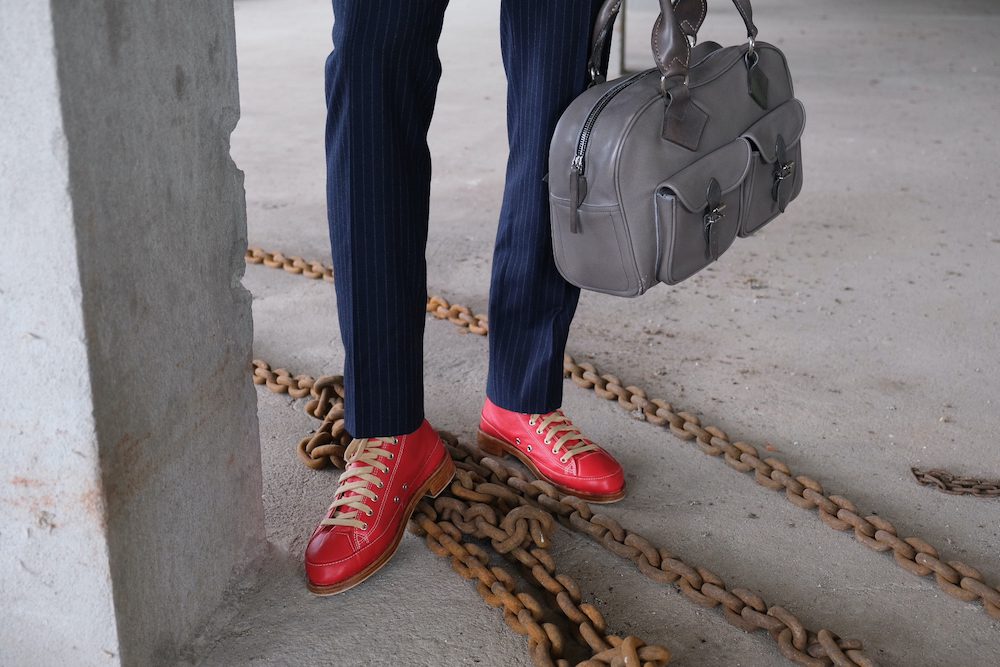 A large part of this space is now dedicated to the automobile and its historical links with the Chapal company: on the one hand through an exhibition of Jean-François Bardinon's collection of motorbikes and vintage cars, and on the other hand through a restoration workshop for vintage cars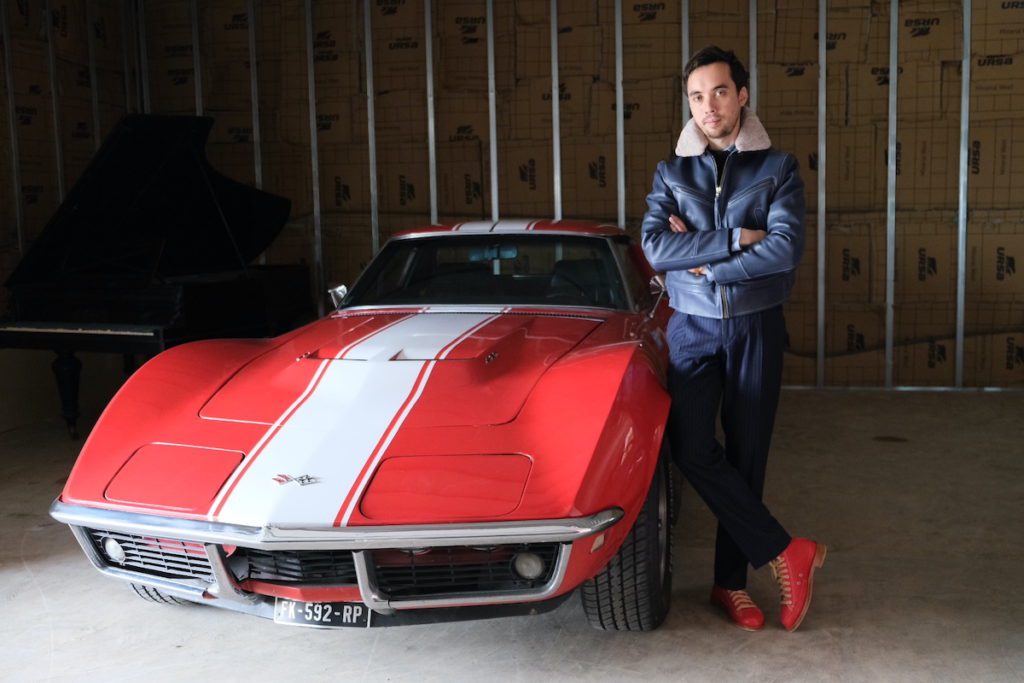 There are also vintage motorbikes, both city and cross-country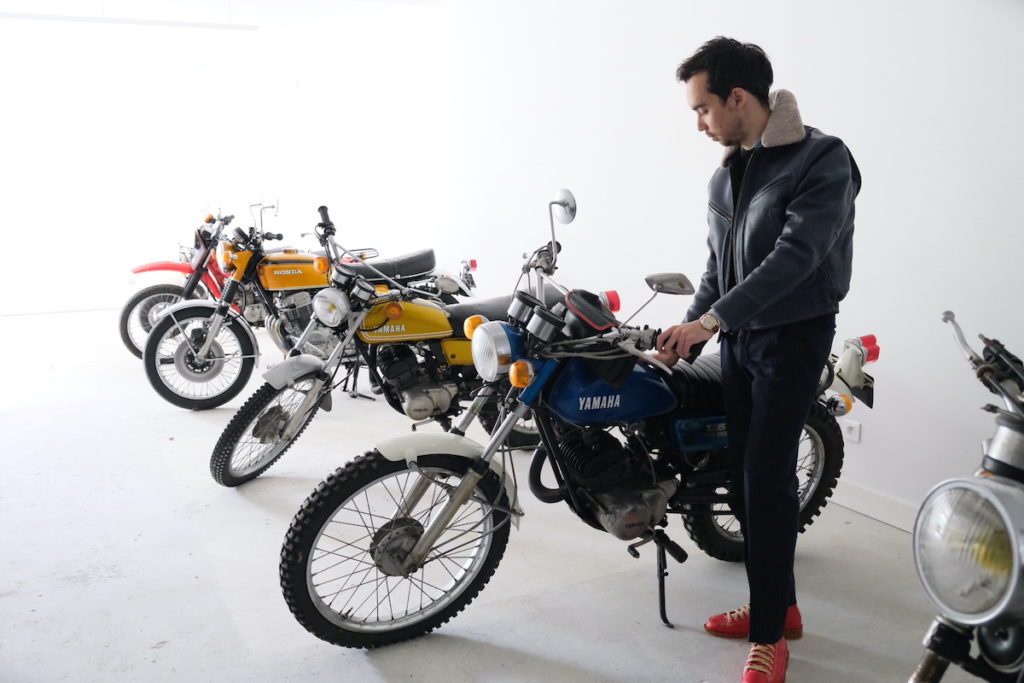 With such a jacket, I almost look like I can legitimately drive a motorbike (I don't have my licence and I can hardly use a clutch):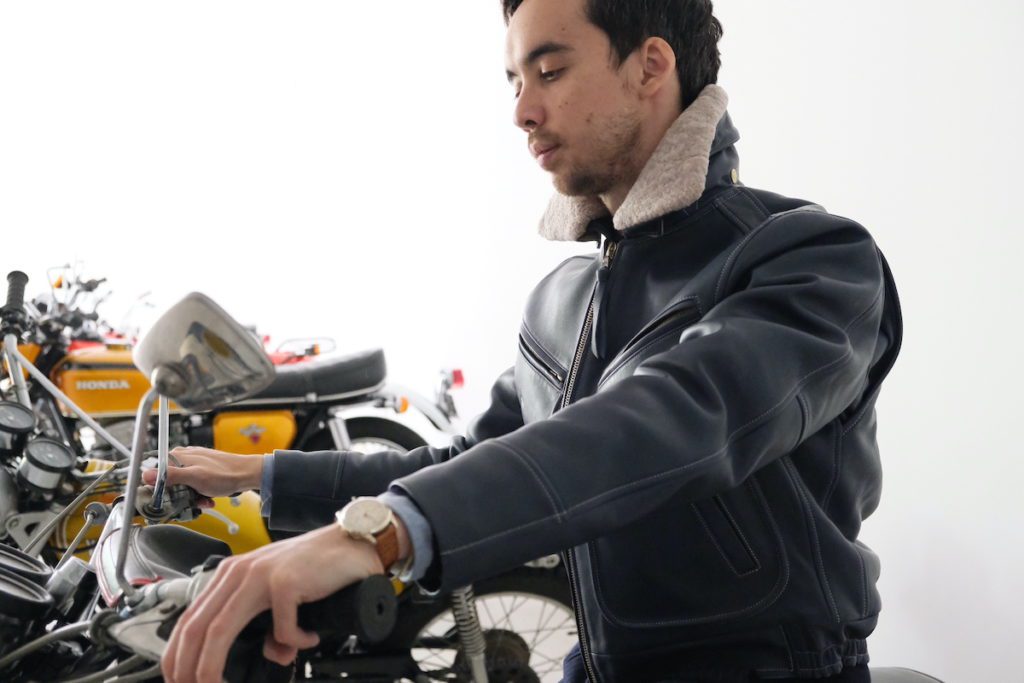 Outfit 2
I'm wearing here:
– a Chapal USAAF leather jacket in glazed leather: a successful mix between the A2 jackets of the US Air Force and the G1s of the Navy
– Simone Suzy Chapal suede boots
– an Eterna soft tailoring shirt in jersey
– d'Avenza trousers

The photos are taken here in front of the first Chapal factory in Point du Jour.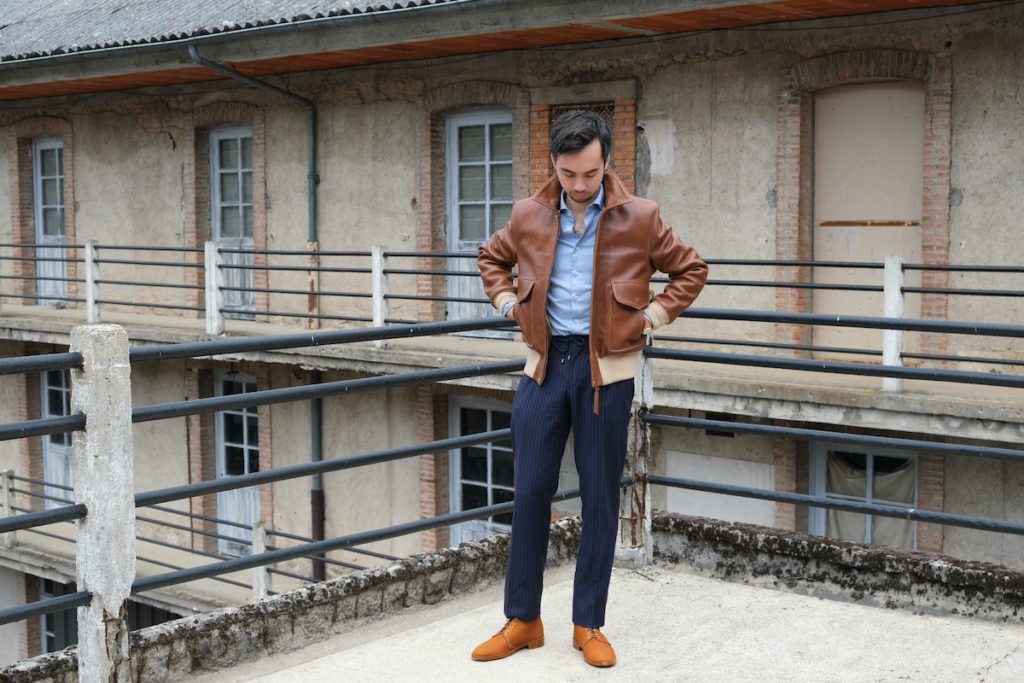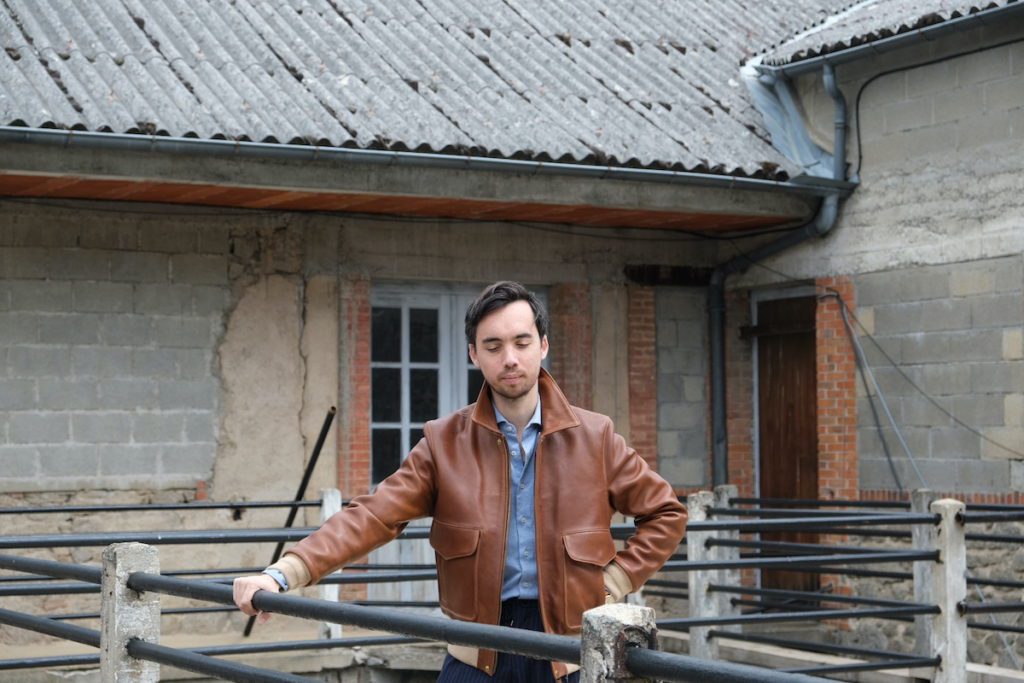 The construction of the back of this jacket, designed to guarantee optimal mobility, also gives it a great look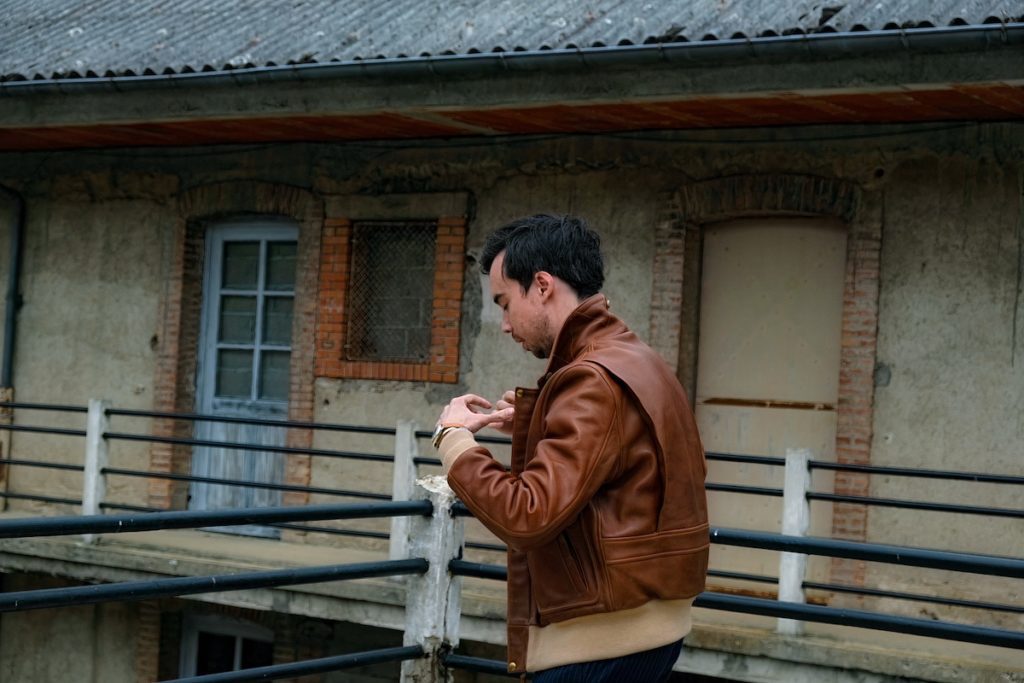 The famous herringbone seams are found, which allow the collar to be well supported. The button allows the addition of a removable fur collar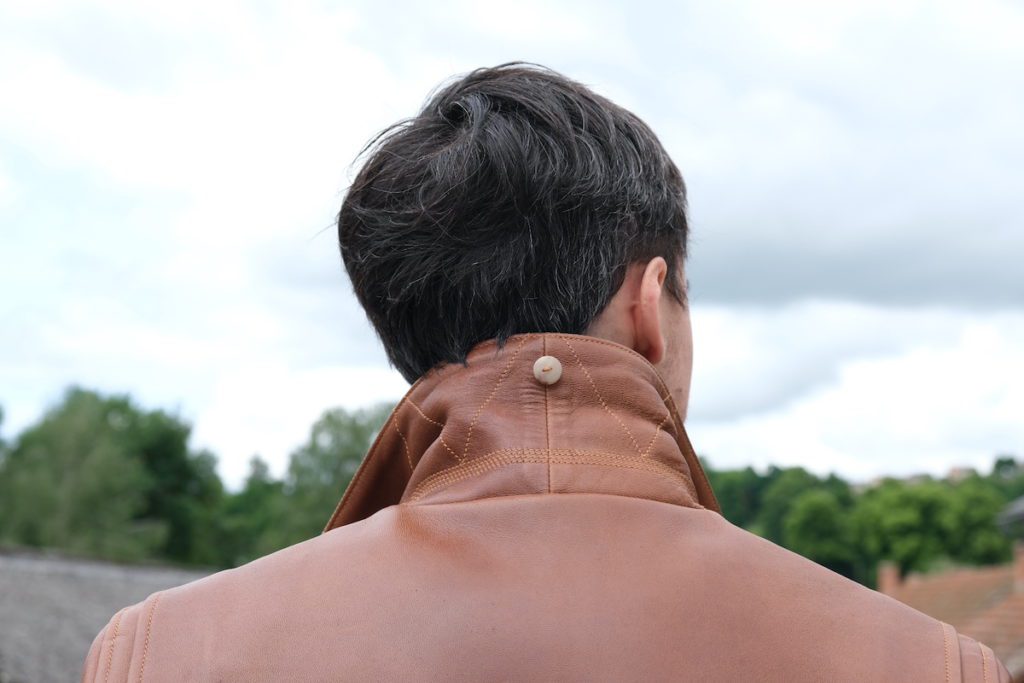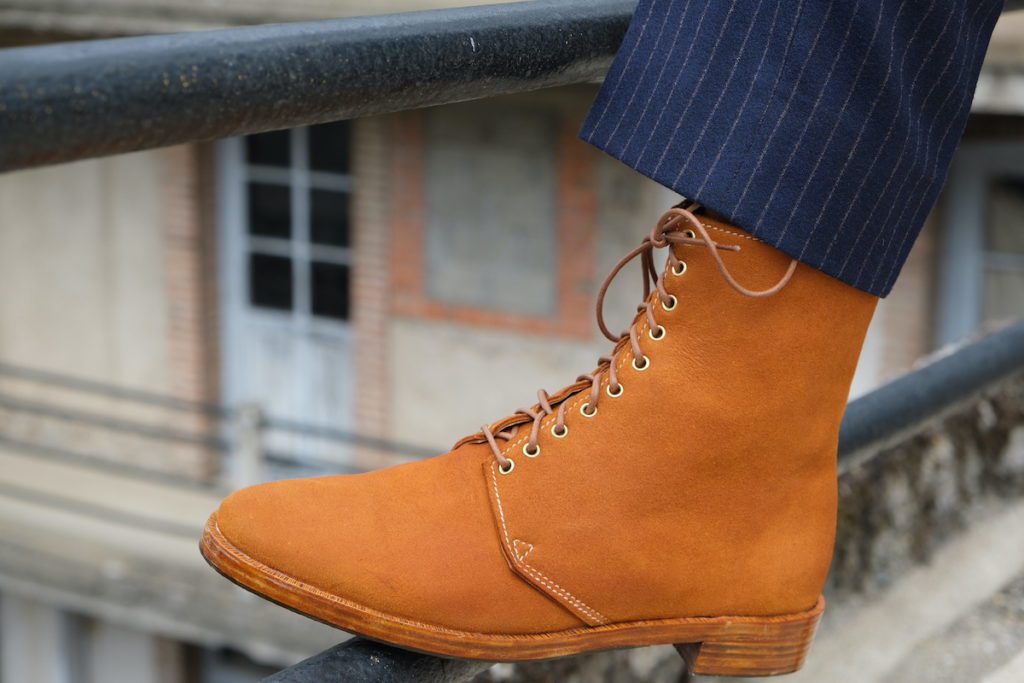 Conclusion
Obviously, those know-how, attention and time spent on the pieces comes at a price as leather jackets start at 3700€. But I hope that this report will have made you understand that, if it is quite a budget, it is far from being an expensive product compared to the competition, especially when you consider that even on these price levels most luxury brands do not have their own workshop or tannery.

It's only in the higher luxury segment that we're starting to find brands that have some control over their sourcing (and even then not in such a vertical way) and whose prices will start at 8000€.

I hope you enjoyed this new format on this unique workshop : I would like to thank the team at Chapal for their welcome and collaboration: thanks to Jean-François, Louise, Sandra and Laurence. Thanks to the artisans José, Wassim, Noëlla and Eléana for taking the time to explain their work to me.