Owning a pair of quality shoes is a luxury for those who appreciate it. But what does a fine pair of shoes really mean?
It all starts with the meticulous choice of raw materials. Full-grain leathers, hides from the finest tanners: each material will improve with age.
Then comes the expertise of the bootmaker, who masters every stage of traditional manufacturing. Goodyear assembly ensures sturdiness and longevity. The finishing touches testify to the love of a job well done, from precise embroidery to elegant French edging.
Last but not least, the made-to-measure fit makes this shoe a travel companion made to last, as the leather adapts to the shape of the foot.
To wear such a pair is to assert your allure and refinement. It's also the choice of an object made to last through the years, and one that can be resoled with pleasure.
As you can see, a fine pair of shoes is much more than a fashion accessory. Behind them lies a whole world of handcrafted excellence and timeless elegance.
Here's an exclusive selection of the best addresses to find THE pair that's right for you
Entry-level :
Rudy's: Elegance and comfort at an affordable price in typically French Blake craftsmanship.
Bexley: French brand offering timeless, quality basics at fair prices, a pioneer in e-commerce.
Sparkes: Young French brand promoting affordable style and ethical manufacturing in Portugal.
Patine: Respectable and affordable Polish alternative to luxury, made in Goodyear.
Orban's: Affordable Parisian elegance in Goodyear, a pioneering brand.
Meermin: Chinese manufacturing but Spanish know-how at affordable prices, now available in its Paris boutique.
Crownhill Shoes: Spanish brand promising value for money.
Ypson's: French craftsmanship blending comfort with the tradition of Blake and Goodyear.
Loding: French refinement and Goodyear tradition for a now international brand.
Velasca: Traditional Italian manufacturing for value at a fair price.
Herring Shoes: English benchmark in Northampton shoes, crafted with distinction.
Loake: Ancestral Northamptonshire house perpetuating English savoir-faire.
MID-RANGE
Incorio: Comfort from the very first wear, with minimalist French craftsmanship.
Carlos Santos: Portuguese family-run company dedicated to traditional craftsmanship.
Malfroid: Affordable French alternative for traceable elegance from Cholet.
Gustavia: Pure lines and a bespoke patina for very French elegance.
Justin Fitzpatrick: New York masculine elegance in Spanish Goodyear.
Septième Largeur: French expertise in made-to-measure patinas at affordable prices.
Carmina: Majorcan house perpetuating Spanish manufacturing excellence.
Morjas: Nordic minimalism and sustainable manufacturing for this Swedish brand.
Berwick: Accessible Spanish shoe heritage through e-commerce.
Yanko: Affordable Spanish alternative through Skolyx.
Enzo Bonafé: Italian benchmark for made-to-measure and Norwegian sewing.
Arbiter Milano: Italian artisanal excellence for exclusive elegance.
Altan Bottier: Parisian house renowned for its prestigious collaborations.
Santoni: Italian factory combining mass craftsmanship and diversity of lines.
Meccariello: Neapolitan excellence in made-to-measure men's shoes.
Artioli: Family-run Ferrarese company dedicated to made-to-measure expertise.
Bontoni: Italian craftsmanship renowned for exceptional patina and Norwegian stitching.
Jacques&Démeter: Sober elegance and ethics for this French artisan label.
Weston: An emblematic house that takes French elegance to its firmament.
Crockett&Jones: Northamptonshire benchmark, supplier to the British crown.
Paul Sargent: The heritage of Alfred Sargent's legendary Northampton shoes
Bowen: British ruggedness revisited in a French gentleman farmer style.
Grenson: Renaissance of a historic British house.
Cheaney: Perennial excellence in Northamptonshire craftsmanship.
Church's: Historic British house, symbol of English luxury.
Barker: Age-old reputation for quality for this Northamptonshire house.
Vass Shoes: Accessible Budapest luxury.
Alden: The benchmark for men's shoes made in the USA.
Allen Edmonds: Wisconsin craftsmanship for timeless elegance.
Cobbler Union: Made-to-measure shoes from New York, produced in workshops on the Old Continent.
CNES Shoemakers: Vietnamese factory offering unbeatable value for money.
high-end
Maison Mauban: Flagship of French craftsmanship.
Aubercy: Combination of Parisian know-how and transalpine dexterity.
John Lobb: Legendary house, the epitome of British shoes.
Pierre Corthay: Honored master bootmaker, repository of French savoir-faire.
Edward Green: Majesty of the British shoe.
Gaziano&Girling: A fusion of British tradition and technology.
CASUAL CHIC
Paire&Fils: Affordable elegance made in Portugal.
Pied de Biche: Participatory financing for an ethical French brand.
Jacques Solovière: Discreet French elegance for feminine shoes.
Bobbies: Casual and colorful, made in Spain/Portugal.
1 Best dress shoes brands 2023: the best brands of men's shoes (loafers, derby, oxford, monk strap etc)
I Entry-level
---
PORTUGAL AND SPAIN
---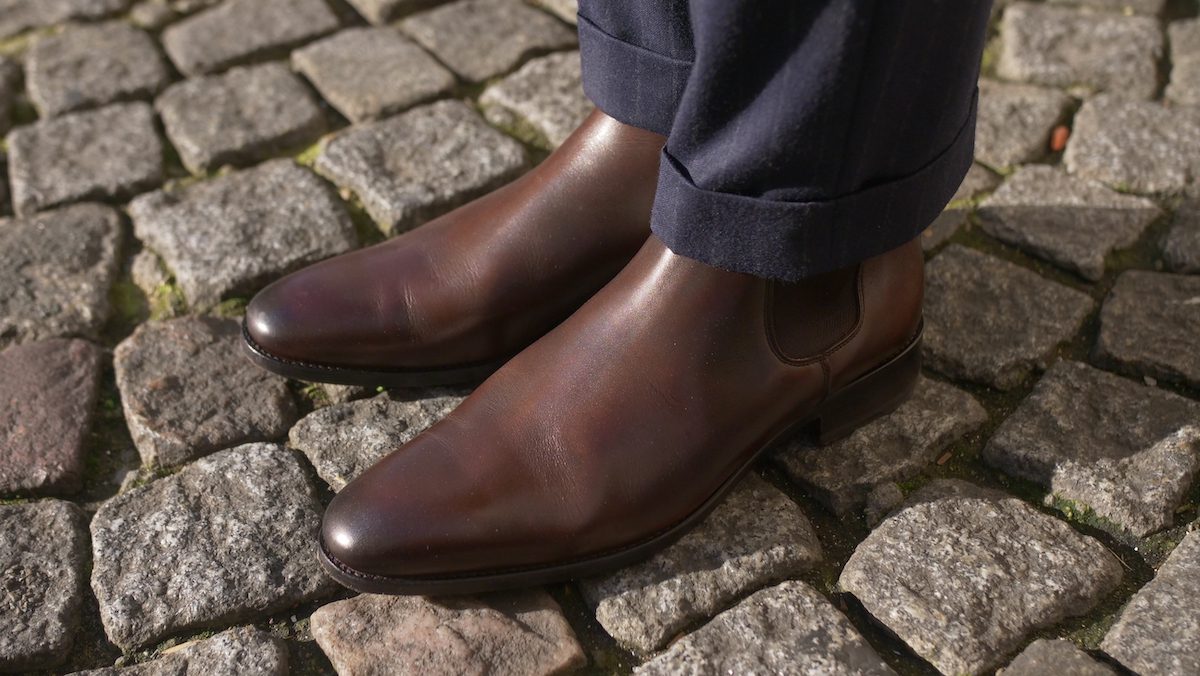 Rudy's
Founded in 1981 by Rémy Sfez, Rudy's is a French men's shoe brand. The brand is known for its well-designed shoes, meticulous finishing and fair prices. The brand mainly uses Blake assembly for its shoes, guaranteeing optimum comfort from the very first wear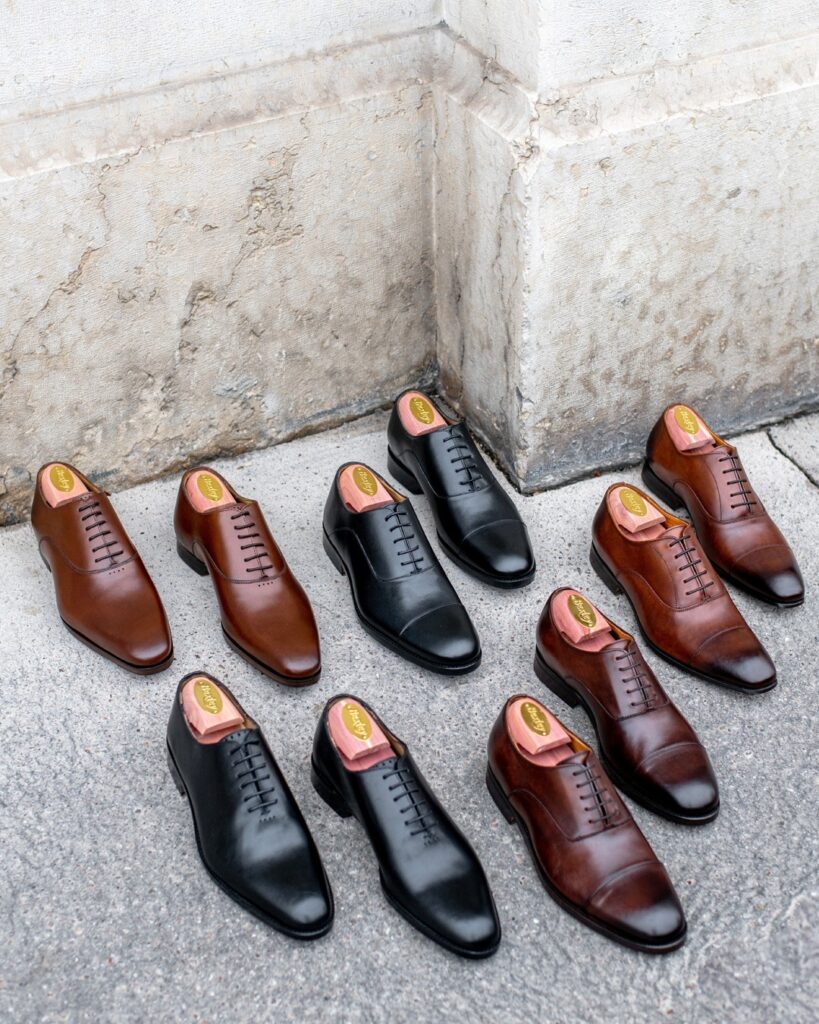 Bexley
Bexley is a French footwear brand founded in Lyon in 1985 by Éric Botton. Specializing in men's shoes, Bexley stands out for its unbeatable value for money. In 1996, the brand successfully launched online sales, becoming a pioneer in e-commerce. In 2014, Bexley extended its offer to men's ready-to-wear. Today, the brand has an extensive network of boutiques in France and abroad. Bexley emphasizes French elegance and craftsmanship to offer affordable shoes that combine timeless style and comfort.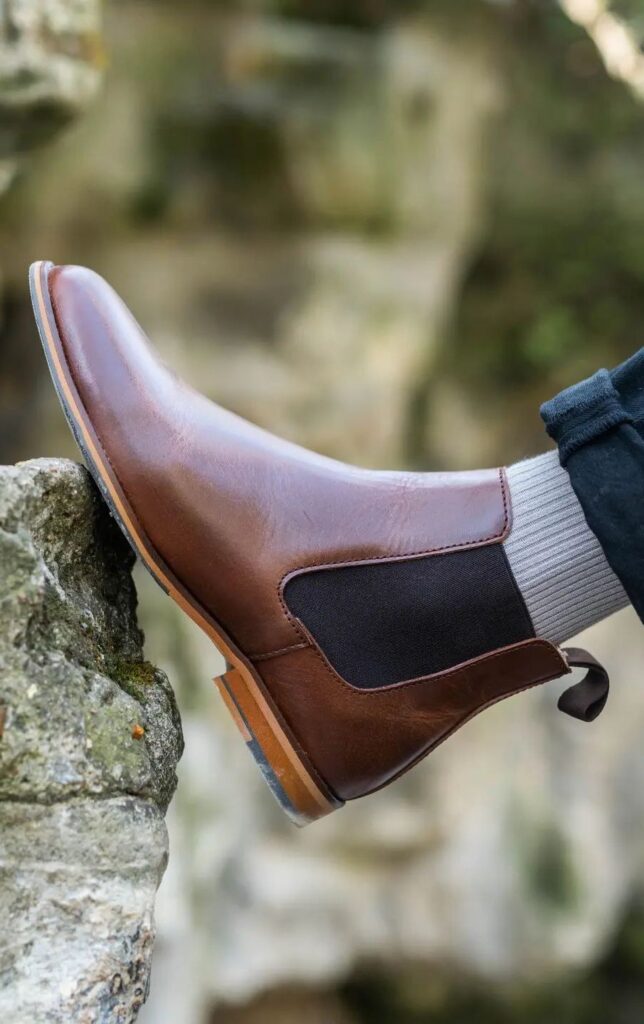 Sparkes
Sparkes is a young French footwear brand created in 2016 in Paris by fashion enthusiasts wishing to offer quality shoes at affordable prices. Noting a lack of balance in the market, Sparkes is committed to offering products that combine style, comfort and quality at the right price. The brand manufactures its trendy models in Portugal and Europe, with respect for the environment. In just a few years, Sparkes has made its mark with sneakers, moccasins, boots and oxfords for men and women, combining timelessness and modernity.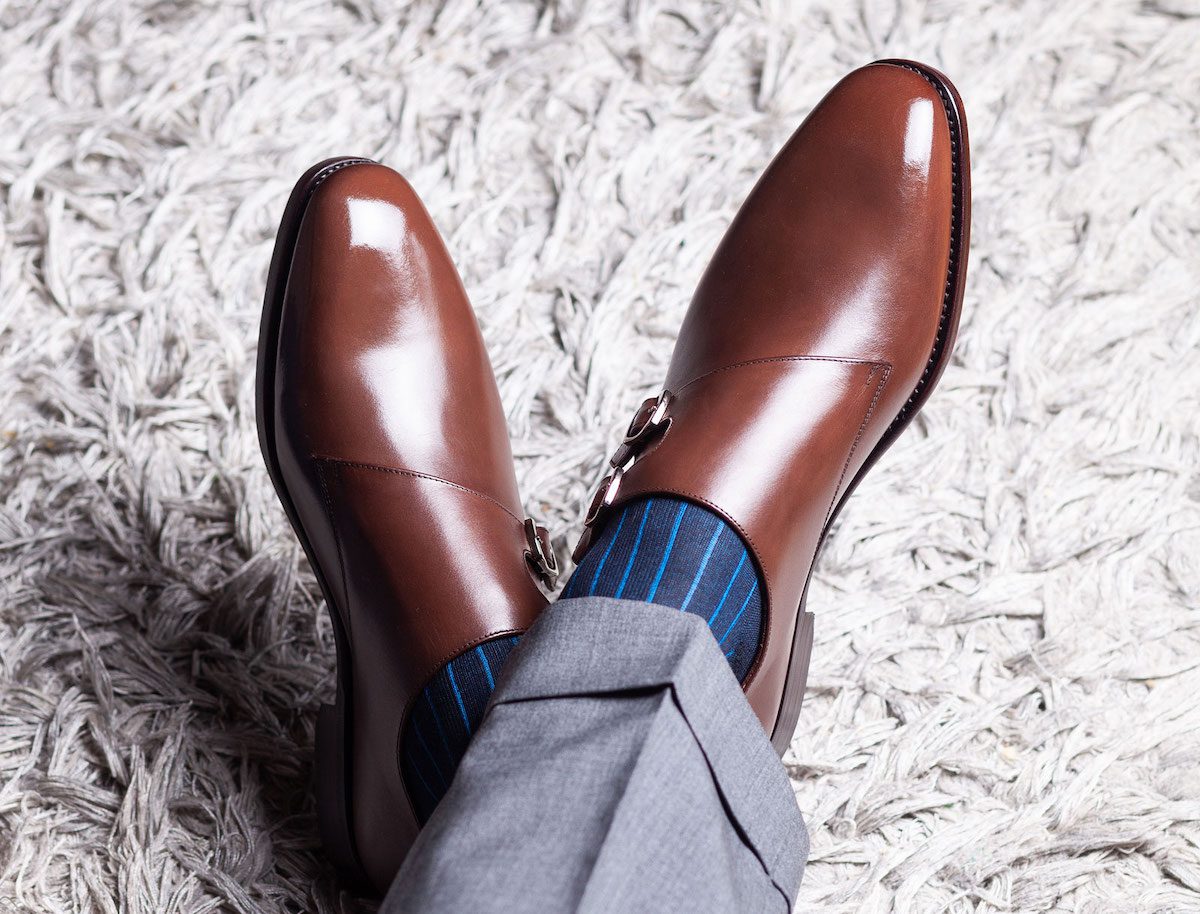 Patine
Patine, a Polish footwear brand, has distinguished itself by its excellent value for money. Founded in 2015, it initially served as a distributor before launching its own line of Goodyear shoes, made in Spain and selling for under 300 euros. The brand partnered with Polish master bootmaker Tadeusz Januszkiewicz to create the special « TJ » line, which combines elegance with orthopedic comfort. This collaboration has enabled Patine to position itself as a serious alternative to more established brands.
Using leathers from renowned tanneries such as Annonay and Du Puy, Patine offers a varied range of models, from oxfords to derbies, each with a touch of originality. The brand focuses on customer loyalty by offering a high-quality product at an affordable price, making it an attractive option in the competitive luxury footwear market.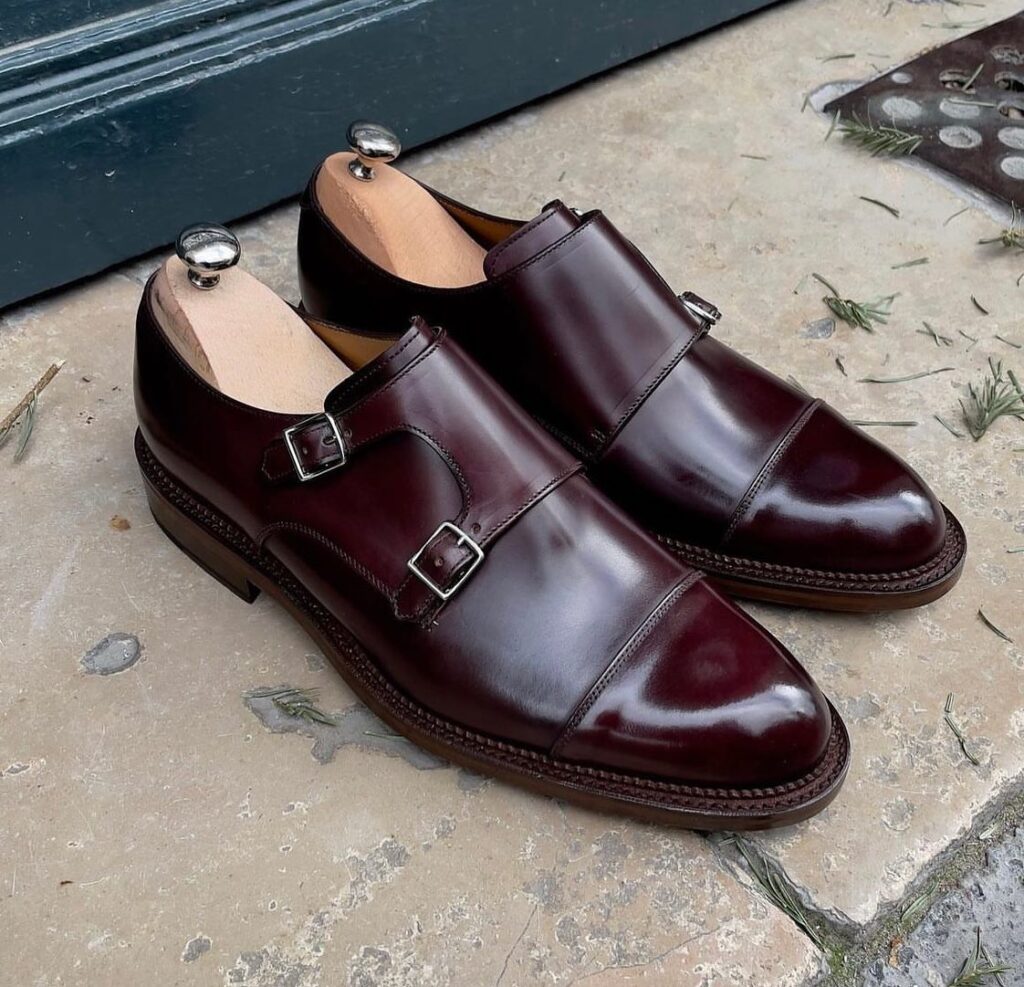 Orban's
Founded in 2015, Orban's is a French men's footwear brand. It offers quality shoes at affordable prices, with Goodyear assembly on all its models. The brand is positioned in the entry-level quality footwear market and has a boutique in Paris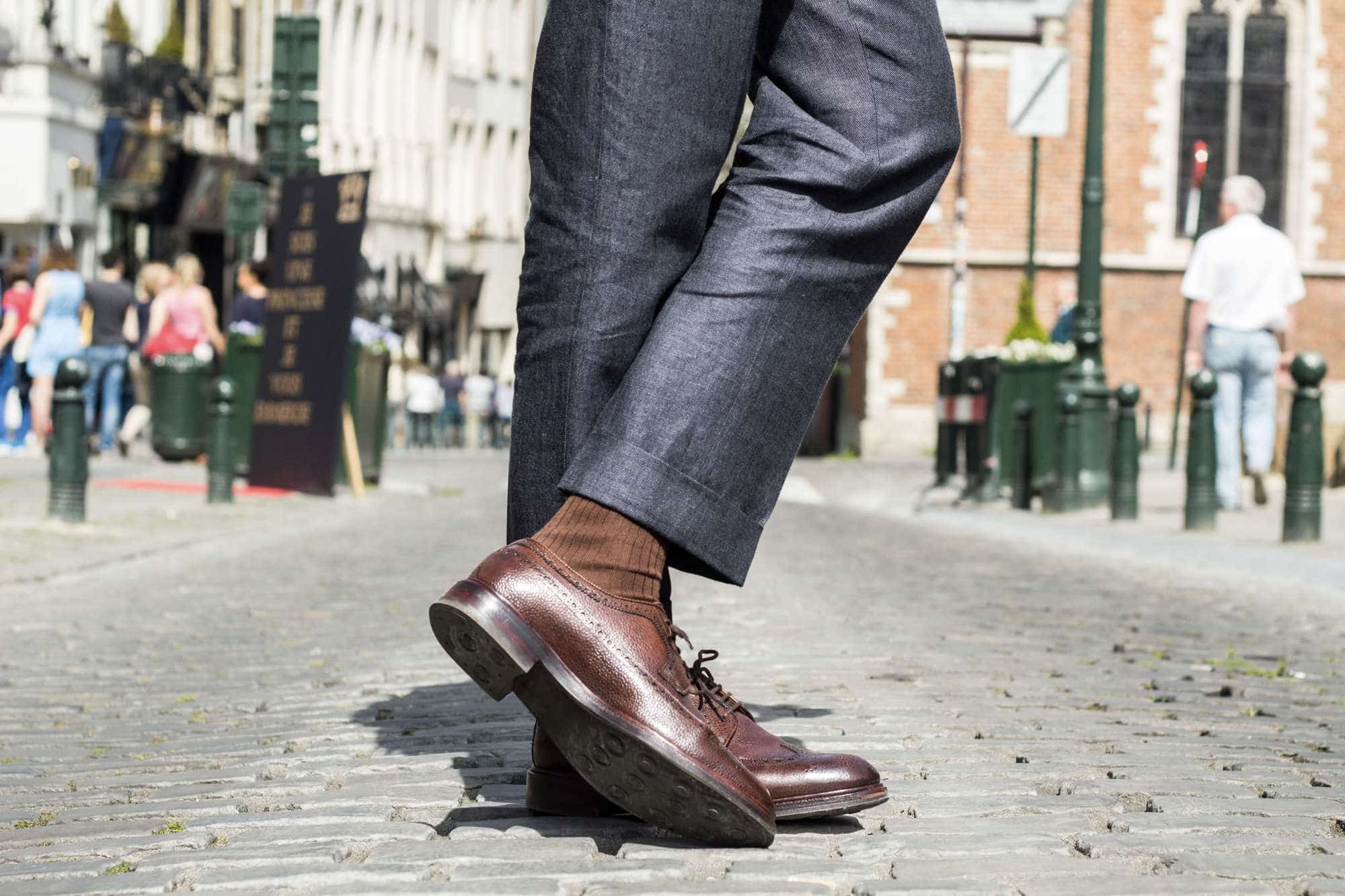 Meermin
Meermin is a Spanish shoe manufacturer founded in 2001. The brand offers quality shoes at competitive prices, using leathers from recognized European tanners. Meermin shoes are partly made in China and have been available in their Paris boutique since September 2019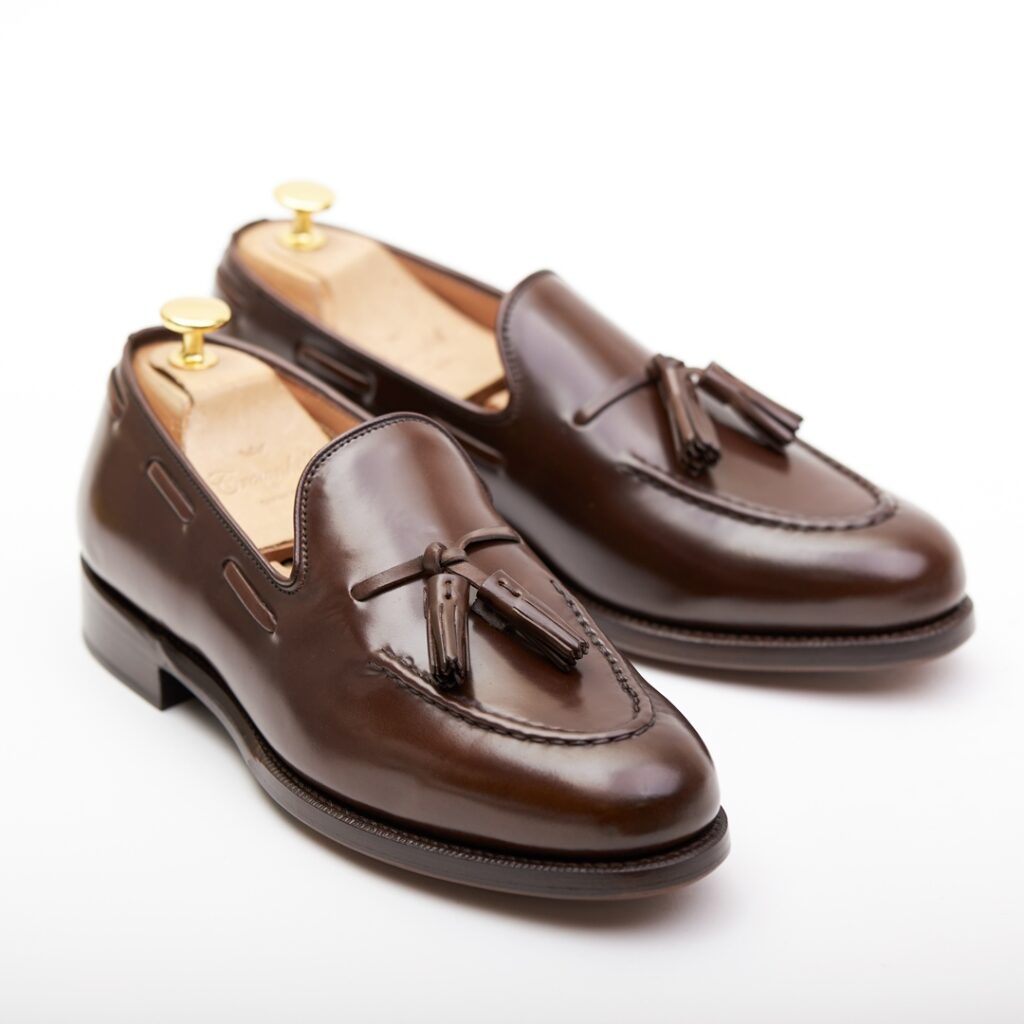 Crownhill Shoes
Crownhill Shoes is a Spanish men's shoe brand. It offers affordable shoes (under €200), made in Spain, with leathers sourced from reputable tanneries. The brand also offers a premium range at around 300€, with better leathers and more meticulous craftsmanship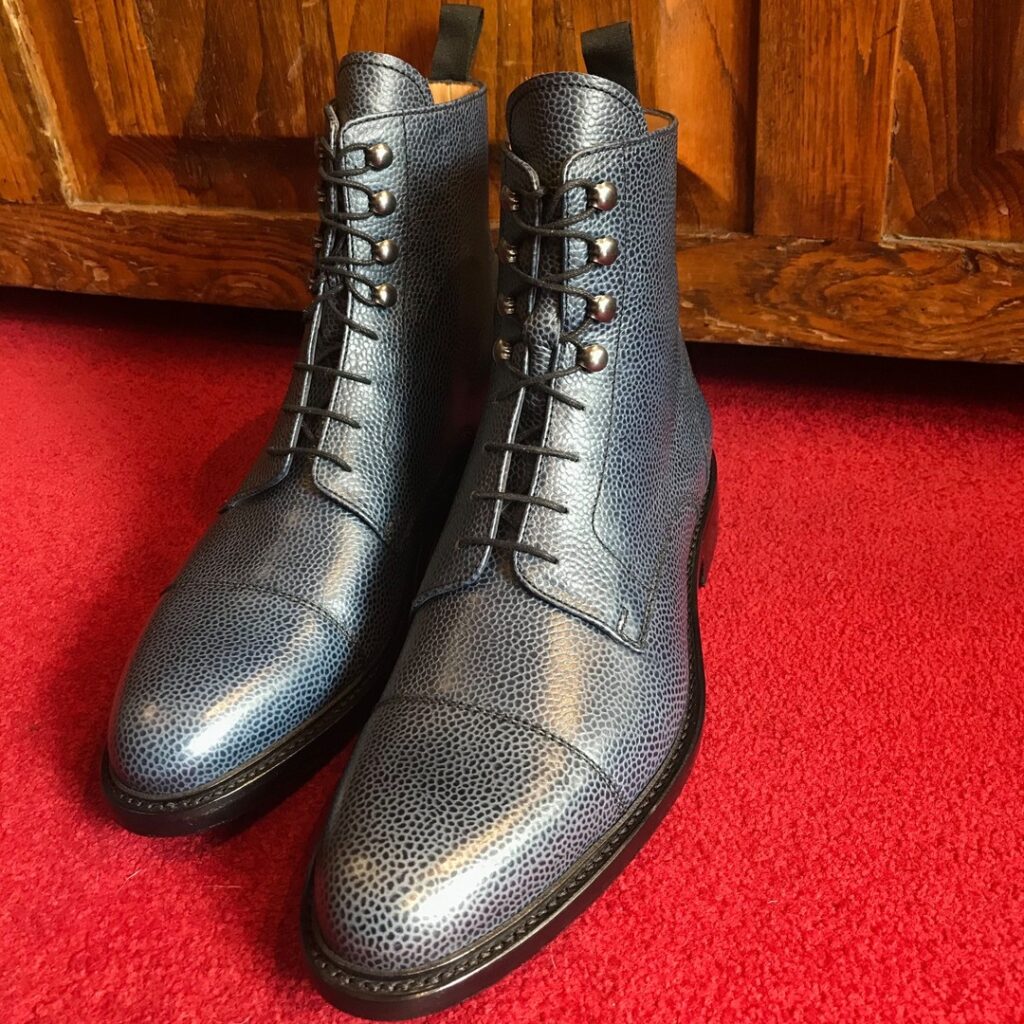 Ypson's
Founded in 1986, Ypson's is a French men's shoe brand. It offers quality shoes at affordable prices, with leathers from Le Puy tanneries and Portuguese manufacturing. The brand is known for its Blake and Goodyear models and has a boutique in Paris.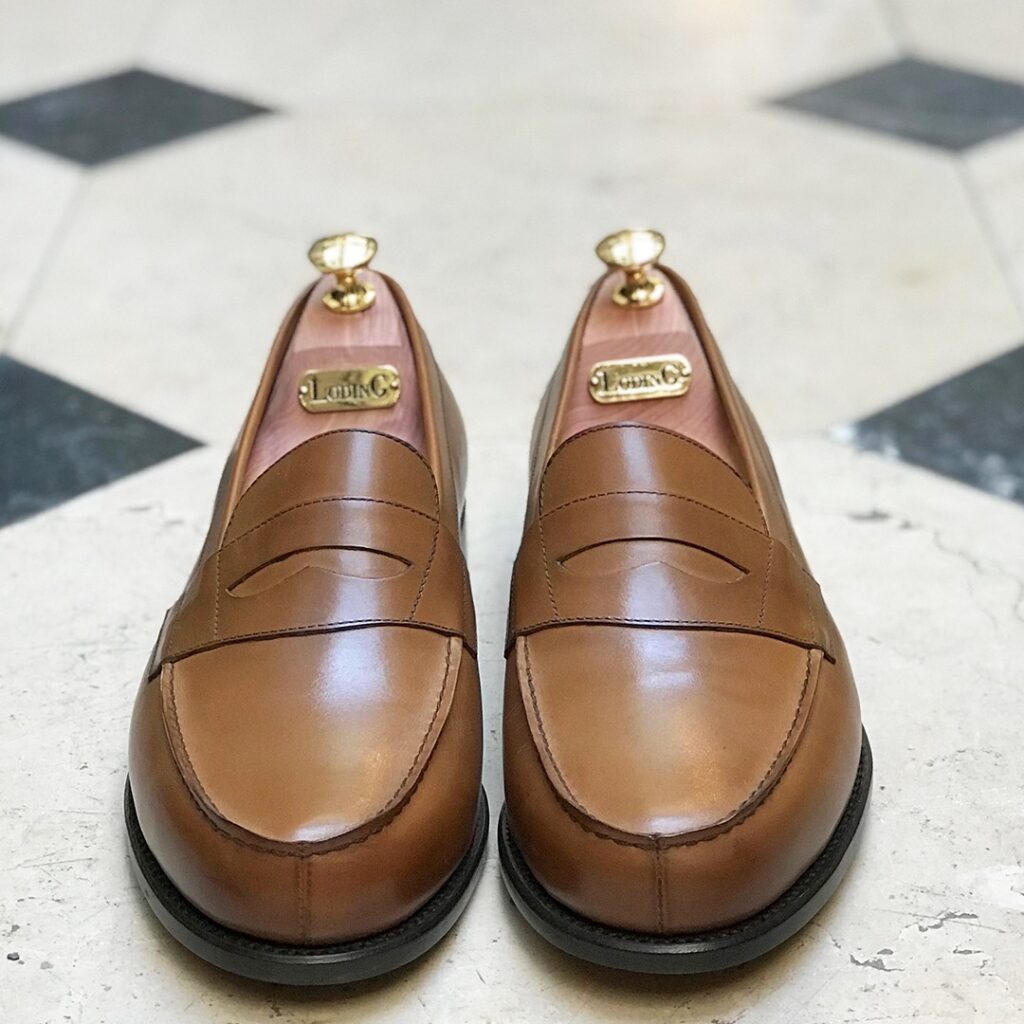 Loding
Loding is a French men's shoe brand, offering quality shoes at affordable prices. The brand is known for its Goodyear-trimmed models, featuring full-grain calf leathers. Loding has several boutiques in France and abroad

---
Italy
---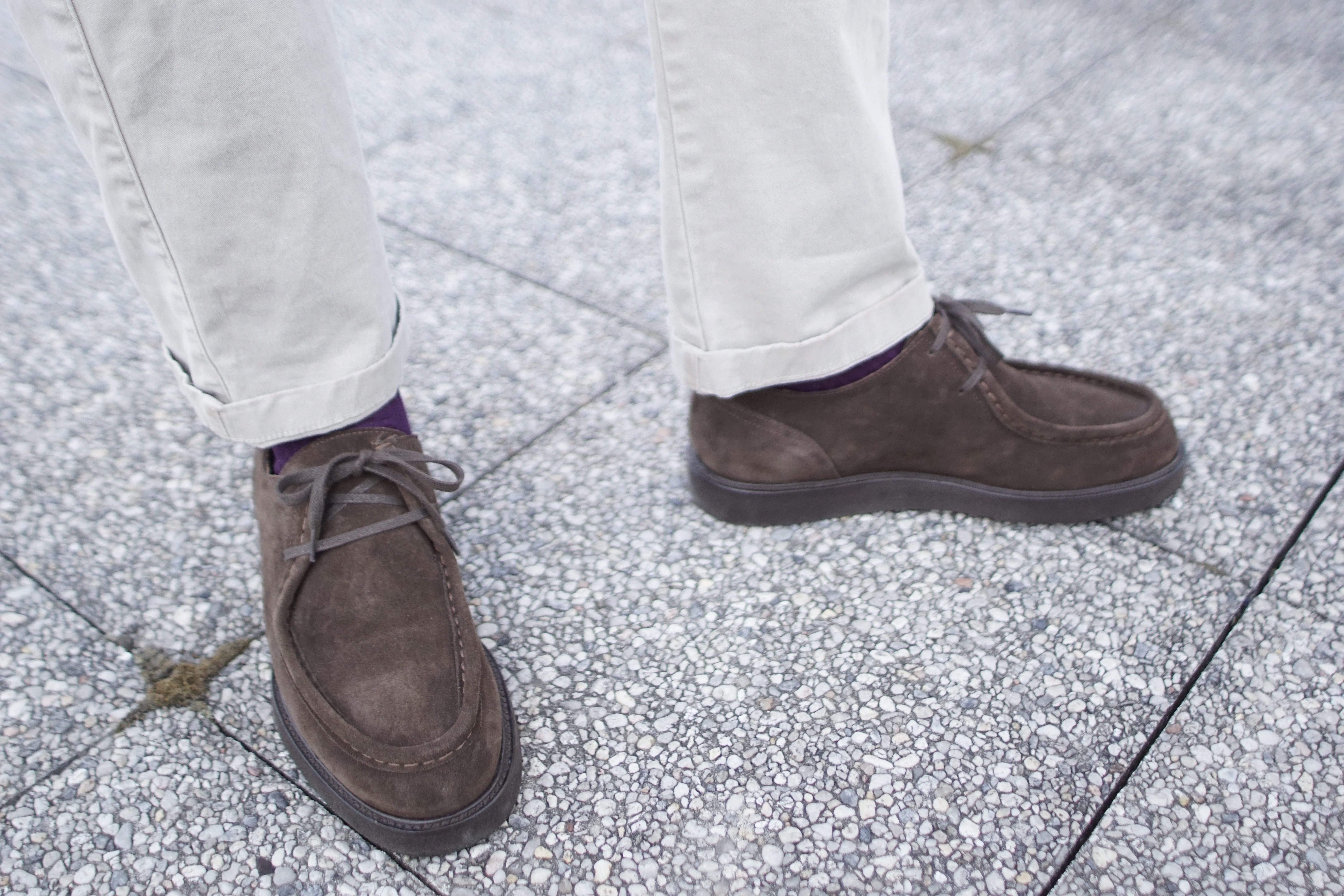 Velasca
Velasca is an Italian footwear brand founded in 2013 by Enrico Casati and Jacopo Sebastio. Inspired by Milan's Velasca Tower, a symbol of innovation and rebirth, the brand collaborates with a small family business located in Italy's Marche region to create quality footwear at a reasonable price. Velasca products are made entirely in Italy, highlighting local craftsmanship and « Made in Italy » excellence. The brand offers a varied range of shoes for men and women, from classic models such as Oxfords, Derbies and moccasins, to more casual models such as sneakers and ankle boots.

---
Great Britain
---
.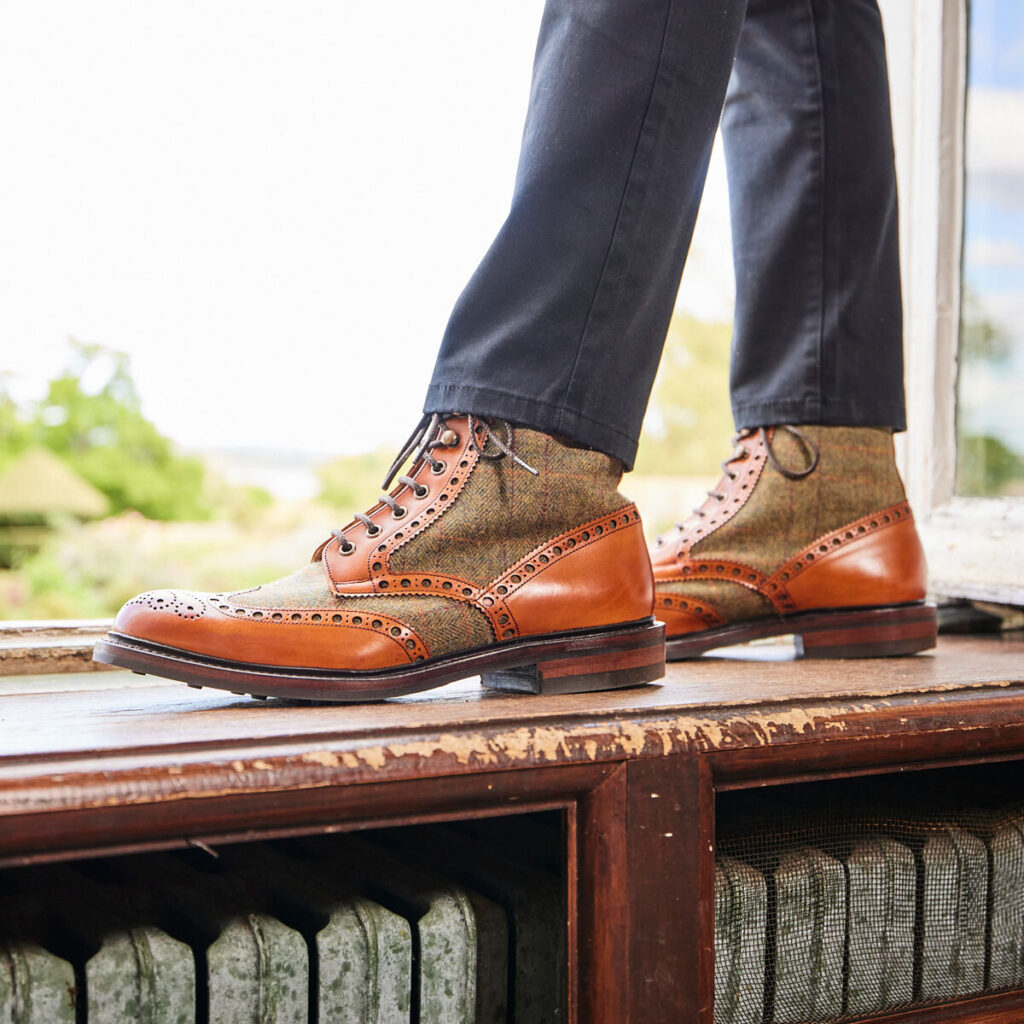 Herring Shoes
Herring Shoes is an English family business founded in 1966 by Richard Herring. They offer top-quality shoes from English manufacturers such as Barker, Church's, Cheaney and Loake. Herring Shoes also has its own brand of shoes, designed by Adrian Herring and made in the finest English shoe factories in Northamptonshire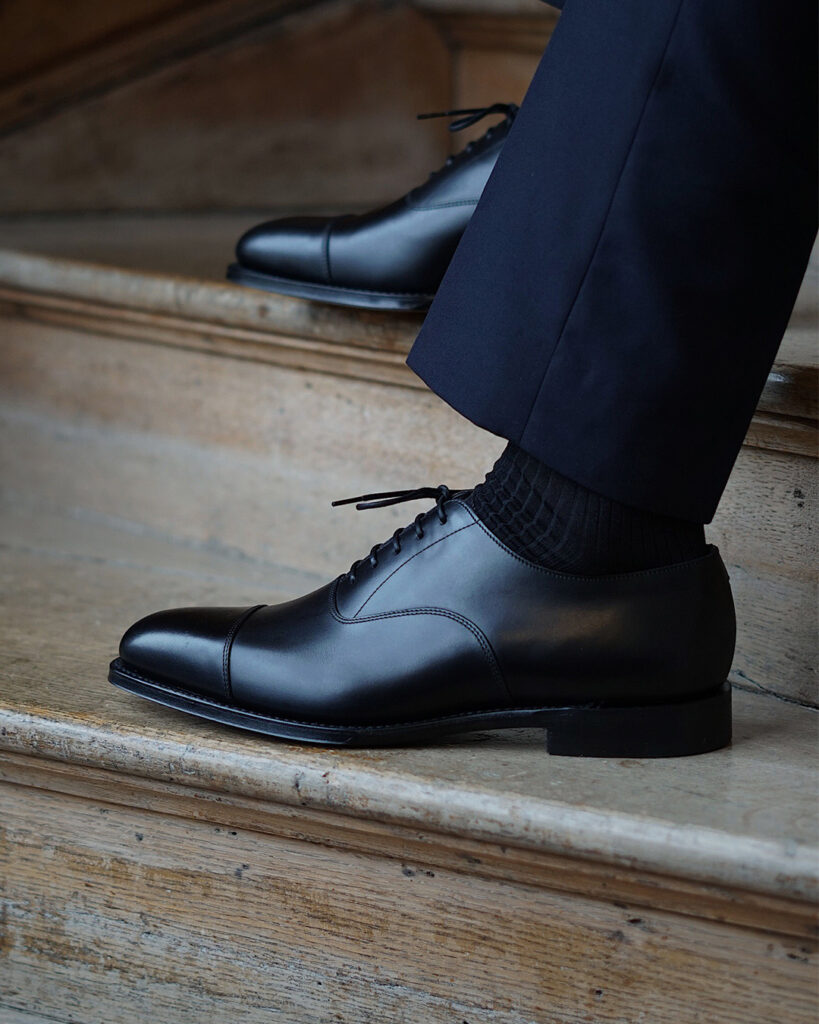 Loake
Since 1880, Loake Shoemakers has been producing high-quality men's shoes from their Wood Street factory in Kettering, Northamptonshire. The brand is still owned and operated by the Loake family

II Mid-range
---
Portugal
---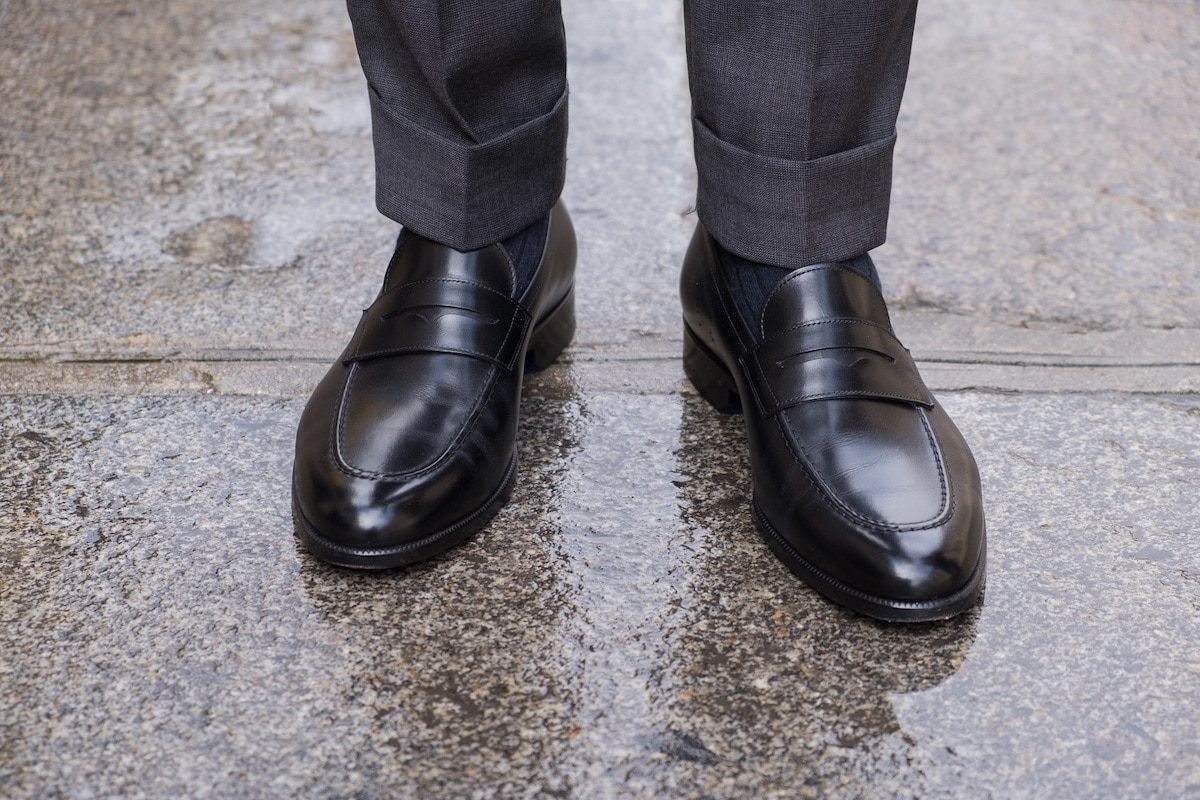 Incorio
In Corio is a footwear brand that stands out for its bold bet: to offer comfortable leather shoes from the very first wear. The brand, which has its shoes made in a Portuguese workshop and uses leathers from the French tannery Du Puy, offers a complete range from richelieus to ankle boots. Comfort is assured by a Blake upper and the addition of an ergonomic latex midsole.
Prices range from €220 for a summer pair to €300 for ankle boots, a competitive price positioning.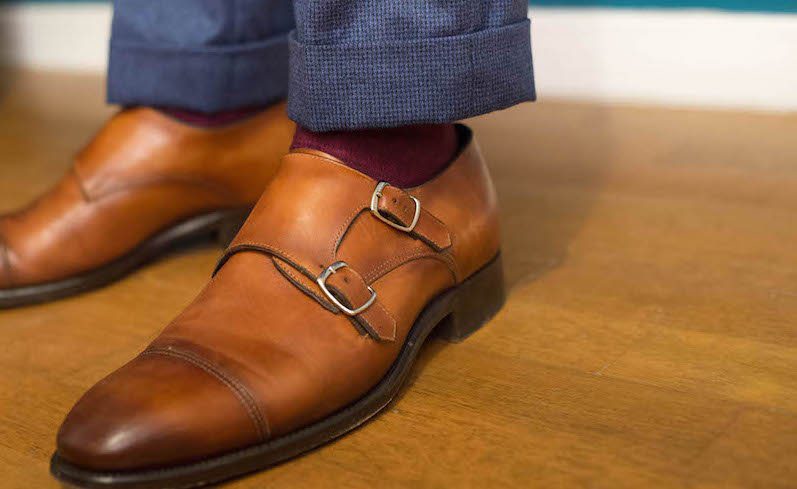 Carlos Santos
The Carlos Santos luxury shoe brand was founded in Portugal in 1942 by Carlos Alberto Rodrigues dos Santos. At just 14, he began working in a shoe factory. Later, he traveled to Italy to learn about production techniques and design. In 1960, he founded his own brand, which bears his name. Today, Carlos Santos Shoes exports its passionately handcrafted shoes from Portugal all over the world. The brand is run by the Santos family and emphasizes craftsmanship, tradition and innovation in the creation of unique shoes.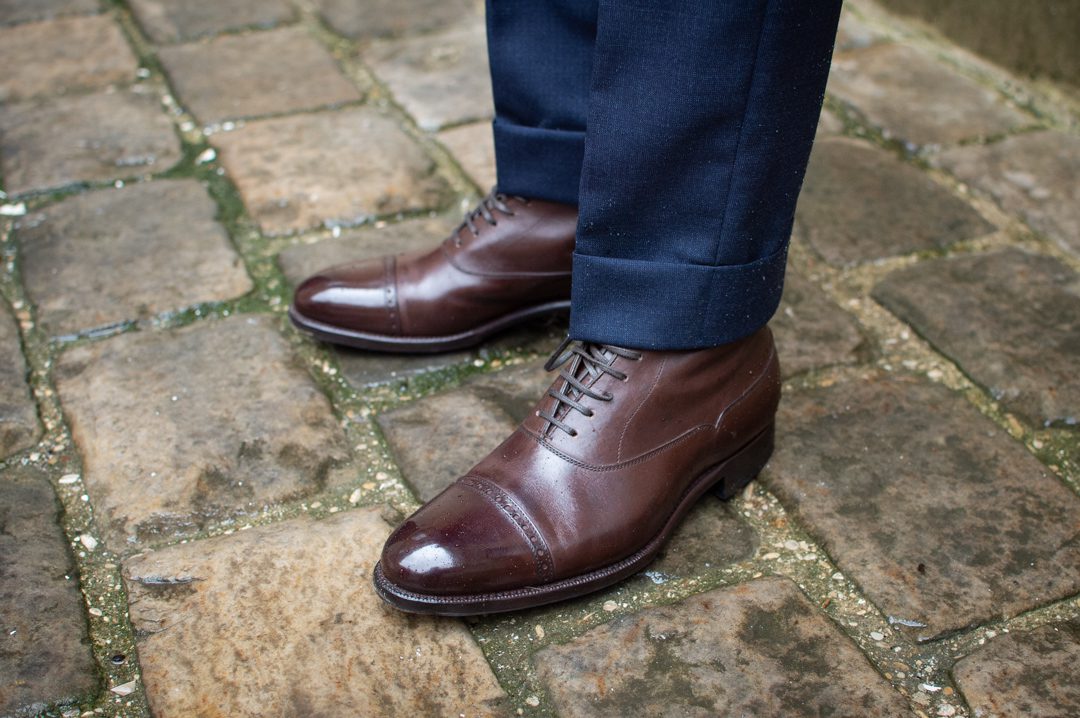 Malfroid
Malfroid is a French shoe brand created in 2018 by Victor Bastié and Thomas de Bascher, two enthusiasts of beautiful shoes. They decided to pay tribute to a forgotten former Parisian bootmaker, Malfroid, by naming their brand after him. With no pretensions to heritage, Malfroid offers shoes made in Portugal from French leathers, in a timeless Anglo-Italian style. Sold exclusively in their Paris boutique, Malfroid shoes offer unbeatable value for money. In just a few years, Malfroid has made a name for itself with its expertise and affordable prices for fine, comfortable shoes, while opening a second boutique on rue Saint-Honoré in 2020.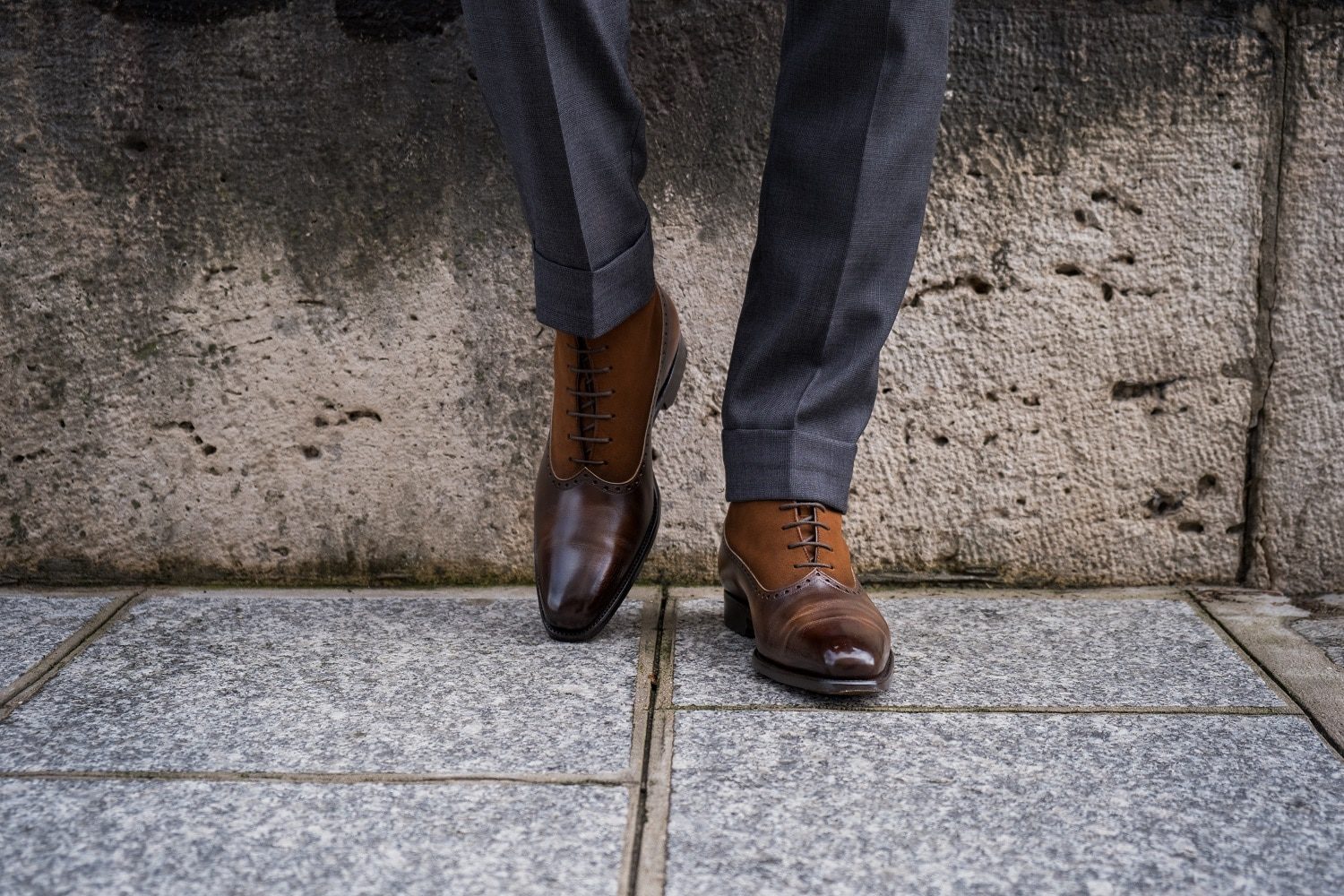 Gustavia
Gustavia Shoes, a Parisian shoe brand, stands out for its strong and assertive stylistic bias. Founded by Samy, a shoe expert with over two decades' experience, the brand offers shoes with sleek, slender shapes inspired by traditional bootmaking. Shoes range in price from €190 to €450, with top-quality materials sourced from renowned tanneries such as Le Puy in France and Stead in England.
Gustavia's models are designed to last a lifetime, with traditional Goodyear assembly and meticulous finishing. The brand also offers on-demand patinas and a competitive shoemaking service. The shoes are made in Portugal to exacting specifications, and each pair is hand-patinated by Samy himself.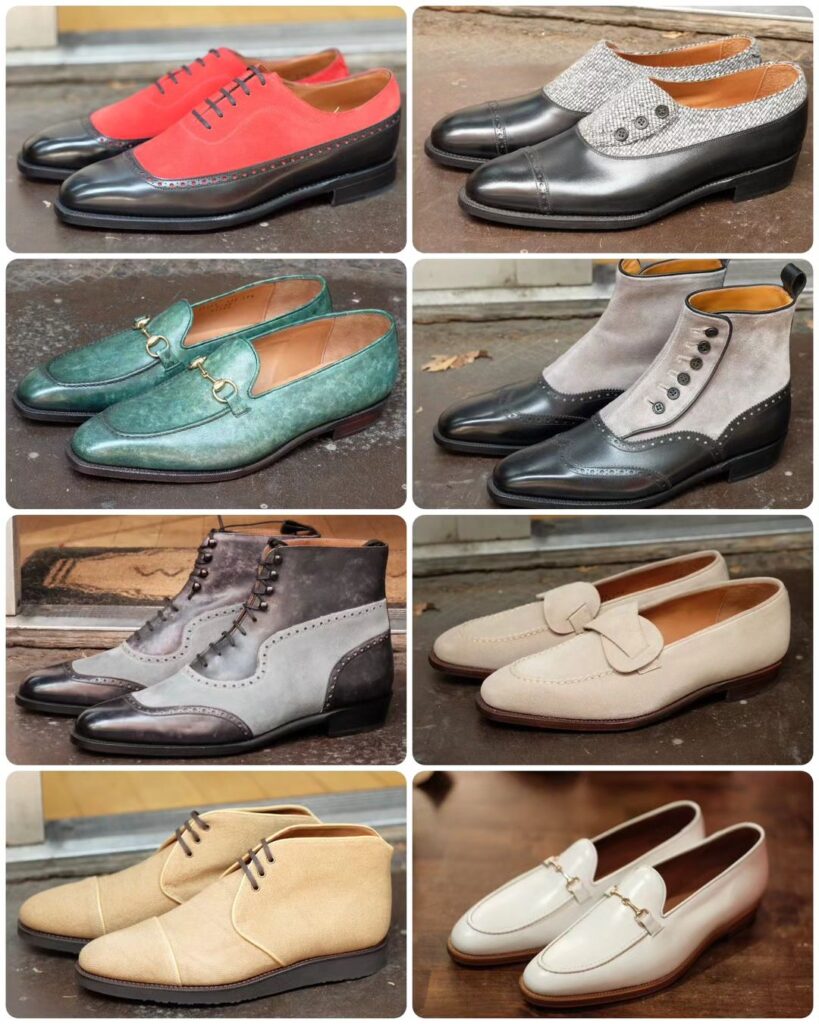 Justin Fitzpatrick Footwear
JFitzpatrick is a men's footwear brand founded in 2013 by Justin Fitzpatrick, a men's shoe enthusiast. Based in New York, the brand offers shoes handcrafted in Spain using the Goodyear-welted method.
JFitzpatrick models are distinguished by their elegant, timeless lines, high-quality Italian leathers and meticulous finishes. The brand offers a wide range of richelieus, moccasins, ankle boots and boots in a revisited classic style. JFitzpatrick targets a demanding male clientele in search of shoes with character.
---
Spain
---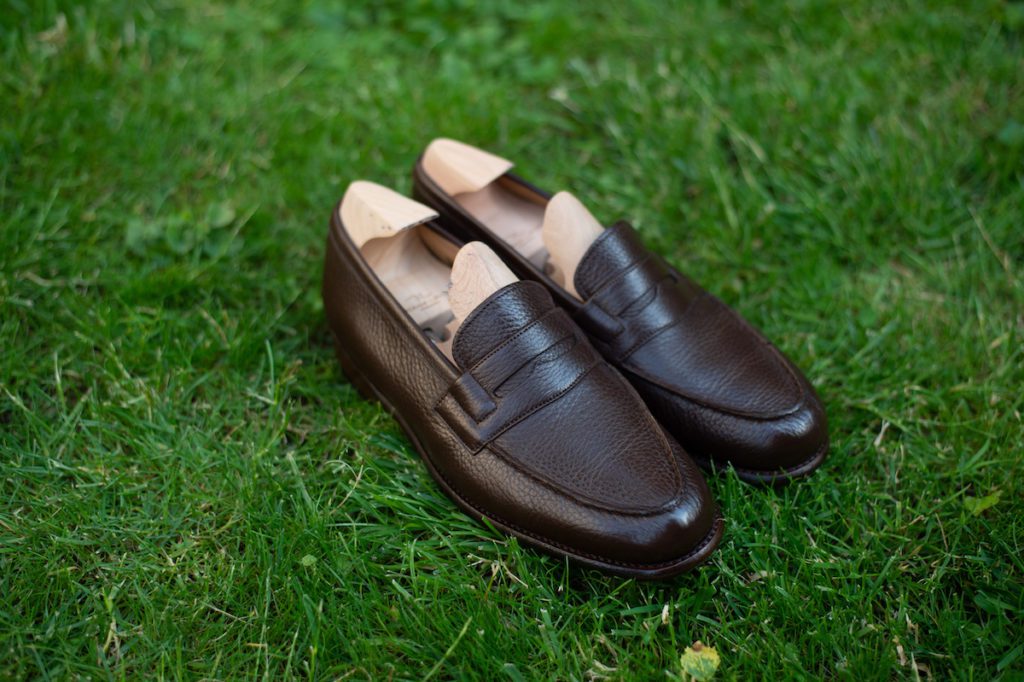 Septième Largeur
Septième Largeur, founded in 2009 by Marcos Fernandez and Mathieu Preiss, is a French men's footwear brand that excels in the art of patina and the use of leathers from leading French tanneries. At the heart of their offer are timeless models, mostly in Goodyear assembly, which are adapted to the demands of the professional world. A made-to-measure patina service is also offered, enabling unique personalization at a competitive price.
The brand stands out for its diversified shapes, designed for different morphologies, and meticulous finishing. Design is based in Paris, while manufacturing is carried out by a long-established Spanish manufacturer. With prices starting at 290€ for standard models and 365€ for customized patinas, Septième Largeur offers exceptional value for money. This positioning makes Septième Largeur an essential reference in the men's luxury shoe sector.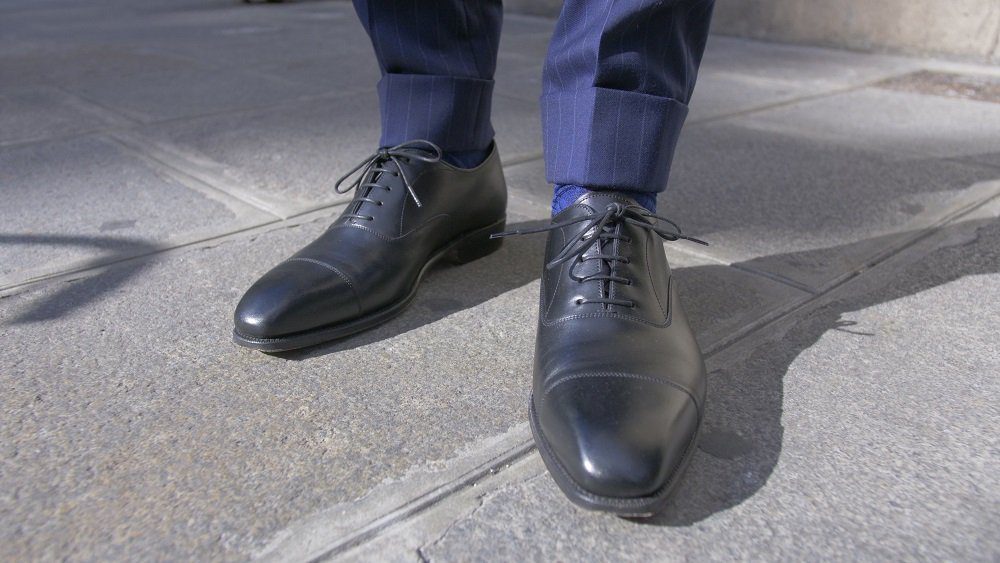 Carmina
Carmina, a Spanish luxury footwear brand, stands out for its commitment to traditional craftsmanship and superior quality. Founded in 1866 in Mallorca, this family-run business has preserved its heritage while adapting to modern requirements. Their range of products, from classic shoes to more contemporary models, is designed to meet the needs of a demanding clientele.
Carmina's main attraction lies in its exceptional value for money. While most luxury shoes can cost a small fortune, Carmina offers a more affordable alternative without compromising quality.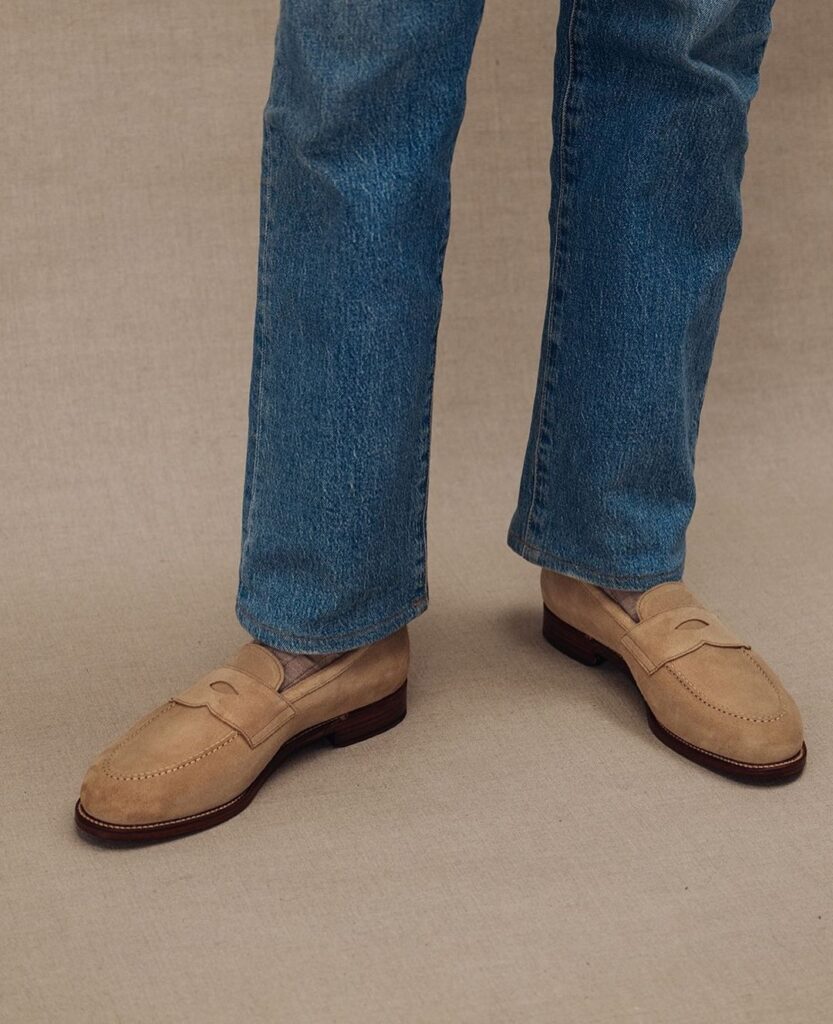 Morjas
Morjas is a Swedish men's footwear brand created in 2017 by Henrik Berg. Inspired by its founder's Spanish-Swedish roots, Morjas seeks to marry Mediterranean and Scandinavian influences in timeless, high-quality shoes.The brand's motto is « Timeless design – modern purchase ». Until recently, Morjas sold exclusively online, enabling it to offer affordable prices on Goodyear shoes handcrafted in Spain.
This direct-to-consumer sales model also enables a personalized customer experience.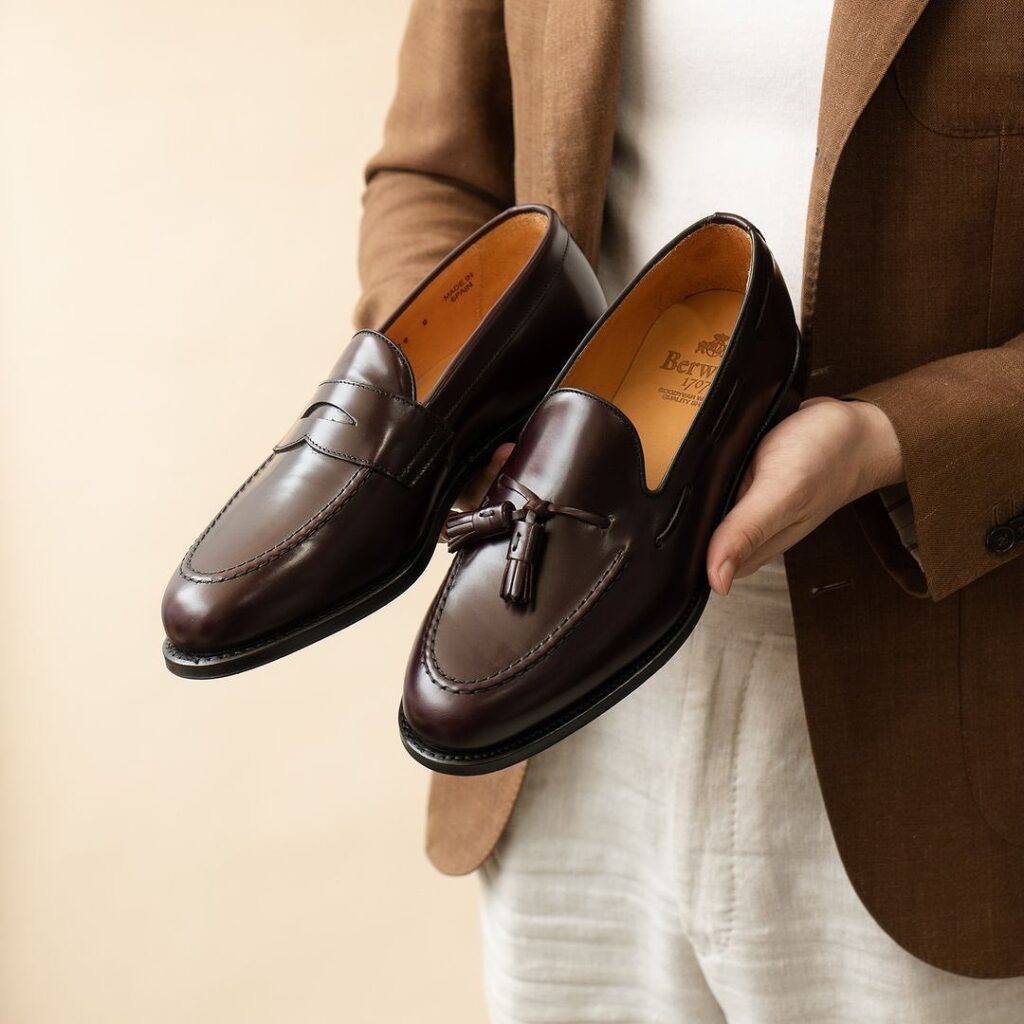 Berwick
Berwick 1707 is a Spanish men's footwear brand founded in 2007. The brand's name refers to the Battle of Berwick in 1707, which was crucial in the development of the War of the Spanish Succession. Berwick shoes are manufactured in Almansa, Spain, using the Goodyear Welt process, which combines technology and artisan expertise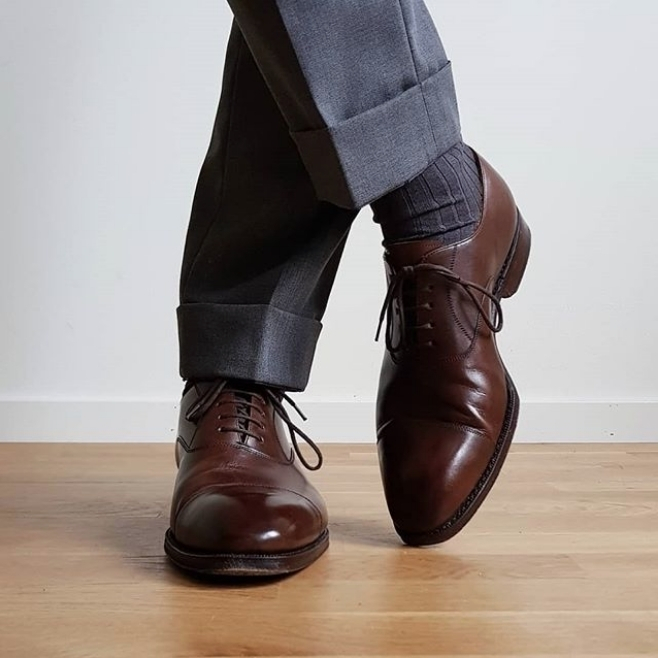 Yanko
Yanko is a Spanish men's shoe brand, founded in 1961 by José Albaladejo. The brand is known for its quality footwear at affordable prices. Yanko exports 80% of its production and is mainly sold online via the Skolyx platform
---
Italy
---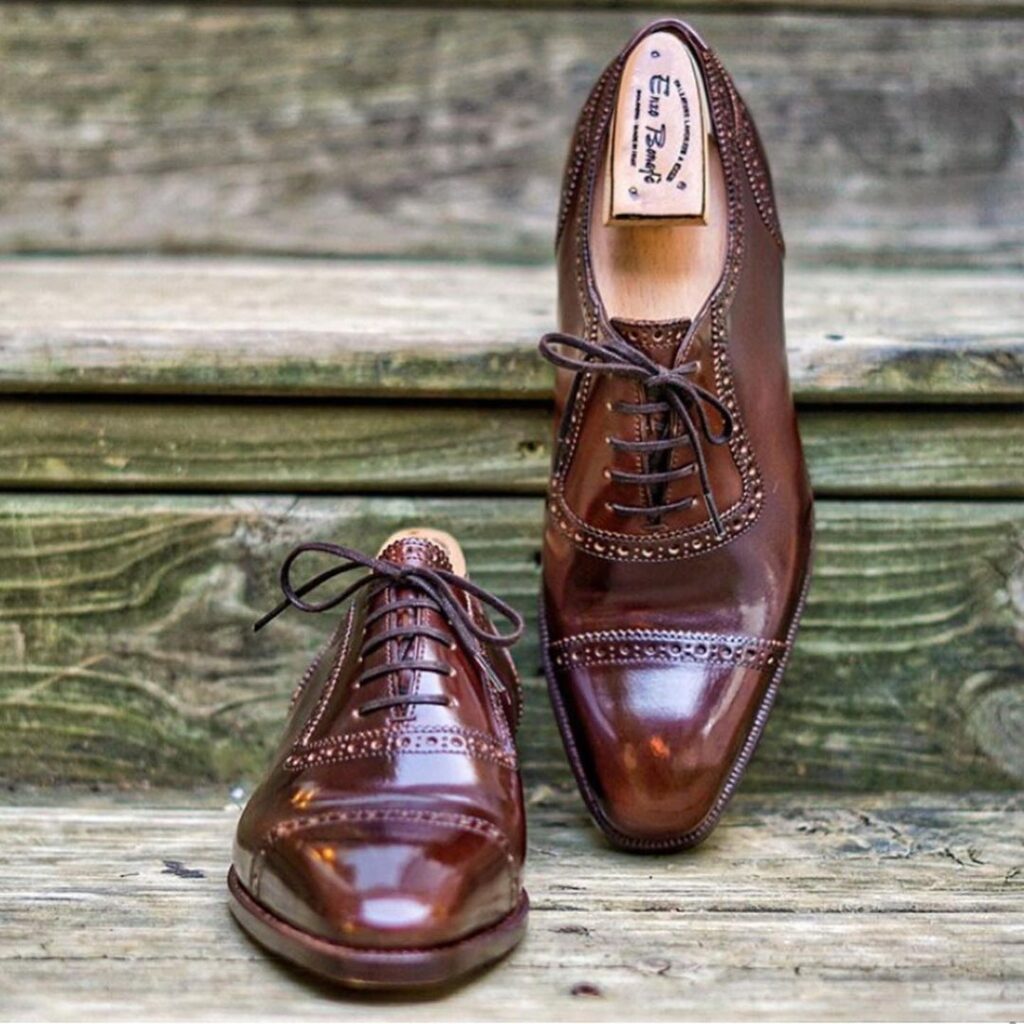 Enzo Bonafé
It was during the Second World War that Enzo Bonafé, then a child, and his family had to flee bombed-out Bologna: considerably impoverished, his family could no longer afford shoes, and it was particularly difficult to go barefoot in the mountains where they had taken refuge. He just had to make the most beautiful and comfortable shoes he could.
Enzo Bonafé is another Italian bootmaker particularly good at Norwegian stitching, and of course also offers welt stitching. He also stands out for his Cordovan models (rather rare for an Italian bootmaker) and for his GMTO program.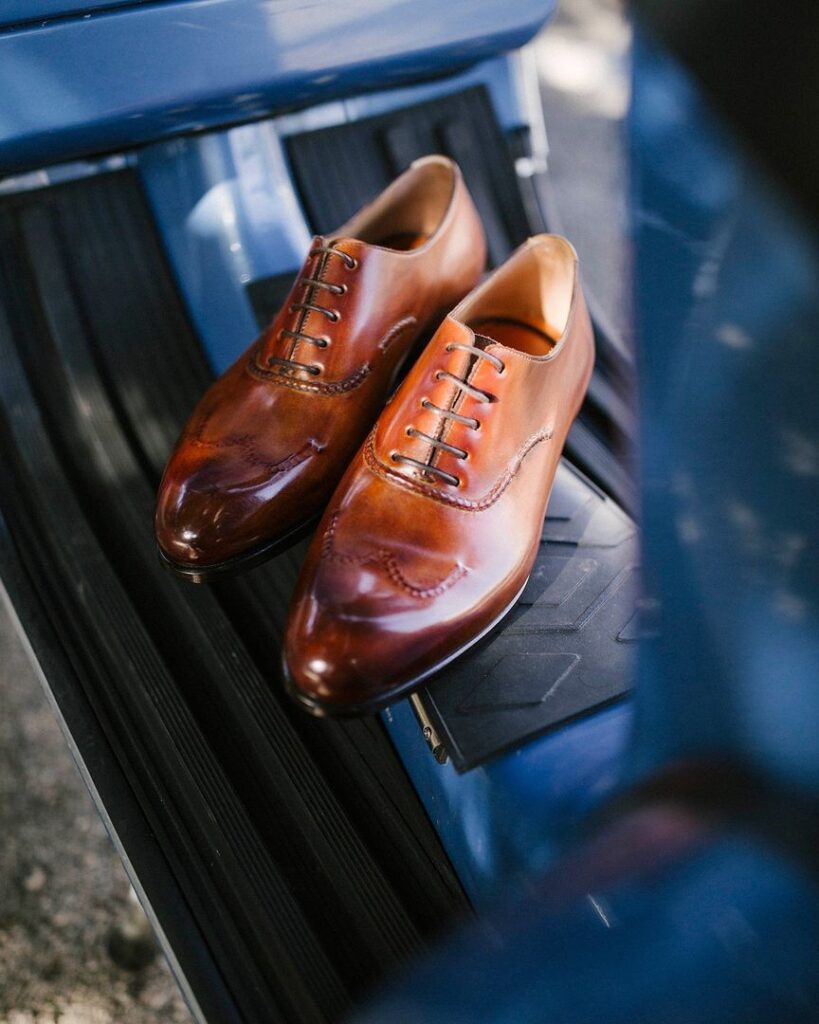 Arbiter Milano

Arbiter is an Italian luxury footwear brand with over sixty years' experience. Founded by Alfonso Marciano, the company is an example of entrepreneurial success, combining traditional craftsmanship with innovation. The name « Arbiter » is inspired by Titus Petronius Arbiter, a figure of the Roman Empire known for his aesthetic taste. The brand stands out for its attention to detail, from the selection of raw materials to rigorously Italian manufacturing. The collections combine classic-contemporary design with exceptional quality, targeting a demanding clientele in search of exclusivity and class.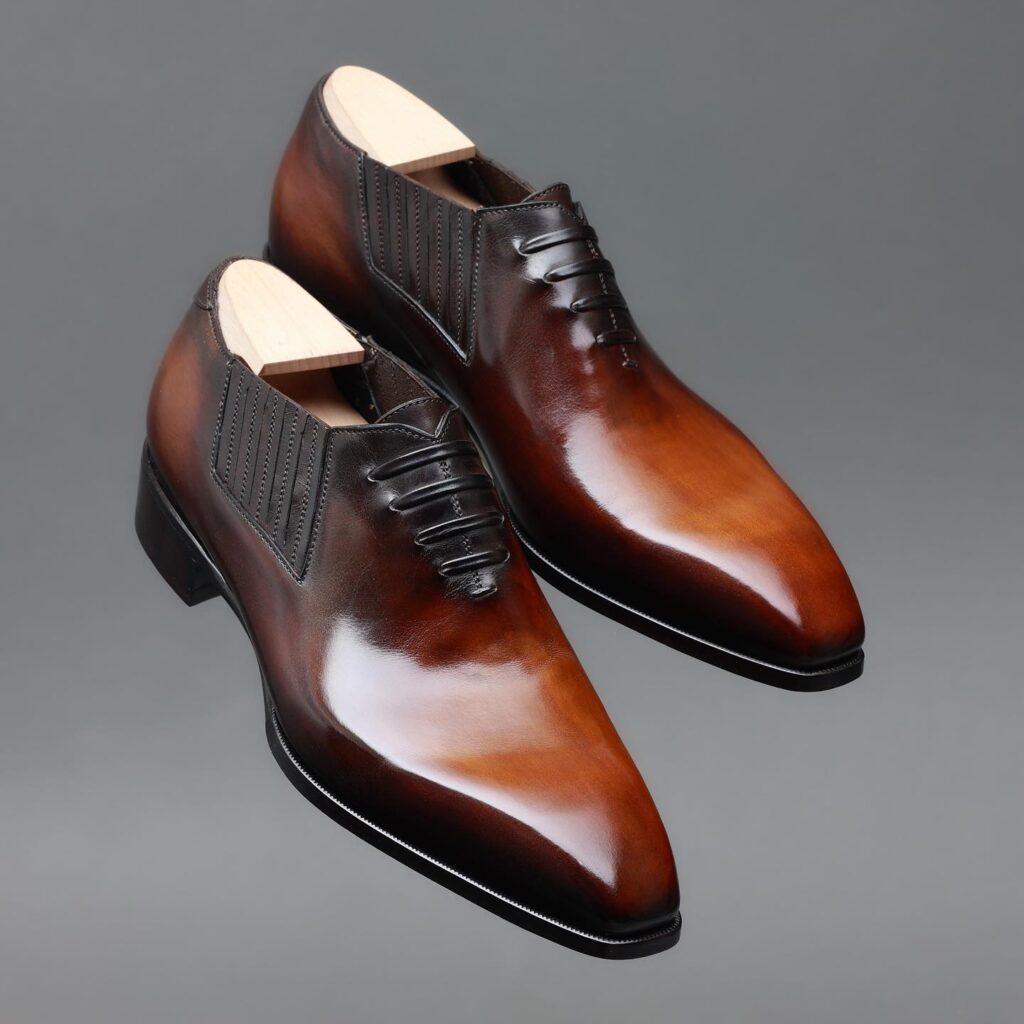 Altan Bottier
Founded in 1973 in Paris by Sukru Sensozlu, this brand specializes in the manufacture of made-to-measure and ready-to-wear shoes. Altan Bottier is also known for its collaborations with the film industry, museums and the Comédie-Française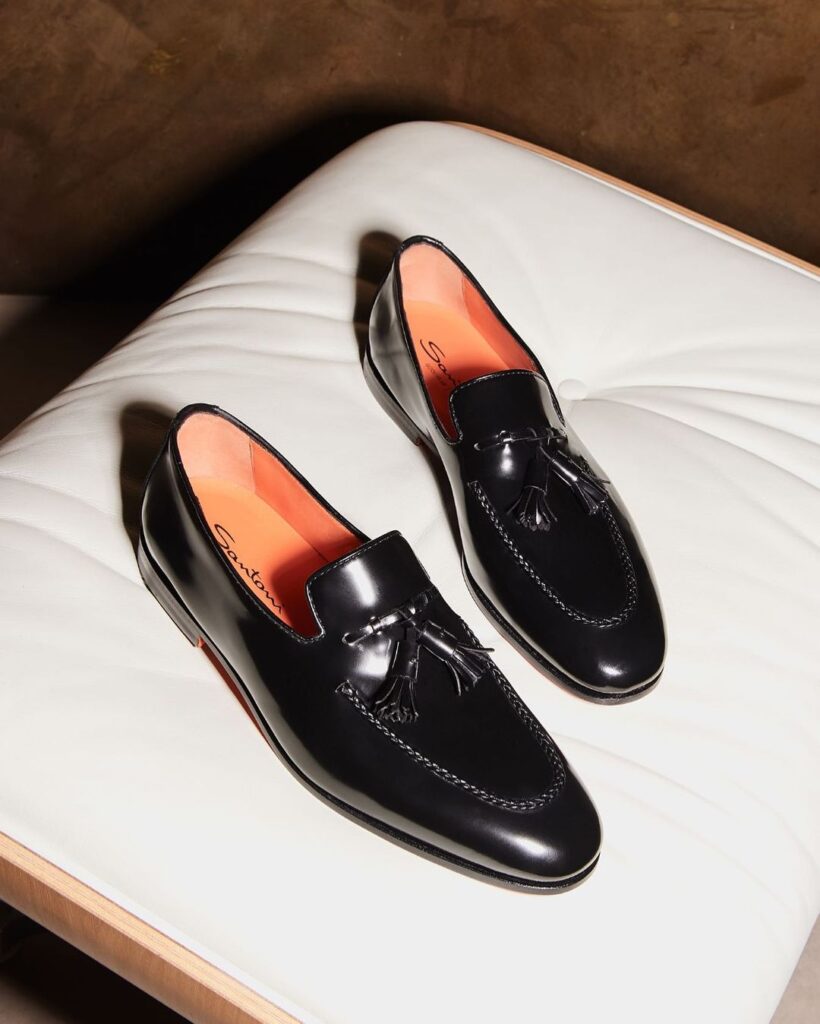 Santoni
Founded in 1975, Santoni seems relatively young compared to other brands.
Yet it is scrupulously steeped in footwear tradition. Andrea Santoni began by working in leather, before taking an interest in sewing and tailoring: in the end, it was her mastery of craftsmanship that led her to set up her own brand.
With over 1,000 pairs produced every day, Santoni happily pushes the limits of mass production, and even transforms it into mass craftsmanship.
His method? Hire only experienced shoemakers, especially when it comes to handmade products. It's this method that has enabled him to grow from a self-managed company to a multinational with over 400 employees. Santoni is a brand that's a little complicated to get to grips with because of its many lines, so here's a brief summary:
-Signature/Select: shoes made almost entirely by hand, with quality close to that of Kiton and Lattanzi.
-Santoni « Fatte a Mano »: with a price tag of around $800/1200, lots of handmade, Goodyear soles. Made from full-grain lambskin leather.
-Santoni « Fatte A Man »: a slightly less expensive line, with a Blake sole, respectable quality uppers but a more fashionable design, and therefore less timeless (less suitable for formal shoes).
-Santoni « Goodyear »: Santoni's standard range.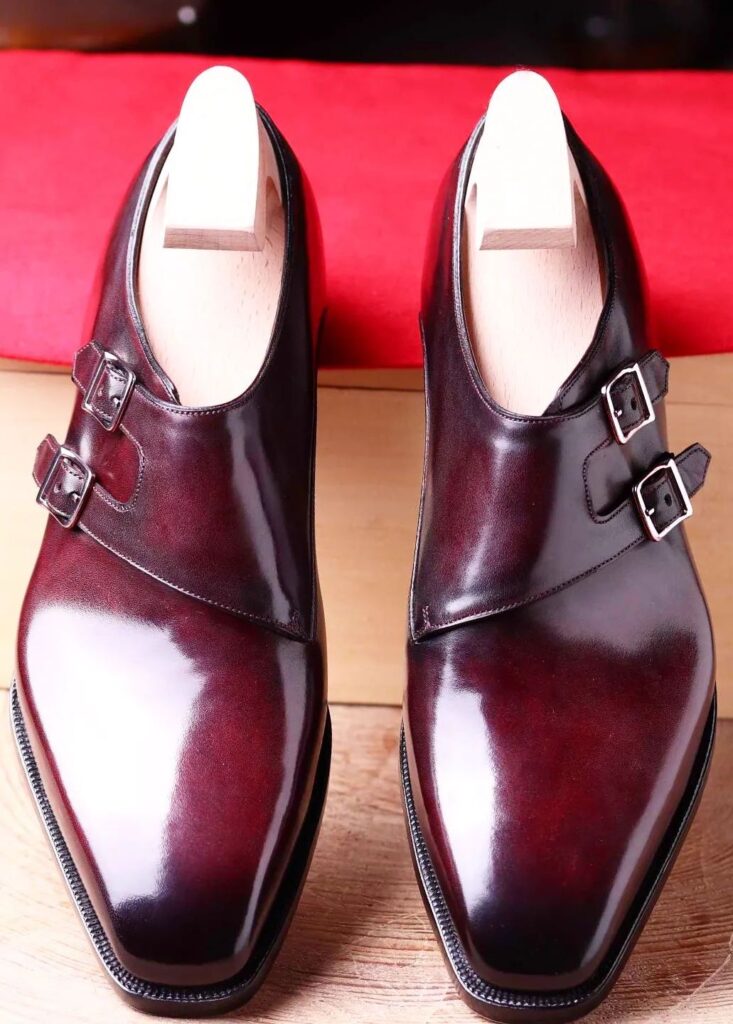 Meccariello
Antonio Meccariello, founded in 2012 by artisan Antonio Meccariello, is an Italian men's footwear brand that embodies the excellence of Neapolitan craftsmanship. Before launching his own brand, Antonio collaborated with renowned houses such as Rubinacci and Kiton. However, he chose to focus on his workshop in Naples, where each pair of shoes is handcrafted using traditional techniques.
The brand uses exclusively high-quality materials, including French and Italian calf leathers from renowned tanneries such as Annonay and Du Puy in France, Freudenberg in Germany and Ilcea in Italy. Meccariello also offers exotic leather options, such as crocodile, lizard and shark.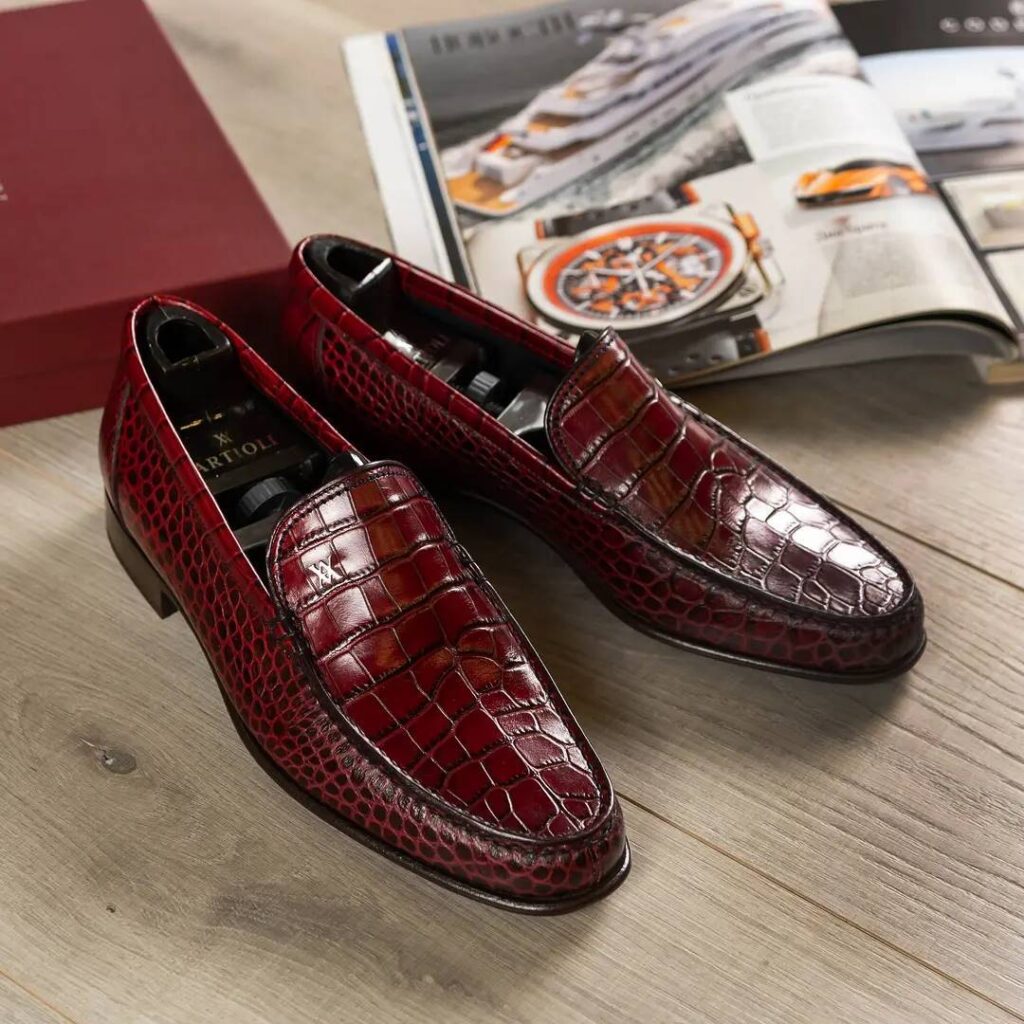 Artioli
Artioli was founded in Ferrara in 1912 by Severino Artioli. Specializing in the artisan manufacture of high-end shoes, the Italian brand has been handed down from father to son for four generations. Artioli shoes are distinguished by their precious leathers, timeless lines and comfortable fit. The house offers classic models such as richelieus, moccasins and booties, with minimalist finishes. Artioli creations embody Italian elegance and the excellence of Transalpine craftsmanship. The brand caters to a discerning male clientele in search of traditionally styled, made-to-measure shoes.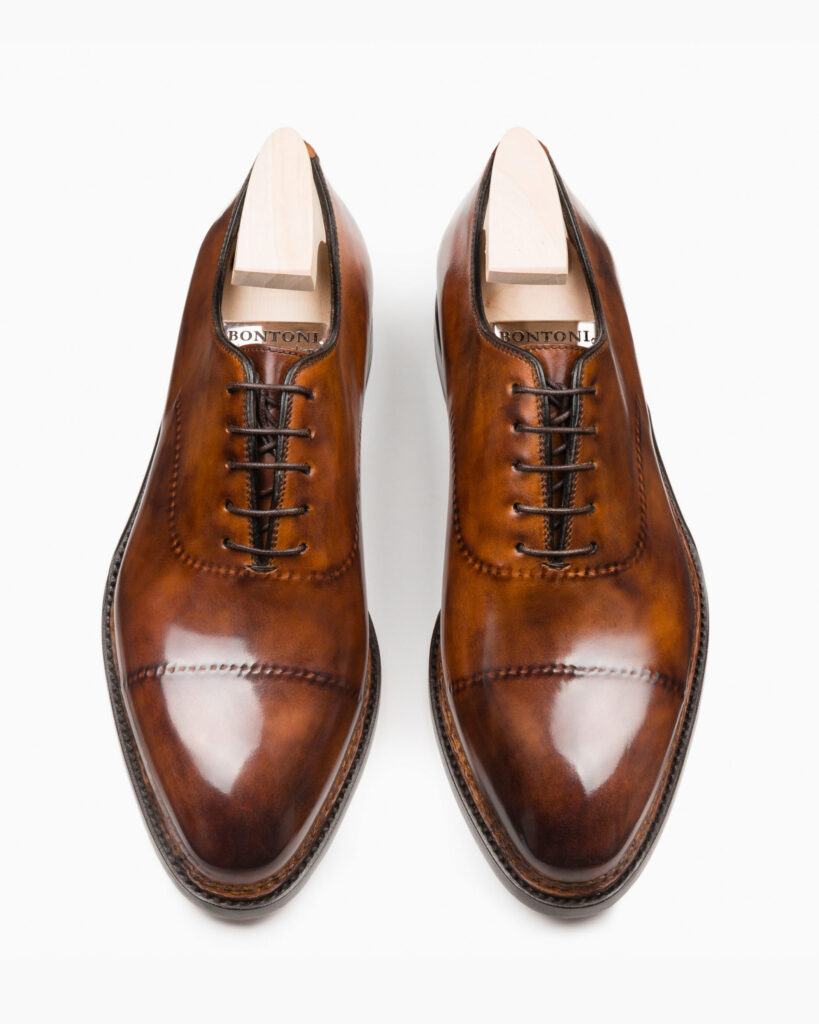 Bontoni
Bontoni, an Italian luxury footwear brand founded in 2005, stands out for its dedication to traditional craftsmanship and its unique approach to patina. The coloring process, which can take up to two weeks, starts with white leather and uses successive layers of waxes and creams. This technique gives each pair a unique, rich nuance. The brand is also renowned for its expertise in Norwegian stitching

---
France
---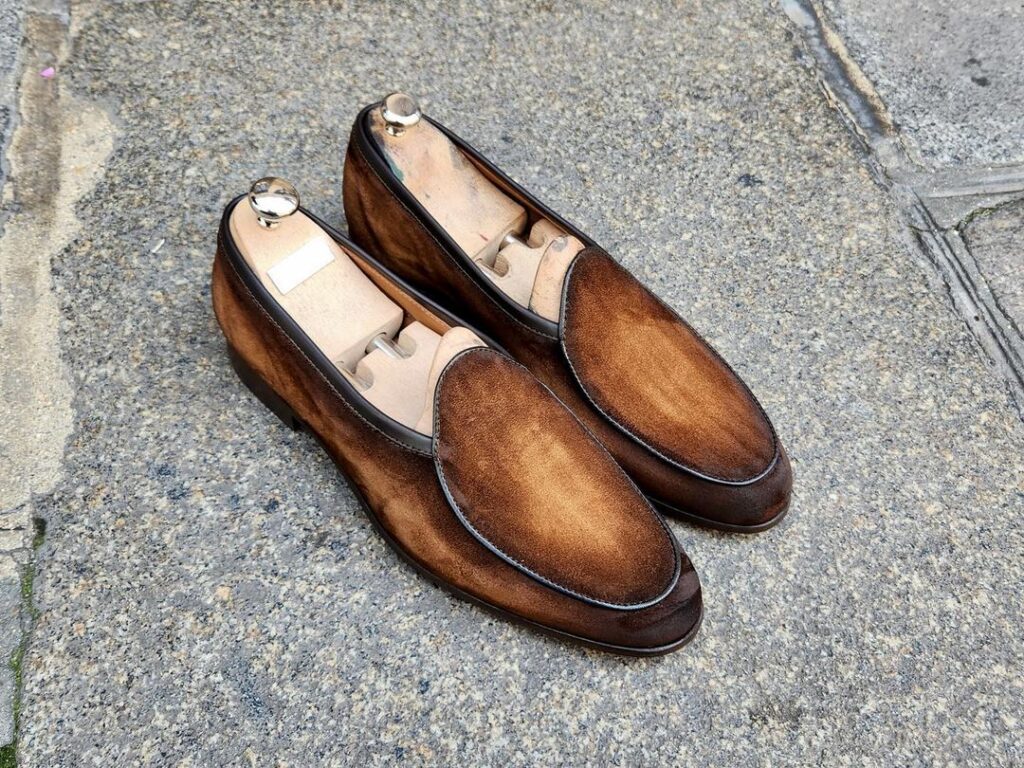 Caulaincourt
Founded in 2008 by Alexis Lafont, Caulaincourt is a French luxury footwear brand produced in Cholet at Malinge. It stands out for the finesse of its pairs and the excellence of its patinas.
Construction favors Blake stitching, and for summer moccasins, Bolognese stitching, with a few exceptions in Goodyear. Caulaincourt's style is similar to that of Altan and Gustavia, characterized by assertive colors and a beautiful patina. The brand specifically targets fine feet and those looking for bold designs in terms of shape and patina. Not an option for those looking for more conservative styles.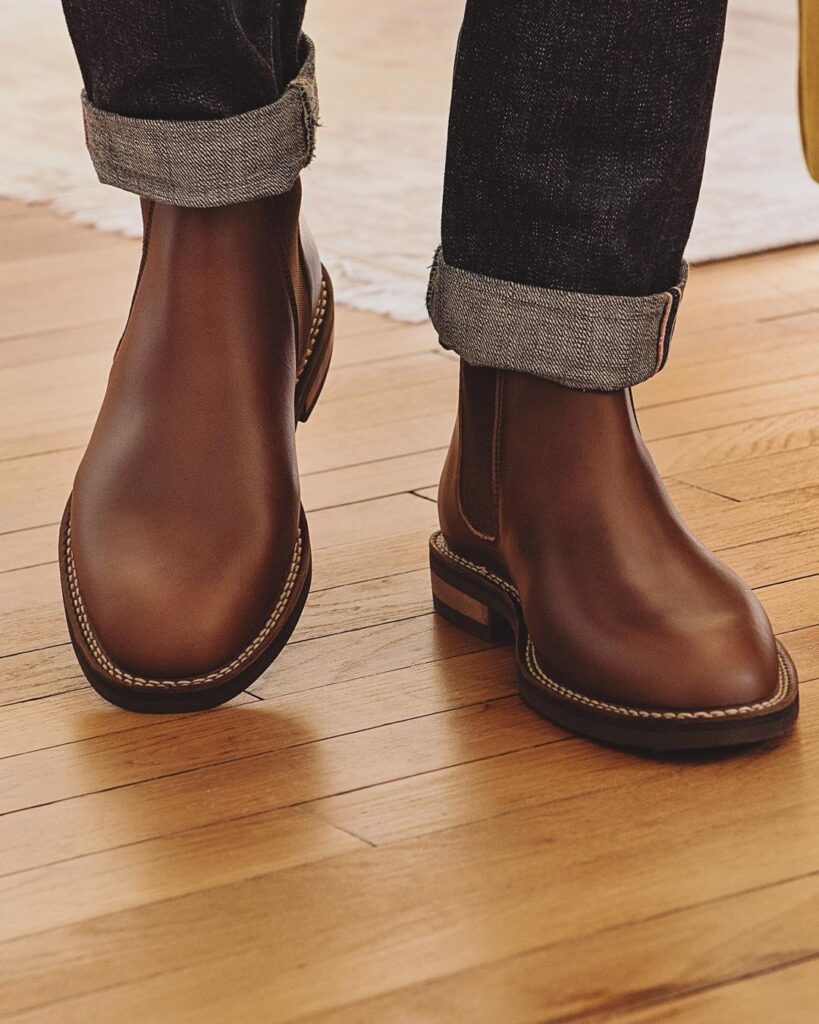 Jacques&Démeter
Jacques & Déméter is a French brand of high-end men's shoes, founded in 2011 by Maxime Van Rothem and Valentine Rousseau. Their aim is to design and manufacture shoes that are 100% made in France, in a workshop located in Romans-sur-Isère. They use noble materials such as full-grain leather and traditional fittings. Their timeless, sleek designs are produced in small, numbered runs.
12 years later, the brand specializes in workwear shoes in the finest leathers, made in France at Joseph Malinge.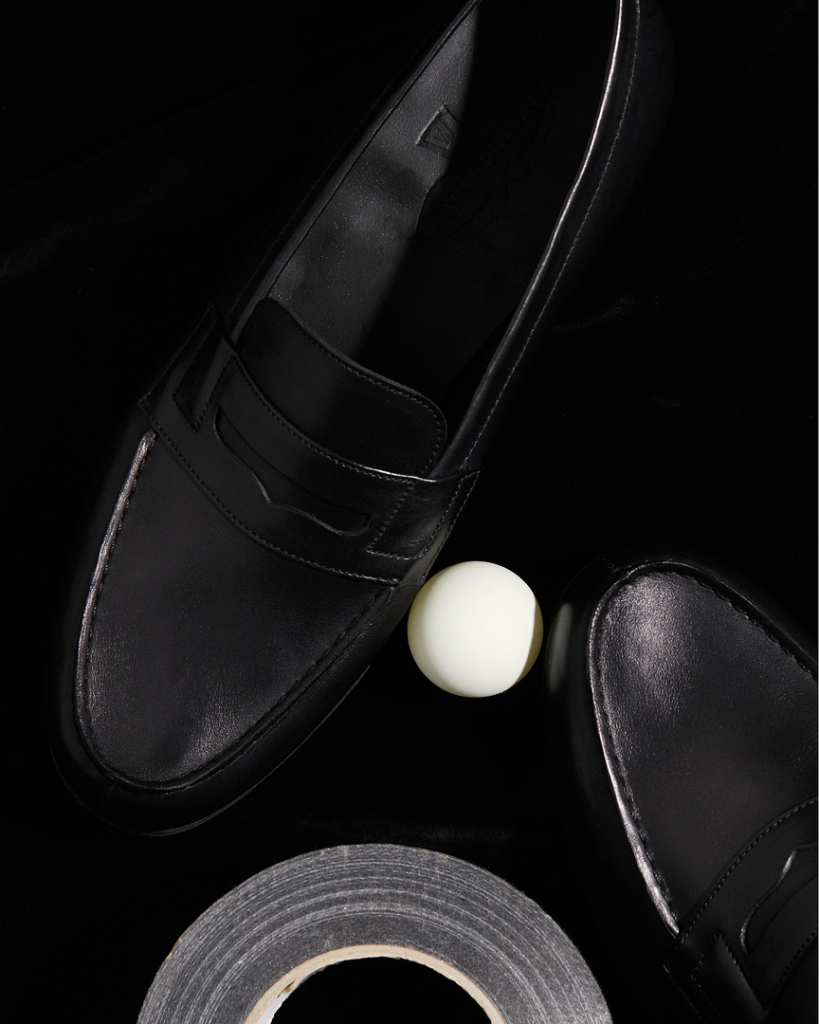 Weston
Founded in 1891 in Limoges by Édouard Blanchard, J.M. Weston is a French luxury footwear brand, renowned for its craftsmanship and use of high-quality leathers. The brand's emblematic models include the 180 moccasin, the chasse, the demi-chasse and the golf. J.M. Weston also stands out for the diversity of its shapes, offering several widths for each model. The brand has its own tannery, Bastin et fils, which supplies the soles of its shoes. Today, J.M. Weston is a benchmark of French elegance.
---
Great Britain
---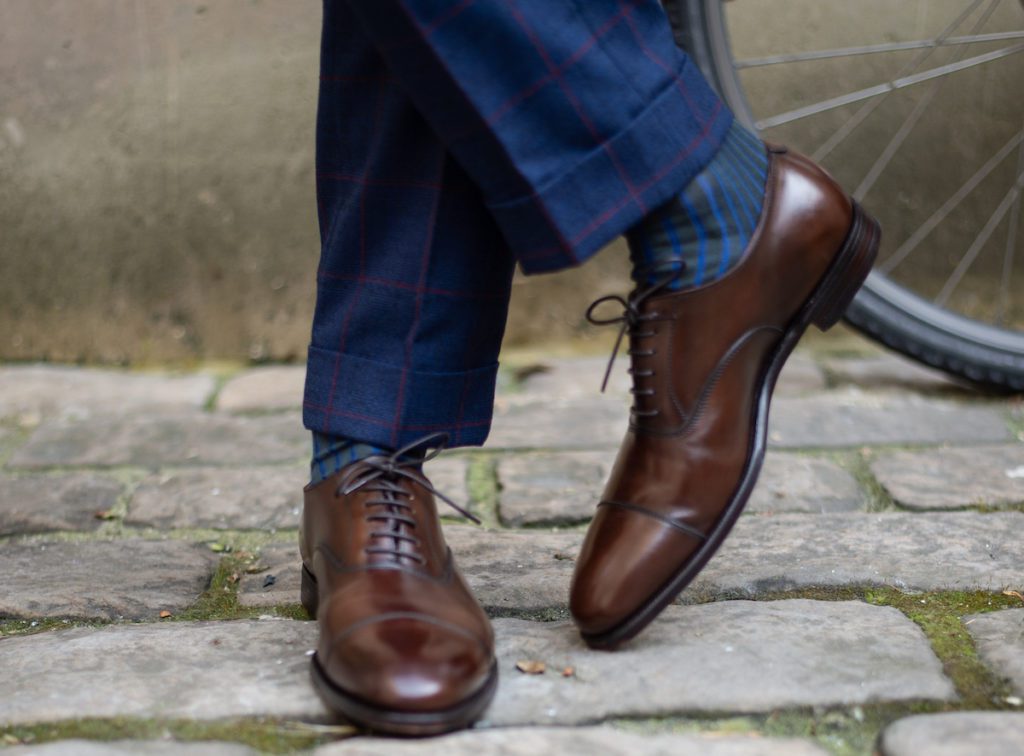 Crockett&Jones
The story of Crockett & Jones is an epic of British craftsmanship, rooted in tradition and excellence. Founded 140 years ago in Northampton, this shoe house is now run by the fifth generation of the founding family, James Crockett and Charles Jones. Their workshop, one of the last in Northampton, is a shrine to traditional shoe-making.
Crockett & Jones' reputation has been forged over the decades. By 1900, the brand had gone international, and its reputation exploded after receiving the Diploma of Honor for Design at the Turin International Salon in 1911. Their expertise was even called upon for expeditions to Antarctica and during world conflicts. In 2017, the brand was awarded the Royal Warrant, becoming an official supplier to the British Crown.
The Crockett & Jones offer is vast, adapted to various registers and morphologies. Their « Hand Grade » collection represents the pinnacle of their expertise, with shoes featuring asymmetrical lasts and top-quality leathers. The brand has also collaborated with the film industry, its shoes having been featured in films such as James Bond and Kingsman.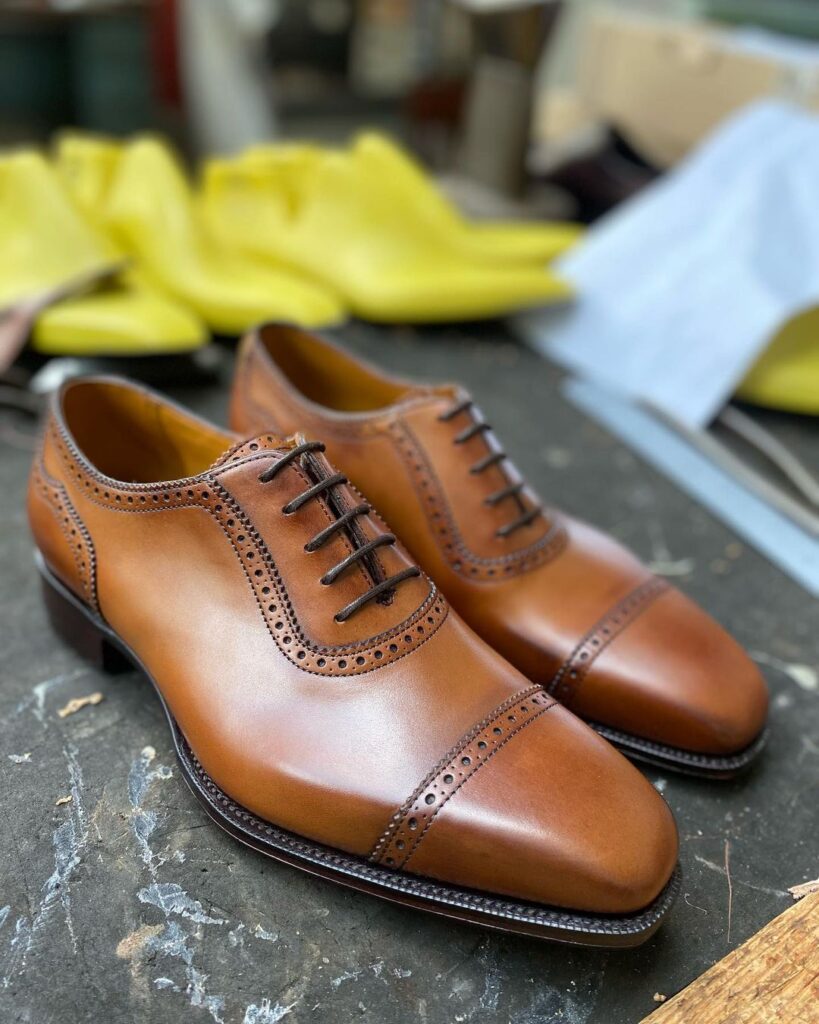 Paul Sargent
English shoe brand Alfred Sargent was founded in 1899 by Alfred Sargent and his sons in Rushden. After 4 generations at the helm, the brand went into liquidation in 2021. Paul Sargent, great-grandson of the founder, then created the Paul Sargent brand on the same premises to continue the family tradition of high-end shoe manufacturing. The new brand offers classic English designs in high-quality leather. Paul Sargent hopes to revive the century-old heritage of Sargent shoes.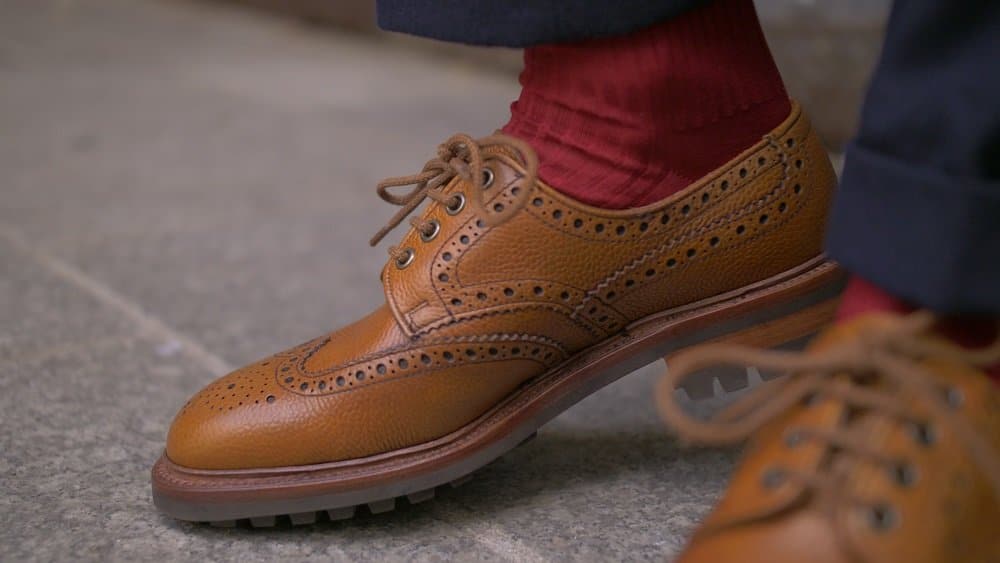 Bowen
Bowen, a French footwear brand, was founded in the 80s and made the bold choice to root itself in the English boot-making tradition in Northamptonshire. Going against the grain of trends dominated by Italian lasts, Bowen has opted for robust shoes with rounded shapes, made in Goodyear assembly.
Master bootmaker Michel Delaunay joined the brand in 1991, injecting a touch of innovation with models such as the « one cut » derbies. In 2014, Bowen consolidated its British roots by acquiring Alfred Sargent, a renowned English shoemaker. Today, the brand offers a formal range produced in Northampton and a casual range produced in Tuscany. Their perforated derby embodies the « gentleman farmer » style, with careful details such as wide eyelets and a sturdy gum sole. Bowen stands out for its commitment to quality and tradition, offering shoes that are both solid and elegant.
Not tested
46 rue de Provence
Metro Notre-Dame-de-Lorette
https://ardentesclipei.com/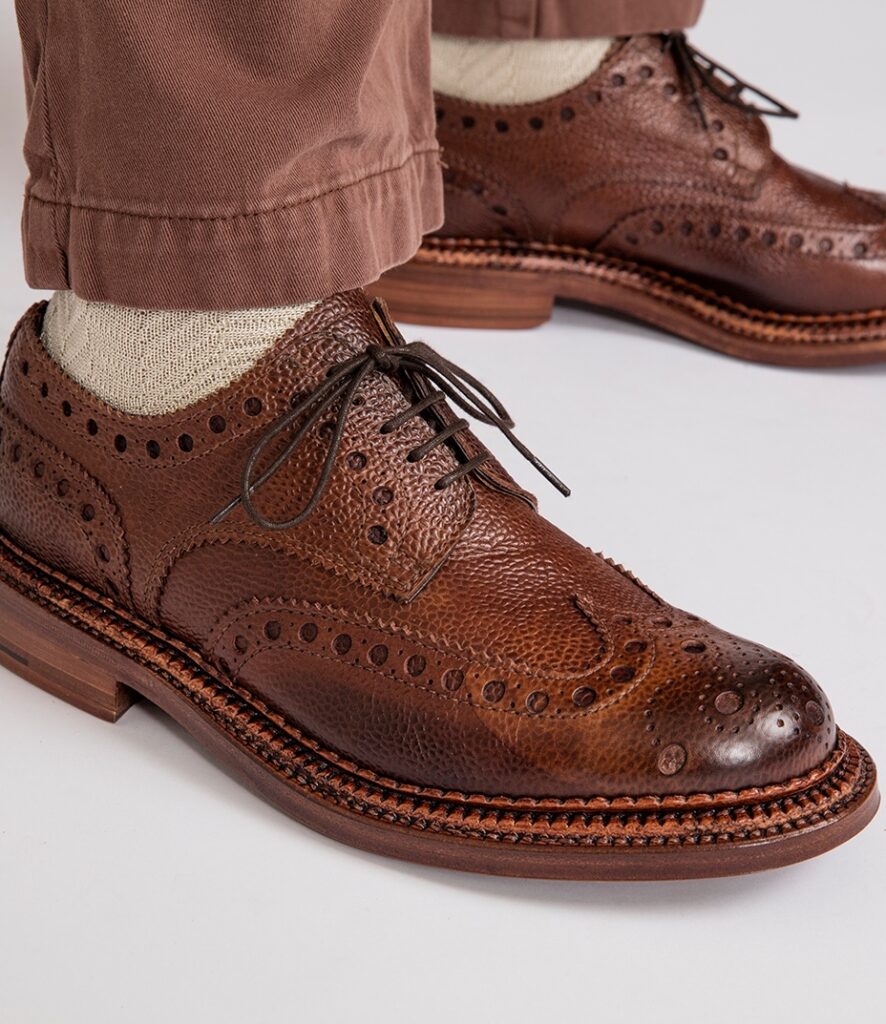 Grenson
Grenson was founded in 1866 in Rushden, England, by William Green as William Green & Son. It later changed its name to Grenson and became one of the first footwear brands registered in the UK in 1913. Grenson became known for its work boots and shoes, supplying the British Army during the First and Second World Wars. Throughout its 155-year history, Grenson has maintained its heritage of manufacturing quality footwear while innovating and adapting to new styles and trends. In recent years under new management, Grenson has undergone a renaissance with a focus on handcrafted artisanal shoes and contemporary designs. Grenson continues its tradition of English shoe-making at its Northamptonshire factory, using Goodyear welted construction and premium leathers.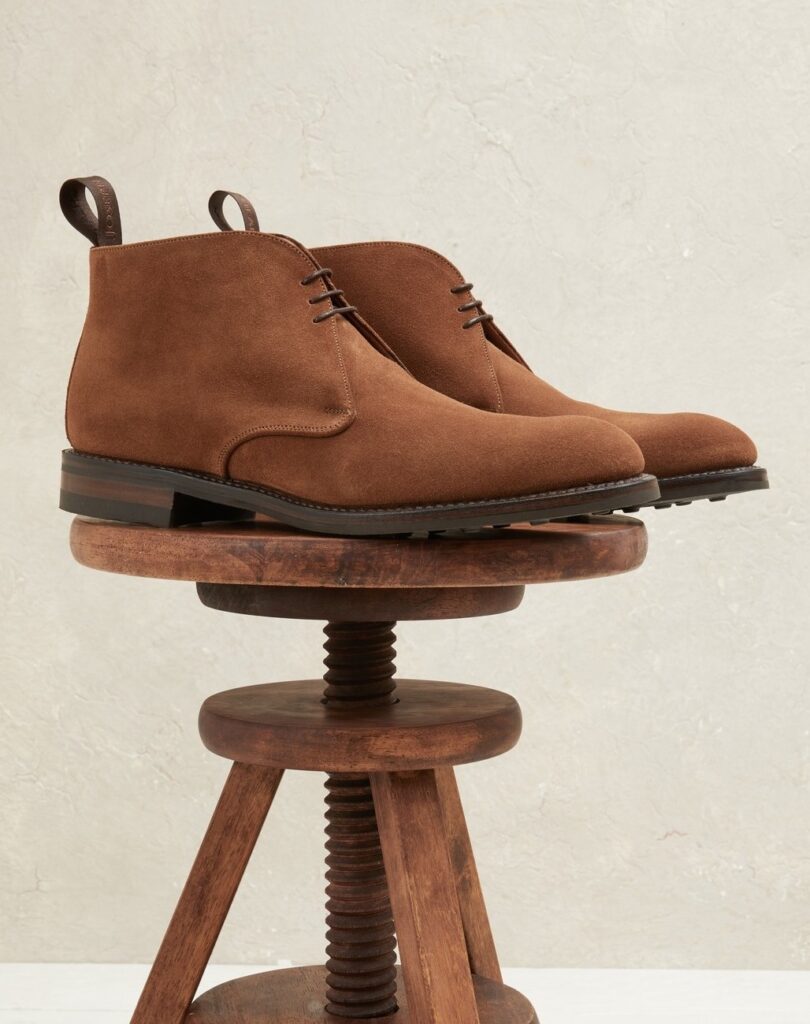 Cheaney
Cheaney was founded in 1886 in Desborough, England, by Joseph Cheaney. The brand specialized in the manufacture of quality footwear, including boots for the British army in both World Wars. Cheaney maintains its heritage of manufacturing quality English footwear in its Northamptonshire factory, using Goodyear welted construction and premium leathers. Since 2009, under new management, Cheaney has focused on handcrafted artisan shoes and contemporary designs while preserving its tradition and reputation for manufacturing excellence. Cheaney continues to produce shoes made entirely in England.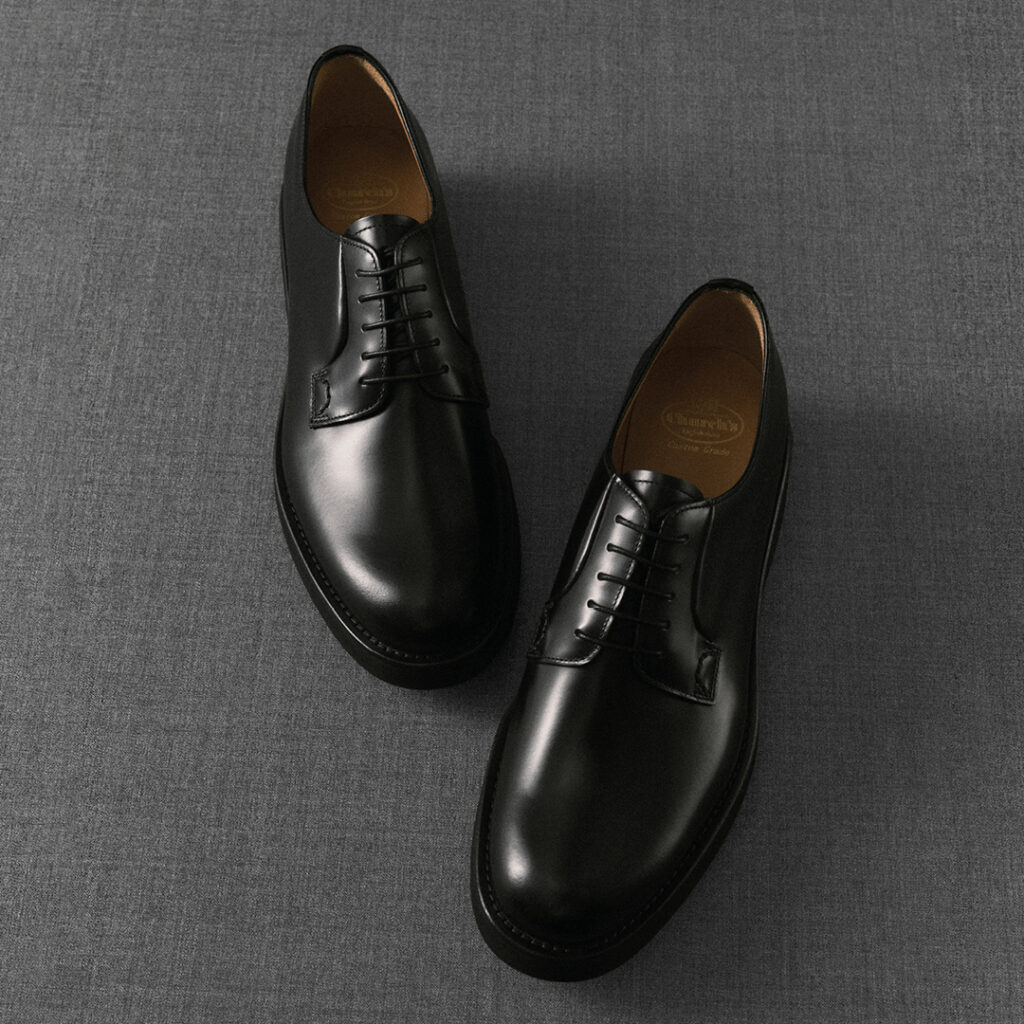 Church's
Church's is a premium English footwear brand, founded in 1873 in Northampton by Thomas Church and his sons. The brand first made a name for itself by winning a gold medal at the 1881 Universal Exhibition for its revolutionary model with differentiated left and right feet. Church's dressed the feet of Britain's elite and Europe's crowned heads, earning a reputation for craftsmanship excellence and timeless elegance. Bought by Prada in 1999, Church's has retained its traditional English craftsmanship in its Northampton factory, while modernizing its collections. The brand remains a benchmark for high-end Goodyear welted shoes.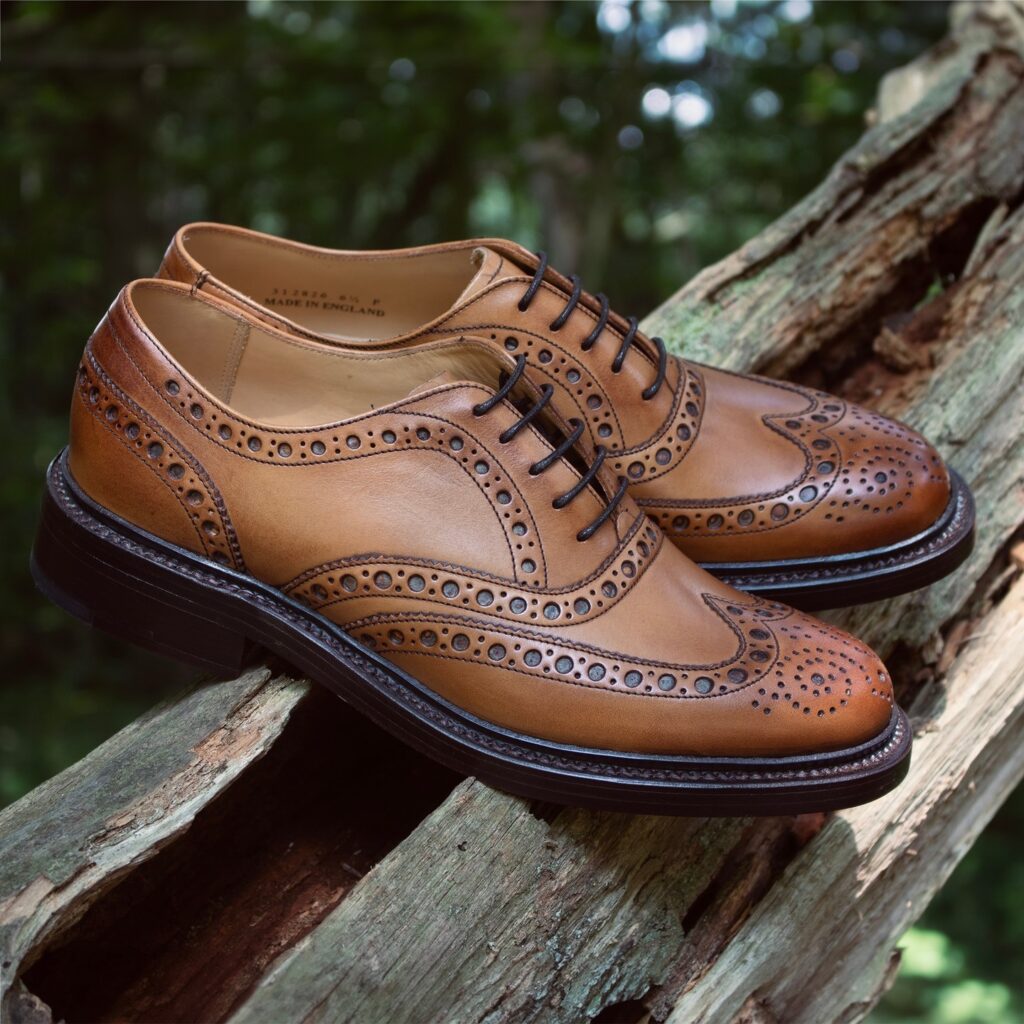 Barker
The Barker brand was founded in 1880 in Northamptonshire, England. Handed down from generation to generation, Barker is a family business that has preserved its traditional values of quality and high standards. Renowned for its meticulously crafted leather shoes, Barker offers a wide choice of men's shoes and boots, from the classic Derby to the robust boot and the elegant Richelieu. Among its distinctive features, Barker controls all manufacturing stages in its English factory and uses Goodyear welted assemblies synonymous with durability. The brand also takes care to ensure the comfort of its collections by favoring generous lasts.
Not tested
---
Eastern Europe
---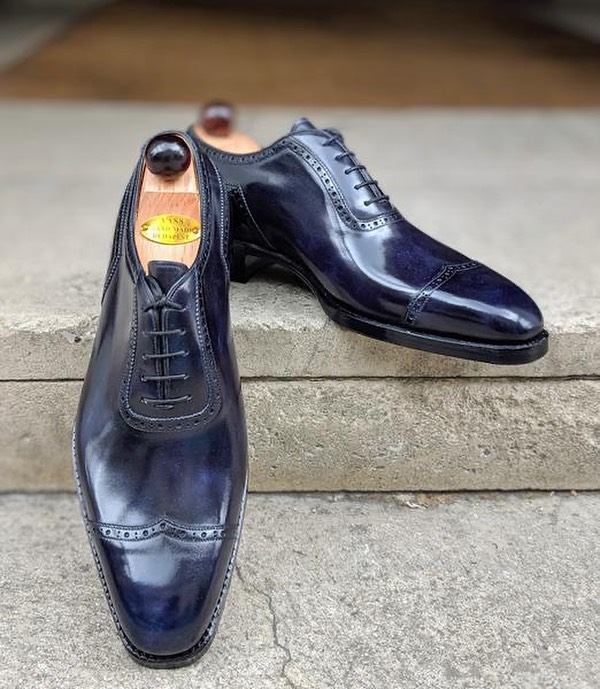 Vass Shoes
Laszlo Vass, a Hungarian brand, has made a name for itself by offering entirely handmade shoes for around 500 euros. It has gained notoriety on the forums and become a benchmark for craftsmanship.
Vass's signature model, the Budapest, features a Hungarian Goiser assembly, more robust and imposing than Goodyear. This model is ideal for casual wear, particularly in tweed or wool flannel. Vass shoes are also available on the Budapest Schuhe e-shop, one of the few ways to buy Vass online. Representing the Budapester style, Vass shoes feature high uppers, round shapes and comfort. In short, Laszlo Vass offers an affordable luxury experience without compromising quality or style…
---
United States
---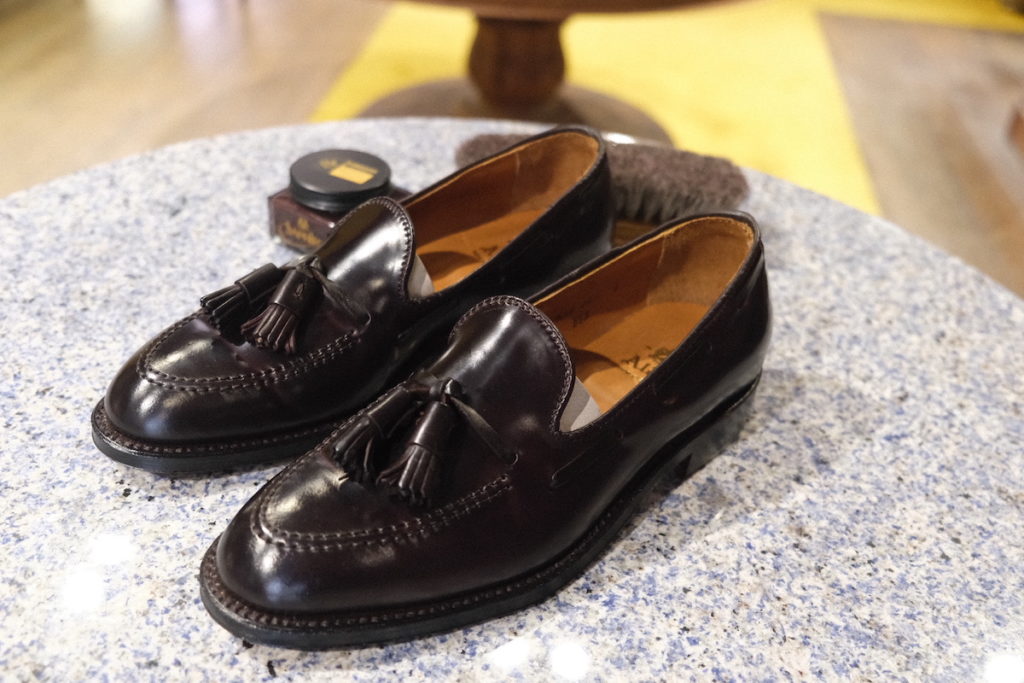 Alden
Founded in 1884 by Charles Alden in Massachusetts, Alden is one of New England's last remaining shoe manufacturers. A family-owned brand, Alden is renowned for its handcrafted leather shoes such as oxfords, moccasins and chukkas. Alden has distinguished itself by offering a wide choice of top-quality models. In particular, it is known for its emblematic models in cordovan leather, a material prized by connoisseurs. Thanks to its expertise and capacity for innovation, Alden has stood the test of time while preserving its heritage, becoming a benchmark of American masculine elegance.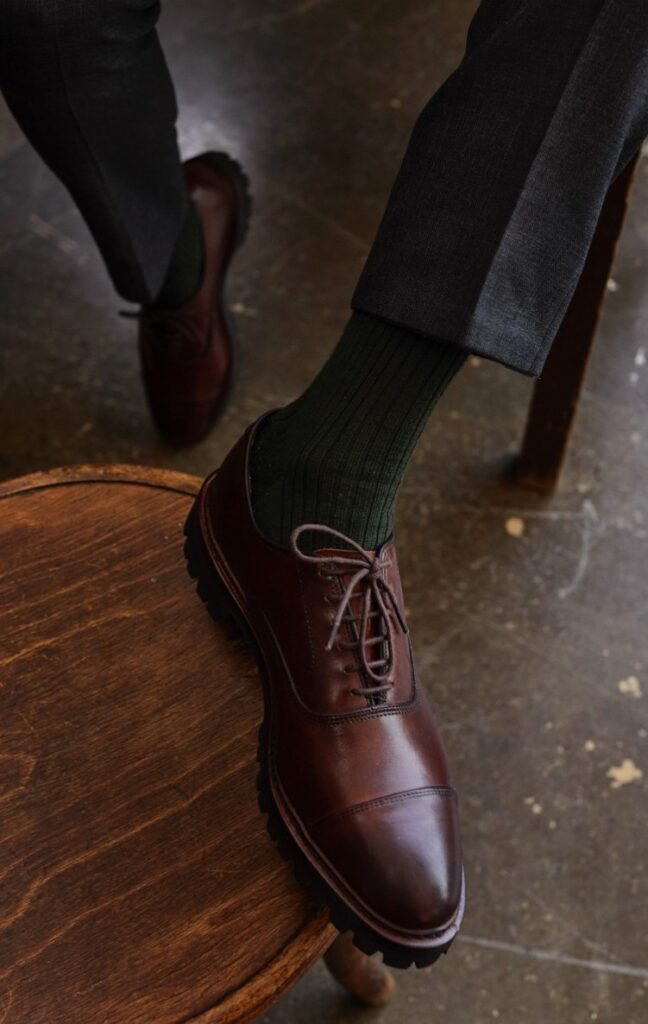 Allen Edmond
Founded in Wisconsin in 1922, Allen Edmonds is an American brand renowned for its high-end men's shoes. Thanks to its craftsmanship, the company offers a wide range of full-grain leather richelieus, derbies, moccasins and boots. One of Allen Edmonds' distinguishing features is that it still controls all stages of production in its Wisconsin factory. The brand pays meticulous attention to detail and uses the Goodyear welted technique, a guarantee of quality and durability. Allen Edmonds combines timeless elegance with exceptional comfort to create shoes that will stand the test of time.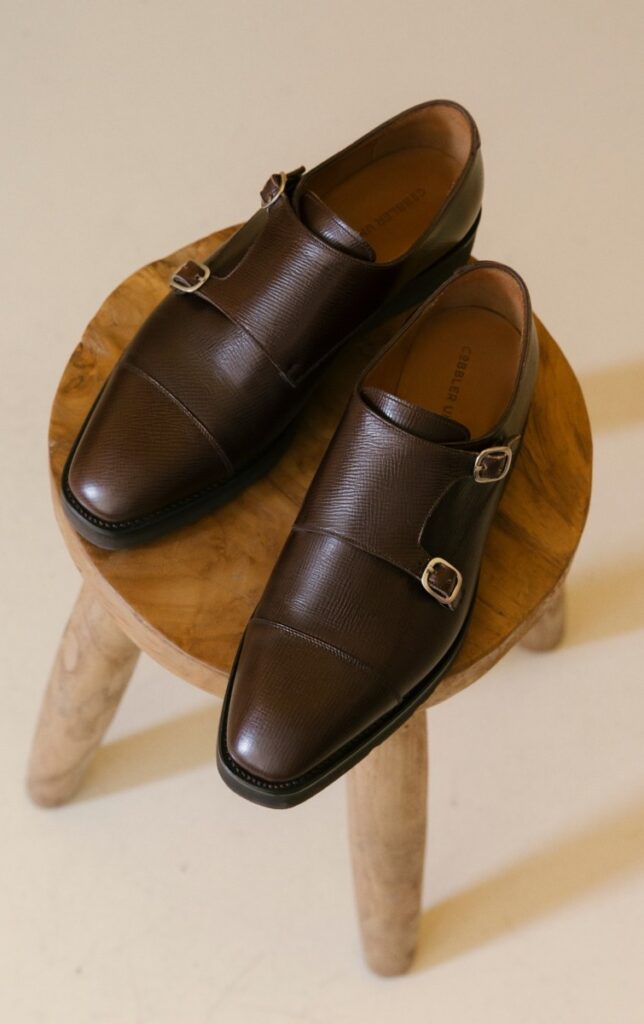 Cobbler Union
Founded in 2014 in Atlanta, Cobbler Union has established itself in just a few years as a benchmark in high-end men's footwear. The brand offers a wide selection of full-grain leather richelieus, derbies, moccasins and ankle boots made in its workshops in Spain and Portugal. Cobbler Union masters traditional techniques such as Goodyear welting, a guarantee of quality and durability. Its strengths include good value for money and a made-to-measure service that allows each pair to be personalized. Thanks to its expertise, Cobbler Union brilliantly combines timeless elegance, exceptional comfort and attention to detail for shoes made to last.
---
Asia
---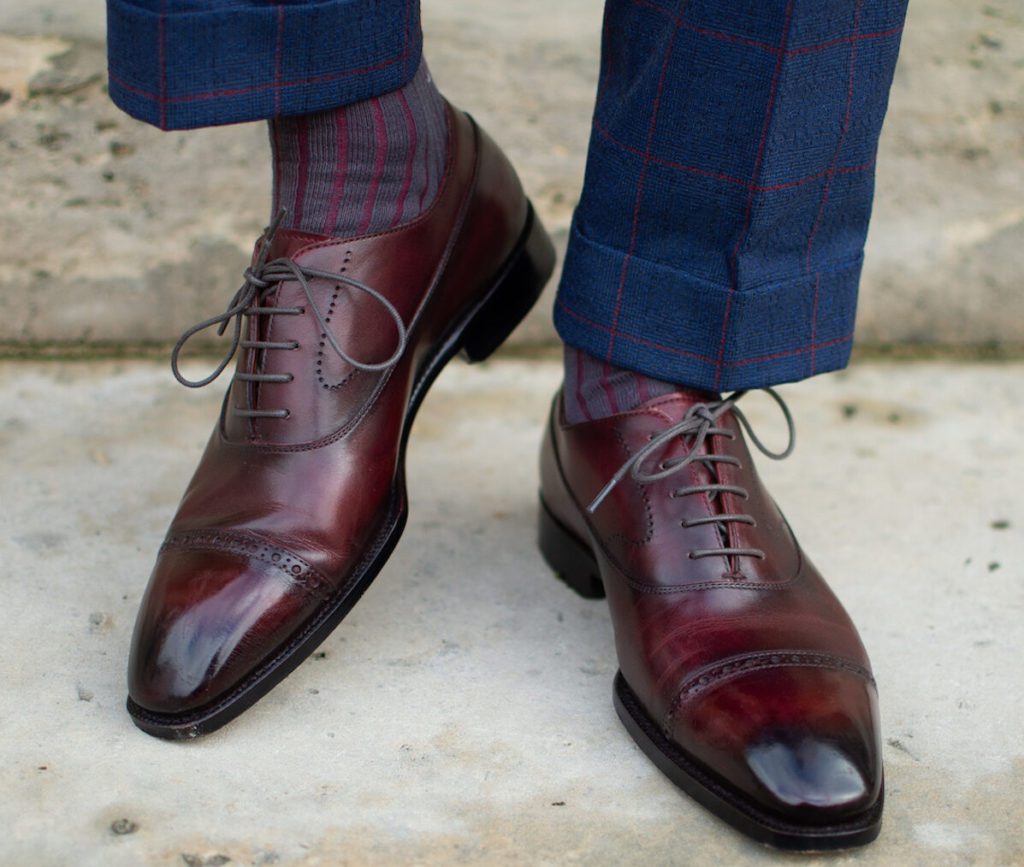 Cnes Shoemakers
Founded in 1994 in Vietnam, the CNES.co brand specializes in the artisanal manufacture of leather shoes. Thanks to its know-how, CNES has mastered various techniques such as Goodyear welted stitching, guaranteeing sturdiness and durability. With workshops in Vietnam and boutiques in Singapore, Seoul and Melbourne, CNES offers a wide range of richelieus, derbies, ankle boots and boots. In addition to the excellence of its materials, CNES stands out for the timeless elegance of its models, which combine classicism and modernity. The brand pays attention to every detail and offers unbeatable value for money. The brand has established itself as a benchmark in men's footwear.
II High-end
---
FRANCE
---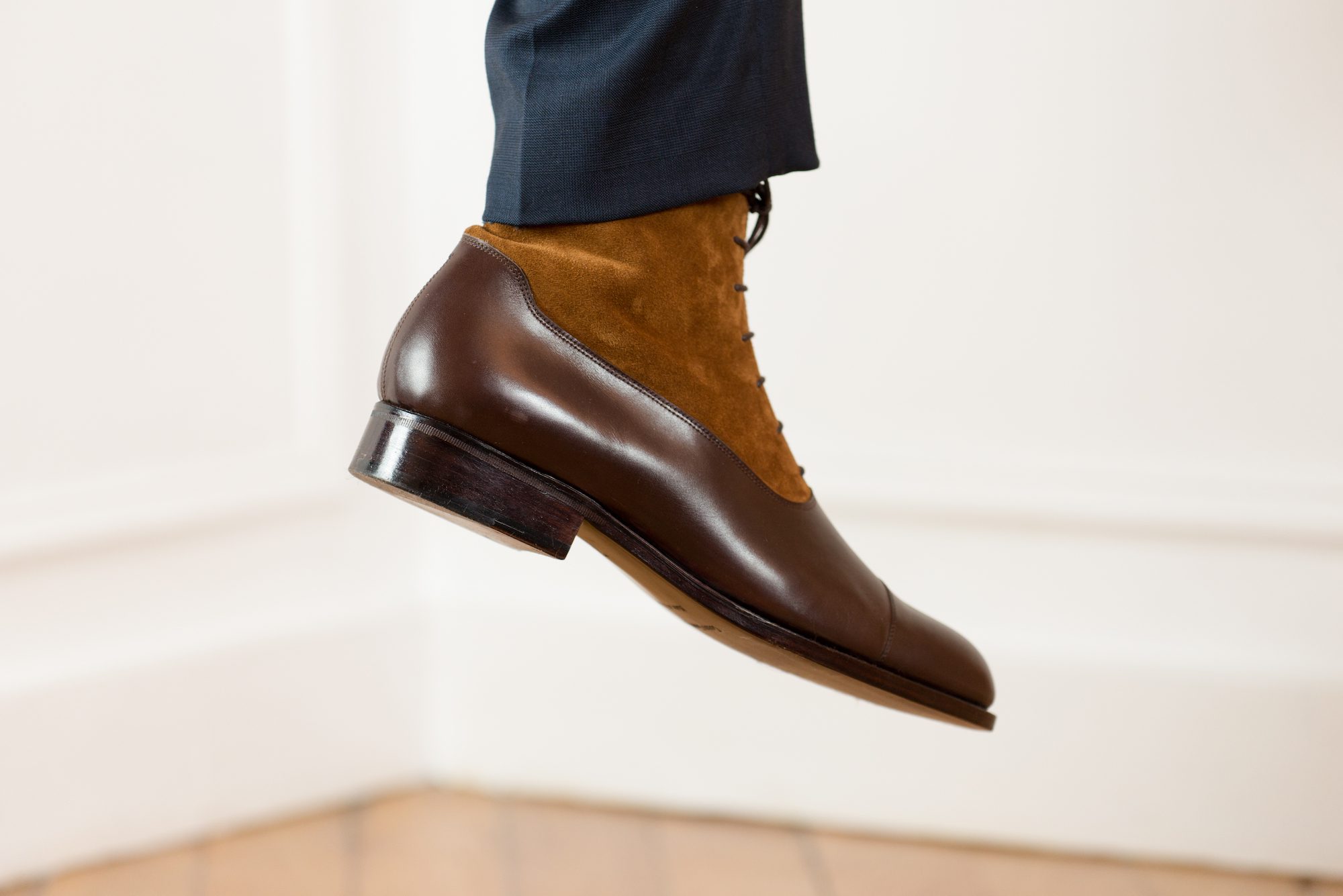 Maison Mauban
Mauban, founded by Edouard Quinchon, is a French shoe brand that embodies the excellence of craftsmanship. With prices starting at 1,500 euros, the brand positions itself in the luxury segment, using leathers from renowned French tanneries such as Tannerie du Puy and Tannerie Degermann. Goodyear assembly, characterized by double welt and petit point stitching, is at the heart of their process, ensuring exceptional durability.
Attention to detail is evident, notably in the use of cork foil filling for comfort and the elegant shape of the shoes. Mauban works in collaboration with the Joseph Malinge workshop in Cholet, helping to revitalize a declining shoe industry in France. The brand has been hailed by specialist media such as The Rake as a « hidden gem » in the world of luxury footwear.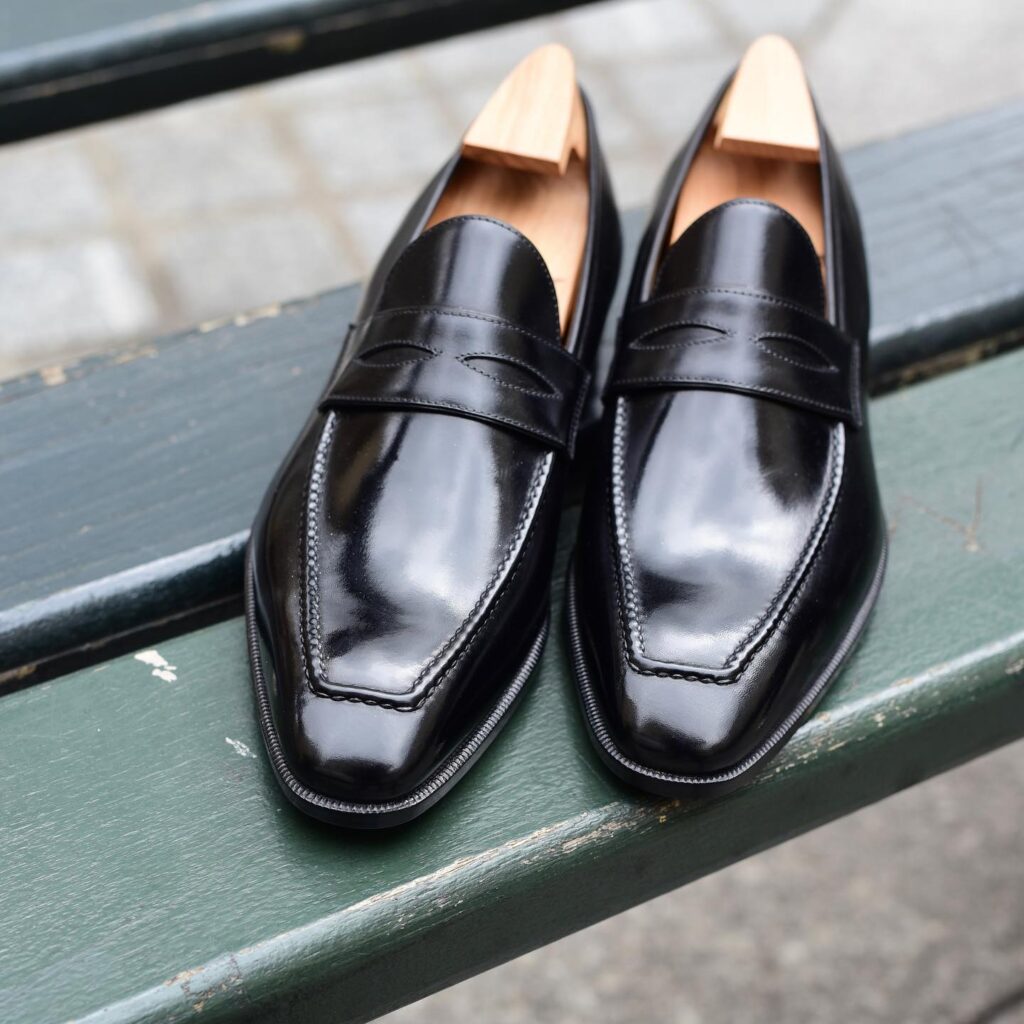 Aubercy
Founded in 1935 by Renée and André Aubercy and run by Xavier Aubercy, Aubercy is a brand with a typically Parisian identity, based near Saint-Germain, but whose manufacturing is more Italian: it is run by Enzo Bonafé's workshop, which includes a dozen craftsmen. The ready-to-wear sole is always a Blake. A Blake, yes, but one with exceptional longevity. The materials are equally meticulous, with chrome-tanned full-grain calf leather.
Japanese designer Yasuhiro Shiota is responsible for the tailoring.
Ready-to-wear at Aubercy starts at around 900 euros. On the other hand, a Goodyear-mounted back is available: a special feature is that it is hand-mounted.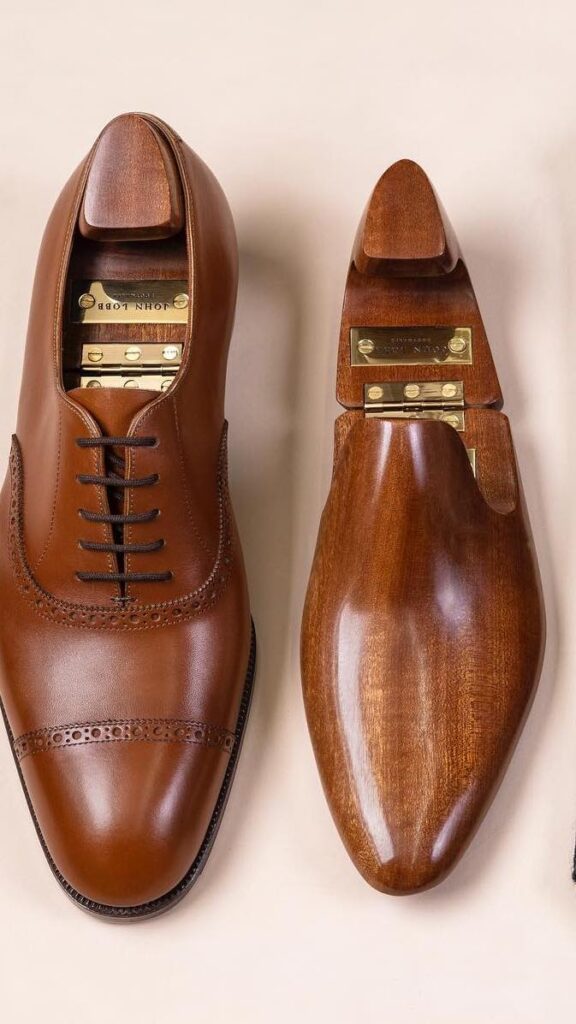 John Lobb
The legendary John Lobb house was founded in 1866 and acquired by Hermès in 1976. It is thanks to this takeover that shoes can be made from top-quality leather supplied by the parent company. It is perceived by all connoisseurs as the ultimate reference in British shoemaking.
Several points set John Lobb apart from the competition: the toe cap, for example, is not a superimposed piece of leather, as is the case with other brands. You can take advantage of MTO (choice of width, color, shape, etc.): the cost is generally around 15% higher, but John Lobb organizes MTO weeks without this surcharge.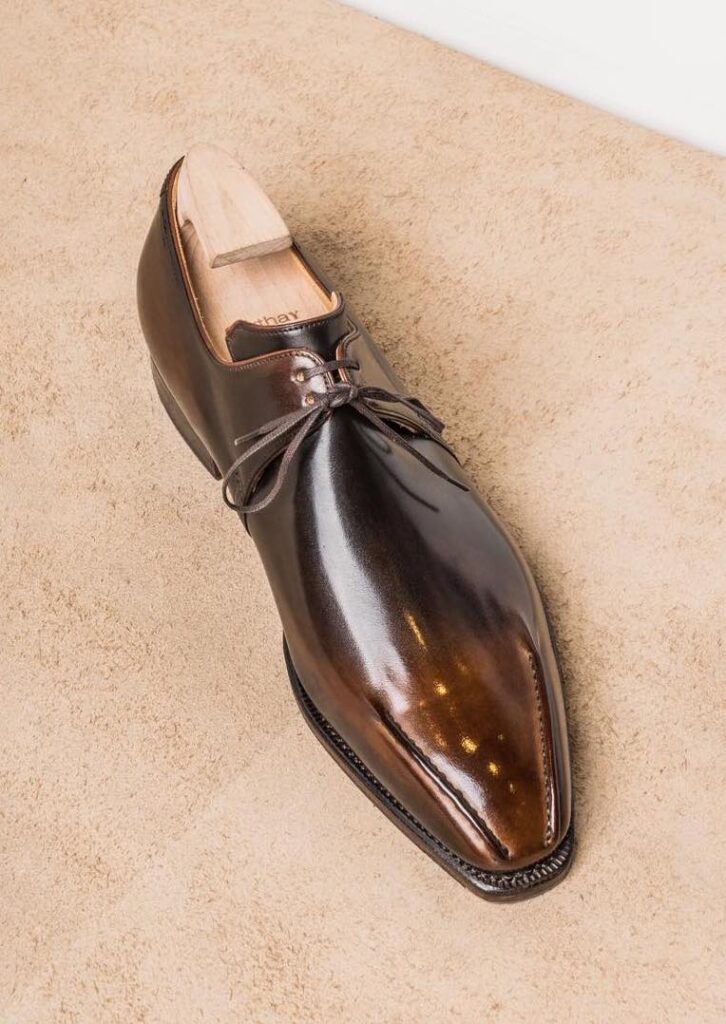 Pierre Corthay

Pierre Corthay, a Compagnon du Devoir of Swiss origin, founded his eponymous brand in 1990 and was consecrated Master of Art by the French State in 2009, a unique distinction in the footwear industry. His expertise is considered an intangible heritage of the French nation. Corthay shoes are made in Neuilly, with prices ranging from 850 to 1,500 euros
Corthay stands out for its blend of British and continental identity, successfully reconciling functionality and aesthetic excellence
---
GREAT BRITAIN
---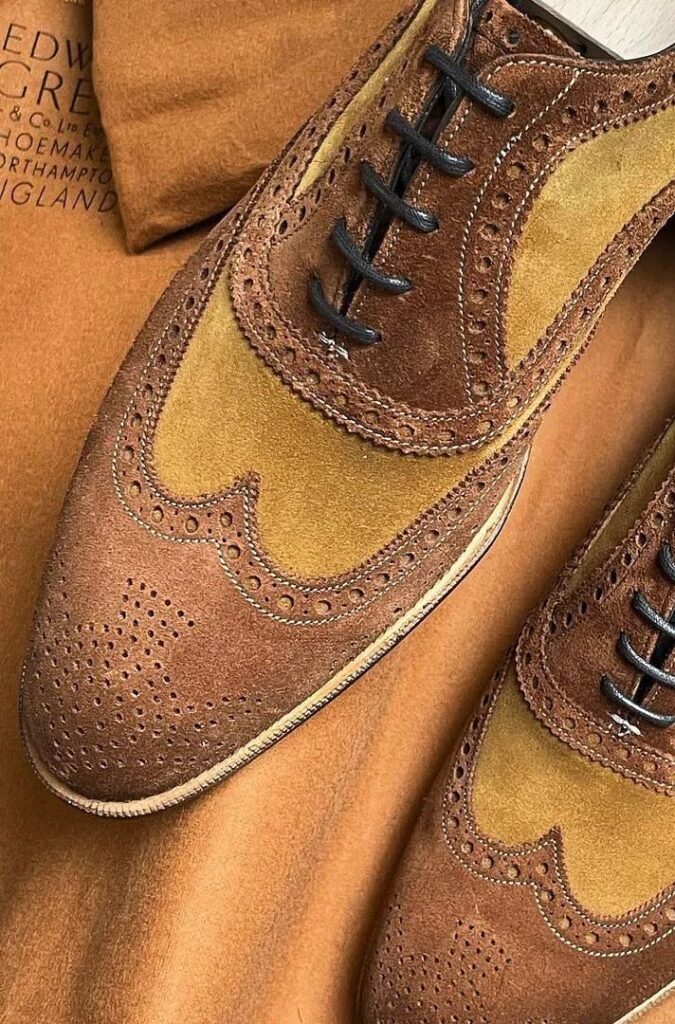 Edward Green
Founded in 1890, Edward Green is an iconic British brand of understated elegance and handcrafted quality. Bought out in 1982 for a symbolic pound, the house innovated in leather aging techniques such as « burnishing » and « antiquing. »
It offers a vast range of leathers for made-to-measure, comparing itself only with luxury brands such as John Lobb and Gaziano and Girling. The Malvern model, a pair of « spectators, » is particularly representative of the brand's meticulous attention to detail, from the leather lining to the elegant perforation. Edward Green is more than a shoe brand; it's a symbol of excellence and timeless elegance.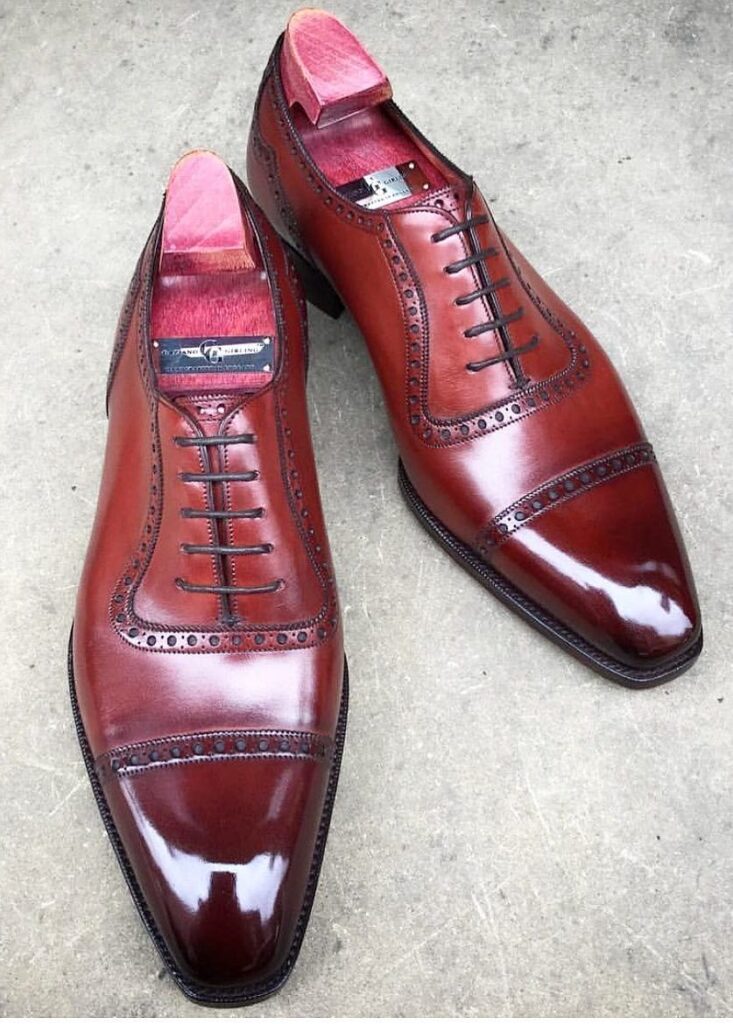 Gaziano&Girling
Launched in 2006 by Dean Girling and Tony Gaziano, British brand Gaziano & Girling has quickly made a name for itself for the finesse and innovation of its men's footwear. Gaziano, trained at Edward Green, brought unrivalled expertise to the brand. Production combines modern techniques, such as laser cutting, with traditional craftsmanship.
High-quality leathers are sourced mainly from France and Switzerland, while extra-slow vegetable-tanned soles are supplied by British tannery J&FK Baker. With a fine Goodyear fit and immediate comfort from the very first wear, Gaziano & Girling offers a luxury experience that fuses tradition and innovation.
2 Men's casual chic and business casual shoes
---
entry-level
---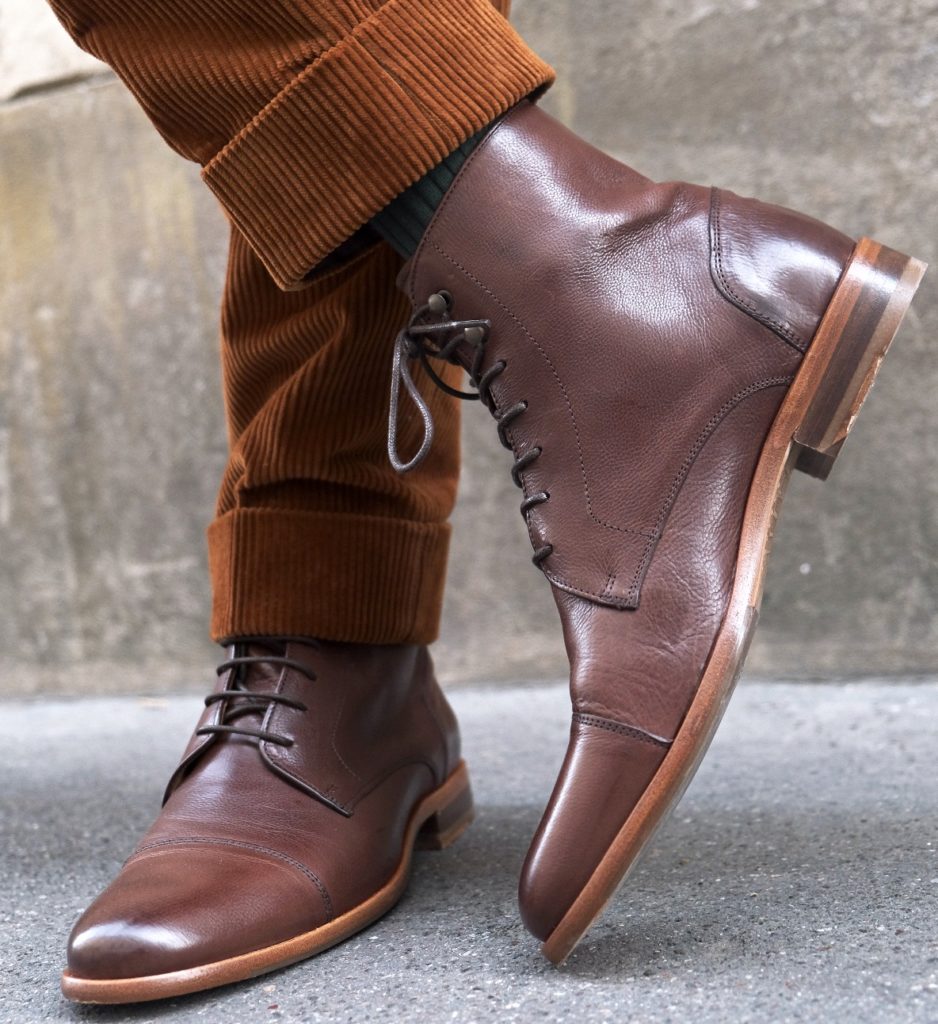 Paire&Fils
Paire&Fils is a French brand of high-end men's shoes, founded in 2015 in Paris by Pierre and Guillaume. Motivated by the desire to offer beautiful shoes to their loved ones, they create original designs handcrafted in Portugal. Paire&Fils revisits men's shoe classics like derbies, richelieus and chelsea boots with modernity. The brand stands out for its noble materials, elegant designs and attractive value for money. Paire&Fils cultivates a timeless style that blends classicism and originality .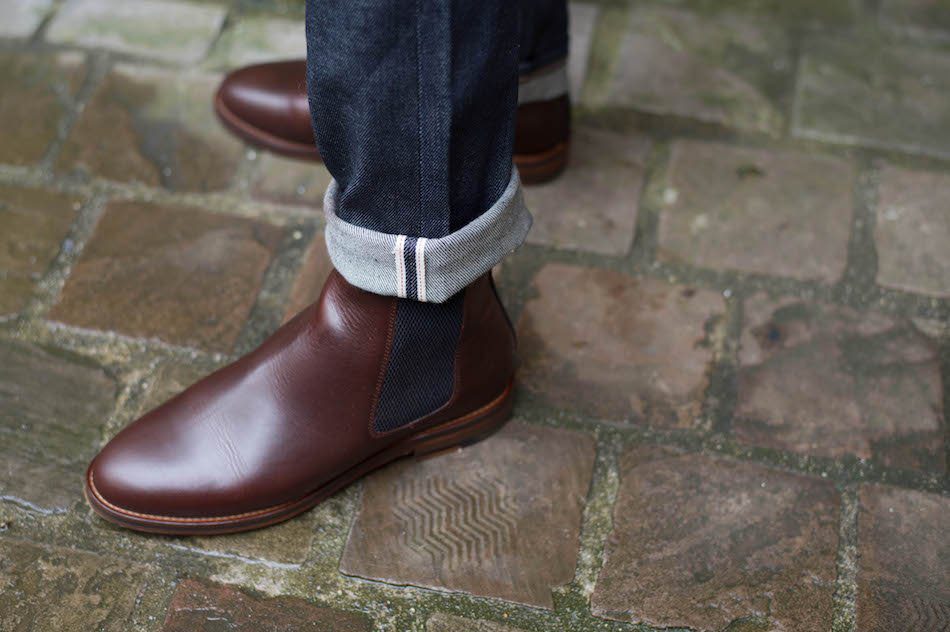 Pied de Biche
Pied de Biche is a French high-end footwear brand founded in 2015 by Jérôme and Matthieu. Motivated by the desire to offer quality shoes at affordable prices, they created Pied de Biche by launching a crowdfunding campaign. The brand stands out for its noble materials such as Italian leather, its elegant and timeless designs, and its unbeatable value for money. Pied de Biche shoes are handmade in Portugal using traditional craftsmanship. In full expansion, Pied de Biche now boasts several boutiques in France and an e-commerce site, while remaining an independent brand committed to transparency.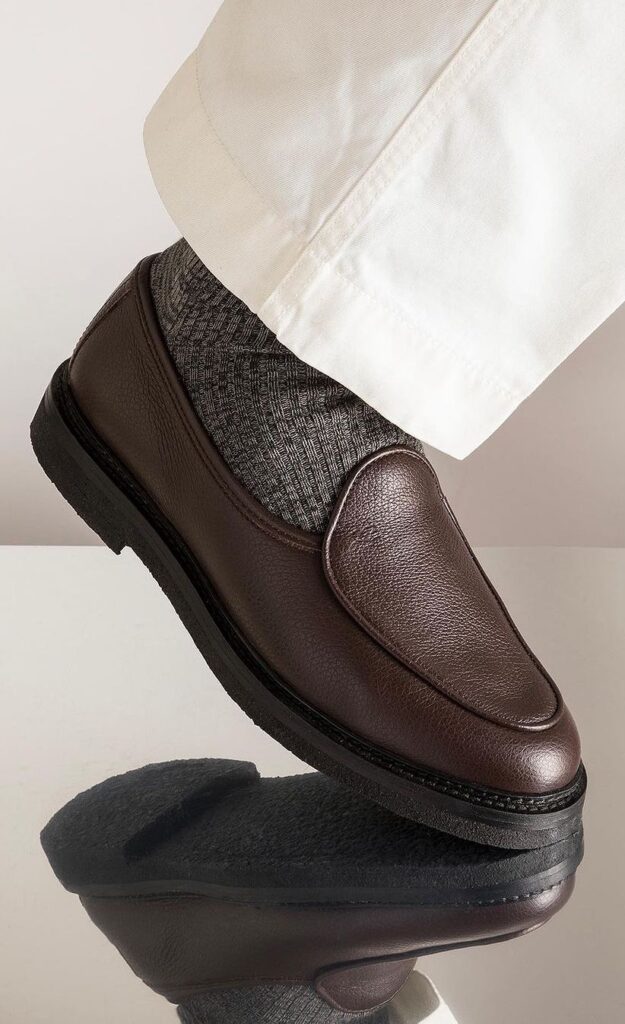 Jacques Solovière
Jacques Solovière is a French high-end footwear brand, launched in 2014 by Alexia Aubert. Inspired by the timeless elegance of her grandfather, the collection offers men's and women's models with discreet, racy style. Jacques Solovière shoes are distinguished by their artisanal craftsmanship, comfort and refined design, with a play on materials such as supple leather. The Parisian brand quickly made a name for itself thanks to its revisited classic style and impeccable quality. Today, Jacques Solovière has several sales outlets in France and abroad.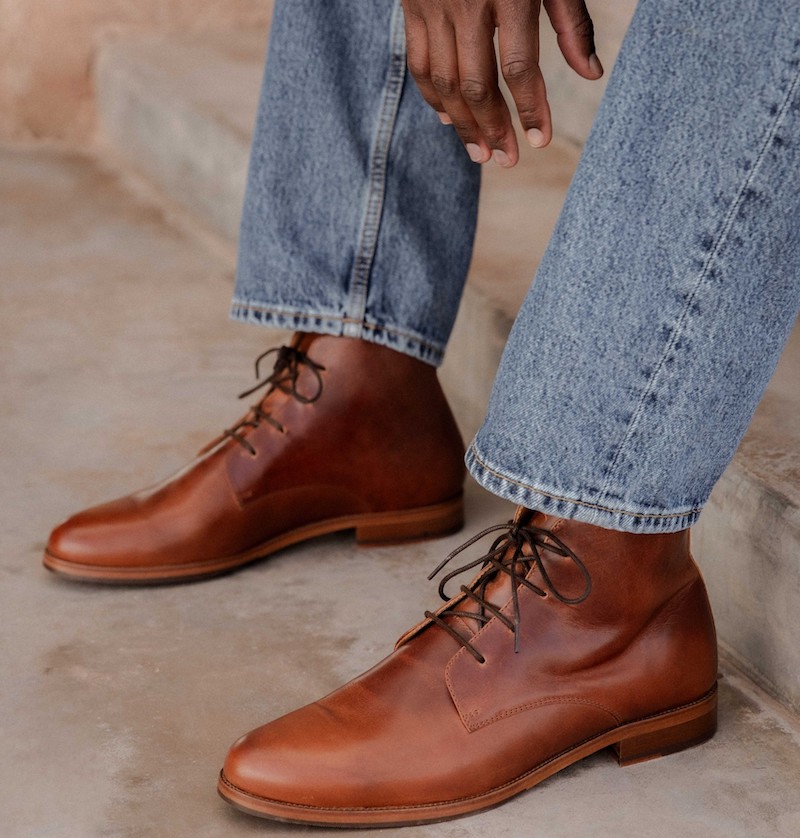 Bobbies
Bobbies is a French brand of shoes and leather goods accessories founded in 2010 by Alexis Maugey and Antoine Bolze. Inspired by Parisian nonchalance, the brand offers colorful footwear, including moccasins and derbies for men. Bobbies products are made from top-of-the-range materials and meticulously crafted in Portugal and Spain. The brand emphasizes traditional craftsmanship and quality in its footwear. Since its creation, Bobbies has experienced rapid growth and is now present in over 50 countries, with almost 420 multi-brand outlets in France and around the world.
3 Workwear Brands
---
entry-level
---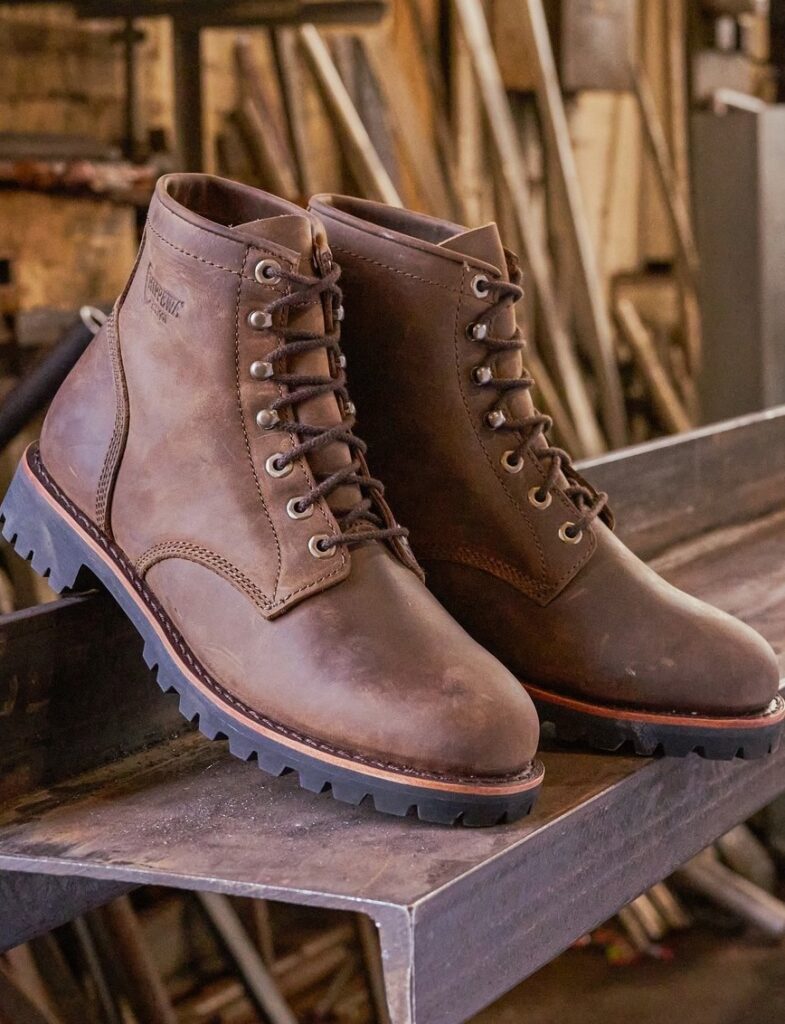 Chippewa
Chippewa is an American brand of shoes and boots founded in 1901 in Chippewa Falls, Wisconsin. Originally, the brand specialized in the manufacture of sturdy boots for lumberjacks and laborers in Canada and the Midwest. Its boots became popular with the military during the Second World War. In the 1950s, Chippewa diversified into leisure footwear. In 1984, the brand was acquired by Justin Brands, a Texan group specializing in western boots. Despite this change, Chippewa remained firmly rooted in the manufacture of sturdy, durable work shoes. Today, the brand remains a benchmark for quality boots, handcrafted using century-old know-how. Its leather boots remain its flagship product. Chippewa emphasizes its American heritage and its ability to offer authentic, reliable products.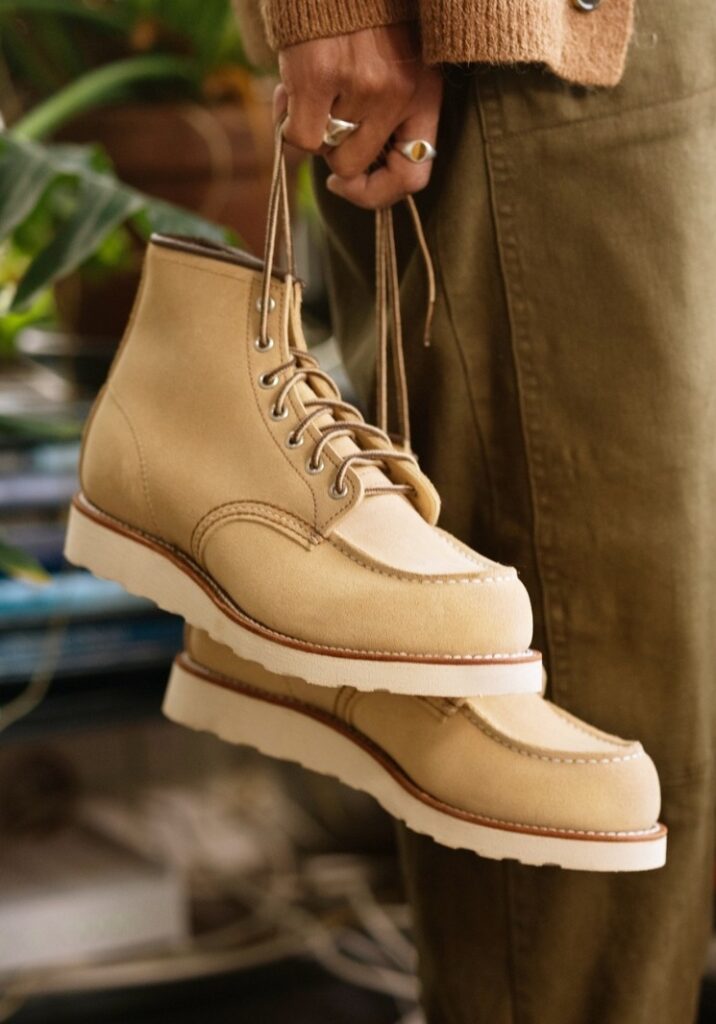 Red Wing
Red Wing is an American footwear and boot brand founded in 1905 by Charles H. Beckman in Red Wing, Minnesota. The brand was created to meet the needs of workers in the mining, farming and forestry industries by providing them with durable, comfortable footwear. Red Wing footwear is primarily handcrafted in the USA using American materials in the brand's factories. Red Wing's flagship products include the Iron Ranger and Classic Moc boots, which are renowned for their quality and durability. Over the years, Red Wing has evolved to adapt to changes in industries and workers' needs, introducing steel-toed footwear and diversifying its product range to include casual footwear.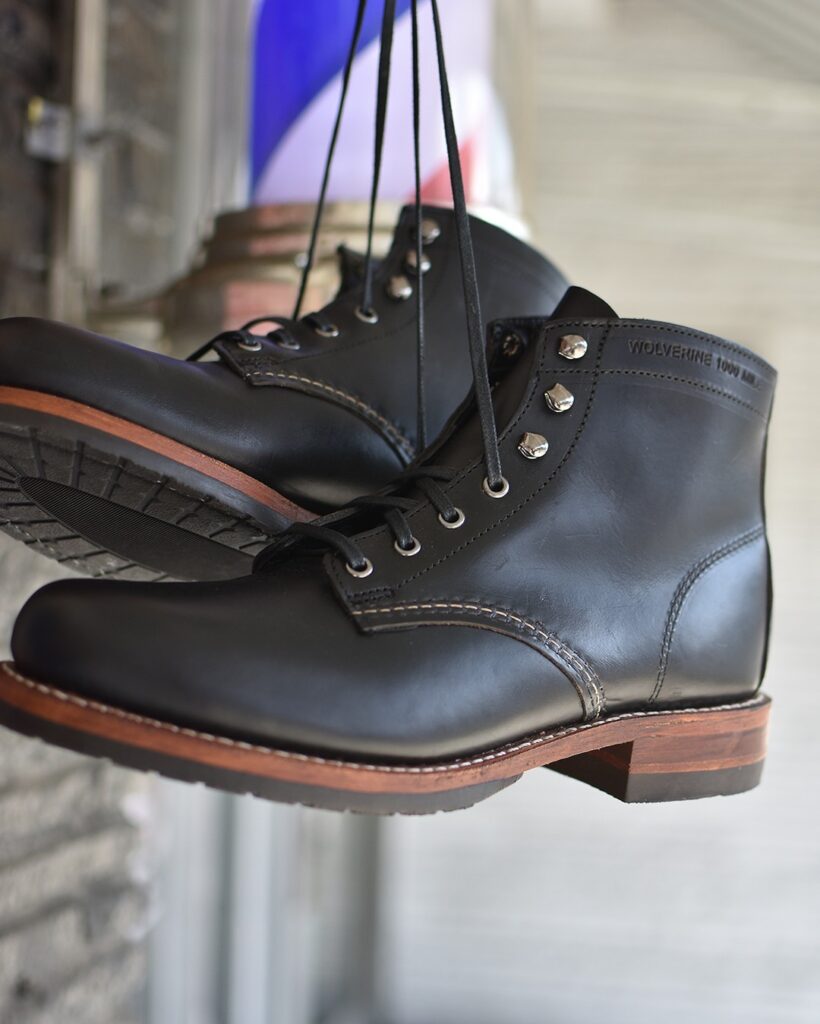 Wolverine
Wolverine was founded in 1883 in Michigan by G.A. Krause, who opened a leather tannery. The brand specialized in the manufacture of sturdy boots and gloves for workers. Its iconic 1000 Mile horsehide boots are renowned for their comfort and durability. Over time, Wolverine has adapted to workers' needs by developing steel-toed boots and diversifying its range. Today, the brand continues to emphasize quality American materials and craftsmanship to produce comfortable, durable boots for demanding trades. Wolverine values its century-old American heritage in the manufacture of authentic work boots.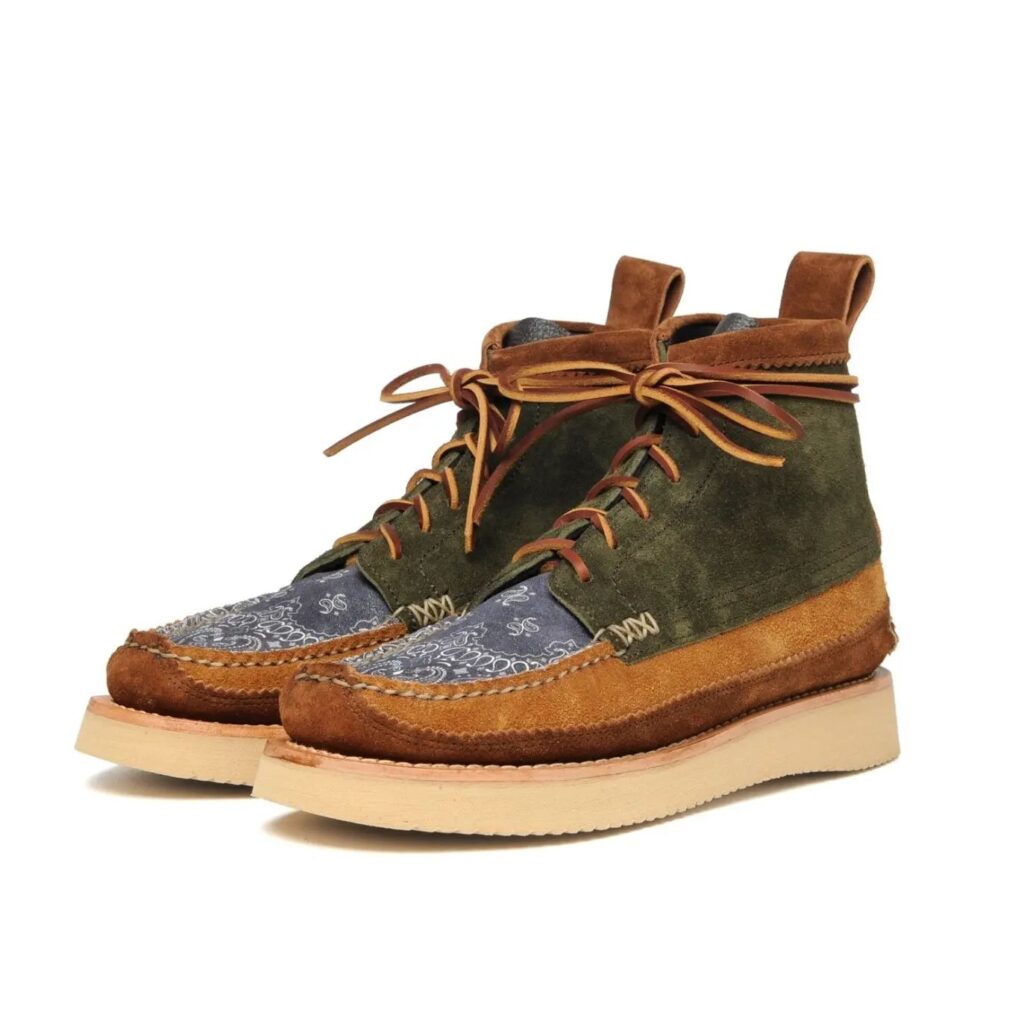 Yuketen
Yuketen was founded in 1989 by Japanese designer Yuki Matsuda. The brand specializes in handcrafted boots and moccasins made from high-quality materials. Yuketen combines traditional American shoe-making techniques with inspirations from vintage American lifestyle and heritage. The boots are handcrafted in small batches in the USA using techniques such as Goodyear welt construction. Yuketen uses premium leathers from renowned tanneries such as Horween. The brand embodies a blend of raw American aesthetics and Japanese refinement. Yuketen has forged a cult following thanks to its commitment to quality craftsmanship and the reproduction of classic American boot styles.
4 Sneakers and basketball brands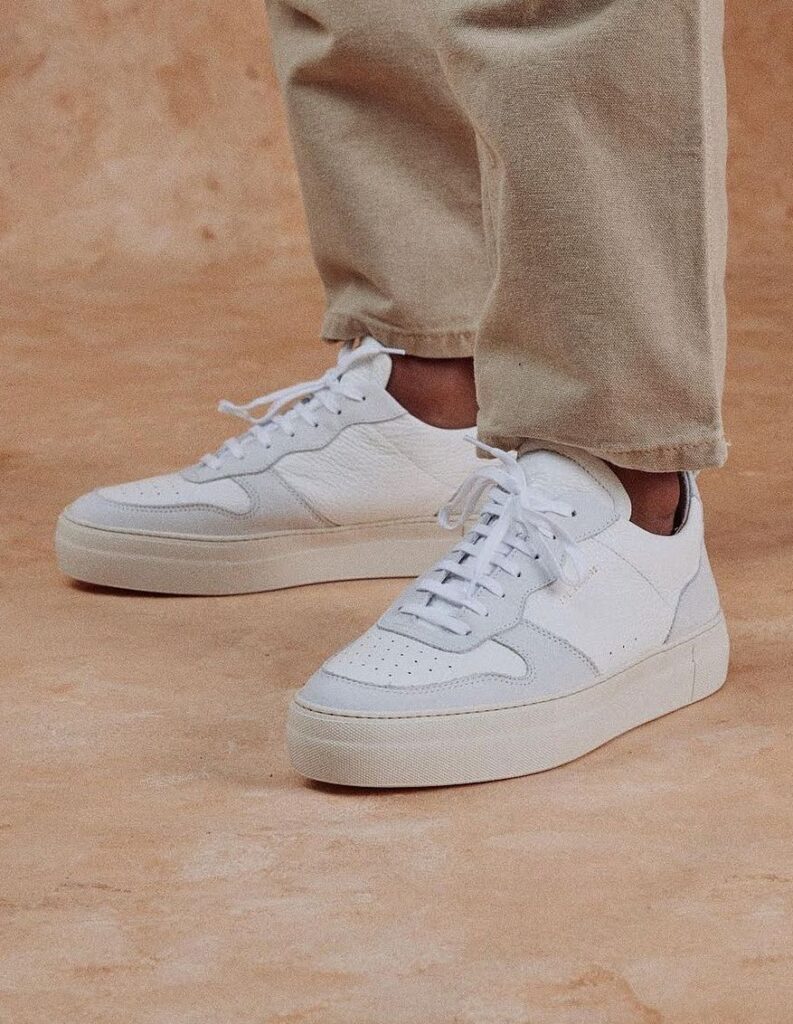 Belledonne
Belledonne is a French sneaker brand created in 2018 by Antonin Chabanne, Luc Faure and Mikael Léo. Inspired by the eponymous mountains, Belledonne offers timelessly designed sneakers made ethically and responsibly. Raw materials are carefully selected in Italy, and manufacturing is handmade in Portugal. Belledonne emphasizes transparency, short supply chains and made in France. The brand offers 80s/90s vintage sneakers with a modern touch in colors and materials. Belledonne stands out for its commitment to sustainable and ethical sneakers.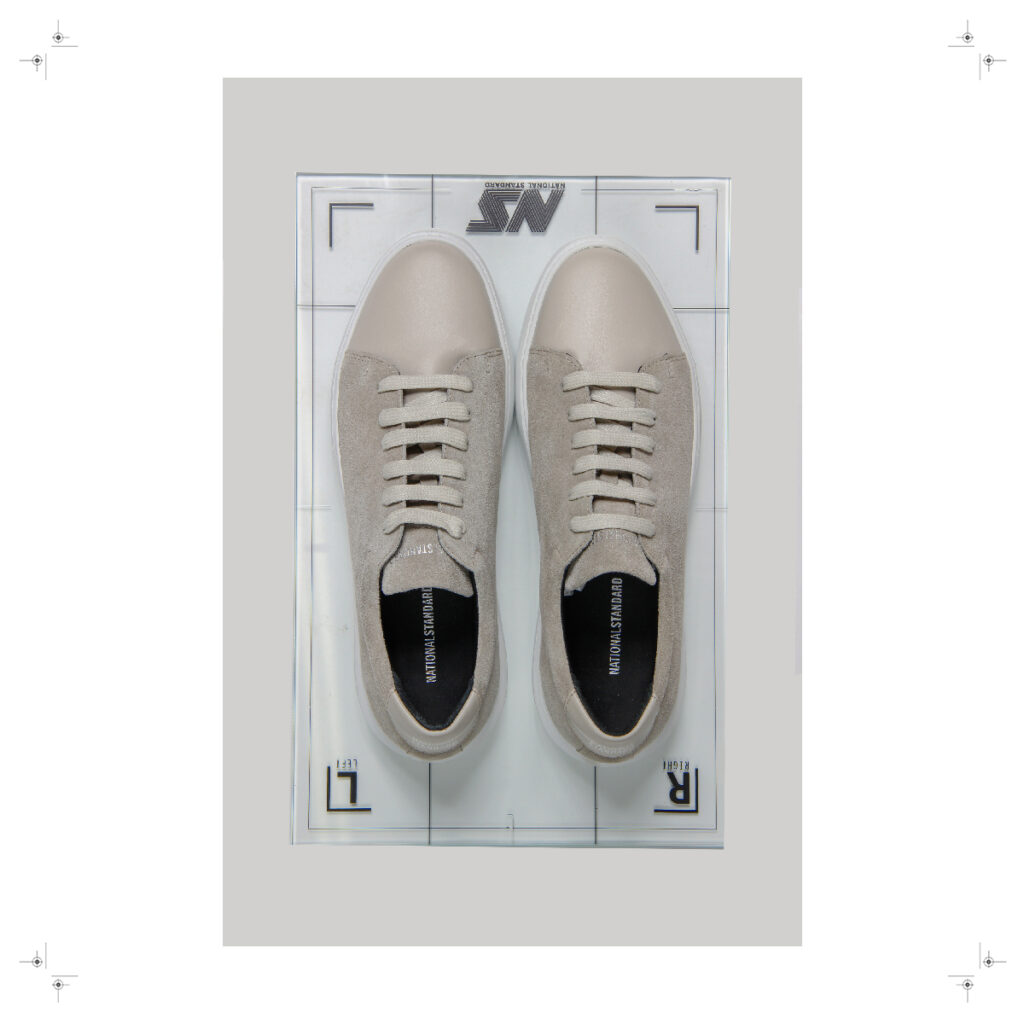 National Standard
National Standard is a French brand of premium sneakers founded in Paris in 2010. It is one of the pioneers in this segment in France. Its sleek sneakers are precision-designed and assembled in numbered editions, some of which have become iconic. National Standard applies a culture of refinement and a passion for craftsmanship to create high-end models. Design is a central element of the brand, from product to boutique. National Standard showcases French craftsmanship in its sneakers made from noble materials. The brand cultivates a timeless style blending vintage and modern influences.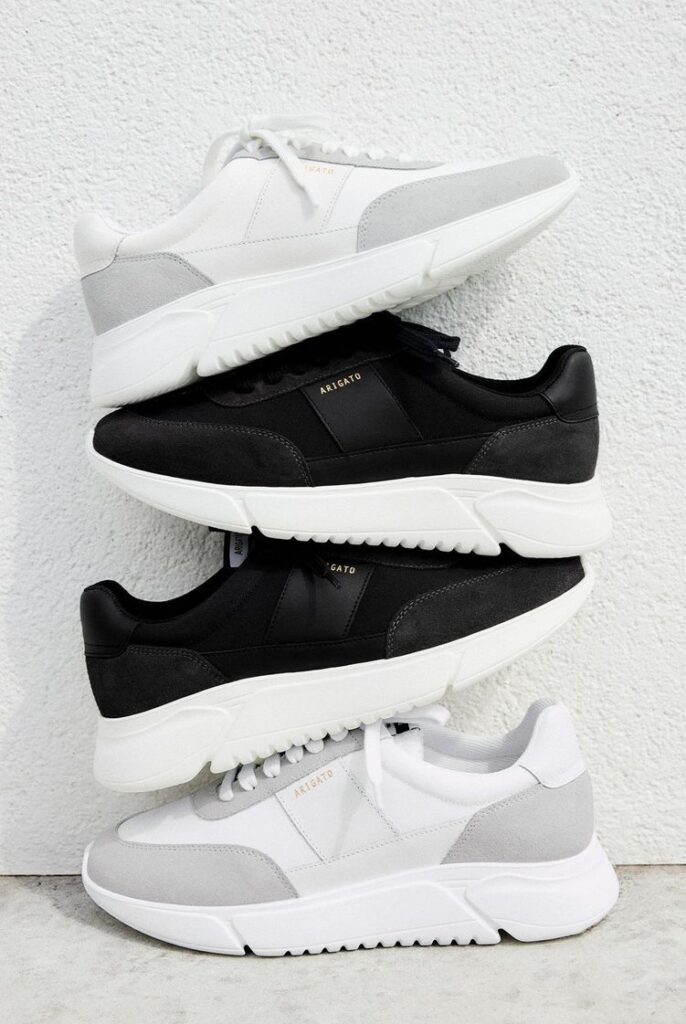 Axel Arigato
Axel Arigato is a Swedish brand of high-end sneakers and streetwear, founded in 2014 by Max Svärdh and Albin Johansson. Inspired by sleek Scandinavian design and Japanese influences, as the brand's name suggests, Axel Arigato stands out for its minimalist sneakers with clean lines. The brand has adopted an innovative « weekly drop » model, with a new limited-edition sneaker every week. Axel Arigato emphasizes noble materials, European craftsmanship and social network marketing. The brand has quickly made a name for itself thanks to its timeless style and impeccable quality.
Q: What are the most comfortable dress shoes for men?
A: Some of the most comfortable dress shoe options for men are those with cushioned insoles, rubber soles for added traction, and supportive features such as arch support.
Q: What are the different types of dress shoes available?
A: There are various types of dress shoes available, such as oxford shoes, derby shoes, loafers, and brogues. Each type has its own unique style and features.
Q: What is the difference between oxford shoes and derby shoes?
A: The main difference between oxford shoes and derby shoes is the way the laces are positioned. Oxford shoes have closed lacing, while derby shoes have open lacing.
Q: Are suede dress shoes a good choice?
A: Suede dress shoes can be a stylish choice, especially for less formal occasions. However, they require extra care and maintenance compared to traditional leather dress shoes.
Q: What is a brogue?
A: A brogue is a type of dress shoe that is characterized by decorative perforations and patterns on the leather upper. It adds a touch of elegance and sophistication to the shoe's design.
Q: Are slip-on dress shoes suitable for formal events?
A: Slip-on dress shoes are typically less formal compared to lace-up dress shoes. While they can still work for some formal events, it is best to opt for lace-up dress shoes for a more traditional and formal look.
Q: What should I look for in a pair of comfortable dress shoes for men?
A: When looking for comfortable dress shoes for men, it is important to consider factors such as cushioned insoles, arch support, proper fit, breathable materials, and shock-absorbing soles.
Q: What are the best dress shoe styles that can be worn with a suit?
A: Classic dress shoe styles that can be worn with a suit include oxford shoes, brogues, and cap-toe lace-up dress shoes. These styles are considered timeless and versatile.
Q: Where can I find the best dress shoes for men?
A: You can find the best dress shoes for men at reputable shoe stores, department stores, online retailers, and brand-specific stores. It is recommended to try different brands and styles to find the perfect pair for your needs.